The boxing world was turned upside down last month which means Gennady Golovkin and the top 10 pound-for-pound rankings are necessary.
With Andre Ward retired, who takes his place as the new pound-for-pound king?
Here are our top 10 pound-for-pound boxers. The rankings are based on the fighter's current form, their resume and upside.
1. Terence Crawford (32-0, 23 KOs)
Crawford unified all four titles at junior welterweight and he will now move up to welterweight. He is now the mandatory challenger for WBO welterweight champion Jeff Horn.
His ability to fight both in the conventional and southpaw stance makes him the most versatile and best boxer in the world today.
2. Gennady Golovkin (37-0-1, 33 KOs)
Golovkin had the two toughest fights of his career in 2017. He won a close unanimous decision over Danny Jacobs and a disputed draw with Canelo Alvarez. Despite his last two fights going the distance he still owns the highest knockout percentage for any middleweight champion in the history of boxing.
3. Canelo Alvarez (49-1-2, 34 KOs)
Since losing his only fight to Floyd Mayweather Jr. in 2013, Alvarez won his next seven fights before his draw with Golovkin in September. If he can improve his stamina, he'll stand a good chance of beating Golovkin whenever they have their rematch.
4. Vasyl Lomachenko (9-1, 7 KOs)
Lomachenko has won his last eight fights and six of those have been by knockout. He is an extraordinary boxer and that's why he made our list despite having just 10 fights. His fight on Dec. 9 against Guillermo Rigondeaux is one of the most anticipated fights of 2017.
5. Guillermo Rigondeaux (17-0, 1 NC, 11 KOs)
Despite being a two time Olympic gold medalist and undefeated as a professional, Rigondeaux superb boxing skills are often overlooked. He'll finally get the recognition that he's wanted if he's able to defeat Lomachenko on Dec. 9.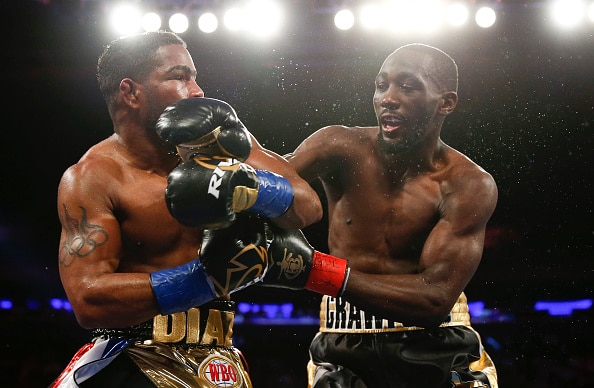 6. Sergey Kovalev (30-2-1, 26 KOs)
Kovalev may have lost his last two fights, but they were to the retired pound for pound king Andre Ward. Prior to that, he was as dominant as any fighter in the world. He'll look to get back to his winning ways on Nov. 25 when he takes on Vyacheslav Shabranskyy.
7. Mikey Garcia (37-0, 30 KOs)
Garcia is already a champion in three weight classes, and after moving up to junior welterweight and defeatinAdrienen Broner in July, he'll be looking to become a four-division champion.
8. Keith Thurman (28-0, 1 NC, 22 KOs)
Thurman earned the most impressive win of his career in March when he defeated the previously unbeaten Danny Garcia via split decision to become a unified welterweight champion. Since then he's been sidelined following surgery to his right elbow, but he hopes to return to the ring in early 2018.
9. Errol Spence (22-0, 19 KOs)
Spence is the fastest rising star in boxing. He became the IBF welterweight champion in May when he traveled to England Kell Brook by 11th-round KO. Next up he will face Lamont Peterson in January.
10. Danny Garcia (33-1, 19 KOs)
Garcia has won titles at junior welterweight and welterweight, and has notable wins over Amir Khan, Luca Matthysse, Erik Morales, and Lamont Peterson. His only loss came by split decision to Keith Thurman in March. He gets left off most pound for pound list, but he's made ours.