Why not have a little fun with this New York Yankees team? These guys are definitely here for the boos this year.
The final day of October is here and that means candy, trick-or-treating and just another month closer to more baseball!
While we got to witness the fun and excitement on the field during the season, it seems only fair that we continue that fun off the field with this New York Yankees team.
With that being said, we bring you the most fun team this year (The Bombers) and arguably the most entertaining holiday of the year (Halloween) and combine them together for glorious results.
Take a look at the costumes these Yankees players should be donning this Oct. 31st to guarantee lots of laughs.
Aaron Judge as Superman
Well, this one doesn't even need an explanation. Aaron Judge was definitely Superman this season for the New York Yankees when they didn't expect much from him in the first place.
I mean, he crushed over 50 homes runs and had 114 RBIs…IN HIS ROOKIE SEASON! Imagine what the rest of his career would look like.
Or I could definitely see him dressing as Teddy Roosevelt in those political cartoons. Judge speaks softly but carries a big stick…it's perfect.
Dellin Betances as Randy Levine
Nope, Dellin Betances did not have an impressive end to his season. And no, the fans are still not over Randy Levine's comments at arbitration.
Which is why it would not only be ironic but pretty hilarious to have Betances pay homage to his nemesis.
Plus, it would be a pretty easy costume to emulate. He has to wear a dark suit, a boring patterned tie and a fake curly toupee and voila! You have yourself a running joke that really never gets old.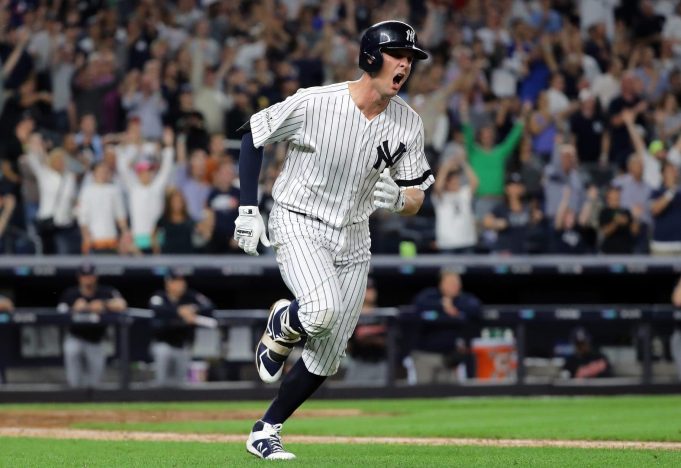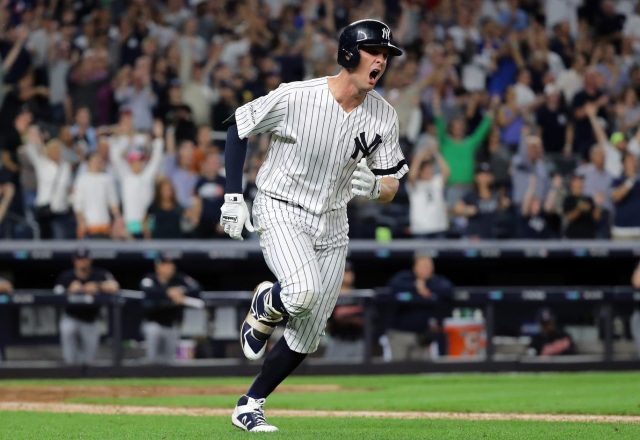 Greg Bird as Dr. Evil
No, I'm not saying that Greg Bird is evil when he is, clearly, anything but. He is an angel sent from heaven above to own first base for the Yankees.
Skipping that rant, let's talk about why Greg Bird would make the purrrrfect Dr. Evil. I just gave it away.
Bird's cat, Mr. Delicious, is a carbon copy of Mr. Bigglesworth from the Austin Powers franchise. How perfect would it be to have Bird moonlight as Dr. Evil and use the cat as a prop.
Bird, if you do this, I will grant you immunity from every mean comment someone makes about your speed during the season.
Todd Frazier as Gary Dunaier
He's already got the thumbs down part. Just needs the look to go with it. Todd Frazier would complete the thumbs down movement by becoming Mr. Thumbs Down himself.
Suspenders, thick-rimmed glasses, a nice dress shirt and he's set! It's an easy costume so he would have no excuse not to at least try it.
Fans are obsessed with the thumbs down movement and they would be so entertained to see Frazier himself become the guy that mocked him for smacking a three-run home run.
Ah, this season had so many incredible moments. This one might have been the most fun.
Ronald Torreyes as Ron Burgundy
Not sure why this is so right but it truly is. Ronald Torreyes deserves an incredible costume and being Ron Burgundy, one of the greatest anchormen of all time.
With Torreyes' stint as the producer and cameraman of "The Toe-night Show," he deserves the extra spotlight of being a character like Ron Burgundy.
But what is Burgundy without the rest of his Channel 4 news team?
Didi Gregorius as Brian Fantana
Didi Gregorius is the charisma, the personality. That means he is set to be Brian Fantana.
No, he's not as a crude as the character but that's what a costume is. You get to dress up like them and create your own flair to go with it.
Gregorius has on-air experience with his interviewing skills on "The Toe-night Show" and would be perfect for this costume.
Masahiro Tanaka as Brick Tamland
Masahiro Tanaka's IQ is far greater than 48 but he still is a perfect fit to play Brick Tamland for Halloween.
Why do we think that? Primarily because of the cuteness factor. Tanaka doesn't speak much English and he's got the sweetest smile. Who wouldn't want him to be the loveable lug that is Brick?
Chase Headley as Champ Kind
Chase Headley yelling "Whammy" would make my day. He would be a perfect Champ Kind.
I can just picture Headley dressing up in this costume and taking on the life of this character. He's an interesting character and he would be incredibly goofy in this role.
Just imagining all these Yankees in costume would be absolutely amazing. And if they take my advice, we would at least have pictures to hold onto.
Happy Halloween, Yankees fans! Only a few more months until baseball … we can make it.