Of course we'll have ourselves a Game 7 of the ALCS on Saturday night, these are the 2017 New York Yankees, the club that craves drama.
M
eet the
New York Yankees
baseball club of the Major League Baseball season of 2017. On one hand, you'd be glad you did. On the other, you may rue the day you became acquainted.
These guys just don't understand the meaning of relaxation. It isn't until there's no tomorrow in which the clubhouse seems to come alive.
After a disheartening 7-1 defeat in Game 6 of the ALCS on Friday night, Game 7 in Houston against the Astros has become reality.
These cardiac bombers wouldn't have it any other way.
For the second time in the series, Justin Verlander dominated. After a sparkling complete-game 13 strikeout one-hit performance in Game 2, he went seven innings while allowing no runs and striking out eight in Game 6 to keep the Astros season alive.
For the average team, this swing in momentum would be difficult to overcome. For the shaky team, facing a Game 7 on the road in the ALCS while fielding such a young roster would be too much to overcome.
These Yankees aren't the "average" team.
No. In fact, everything we've seen in October suggests that they won't just win Game 7, but do so in convincing fashion.
The recent "cardiac" moniker one could bestow on the club isn't due to late-game heroics. This isn't a story likened to the 1980 Cleveland Browns famously dubbed "The Cardiac Kids." Actually, there really hasn't been any of the kind during this postseason. Any late-game heroics have gone down in the books as the opposition's game (Houston Game 2 ALCS, Cleveland Game 2 ALDS).
The Bombers have picked up the tag thanks to their relentless dominating play once their backs are up against that proverbial wall.
Down big early against the Minnesota Twins in the AL Wild Card Game? No problem. They simply swing those ferocious bats and win in convincing fashion.
Down 2-0 in the ALDS against the best manager in baseball and a team that showcases the probable 2017 AL Cy Young award winner in Corey Kluber? Come on, now. Child's play. Even an awful non-review from Joe Girardi couldn't ruin that series. Not only did the Yanks but out in Games 3 and 4, they broke the home-series trend during a deciding Game 5 in a place that has a guy beating a drum all night in the stands.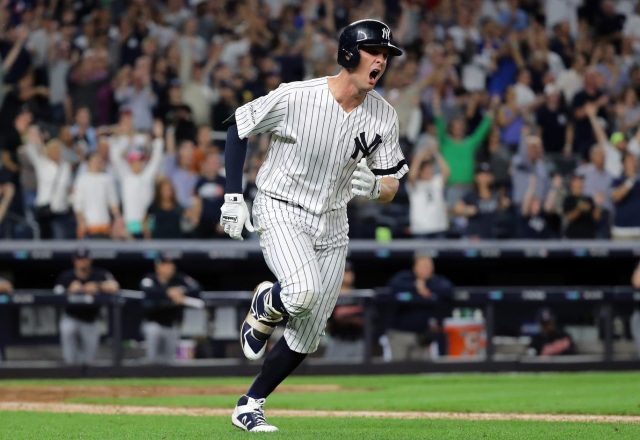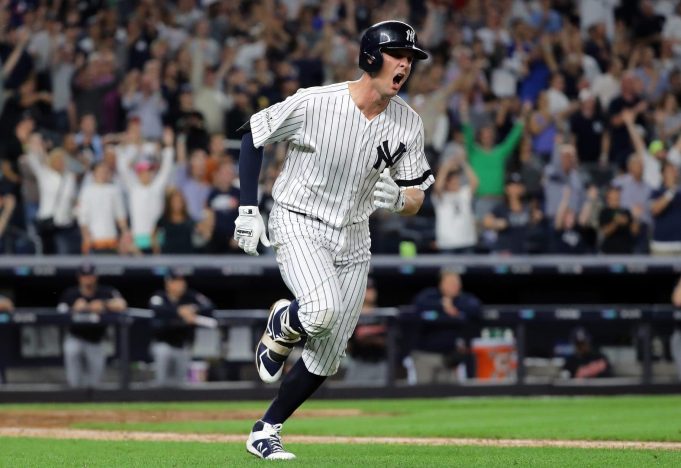 Down 2-0 in the ALCS against another 100-win team who comes fully equipped with Dallas Keuchel, the lefty who literally walks on water when he stars those pinstripes down? Again, nothing these kids cannot handle.
New York's record is a sparkling 4-0 during these playoffs. If you count Games 3 and 4 of the ALCS (which we should), the record moves to an incredible 6-0. Come to think of it, it's amazing they won Game 5 at Yankee Stadium. To be honest, there just wasn't enough for them to lose.
But alas, Joe Girardi's starting pitching has raised its level of play. After allowing Houston to plate two runs in the first two games, respectively, only five runs came across home plate during the three games in the Bronx.
There's no backing out of this moment. There are no making excuses on a Saturday night in Houston. The season is a raving success for kids such as Aaron Judge, Gary Sanchez, Greg Bird and Luis Severino regardless of the outcome of Game 7. This much is understood.
But what makes these kids so special and what had us compared them to the fiber of the unexpected 1996 squad is that they don't view it quite like everybody else.
Should they falter against Charlie Morton and the Stros, it will come as a bitter pill to swallow for such an unexpected run. This is what breeds greatness — leaders who can stand above the crowd and take on a new era.
Should they be celebrating around the time the clock strikes midnight on the east coast on Saturday night, it'll just come as one more unbelievable surprise for the fans while the players expected it all along.
And hey, why would they falter? Nothing has convinced us they will.
Forget experience. These kids possess something much more important.
They survive and stay calm under the most crucial of days and instances — those baseball times when backs are standing straight up against the wall. I wouldn't bet against old-man CC Sabathia and a bunch of kids who still don't know any better. They've yet to experiencing failing on this level.
The cardiac Baby Bombers have Houston (and the rest of the world) right where they want them — a place where there's no tomorrow.