Masahiro Tanaka once again dominates as the New York Yankee offense pounds unhittable Dallas Keuchel to send the ALCS back to Houston with a 3-2 advantage.
New York Yankees 5 (3-2)
Houston Astros 0 (3-2)
W: Masahiro Tanaka (1-1)
L: Dallas Keuchel (1-1)
ALCS, Final, Box Score
Yankee Stadium, Bronx, New York
Yankee Stadium was once again rocking '96-style as their New York Yankees took a 3-2 ALCS series lead with their convincing 5-0 victory tonight on an absolutely beautiful night in the Bronx.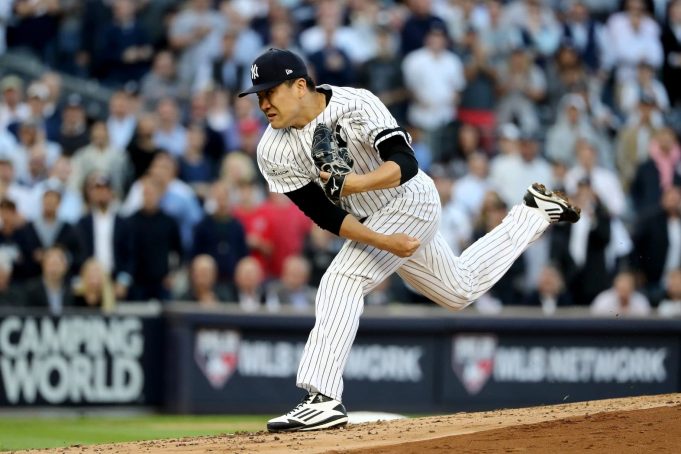 Masahiro Tanaka pitched the game of his life, slinging seven strong innings of three-hit, shutout ball. All night long, the Japan-native brilliantly navigated through a lineup responsible for the most runs scored in baseball this season. The man with the opt-out clause in his contract this off-season strutted off the mound following the seventh, tipping his cap to a deafening ovation from the Yankee faithful.
Facing a guy that seemingly never loses to New York in Dallas Keuchel, the Bomber bats stayed hot as they scored early and often, knocking Keuchel out before he could reach the sixth. Leading the way once again, Aaron Judge and Gary Sanchez set the stage for what is certain to be an electric Game 6.
Highlights
We're Not In Texas Anymore, Dallas
With every fan in the ballpark hanging on absolutely every pitch, both starters sailed through the first without issue. But after Tanaka worked out of a jam that saw Houston strand a man on third, more two-out magic led to Yankees putting up the first run of the game.
Dallas Kuechel allowed just the fourth fly ball of his incredible 2017 postseason, this one good enough for a Starlin Castro ringing two-out double off the wall in left center. Then the guy who gave Tanaka his only run in the huge Game 3 win over Cleveland Greg Bird smoked a single down the right-field line that scored Castro from second to give the Yankees a second-inning one-run advantage.
Get GIDDY #Yankees fans. 1-0 up on Keuchel is a party. Greg Bird. pic.twitter.com/vAnDvkJ8IV

— Elite Sports NY (@EliteSportsNY) October 18, 2017
After Tanaka worked out of some more trouble in the top of the third, the Yankees kept their foot on the gas as they struck for another run in the bottom of the frame.
Designated hitter Chase Headley started the third with a base knock to center, replaced at first when Brett Gardner grounded into a force out at second. But the speed swap at first perfectly paved the way for Aaron Judge to do this.
.@TheJudge44 sentences the runner to score. #ALCS pic.twitter.com/3uUCPsZ2mH

— MLB (@MLB) October 18, 2017
As WFAN's Susan Waldman put it, "A 2-0 lead against Keuchel feels more like a 7-0 lead with the way he's owned the Yankees."
It's also worth noting that we are truly being treated to something magical with what Judge has been able to accomplish in just his first full season as a big leaguer. He has been vilified for his strikeouts; both in season and postseason, but all the 6-foot-7 superstar has done is make the necessary adjustments to produce these quickly-becoming-legendary moments.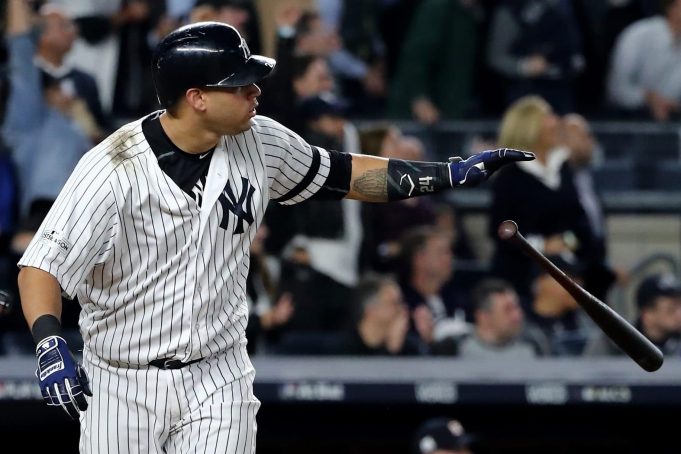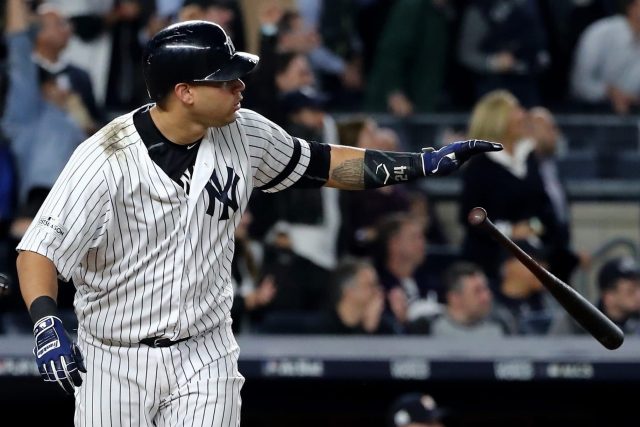 Bye-Bye Keuchel
The struggles continued for the ace Keuchel, as the Yankees kept the pressure on and knocked their nemesis from the game in the bottom of the fifth.
Chase Headley got things going with an infield single to third, where third basemen Alex Bregman launched the throw into the right-field corner to allow Headley to take second. After a Gardner ground out, Keuchel basically unintentionally intentionally walked Aaron Judge to bring up Gary Sanchez. Sanchez promptly delivered what might be the second biggest hit of his career, a single down the left field line that scored Headley to extend the Yankees' lead to three.
Tell me, when's the last time you heard Yankee Stadium rock like this?
Following suit to knock the crafty lefty Keuchel from the game, Sir Didi Gregorius smacked a single past a diving Jose Altuve and on into center that scored Judge from third to make it a 4-0 Yankee advantage.
Aaron Judge with a LASER!

Brett Gardner scores from first on an RBI double by @TheJudge44!

Bombers lead 2-0. #ALCS pic.twitter.com/oN9bNXYIJS

— YES Network (@YESNetwork) October 18, 2017
After that, manager A.J. Hinch had seen enough and came out and got his ace in favor of righty Will Harris. And the veteran righty got Aaron Hicks to fly out to left to end the threat and the inning. But once again, the Yankees were into the Astro bullpen with a 4-0 lead while their own ace Masahiro Tanaka was spinning a three-hit shutout gem.
Gary Is So Very Scary
Facing break-out youngster Brad Peacock, Gary Sanchez absolutely pulverized a fastball to left that I'm not sure has even landed yet.
EL GARY JOINS THE PARTY!@Yankees lead 3-0 in the 5th.#ALCS pic.twitter.com/ilTdVz4b9M

— YES Network (@YESNetwork) October 18, 2017
Sanchez's lone hit was his go-ahead double in last night's ball game before tonight. If the Yankees can get Sanchez going like we know he can, this team could do some really, really special things over these next couple of weeks.
TK With the TKO
Attempting to mirror the incredible work from Masahiro Tanaka; Tommy Kahnle retired the side in order in the eighth, capped off by a loud strikeout of Josh Reddick to finish off the frame. Unwilling to veer from the hot hand, manager Joe Girardi sent Kahnle out to pitch the ninth And all he did was keep the shutout intact as he got Alex Bregman to fly out to center to end the game. Simply incredible!
Mashiro Tanaka, ladies and gents. #Yankees pic.twitter.com/1E7L66Js4W

— Elite Sports NY (@EliteSportsNY) October 18, 2017
What's Next
Following the greatest homestand of the year (and possibly the decade), the Yankees head back to Houston needing one win in two tries to make it back to the Fall Classic.
Friday nights pitching matchup features round two of the incredible pitching matchup we witnessed in Game 2: Luis Severino for New York and Justin Verlander for Houston. Severino will be looking to go a bit deeper into the game this go-round, having to depart early his last time out after being drilled in his non-trowing arm by a comeback liner. Contrastly, Verlander is hoping to duplicate his tremendous Game 2 victory, where he completely dominated this daunting Yankee lineup. But as Dallas Kuechel will tell you, it doesn't always go the same way the second time around.
Friday's first pitch is scheduled for 8:08 p.m. ET and can be seen on FS1 and heard on WFAN 660/101.9 FM.
THIS. IS. OUR. HOUSE.@Yankees move to 6-0 at home this postseason with a 5-0 shutout vs. Houston in Game 5.

New York leads the #ALCS 3-2. pic.twitter.com/H2gJhKZKmR

— YES Network (@YESNetwork) October 19, 2017