It may be unfamiliar to see Dellin Betances struggle but for the New York Yankees, this is just another in a long line over the years.
I
t's an age-old narrative that has plagued the New York Yankees in the past. Now it seems that Dellin Betances has fallen victim to the curse of the bright New York lights.
Betances entered this season fresh off an arbitration battle with Randy Levine and demotion from the closer role he held for the majority of 2016. He was an All-Star in three straight seasons, striking out 126 batters in 73 innings in 2016 alone.
Betances looked to be the future of the bullpen. And then, 2017 happened.
Like I've said, this is nothing new for the Yankees. They've had hot pitchers come up only to fall apart under the magnifying glass of the media spotlight. Betances just happens to be one of the more promising players to deal with it.
It's a curious case for Mr. Betances, a guy who was once the most feared reliever in baseball. Now, opponents only fear whether or not they will make it out of the box alive with Betances' control issues.
And that's just the problem. He can't control his pitches. He can't find the strike zone even if it was surrounded by flashing lights with a fluorescent "Throw Here" sign. He's so horribly inconsistent that you never know what Betances you will get when he enters the game.
Need an example? In Games 1 and 2 of the ALDS against Cleveland, Betances threw a combined 46 pitches, registering 33 for strikes. In his last two games? He has thrown 22 pitches and only six strikes. He has recently lost all semblance of control when the Yankees could've used his dominant arm the most.
We've seen it before. Remember Joba Chamberlain, the next great starter for the Yankees? He fell apart in Cleveland, was eaten alive by the midges and never was the same again. Or what about Ivan Nova, who had stellar seasons in 2011 and 2012 before falling off the face of the earth?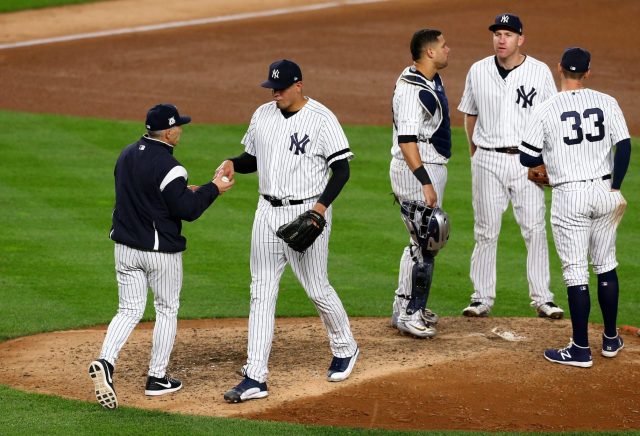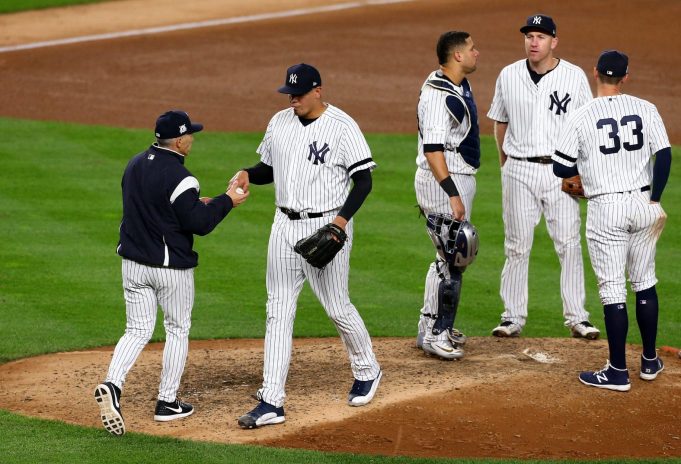 The problem is that Betances is not another one of these guys. He was absolutely stellar for the Yankees, winning various awards for his shutdown performances over the years. His face and number are brandished on shirts throughout the country, fans supporting the big righty.
We see that Betances is struggling and, watching him on the mound, he's well aware of it too. The frustration has become a part of his game, each outing starting with hope that quickly dissipates into heartbreak for both Betances and fans.
He's off mechanically and seems to be in his own head when it comes time for him to approach the mound. One bad pitch and his whole game is off. Honestly, it's incredibly difficult to watch a player who once brought the team such joy struggle to make it through just one inning.
What could it be? Is he just not cut out for the bright lights in the Bronx anymore? He once basked in the glow of the spotlight but recently has instead shrunk when all eyes are on him.
If we're being honest, Dellin Betances likely won't be back with the Yankees next season. If he is, it will be in a severely limited role until he figures it all out…if he can. Right now, we can only watch in sadness as a hero suddenly loses his superpowers.
But this is something we've seen before. Maybe the Bronx isn't the right place for him. Maybe Betances needs some time to rediscover his dominance. Whatever it is, it's nothing new for the Yankees.
It may be a new and unfamiliar thing for Dellin Betances but when it comes to the Yankees, they've dealt with this before. And each time it gets even more frustrating.