For the first time since 2012, the American League Championship Series features the New York Yankees. Here's who's to keep an eye on.
P
layoffs, meet the newly designed, revamped New York Yankees. You haven't seen a team quite like this since the mid-1990s and you're about to be pleasantly surprised.
By knocking off the Cleveland Indians in an improbable comeback, the Yankees find themselves off to Houston to face that Astros and some old friends en route to their first World Series since they won it all in 2009.
While we witnessed an incredible series against the Indians, the Yankees have another challenge ahead of them with the Astros, who ran away with the AL West and finished the regular season with 101 wins. The Astros are favored, but the Yankees aren't afraid of tough competition.
So with Francisco Lindor and Jay Bruce out of the way, the Yankees will face off against Jose Altuve and Carlos Correa. Yeah, this will be a whole lot of fun.
A team is only as good as its players and the Yankees have some pretty good ones. Here's who to watch for as the series begins tonight in Houston.
1. Dellin Betances
Dellin Betances has not been himself so far, in both the regular season and the postseason. His entire year has been defined by his ups and downs and finally, he's sunk low enough where the Yankees don't seem to trust him.
He turned in an incredible performance during Game 1 against Cleveland, tossing a scoreless eighth while striking out the side. His appearance in Game 2 was strong for two innings before giving up the walk-off in a devastating 9-8 loss.
So far, so good. That was until Betances lost all command in his Game 4 performance. Working with a four-run lead, Betances walked the first two batters he faced, throwing only two strikes in the process.
He looked bad. So why is he a player to watch? We don't know what his new role will be. He's in the bullpen and he has proven that, at times, he can be pretty impressive. Will Joe Girardi even give him a chance? And if he does, will the frustration of his last outing propel him to greatness?
We'll just have to wait and see, my friends!
2. Gary Sanchez
Gary Sanchez didn't do a whole lot against the Cleveland Indians. Sure, he hit two home runs. However, he hit just .174 while striking out in 44 percent of his at-bats.
Which is exactly why we need to be watching him as the ALCS begins. Sanchez has done some incredible things during the regular season and he's due for some magic.
Better yet, Sanchez has played in five games against the Astros this season and is batting .300. If there was ever a time to start hitting, it's right now for the catcher.
While he practically didn't have any hits in the ALDS, he still smoked the ball off some of the best pitchers in baseball. His swing is still there. Hopefully, he gets the pitches that will allow him to turn back into the monster we know and love.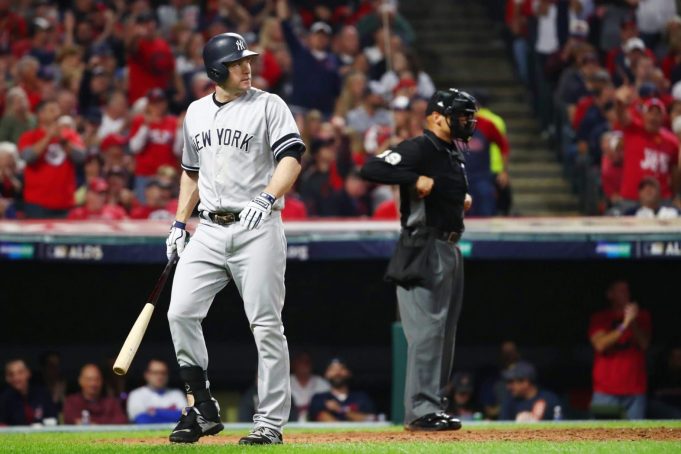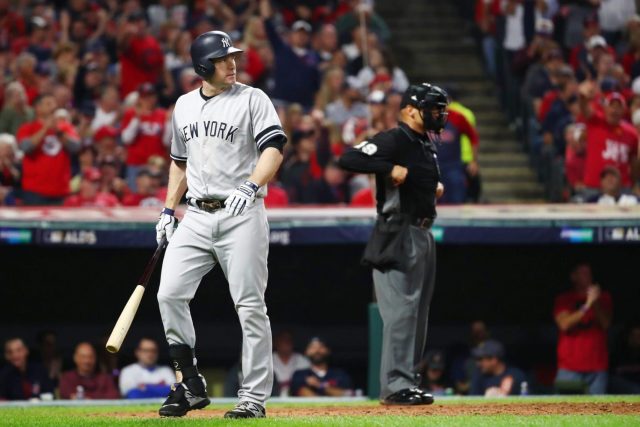 3. Chase Headley
Much like Sanchez, we saw practically nothing from Chase Headley during the ALDS. Actually, we LITERALLY saw nothing from Headley, who went 0-for-12 in his stint as a DH.
Headley has not looked good of late but he really did put together a solid season after falling off in the month of May. He ended the regular season hitting a respectable .273.
We've seen Headley at his worst and we've seen him at his best. He was pissed by his lack of production against Cleveland. When Headley is fired up, he fights back. It'll be loads of fun to watch against the Astros.
He can't be held down for much longer and once that first hit comes, there will be plenty more to follow. Keep an eye on the DH/3B/1B because he's going to do some big things this series.
4. Masahiro Tanaka
Game 3 against Cleveland was Tanaka Time in the Bronx. Now, we get to see a bit more of him this series and see if he's actually worthy of sticking around after the season.
Tanaka reminded us of the ace he once was and showed us that he still has what it takes to lead the Yanks to a championship. His reaction after his crucial Game 3 victory was enough to prove that he wants this.
He has been inconsistent at best this season, dominating during night games and struggling in the day. However, he played to a whole new level in his first game this postseason and I don't see that dominance slowing down soon.
He'll be incredibly fun to watch against this tough Astros lineup, one that shelled him for eight runs earlier this season. Hopefully, he's learned from that and is ready to take them down in October.
It could go either way but regardless of what happens, this is one big series for Masahiro Tanaka.
I mean, I'll really be focusing on every player during this series but these are the guys I'm most excited to see break out. Buckle up, Yankees fans. You're in for one heck of a ride.