NO patience, young grasshopper! If Aaron Judge wants to make an impact in the playoffs, he has to start swinging early for the New York Yankees.
T
he whole idea of the playoffs is an age-old concept for the New York Yankees. For Aaron Judge, it's a whole new ballgame.
Participating in his first of what we hope will be many more postseasons, he already blasted a huge home run in the Yankees' 8-4 win over the Minnesota Twins in the Wild Card game.
But the first game of the ALDS? Nothing. Nada. The Judge sits.
He failed to make an impact in the first game of the series against arguably the most complete team in the American League. And he didn't look so great in the process.
He was waving at pitches out of the zone, watching perfect strikes fly past. He didn't look comfortable against Trevor Bauer. Of course, none of the Yankees did. However, Judge's discomfort was blatantly obvious.
He certainly didn't look flustered as he blasted a two-run shot out of Yankee Stadium. He's been on the road quite a bit this season, so it isn't the environment. No, he's just now witnessing playoff baseball for the first time.
The fight for the division is one thing but when there are only eight teams left, you are facing the best of the best. Judge's problem is that he now is facing the best in the Cleveland Indians' starting rotation and he's being way too patient at the plate.
Judge is a naturally patient hitter. He averaged 4.41 pitches per plate appearance, which was good enough for third in Major League Baseball. Normally that's a great thing. On this stage? Not so much.
Last night he faced Trevor Bauer, an artist who paints the corners with incredible precision and uses his nasty curveball late in the counts to get batters to chase. Tonight, he'll be pitted against Corey Kluber, who will likely be this year's AL Cy Young Award winner.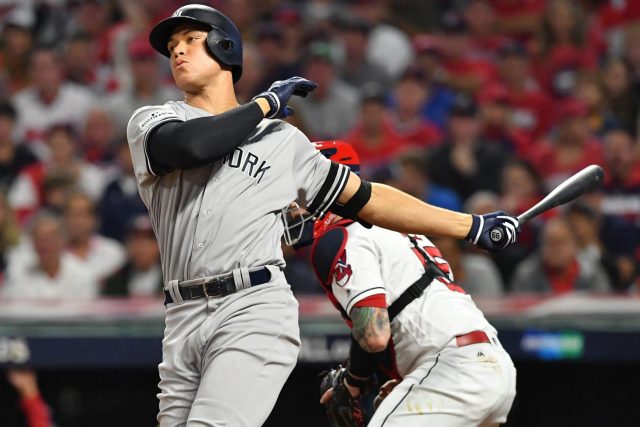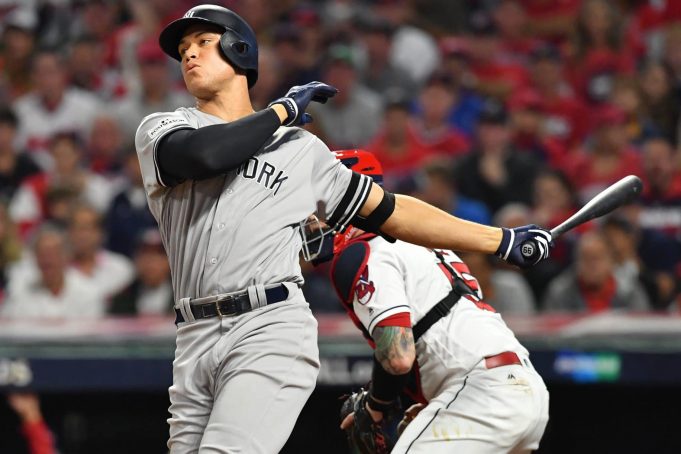 With these pitchers, taking pitches will only get you in trouble. The more Judge watches pitches, the more power he is giving back to these pitchers who have devastating stuff to put him away.
Against Ervin Santana in the Wild Card game, Judge hit his two-run home run on a 0-1 count. Last night, he fell behind early and got rung up often.
In the first inning, he was called out on strikes on a 2-2 count. In the fourth, a strikeout swinging occurred on another 2-2 count, where he completely chase a curveball out of the zone. In the sixth, he worked a 2-0 count before laying off a pitch right down the middle and eventually striking out looking on a close pitch.
Let's not forget about the eighth, where Judge got up with two runners on and, after working the count to 2-2, struck out on a pitch outside of the zone.
These four at-bats did nothing for the Yankees and made Judge look terrible at the plate.
The earlier Judge can attack pitches, the better luck he'll have against these top-tier pitchers. The more he works counts up to two strikes, the more likely he is to either chase or watch a close pitch whizz by.
And that's exactly what happened last night.
Judge's patience is usually a great thing. However, with this rotation in this series, it will only hurt him. Instead of looking like the MVP candidate he did for most of the season, he looked like an unprepared rookie, thrust onto the big stage.
This is the playoffs. He is now facing the best of the best every single night. These guys aren't going to make mistakes and they WILL paint the corners for a called strike three.
Home run power is a great thing to have. However, Judge has to be aggressive at the plate and go after that first or second strike. The earlier in the count is where he'll find those good pitches to hit, not when he's already behind in the count and having to guess what these crafty hurlers will throw next.
You know they're not going to throw a pitch right down the middle. They're going to make you chase, which is exactly what Judge did all night.
When Andrew Miller, Cody Allen and other aces are on the opposing mound, you better believe they've got incredible pitches to put you away. Judge can avoid all that by working his swings in earlier.
Aaron Judge, we love how patient you can be at the plate. But right now, that's not helping anyone. It's time for you to swing early and often for those home runs we know and love.