Greg Bird hasn't had the healthiest of seasons for the New York Yankees but it shouldn't be a cause for concern.
Greg Bird has struggled with staying healthy consistently over the past three seasons. The 24-year-old first baseman had a lingering shoulder injury his rookie season in 2015 that ended up costing him all of the 2016 season.
A foot injury this spring that lingered into the summer has limited him to just 38 games this season.
---
---
Bird started off the season with just six hits in 60 at-bats (.100/.250/.200), and many used the undiagnosed foot injury as an excuse for his rough start. However, he has not been any better since coming off the disabled list.
At first, it looked like Bird was flashing signs of 2015, which saw him manage a slash line of .261/.343/.529 in 46 games with 11 home runs and 31 runs batted in. In the six games he played in August since his activation, he hit .333/.400/.667 with two home runs and nine runs batted in.
The month of September, though, has not been kind to the Aurora, Colorado native. In 13 games this month, Bird has struggled with only five hits in 38 at-bats, good for a slash line of .132/.171/.289, along with two home runs, five runs batted in and 12 strikeouts.
Despite his struggles, the Yankees still have been giving Bird regular playing time over at first base. He's been in the lineup against right-handers but hasn't been facing left-handers as often The Yankees didn't go out and trade for a first baseman at the non-waiver July 31 trade deadline for a reason — because the team still has the belief that Bird is their first baseman of the future.
"I think his at-bats are important to us," Girardi told NJ.com's Brendan Kuty. "We feel he can provide production. When you look at his numbers, mainly the average doesn't ring out so much, but he has had a substantial amount of RBI in the at-bats that he's had and you're looking at productivity from your players. He's hit some home runs here that have been important to us. But we just want to get him back to where he was."
The oft-injured first baseman spoke to reporters after Saturday's game in New York against the Baltimore Orioles about his interesting go at things this season.
"Obviously, it's been an interesting go at it (this season), frustrating, but just to be out there and play and be a part of it feels great," Bird said after the game to Peter Botte of the New York Daily News. "I know I've said it, but really that means everything for me just to be a part of it and contribute however I can."
Despite all the struggles, Bird has continued to persevere through the injuries and the struggles and he's kept his head high. Even with his struggles, Bird has been hitting the ball hard, so it looks as though he'll eventually get through these lows.
One thing Bird brings to the Yankees when healthy at the plate is "barrel accuracy," as coined by Hall of Fame outfielder Reggie Jackson to Kevin Kernan of the New York Post.
Over the weekend, Bird hit two home runs, including one that, per Kernan, had an exit velocity of 104.1 mph, a distance of 409 feet, a maximum height of 89 feet, a hang time of 5.0 seconds and a launch angle of 30 degrees. According to Baseball Savant, Bird's batted balls have had a launch angle that has been hovering around 20-40 degrees, which is right where he wants his numbers to be.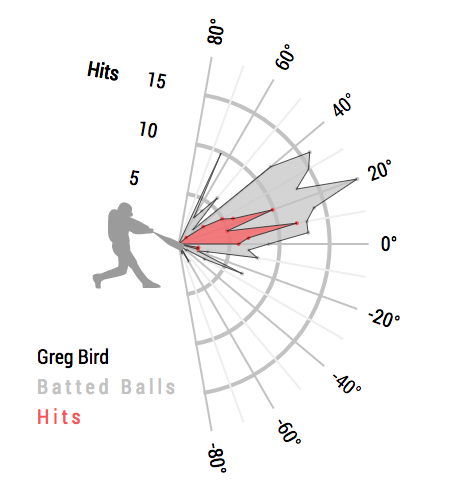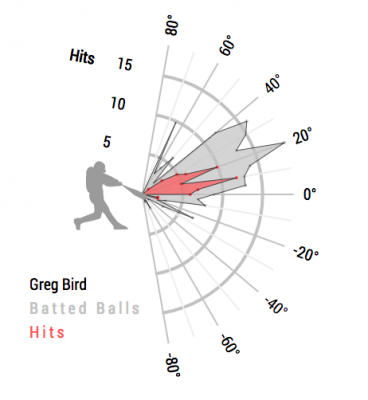 "That's huge for me,'' Bird told Kernan about the numbers adding up to what Jackson called barrel accuracy. "That's what I try and do.''
All Bird needs to do is start getting into a groove, and he's proved to get hot quick. Since coming off the disabled list, Bird has had his home runs and good games come in bunches. Getting — and staying — hot and continuing his barrel accuracy is the key to getting Bird back to his 2015 success.
It seems as though he's approaching this, too.
*All statistics used are retroactive to September 19.*