David Robertson, known to his friends as Houdini, has solidified the New York Yankees bullpen to an unforeseen degree. 
The New York Yankees completed a trade almost two weeks prior to the July 31 non-waiver trade deadline acquiring Todd Frazier, David Robertson and Tommy Kahnle from the Chicago White Sox in exchange for Tyler Clippard and three prospects. The biggest piece of the deal, based on everyone's performances thus far, has been right-handed reliever David Roberson.
Robertson pitched a scoreless ninth inning Friday en route to the Yankees' 8-2 win over the Orioles, who now at 72-76 now have quickly fallen way back in the race for the second AL Wild Card spot. He has become one of the team's go-to relievers in a role that was somewhat unfamiliar to him.
Chad Green, who has broken out in the bullpen this year and has a 1.96 ERA and 99 strikeouts in 64 1/3 innings, had been the key middle reliever that would give the Yankees six outs or more at a time and scoreless ball. Now, Green has company in that role.
Before Friday night's 23-pitch ninth inning, Robertson had to fill in for Green in multi-inning stoppage man duties on Monday against the Rays. After CC Sabathia was unable to get through the fifth inning, despite allowing just one earned run and striking out six batters through 4 1/3 innings, Joe Girardi looked in his binder and one would usually think that it'd be Chad Green's turn.
However, Green threw 47 pitches in 2.1 innings of a blowout 16-7 win on Sunday over the Rangers in Arlington. Next best thing? David Robertson.
Robertson entered in the fifth inning — which was the earliest that he had pitched in a game since April 15, 2011. He threw 2.2 scoreless innings, which set up the game for Dellin Betances and Aroldis Chapman. Robertson picked up his eighth win of the 2016 campaign, as he struck out four of the nine batters that he faced while throwing just 36 pitches. Robertson hadn't gotten more than six outs in an appearance ever, and it was his 577th game of his major-league career.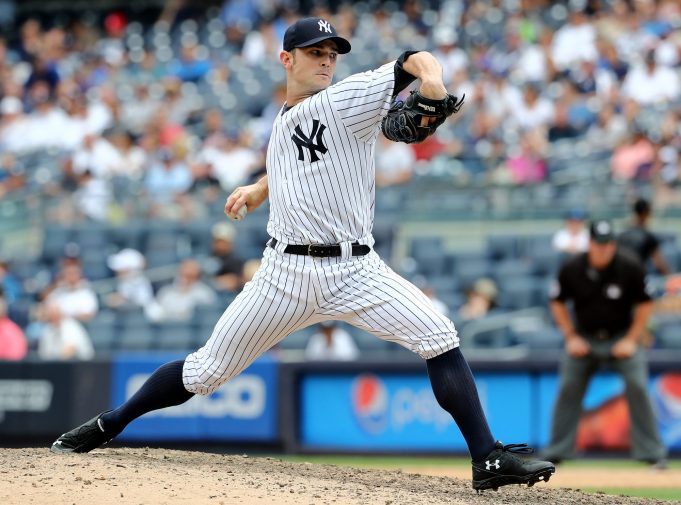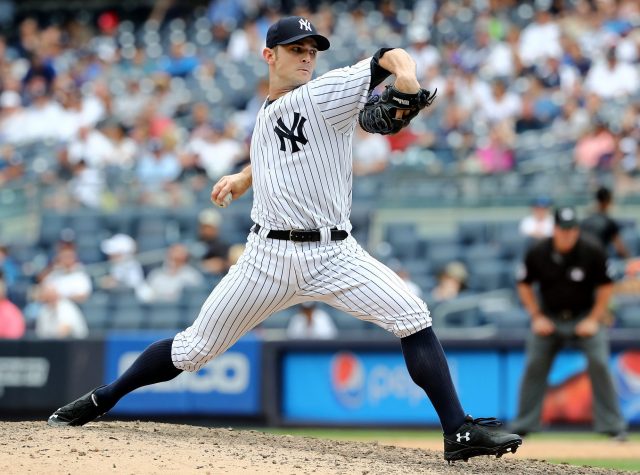 There hasn't been a set role for Robertson since his return to the Yankees in mid-July. He has pitched in the fifth inning once (Sept. 11), the sixth inning twice, the seventh inning six times, the eighth inning eight times, the ninth inning five times and once in extra innings. Robertson has been the Yankees' Swiss Army knife when it comes to getting outs out of the bullpen, and he has no problem with serving in that role.
"It's just the way the game was lining up," Robertson said to Christian Red of the New York Daily News after his fantastic outing on Monday. "Phone rang in the fourth and (bullpen coach Mike) Harkey told me just get ready. I was like, 'Ok, it's not a big deal.' Got enough warning to know I might possibly be in there. Game played out perfectly and it worked out."
The other night, Joe Girardi saw Evan Longoria coming to the plate and that had him thinking that he needed to make a move, because he could've changed the game's outcome with one swing of the bat.
"I kind of felt like that could be the game so I went to (Robertson)," Girardi said. "I'm not going to have Robbie for a day or two. I had Dellin ready to come in. I think (Robertson) has really adopted the attitude, 'I'm a real team player and I'll do whatever you want."
After posting a 2.70 ERA in 33 1/3 innings with the White Sox, Robertson has posted an astounding 1.30 ERA in 27 2/3 innings since being acquired by the Yankees. It looks like Robertson has returned to his old form that Yankees fans grew accustomed to back during his prime bullpen years in New York during the 2011-2014 seasons before Robertson signed a deal with the White Sox.
The Yankees bullpen is back to being one of the best in the league and he's a big reason for it. Even at age-32, he's posting a 12.0 K/9 with the Yankees, which is almost resembling his 12.3 K/9 from 2011 to 2014.
Robertson became a regular in the Yankees bullpen — the first time — in 2009, which was the year the Yankees won their 27th World Series title. The goal for him then was the same as it for him now in his second stint in pinstripes — win games and championships.
"If I have to throw in the fourth inning, I don't care," he added to Pete Caldera of NorthJersey.com. "As long as we get wins.''