Week 3 of the college football season is now upon us, and with Florida State vs. Miami being canceled due to the recovery efforts from Hurricane Irma, the slate is diminished.
This is going to be a much slower week with not as many ranked games but let's take a look anyway. None of the noon games really jump off the page at me so let's go immediately to the late afternoon.
#23 Tennesee @ #24 Florida, (-4.5), 3:30 p.m. ET, CBS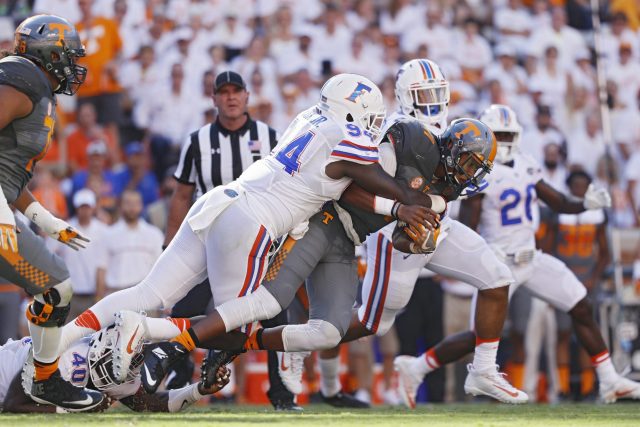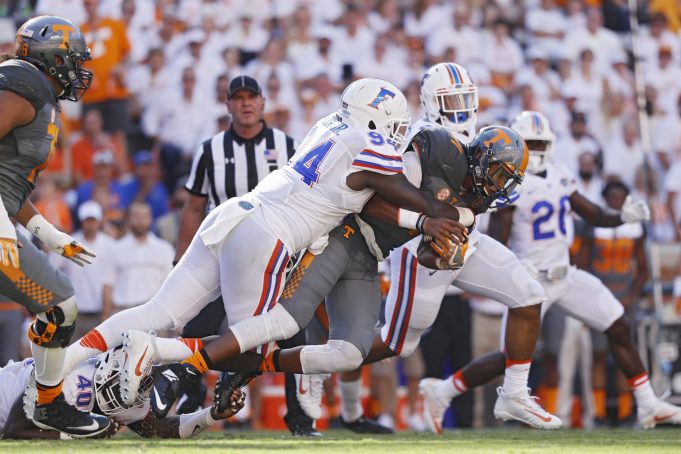 We go to the SEC for the first game of the week where the Volunteers of Tennessee are going to Gainsville to take on the Gators.
The Vols enter the game 2-0 after squeaking out a win against Georgia Tech's triple-option in Week 1 and easily handling Indiana State last week 42-7. Tennessee definitely has the advantage through the air behind QB Quinten Dormady. In two games, he's completed 35-of-55 passes for 415 yards, four touchdowns and an interception. 33/55 with four TDs and one interception.
Junior running back John Kelly has also been solid, picking up 208 yards and four touchdowns on 37 carries. The Vols haven't seen a defense as good as Florida's yet this season, so I'm interested to see how they're going to play against their conference rival.
Florida enters Week 3 with a 0-1 record, losing to Michigan 33-17 in Week 1. Problem is, 14 of those points came via pick-sixes by the Gators defense. Their game last week was canceled due to the hurricane.
I love Florida's defense but the offense struggles mightily. The Gators haven't had a good QB since Tim Tebow, and quite honestly it's baffling. Florida is one of the best states for high school football in the country and they just can't recruit anyone. Notre Dame transfer Malik Zaire was just 9-of-17 for 109 yards against Michigan and the team rushed for only 11 yards. This team simply cannot move the ball.
I think the number is a little high considering Florida's lack of offense, so give me Tennessee outright to win the game.
Army @ #8 Ohio St., (-30.5), 4:30 p.m ET, FOX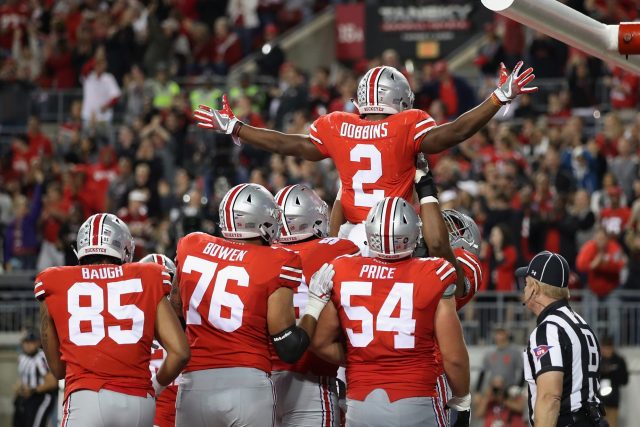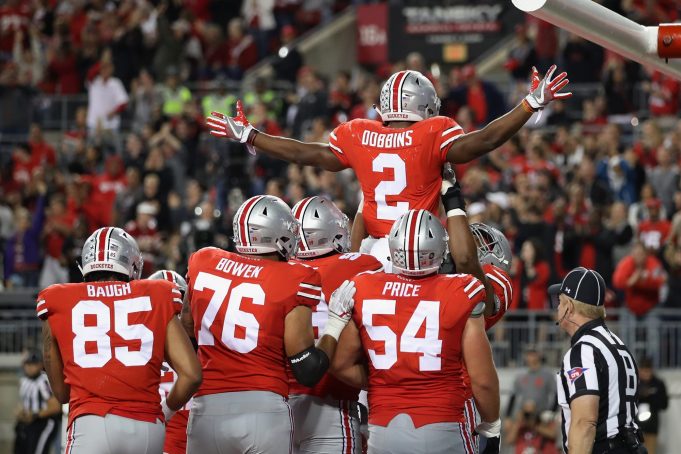 We go to the horseshoe next for a matchup that we've never seen before.
Army enters this one coming off of back-to-back wins against Fordham and Buffalo. Unfortunately for the Black Knights, Ohio St. isn't Fordham or Buffalo.
The Black Knights don't throw the ball often–senior QB Ahmad Bradshaw has thrown just 10 times for 17 yards. But he's carried the ball 34 times for 324 yards and three touchdowns in Army's triple-option attack. Ohio State could have its hands full with that backfield.
Ohio State is coming off a brutal loss at home to Baker Mayfield and Oklahoma and will be looking for redemption. They have a much easier test this week with Army, so if this game isn't a blowout, I think it will be time to panic in Columbus.
JT Barrett needs to have a big game. The senior QB hasn't really impressed me in a long time, but I think he'll have a big game and jumpstart his season.
I like Ohio State and the points this week. It will not be close.
#12 LSU @ Mississippi St., (+7.5), 7:00 p.m. ET, ESPN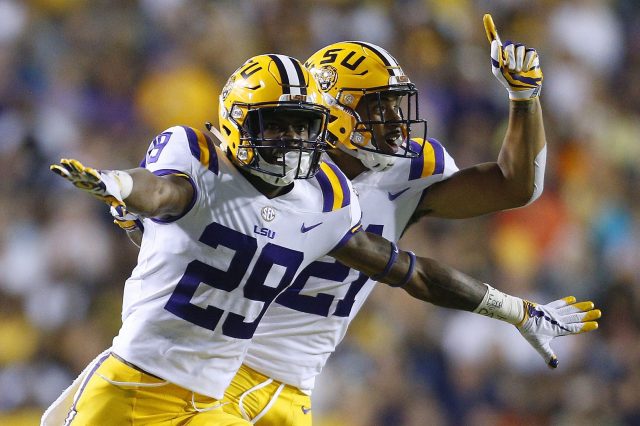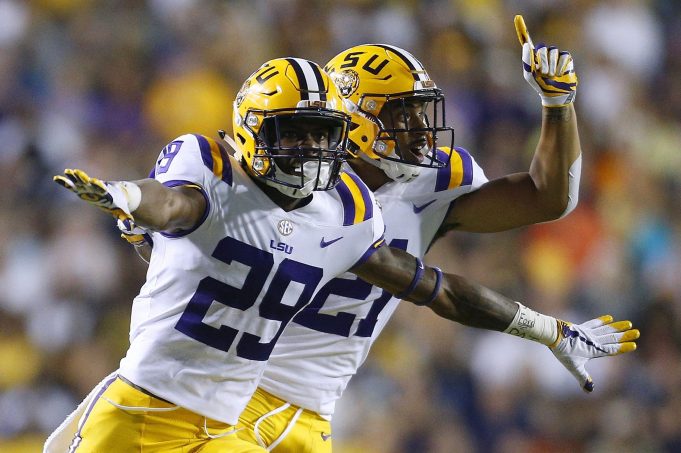 We go back to the SEC for this matchup in Starkville between LSU and Mississippi State. LSU has won 16 of the last 17 meetings between these two.
LSU enters this game 2-0, however, they've really played two cupcake games. This will be their first real test this season, and I'm excited to see how they look in a conference game. LSU is synonymous with having good defenses, and that's been the case so far in 2017. Don't be surprised if that continues this week for a defense that's allowed only 10 points in two games. What I'm really interested to see if Tigers QB Danny Etling can control the game and bring a win back to Baton Rouge.
Mississippi St. is also 2-0, and like LSU. they haven't played anyone either. QB Nick Fitzgerald has been awesome, completing 28-of-47 passes for 363 yards, five touchdowns and just one pick. If both games they played weren't blowouts, I think Fitzgerald would have passed for more yards. Mississippi State's defense this season has also been really good only allowing 21 points this year.
I'm expecting a low-scoring affair this week in Starkville, but I like LSU to win and cover.
#3 Clemson @ #14 Louisville (+3), 8:00 p.m. ET, ABC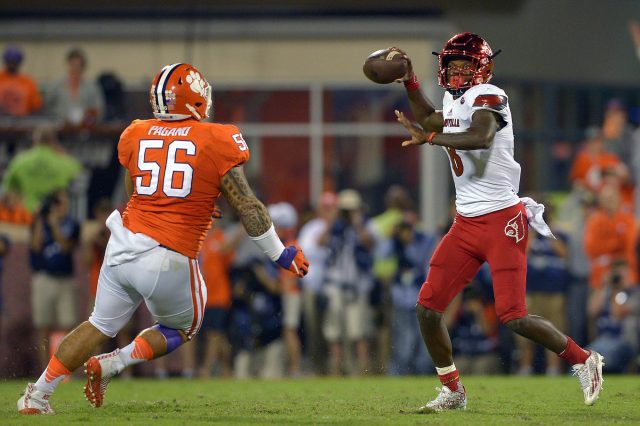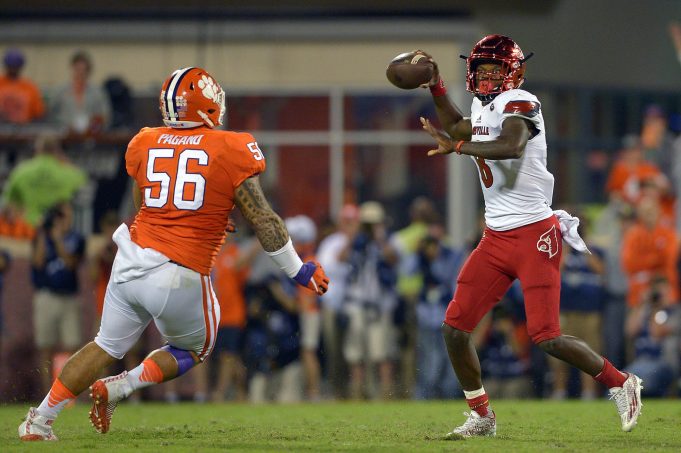 This is far and away the biggest game of week three. Lamar Jackson of Louisville vs the defense of Clemson is huge not only for the ACC but possibly the playoff at the end of the season. Both teams enter the game at 2-0 and I'm expecting a thriller this week.
The road team, Clemson, enters the game 2-0 and arguably have the best defense in the country. On average per game, they've allowed 40 passing yards and 78.5 rushing yards. That's INSANE. It doesn't matter who you play— if you post numbers like that you will be tough to beat. Last week they made Auburn look really bad. Auburn was able to move the ball a little bit early but Clemson held them to two field goals and they virtually did not move the ball again the rest of the game. On the offensive side of the ball, the QB replacing DeShaun Watson hasn't missed a beat. Kelly Bryant is a dual threat and has thrown for 417 yards and one TD. On the ground, he has 136 yards and three touchdowns.
Last week they made Auburn look really bad. Auburn was able to move the ball a little bit early but Clemson held them to two field goals and they virtually did not move the ball again the rest of the game.
On the offensive side of the ball, Kelly Bryant has stepped in and managed to replace DeShaun Watson. A dual-threat QB, he's completed 35-of-51 passes for 417 yards, a touchdown and an interception. On the ground, he's carried the ball 26 times for 136 yards and three touchdowns.
Lamar Jackson and the Cardinals have one of the best offenses in all of college football. They beat UNC last week in their first conference game of 2017. Through two contests Jackson has thrown for 771 yards and five touchdowns. He's also rushed for 239 yards and three touchdowns. Straight up video game numbers.
He's been so impressive this season, and if things continue don't be surprised if Jackson wins his second consecutive Heisman Trophy. Louisville's defense has been a little suspect this season allowing a lot of points, so let's see if they can contain a Clemson offense that hasn't been great yet this season.
I think Clemson's defense is going to be tough enough to win this game. However, I think the Cardinals stay inside the number and cover the spread.
Texas @ #4 USC (-15.5), 8:30 p.m. ET, FOX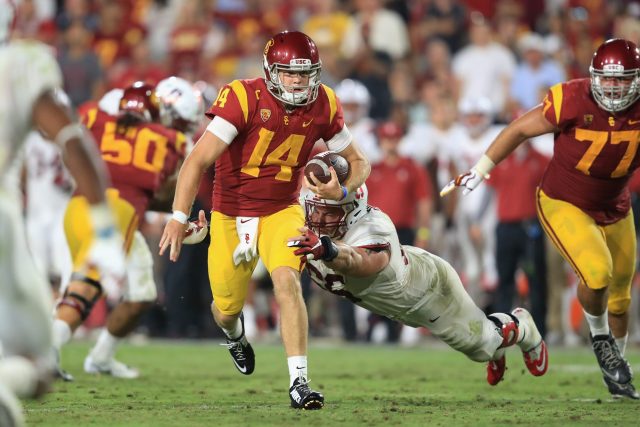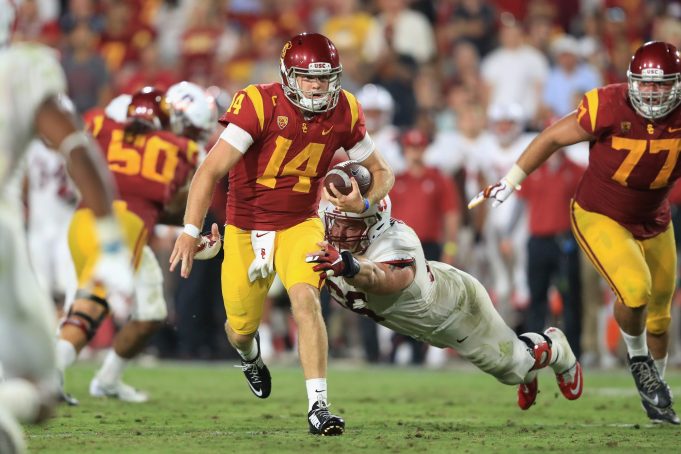 This matchup would be much sexier if Texas was able to beat Maryland in Week 1. They didn't, but this is still a 2006 National Championship rematch. Obviously, Vince Young and Matt Leinart aren't about to run out of the tunnel, but it  would be awesome to see that game again. Instead, we have two young gunslingers—Steve Buechele and Sam Darnold— and that maybe just as good.
Buechele and the Texas offense have put up 97 points in two games, but the Longhorns' defense can't stop anyone. Maryland hung 51 on them in Week 1, and the Terrapins are a decent team at best.
Don't be surprised if USC does the same thing. If Texas is going to win this game they will literally have to score every time they touch the ball because I just don't see a scenario where the Texas defense can hold the Trojans under 40.
Darnold and the Trojans are coming off a fairly easy win against Stanford. Darnold has a tendency to turn the ball over with four interceptions this year, but if he doesn't give the ball away, USC will win this one easily.
Despite the turnovers, Darnold has been slinging this year with 605 yards and four touchdowns. They also move the ball well on the ground behind junior RB Ronald Jones II.
I thnk that USC will do enough on the offensive side of the ball to win and cover in this spot. I'm also expecting a lot of points between the squads.
That's all I've got for Week 3. Enjoy your College Football Saturday.