The New York Yankees outscored many NFL teams on football's opening day forming the blowout thought: could the Bombers build a football team?
This week marked the first week of the 2017-18 National Football League season and the New York Yankees celebrated in style by running the scoreboard with 16 runs against the Texas Rangers on Sunday.
For those counting at home, that offensive output outscored seven NFL teams that played on Sunday and what the Giants and Jets were able to score combined.
---
---
While the Yankees celebrated NFL Kickoff, I was thinking about what a football team made up of Yankee players would actually look like. Of course, perhaps Aaron Judge is the only athlete on the 25-man roster that can compete on a football field, but the mere thought of seeing these guys trade pinstripes for pads is certainly entertaining.
Here is the newest football team in New York. Watch out, Jets: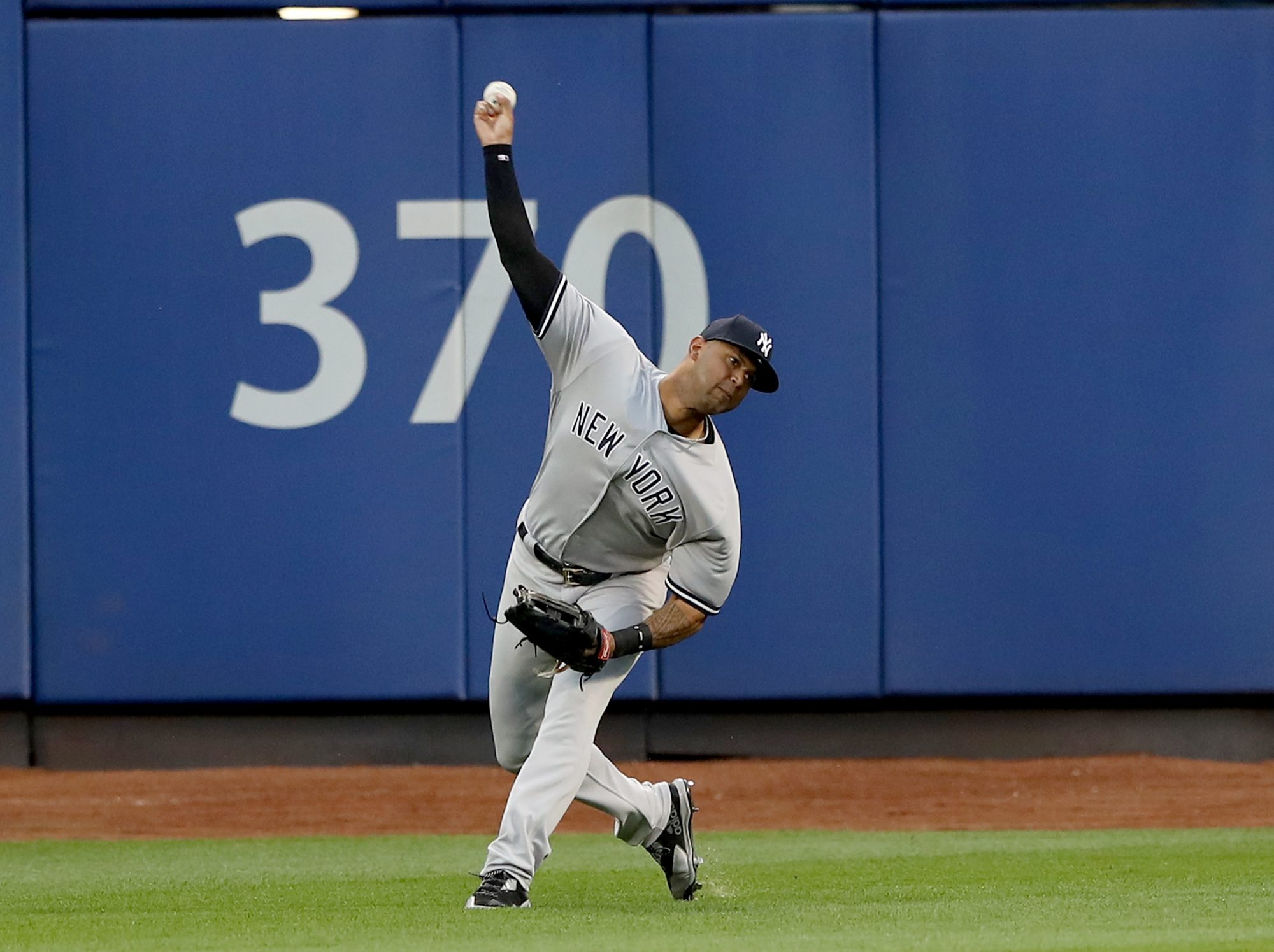 Quarterback: Aaron Hicks
This is undebatable.
Aaron Hicks threw Vernon Wells out at third from the center-field warning track in 2013, has produced the fastest throw ever recorded by Statcast and just a couple weeks ago, nabbed Eduardo Nunez at third base this season from the warning track. His arm strength and accuracy is for real.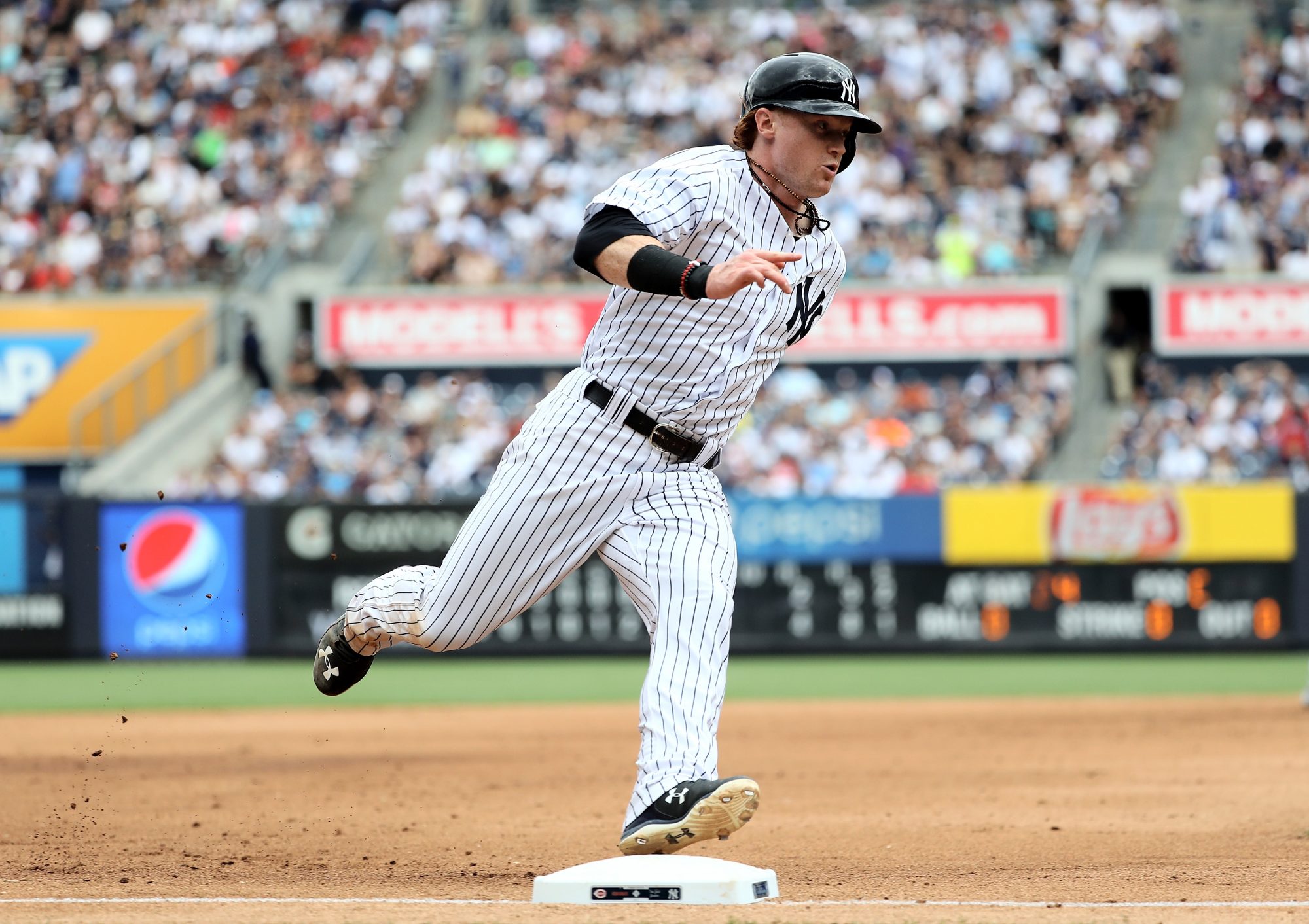 Running Backs: Clint Frazier, Tyler Wade
If you dig deep enough (don't worry, we have), you can find a video of Clint Frazier showing off his stud-like skills on the football field in High School.
Rumor has it that the 23-year-old once lead his county in all purpose yards (8,788), with multiple 300-plus yard rushing games. An impeccable combination of speed and strength makes him the ideal candidate to be the Yankees' lead running back.
His backup will be Tyler Wade, who has killer explosive speed. 119 stolen bases in 524 career minor and major league games is enough to earn him the second slot on the depth chart — although he's not as powerful as Frazier.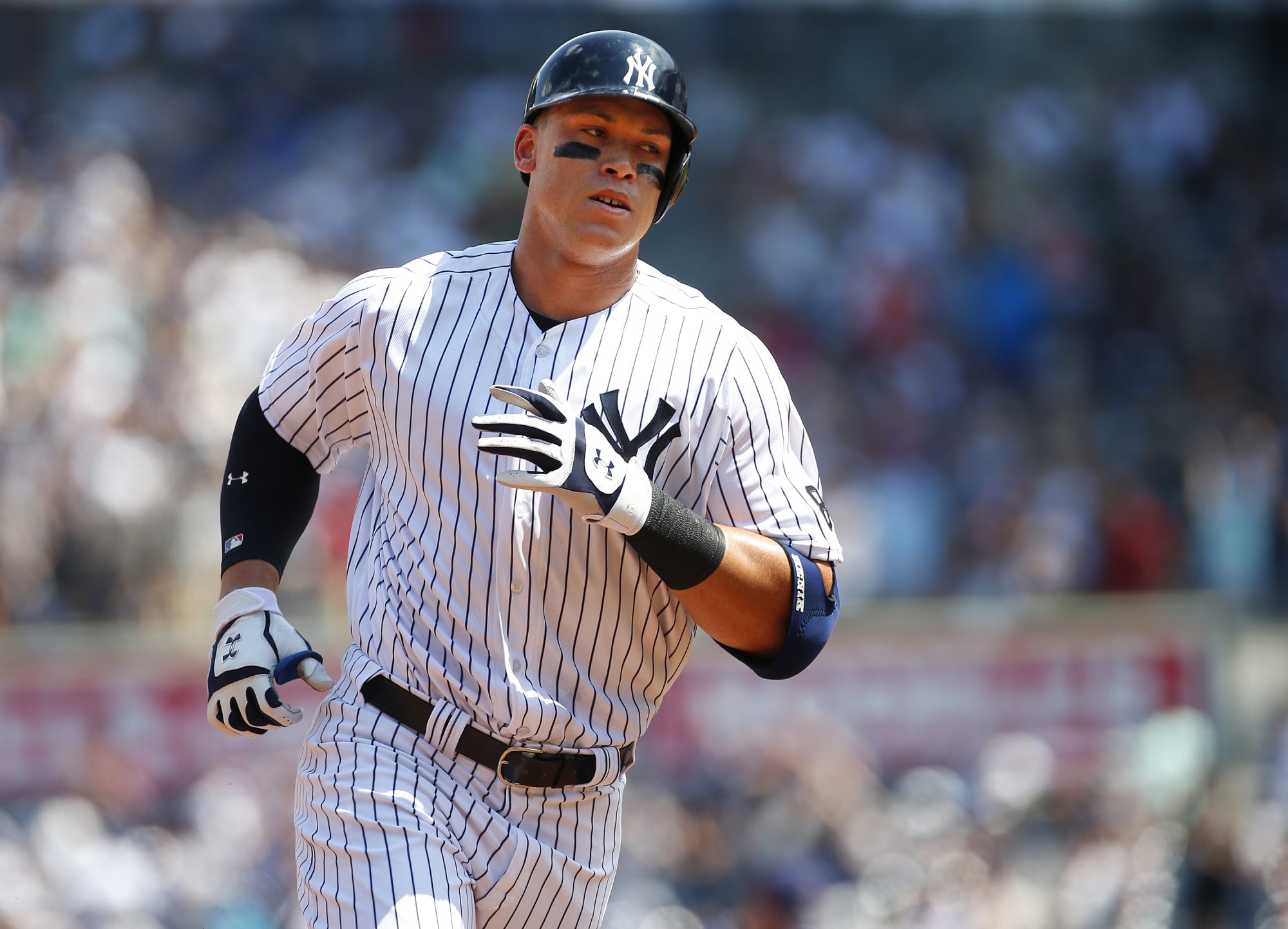 Tight End: Aaron Judge
As mentioned before, this 6-foot-8, 282-pound behemoth is the only player on the Yankees' roster that can compete on a football field. And he has.
According to NBCSN's Russ Tucker, Judge had 54 receptions for 969 yards and 17 touchdowns — he also set a school record for touchdown receptions as a senior — as a high school wide receiver. He was even recruited by Notre Dame, Stanford, UCLA among other schools as a tight end.
Judge has dropped your jaw in awe with his monster home runs, now just imagine him tearing through the heart of a defense Gronk style.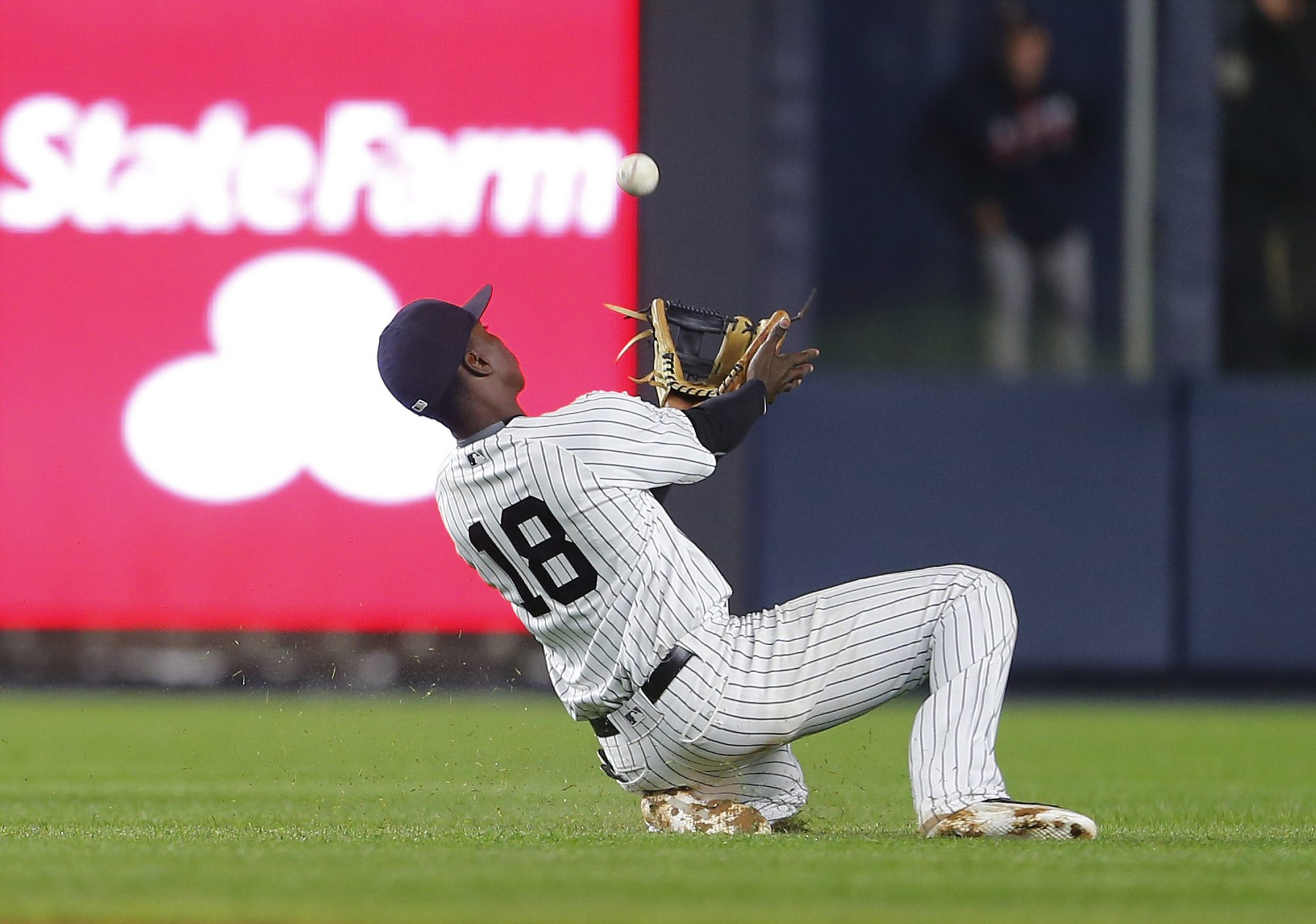 Yankees' shortstop Didi Gregorius absorbs anything that comes near him. Whether it's a ground ball up the middle, in the 5-6 hole or a blooper in shallow left field, he'll presumably snag it.
His double-play partner, Starlin Castro, wouldn't be as reliable, but he will make the routine play. Having Jacoby Ellsbury's speed in the slot surely helps form a dangerous trio of wideouts.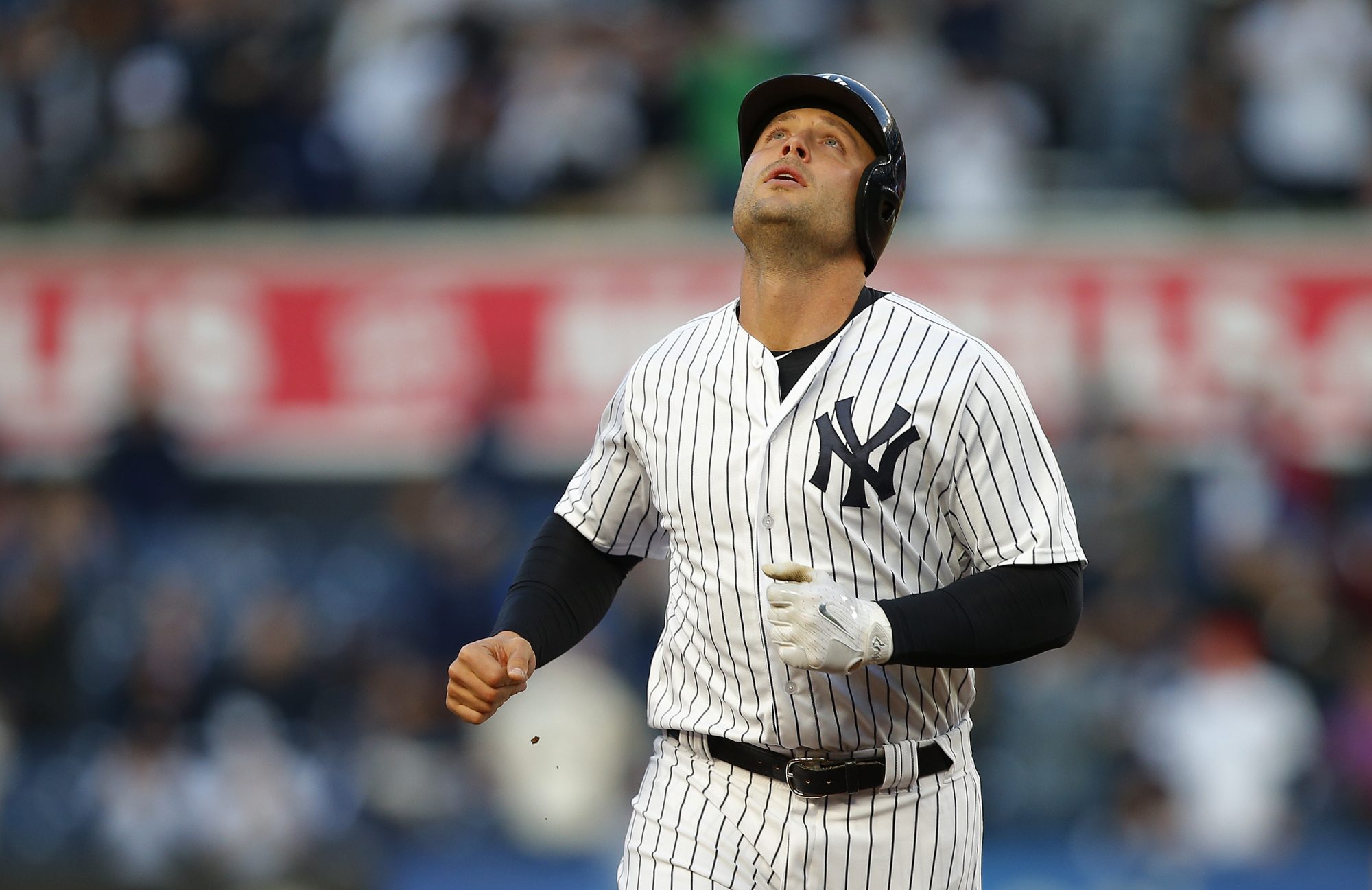 Backup QB: Matt Holliday 
Matt Holliday's arm isn't quite at the level of Aaron Hicks' right now, but back in High School, the 37-year-old was a flat-out stud.
Holliday totaled 6,211 of passing yards and 68 touchdowns during his High School career at Stillwater High. His 35 touchdown passes as a junior were an 11-man state record, according to NewsOK.com.
At the very least, he'll give Hicks a run for his money in preseason and fall to No. 2 on the depth chart. He and his massive forearms, however, could suit well on the defensive line or at linebacker.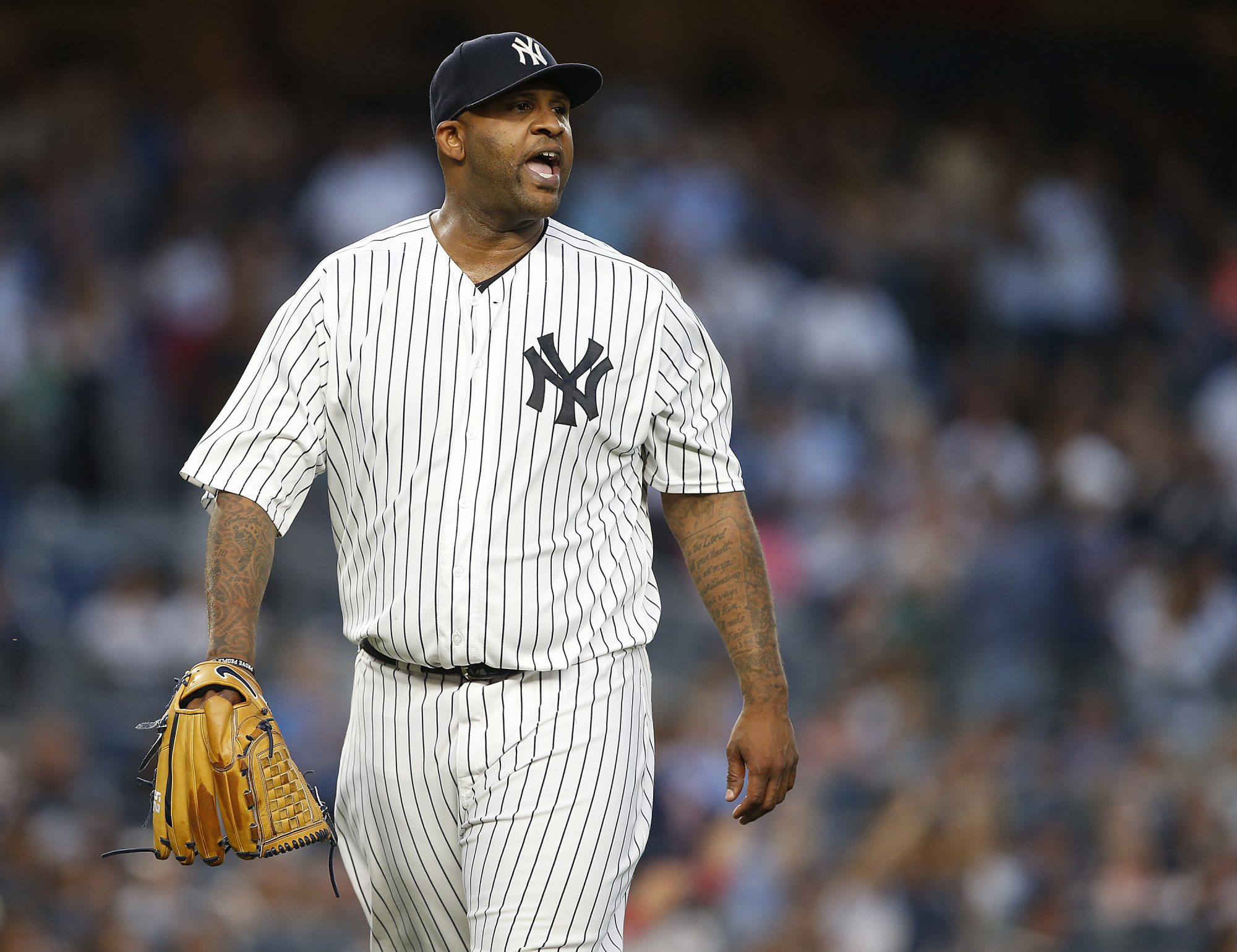 Defensive Line: CC Sabathia & Gary Sanchez
I was going to put Gary Sanchez on the offensive line, but his league-leading 14 passed balls don't help his case. But his overall strength and feisty-ness demonstrated in the fight with the Detroit Tigers makes him a quality defensive tackle.
With CC Sabathia, however, there is no question. His build and competitiveness fit the bill as someone you don't want blitzing you.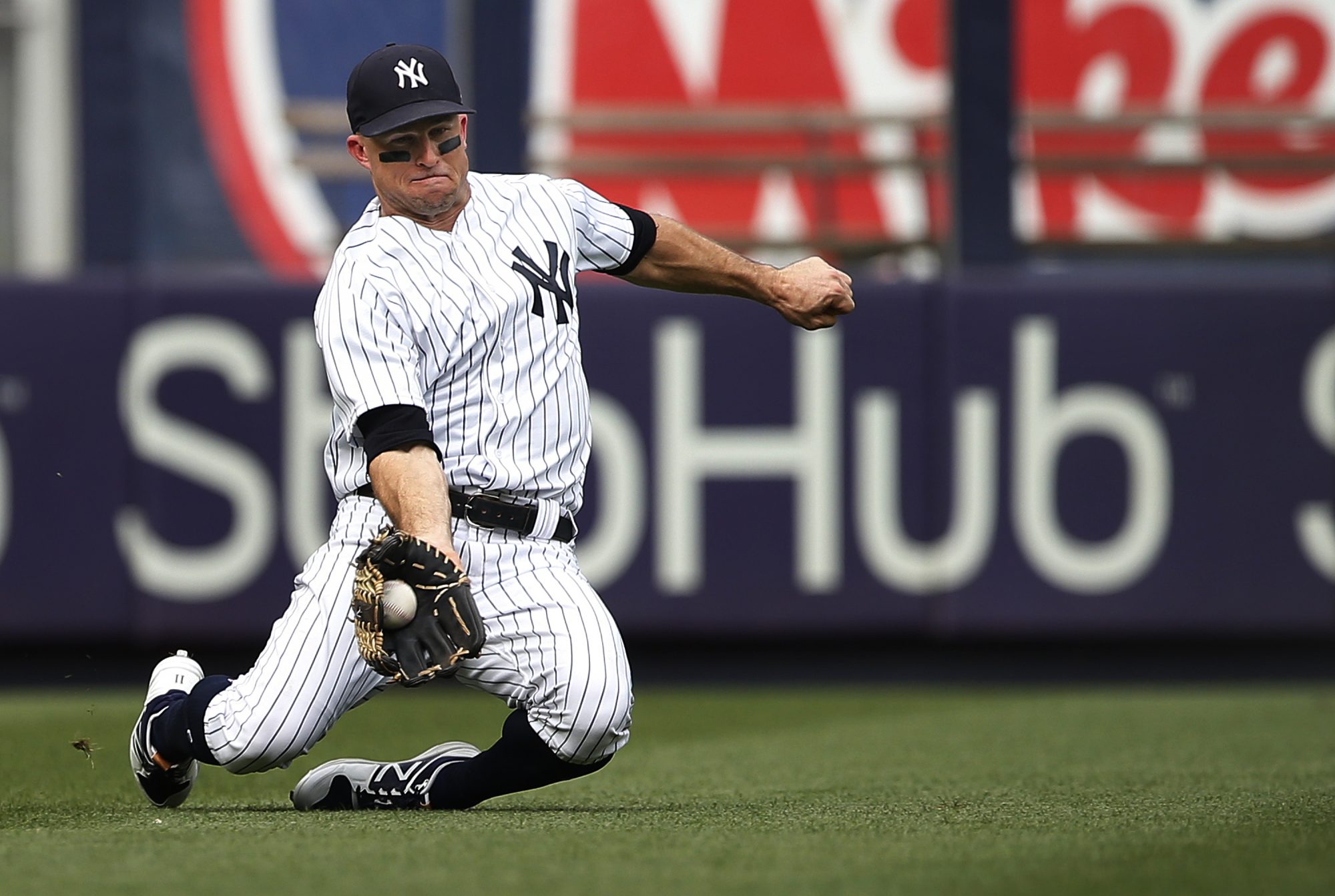 Safety: Brett Gardner
One word: ballhawk.
Brett Gardner's speed, judgment, strength and hands would make for a quality safety in the secondary. His career range-factor per nine innings stands at a superb 2.17 while he is fresh off a Gold Glove campaign.
His veteran knowledge will constantly keep him in a good position to be deep in pass coverage and when the ball is thrown, he has the speed break on the ball to try to make a play and take it to the house.
---
---
What do you think Yankees' fans? Where would you put your favorite Yankee players on the football field? What would your offensive line look like? Let your voice be heard in the comment section below!