Yet again, we were treated to that unique display of New England Patriots celebratory action on Thursday night. Ease up Boston.
S
imply embarrassing. Forget the 42-27 opening week loss to the Kansas City Chiefs that saw young
Kareem Hunt
bounce back in a very Patriot-esque way.
The celebration that kicked off the 2017 National Football League season was enough to make even the most hardened New England Patriots fan throw up a little inside.
"Know your role. Do your job. Act like you've been there before." Everything we thought we knew what the Pats were simply evaporated on one self-consuming night tailored for the casual fan who knows who Dave Portnoy is yet couldn't pick out Ernie Adams from a 3-man lineup.
There he was, 28-year-old 76-year-old Robert Kraft, in his white shoes taking pictures with every celebrity possible. There he was, Mark Wahlberg, reading from a teleprompter with his next company venture firmly printed on his clean-cut tee. There they were, the 66,829 faithful screaming their heads off with an #OperationClownFace T-shirt dripping with an arrogance of the highest order.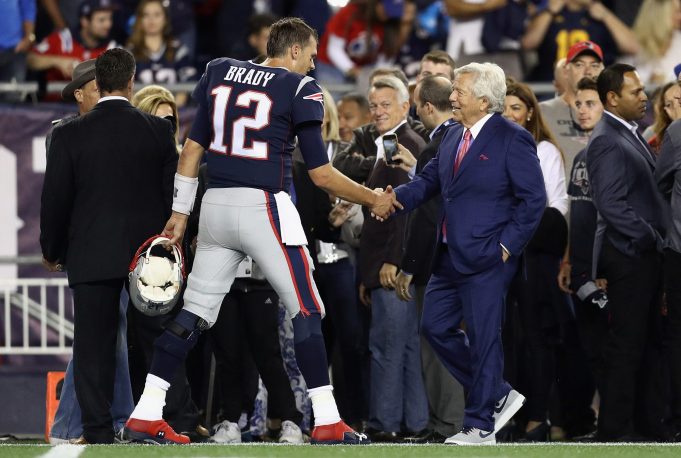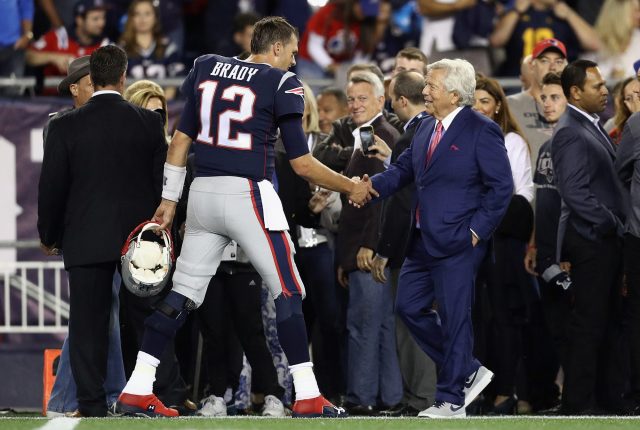 It was disgusting.
It was everything and more to turn around to your kids and say, "When you guys become great, this is exactly how not to act."
Isn't a five-time champion supposed to act like they've been there before? This felt like the Detroit Lions had finally captured the inevitable.
This is is no way a shot at the intelligent Barstool Sports. The way these guys do business have 90 percent of the digital marketers taking notes at every turn. Operation Clown Face and the hate for Roger Goodell is real in the insecure and insulated region known as New England and the company taking advantage of such a narrative is pure genius.
But the Goodell hate is also real everywhere. This is what makes the region's thought process so embarrassing. They think it's just them.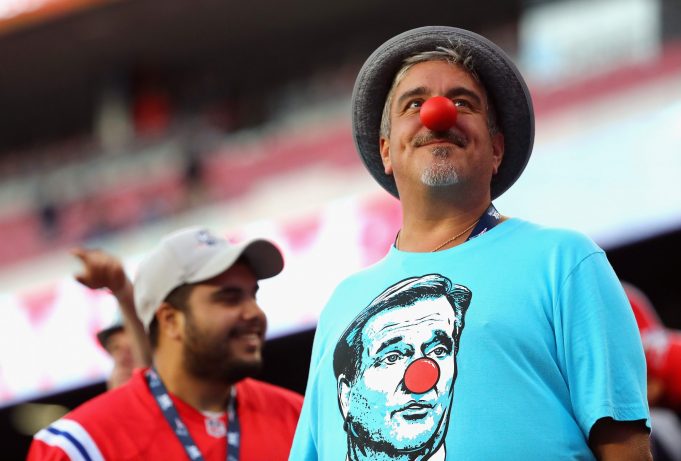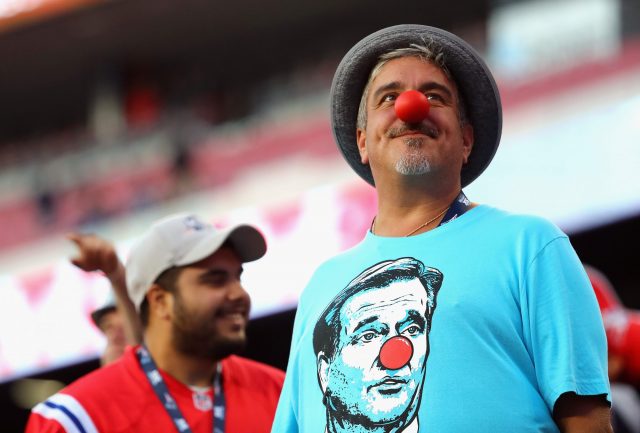 They act like it's them against the world. They act like everybody hates them and they need to fight back from all obstacles and odds unfairly placed at their feet by the devil around them.
The score of 28-3 was flashed during the pregame celebration. Not the final score of 34-28 that resulted in idiotic play from Dan Quinn and Kyle Shanahan allowing a rusty Tom Brady to dink and dunk his way methodically to an 80-plus play night while overtaking a dead-tired Atlanta defense.
These guys had the gall to flash 28-3.
What explanation could be behind this move?
Was it Roger Goodell's fault the entire team played like the 2017 New York Jets in the first half of the Super Bowl? No. It was the team's own fault, yet they displayed it like a badge of honor, wanting the entire world to take notice as if we didn't already know.
This has nothing to do with the Pats coming fortunes this season. They'll figure it out. It's one loss, one week. It's happened before and they'll finish the season as the AFC East champs with the AFC Playoffs most likely going through Foxborough.
This has everything to do with a region, with an idea that has the rest of the world turned off.
All football purists respect the hell out of the greatness that is Belichick and Brady. You'd be hard-pressed to find an objective individual who doesn't believe both are locks for immortality. At the same time, the same objective viewer does understand and fully take in history.
He or she understands a terrible slant call (rather than a Marshawn Lynch dive) a few years ago gifted the Pats their fourth title. He or she also knows one smart, sound decision by Kyle Shanahan or Dan Quinn doesn't allow the greatest comeback in Super Bowl history to take place. We also understand Spygate is a real thing.
What's so arrogant about the New Englander's view towards the commish is that they don't even put any stock into the fact he got his good buddy Kraft out of hot water when Spygate happened. They pretend it's all made up propaganda intended to hurt the image of the mighty Pats.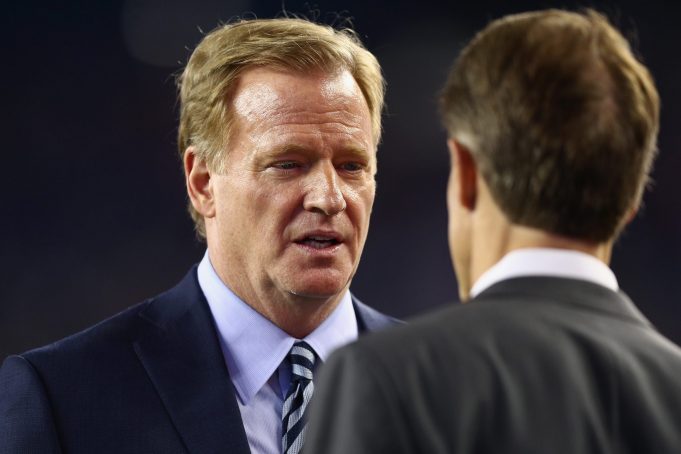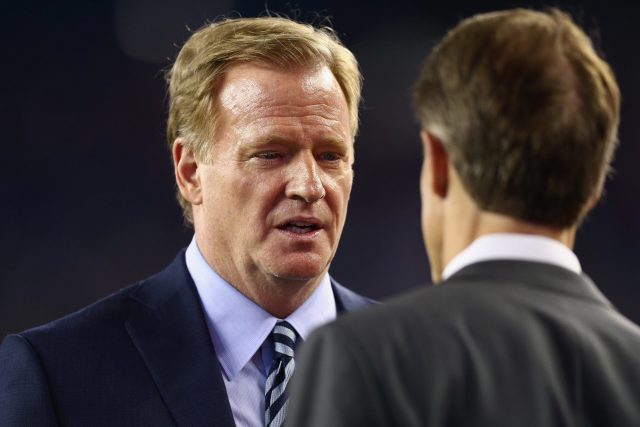 Does everybody understand that the defensive radio communications system was put into place as a direct result of Spygate?
Starting in the 2008 season, one designated defensive player would wear the helmet containing a radio system. He would most likely be the linebacker who plays on all downs. Obviously, the quarterback has enjoyed his communication setup for quite some time now (1994).
Spygate happened just a year prior.
Spygate had everything to do the location of the video team. In addition to capturing the all-22 video, Belichick had his boys near the sideline in the stands. What they would do is steal the defensive team's signals and ex-Pat coach Eric Mangini blew the whistle on it during Week 1 of the 2007 season when he was in his second year with the Jets.
Instead of a long, drawn-out process, Goodell destroyed anything and everything that was rumored to be present and dinged the team $250,000, Belichick $500,000 and his 2008 first-round draft selection.
They were incredibly fortunate that more didn't come to the public eye.
In addition, the Boston Herald reported that the Pats videotaped a walk-through practice of the St. Louis Rams prior to the organization's first championship back in early 2002. The Herald later retracted the story and issued an apology, but controversy remains. Ask Marshall Faulk what he thinks, via Tom Curran of CSNNE.com.
"Obviously, the commissioner gets to handle things how he wants to handle them but if they wanted us to shut up about what happened, show us the tapes. Don't burn 'em," Faulk said.

"I understand Bill is a great coach," Faulk said. "But No. 13 [Kurt Warner] will tell you. Mike Martz will tell you. We had some plays in the red zone that we hadn't ran. . . . And a couple of plays on third down that we walked through also . . . And they created a check for it. It's just little things like that. It's either the best coaching in the world when you come up with situations that you had never seen before. Or you'd seen it and knew what to do."
Matt Walsh was surely determined prior to things ultimately shaking out.
Forget about what happened or what didn't. What's important to fully take in is this …
The arrogance of Belichick continuing his illegal videotaping against a former coach.
The initial reaction to Deflategate even though Goodell did get the Pats out of hot water a tad during Spygate.
When Deflategate happened, Kraft immediately challenged the NFL and Goodell prior to Super Bowl 49. He then provided his reaction to Brady's four-game suspension:
Here's where the rest of the world becomes confused. We're not just purely discussing "actual evidence" of PSI levels here. This four-game suspension had everything to do with un-cooperation in the investigation. But instead of taking the heat in that area, the organization continued to harp on "hard evidence."
Did the NFL find "hard evidence" for Ezekiel Elliott prior to his six-game suspension (that was, on Friday, halted until the 2018 season)? That's not a prerequisite yet the Pats always seem to lean back on that one issue.
So now, despite Goodell actually helping his buddy out in 2007, he's become enemy number one while an entire region feels they're the only one who's feeling the sting of Goodell's suspensions and actions.
Think about Goodell's perspective. He's thinking this: "Damn. I helped these guys out of Spygate and warned them to never find themselves mired in another controversy. Deflategate happens and instead of apologizing and cooperating, they challenge me and challenge the investigation at every turn?"
Say what you want about Goodell, but the fact that he was (probably) taken advantage of by his good buddy Kraft is a realistic thought.
Nevertheless, Spygate and Deflategate are ridiculous. Nobody cares about the initial controversy. What they care about is how the organization reacts to the controversy.
Do they take it head on and admit at least some culpability? Do they take it in stride and go about their business. Or do they morph into this embarrassing culture of existence that acts like they are the only true entity of NFL football? Obviously, the Pats and the entire city of Boston acts like it's all made up nonsense in the pure effort to minimize the organization's greatness. Not acknowledging reality is what's so laughable.
And what we saw this past Thursday is just the end result of an organization gone mad.
When was the last time we heard Kraft or anybody in the Pats organization acknowledge the hard work done by Bill Parcell's when he swooped in during the early 1990s to literally save the organization?
For those who don't know (and there's plenty of Pats fans who don't know), your favorite piece of football clothing was about to flee Foxborough, via Jon Morgan of the Baltimore Sun.
In 1993, St. Louis was a rumored destination for the "patsies," as most of the NFL called them.
It's been a few seasons since the New England Patriots — the "Patsies" to some — were a force on the field. But they are shaping up as a major element in NFL expansion.

"You can't separate the Patriots from the expansion effort," said Herbert J. Belgrad, coordinator of Baltimore's expansion bid and chairman of the Maryland Stadium Authority.

In fact, the disposition of the Patriots could determine if Baltimore returns to the NFL.

James Busch Orthwein, the lead investor in St. Louis' effort to buy an expansion franchise, bought the Patriots last year to protect a loan he had made to Fran Murray Sr., a part-owner of the team.
Kraft ultimately bought the team and since has done wonders. It all started with hiring the Tuna.
When Parcells took over in 1993, the place was a dump. High school teams enjoyed better facilities than the Pats. Speaking of Operation Clown Face, these guys were literally a total clown show, via Dan Shaughnessy of the Boston Globe.
"We weren't at the bottom,'' Parcells said in a lengthy telephone conversation earlier this week. "We were the bottom. The franchise was in pretty good disarray at the time. There had been multiple owners in recent years and there had been some changes in general managers. All of those things had occurred. And after I was there for a short time, I realized that Orthwein wasn't prepared to do very much to try to improve the team in terms of economic investment.

"The stadium wasn't in great shape and we didn't have a place to practice. To get to practice, we had to go in our cars — guys in their uniforms driving their cars and trucks over there. We really didn't have anything more than a field. We didn't have much space at all. There was a place off to the side where we could do some drills, but that field would get very muddy in the latter part of the year.''
Listen, Boston, we know. We understand. Not only did the Tuna revive one dead franchise in the New York Giants (who were the laughingstock of the league for two decades), he did it with the Jets in reaching new heights of a master "organization builder."
The problem in Boston is that nobody seems to remember this history.
The casual Bostonian soaks in the celebrity's voice while hanging posters of Belichick and Brady. They're overwhelmingly oblivious to just how critical Parcells's stint was. What's worse is it seems that the owner, the leader is as well.
When was the last time Robert Kraft publicly thanked Bill Parcells for saving his franchise? Has he ever?
That's the point.
This is the problem with this organization and this region in a nutshell. The people create their own narrative and live in its false existence. Thursday night's embarrassment of riches is a stark reminder.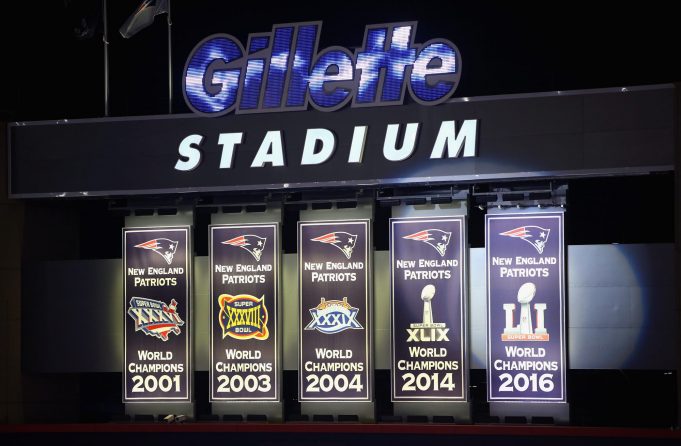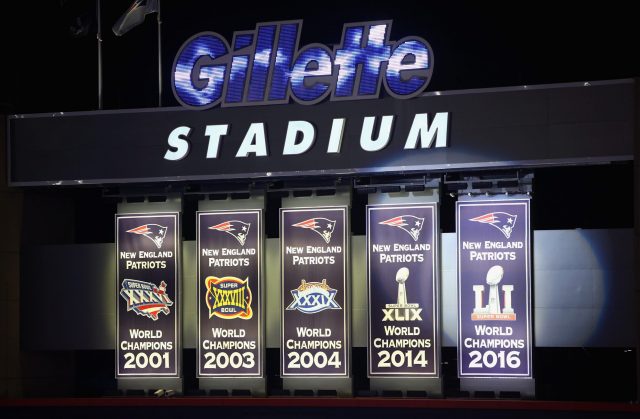 Instead of humbly accepting success, they want to throw it in everybody's face. Instead of understanding 28-3 was a misfortune of their own doing, they want to rewrite the script and pretend somebody else (such as Roger Goodell) forced the game to start at such a large deficit.
Instead of accepting the idea that some luck has been involved in their winning, they showcase the vibe that it's all greatness dripping with unimaginable talent never witnessed in over a century of football.
Boston, we understand things have been going great for you. Over the last two decades, you've turned the corner and the pathetic headline of "City of Losers" into "City of Champions," (Apple Watches aside).
Nobody would ever dispute the greatness of Bill Belichick and Tom Brady. Not even the greatest hater in the world would. But when you enter obnoxious territory, you start to mess with the perception of greatness.
No matter how great, the best usually find a way to fall hard. It always happens, eventually. For the New England Patriots, their fall is setting up to be a doozy of epic proportions.
Who knows, maybe the next "Gate" is right around the corner.
Only in Boston, folks.