The New York Yankees/Detroit Tigers brawl was entertaining, to say the least, but there are a bunch of repercussions that the playoff-hungry Bombers could face. 
O
n Thursday afternoon, one of the most feisty yet entertaining baseball fights went down between the
New York Yankees
and Detroit Tigers at Comerica Park.
Tensions rose after a Gary Sanchez home run, his fourth of the series, was followed by a plunking by Tigers' starter Michael Fulmer during Sanchez's next at-bat.
---
---
With Detroit slugger Miguel Cabrera at the dish and Tommy Kahlne on the mound in the next half inning, Kahlne was ejected he sent the first pitch of the at bat Cabrera and to the screen. Manager Joe Girardi was also sent to the clubhouse.
Soon after Aroldis Chapman finished his warmups, Cabrera got into an argument with catcher Austin Romine before eventually shoving him and proceeding to throw three punches. That, of course, sparked an epic benches-clearing brawl between both sides.
There's a lot to break down and you only got the shortened version. Most of us can do our own breakdowns but ESNY will bring up three consequences the Yankees could face following the events on Thursday. The Bombers may not have caused the fight, but they sure didn't win it.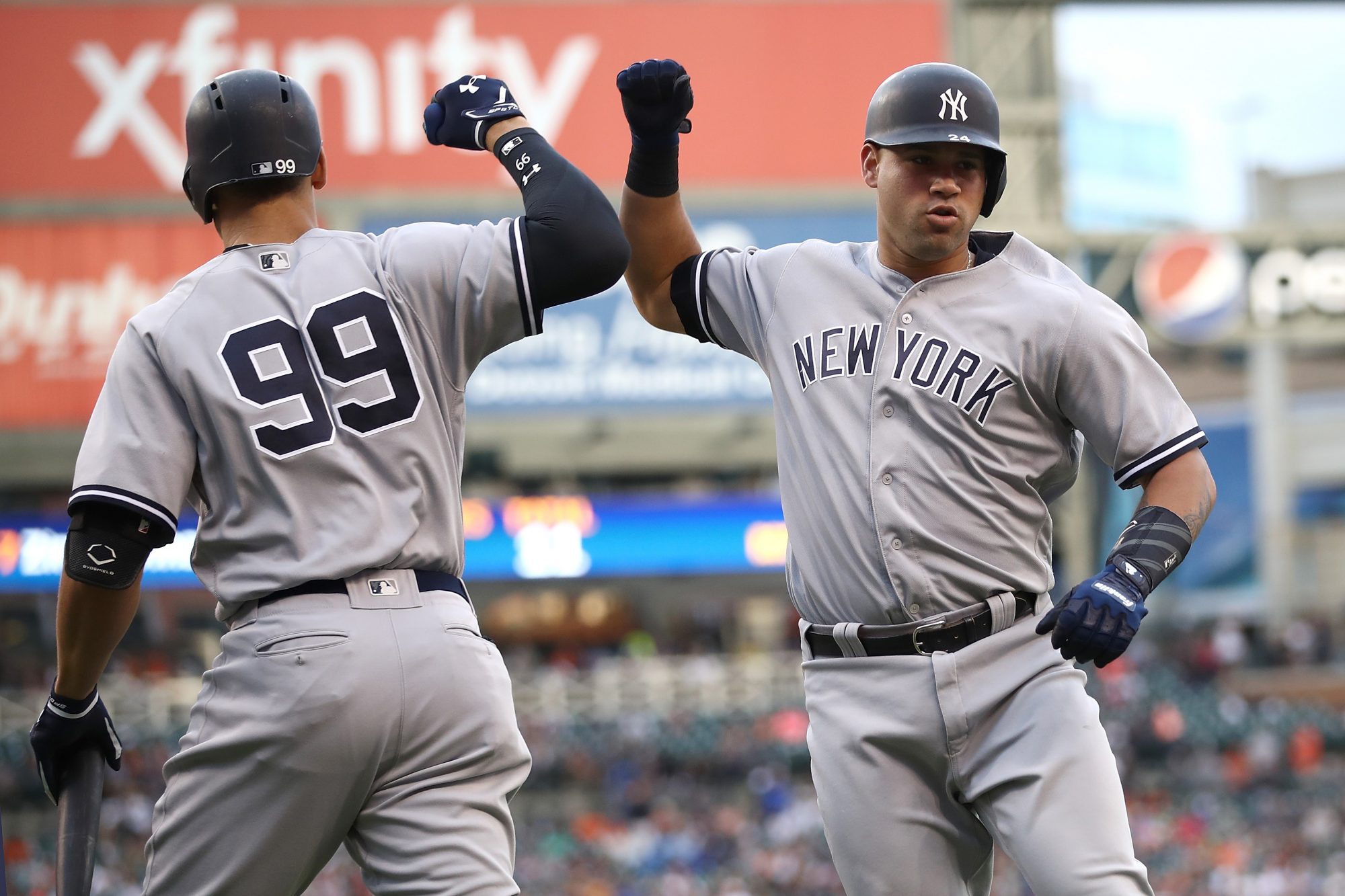 Gary Sanchez
In no way, shape or form did Gary Sanchez cause the events that went down on Thursday. Yes, he was thrown at initially, but he wasn't the aggressor. The youngster did, however, cross a line.
After Cabrera instigated the fight with Romine and both benches cleared, Gary Sanchez was one of the many who flew out of the dugout to defend their teammate. That's clearly the right move. You should always "defend your teammate" but no one should ever go out there after blood. Especially not a player as prominent to the Yankees' success like Gary Sanchez.
Yet, Sanchez didn't hold back. He delivered punches to Miguel Cabrera, who was already on the ground, and a defenseless Nicholas Castellanos. It was clear as day on almost all the video replays, so a hefty suspension should be on its way to one of the hottest hitters in baseball.
Brawl Breakdown: Gary Sanchez pic.twitter.com/H67BeWokws

— Jomboy (@Jomboy_) August 25, 2017
That's right, the Yankees will lose someone who has hit 11 home runs in 21 August games and was sparking the Yankees' offense to a ridiculous run. Remember his August run last year that brought the Bombers from mediocrity to contention? What he was doing this month was topping that.
Now, thanks to emotions getting the better of him, the Yankees will either lose their best hitter in the middle of his tear or (depending on the appeal length) lose him during early September. Either way, Gary Sanchez will likely miss a stretch in which his team is fighting to stay in the fight for the American League East crown.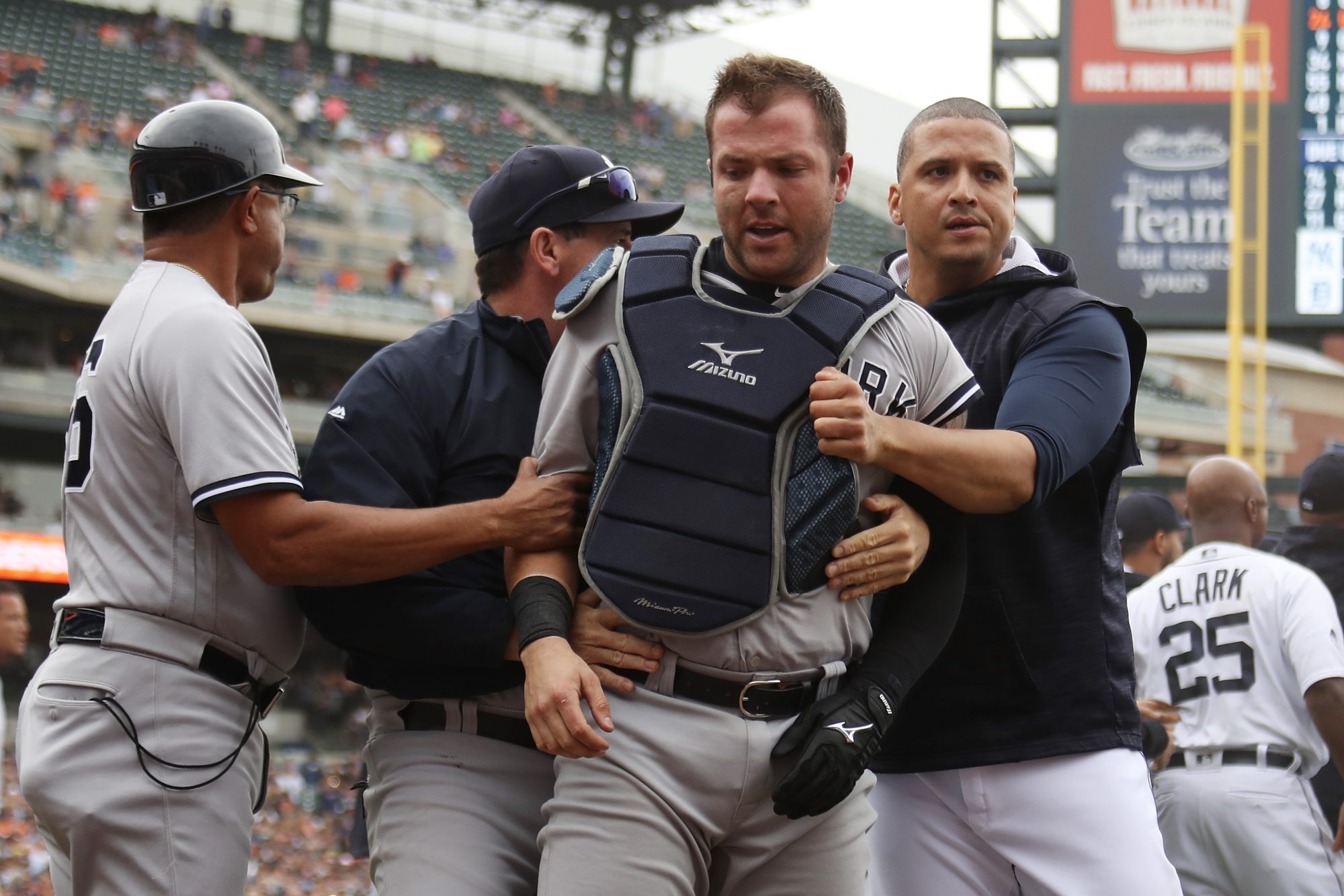 Only Two Catchers On The 40-Man
Austin Romine wasn't the aggressor here. All he did was defend himself after being shoved by Miguel Cabrera, but a suspension will likely come down on the backup catcher thanks to the gut-punches he delivered after tackling Cabrera to the ground.
With a suspension forthcoming, it's hard to not notice the lack of options the Yankees will have at catcher. Only Kyle Higashioka is on the 40-man roster and he's on the disabled list in Triple-A Scranton/Wilkes-Barre. Ronald Torreyes has been considered an emergency option in the past, but we're talking a couple days here.
Luckily, there's a way the Yankees can maneuver the appeal system in order to have at least Romine and Sanchez activated at a time. Romine's suspension will likely be concise, so perhaps having Gary Sanchez appeal his while his backup serves his suspension, which will only be 1-2 games anyway, will be the way to go. Then, Sanchez can simply wave the appeal and serve his suspension knowing Romine is back.
This situation is truly not as grave as it once seemed.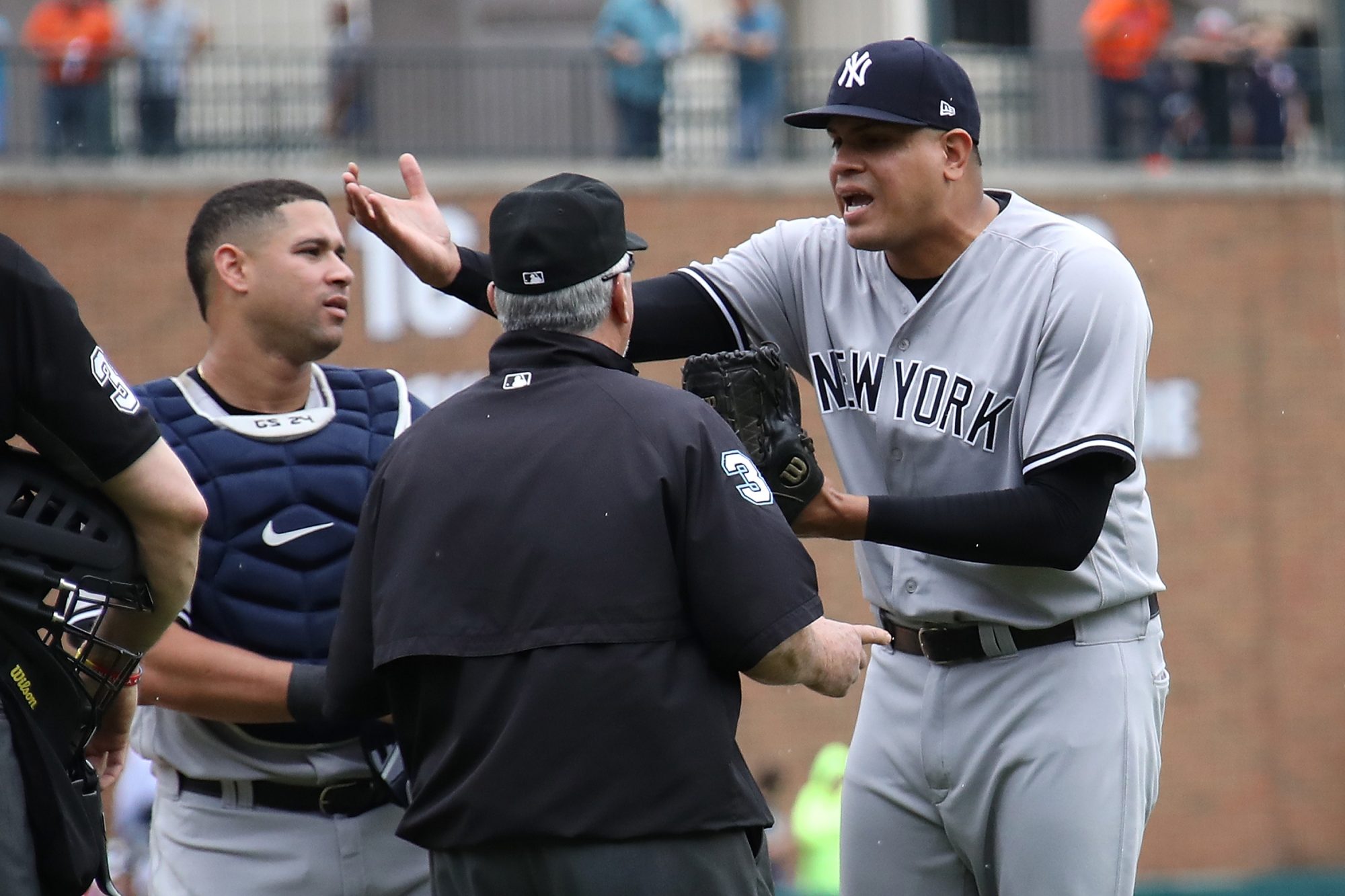 Betances In A Pennant Chase
Sure, flying haymakers in the middle of a dog pile are threatening, but no action was more dangerous than when Dellin Betances beaned James McCann in the head with a 98 MPH fastball.
More Big time trouble.. Betances nails MCCann in the head..getting ugly pic.twitter.com/22v3uppuah

— Boston Sports Info (@bostonsportsinf) August 24, 2017
Betances was ejected along with bench coach Rob Thompson despite his argument that the hit-by-pitch was unintentional. The All-Star righty is having control problems (career-high 6.32 BB/9 ratio this season) and no one would want to put the go-ahead run on base in a 6-6 game, but amidst all the drama, the ejection was warranted.
With that, there's certainly a chance Betances earns a suspension, which would cripple the back-end of the Yankees' bullpen that really can't afford to lose his production.
Entering Thursday, he had owned a 12-inning scoreless streak dating back to July 27 by allowing just three hits and striking out 17. As Aroldis Chapman is looking to regain rhythm in lower-leverage situations, Girardi needs Betances ready to go as the Yankees make a playoff push.
---
---
Of course, it all depends on how Major League Baseball views that particular situation. Betances could very well not receive any punishment. If he does, however, that's one hefty price New York must pay.