The benches clear three different times this afternoon in Detroit as the New York Yankees may have lost more than just today's contest.
New York Yankees 6 (68-58)
Detroit Tigers 10 (55-71)
W: Alex Wilson (2-4, 3.91 ERA) 
L: Dellin Betances (3-5, 2.30 ERA
AL, Final, Box Score
Comerica Park, Detroit, Michigan
I
n a game that saw the New York Yankees fall to the Detroit Tigers 10-6 at Comerica Park today, the two teams were obviously excited about the Mayweather/McGregor fight this weekend and put on a pay-per-view act of their own.
The benches cleared three times; two Yankee coaches and three players were ejected, while only two Tigers hit the showers early. Dellin Betances' ejection was the turning point for the Tigers, leading them to take a late lead they would never relinquish.
Back & Forth
A consistent problem that Garcia has had since joining the Yankees is that of giving up the long ball. That problem persisted this afternoon as Garcia coughed up the fourth home run of his short time in the Bronx, giving the Tigers a first inning lead off of the lefty.
With two outs, Justin Upton unloaded on an elevated Garcia sinker and deposited it just in front of the walkway of the second deck in left field for a solo shot to give the Tigers an early one run advantage. The long ball was Upton's 27th long ball and 91st RBI of the 2017 campaign.
Despite the early deficit, the team who has put up 23 runs in the first two games of this series battled back to tie the game in the top of the second.
Aaron Judge led off the second with a sharp single, advancing to second on a wild pitch during the following hitter Didi Gregorius' at bat. After Didi grounded out to move Judge to third, Chase Headley ripped a single to left that plated Judge from third to tie the game at one apiece.
Scary Gary Strikes Again
The month of August should be renamed "Gary" because the Baby Bomber absolutely owns the calendar month, articulating such with yet another long ball this afternoon.
To begin the fourth, Sanchez obliterated a Fulmer fastball to the tune of a 432-foot blast into the Yankee bullpen in left center to give the Yankees a 2-1 lead. The homer was not only the 27th of the season for Sanchez, but brought the slugger's series stat line to an eye-popping 6-for-13 with FOUR home runs and eight RBI. Unreal.
11 HR this August. 11 HR last August. So August is officially Gary Sanchez Month, right? ? pic.twitter.com/RZfsO0gLB9

— New York Yankees (@Yankees) August 24, 2017
The Tigers would tie the game in the bottom of the frame when catcher John Hicks lined a one-out single off of Garcia that scored Nick Castellanos to draw Detroit even with New York at two.
Just as they have done all game and series long, the Yankees battled in the fifth as they reclaimed the lead. Ronald Torreyes reached on an Ian Kinsler fielding error to begin the fifth, advancing to second on an Austin Romine ground out. Two batters later, Aaron Hicks lifted a fly ball to center that scored Torreyes for a go ahead sacrifice fly that made it a 3-2 game.
Ineffective Adam
A rare fielding error by Didi Gregorius allowed Mikie Mahtook to reach to begin the bottom of the fifth. And when Justin Upton followed the Didi E with a double, Manager Joe Girardi hopped out of the dugout to pull his veteran lefty Garcia. Adam Warren came on in relief and immediately served up a sac fly to Castellanos that scored Mahtook from third to knot the game at three all.
After the sac fly, Warren served up back-to-back walks to James McCann and John Hicks to load the bases with two outs. Rookie JaCoby Jones then roped a single to right that scored both Upton and McCann to make it a 5-3 game. And then on the 37th pitch of his outing, Warren served up a ground-rule double to Jose Iglesias that scored Hicks to extend Detroit's lead out to three. Girardi then pulled Warren for Tommy Kahnle, who promptly got Kinsler to strike out to stop the bleeding and end the frame.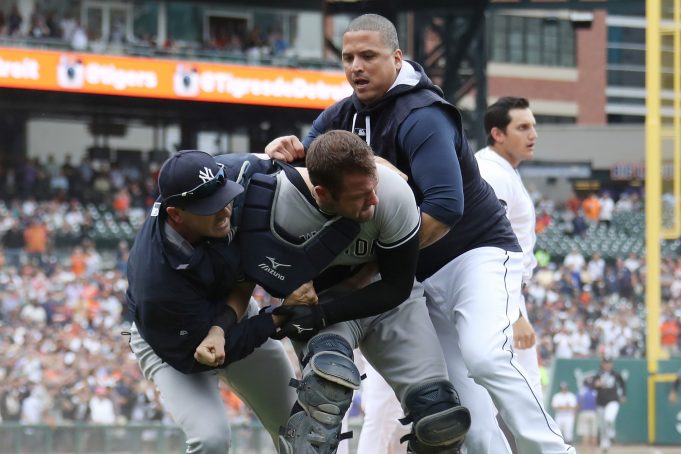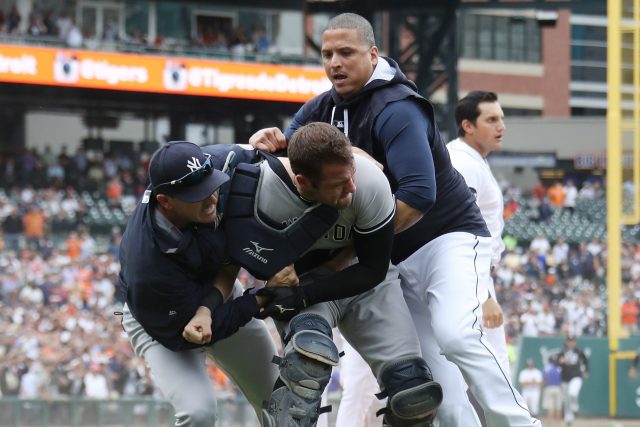 Midday Malay
In the top of the fifth, the Tigers took exception to No. 24 Gary Sanchez's remarkable play and articulated as much when Michael Fulmer drilled the catcher after the Hicks sac fly. That decision would come back to loom some kind of large in the bottom of the sixth.
Tommy Kahnle had struck out three Tigers consecutively before Detroit's own No. 24 Miguel Cabrera came to the plate. The fireballer Kahnle appeared to hit Miggy with a running fastball that actually ran a little too much and just missed the slugger. With the errant pitch; home plate umpire Carlos Torres immediately ejected Kahnle, which saw Girardi erupt from the dugout to defend his reliever.
Joe was tossed for his outburst, however, justified, and brought Aroldis Chapman in to replace his ejected righty. As play was about to resume, Miggy and Romine had a few choice words for each other that led to Cabrera to start throwing punches at Romine. Both benches immediately cleared and we had ourselves an old fashioned big league brawl.
Benches clear, punches thrown in Yankees-Tigers game with Miguel Cabrera and Austin Romine at the center of it. https://t.co/g32ygLF1cz pic.twitter.com/QMsJ5fEDQO

— MLB (@MLB) August 24, 2017
Yankees and Tigers brawl. pic.twitter.com/UD38ly70wG

— Sports Videos & GIFs (@Sports__GIF) August 24, 2017
Jacoby the last man out of the dugout and almost immediately gets his knees blown out hahaha pic.twitter.com/PLktOixLs9

— Jomboy (@Jomboy_) August 24, 2017
Bae: Come over.
Me: Can't, I'm in the bullpen.
Bae: I'm home alone, though.
Me: pic.twitter.com/nTI6XJJ3TG

— Max Wildstein (@MaxWildstein) August 24, 2017
After the dust settled, both Romine and Cabrera were told to go join Kahnle and Girardi and pack it up. Dixon Machado came in and finished the Cabrera at bat. The damage was a little more damning for New York as they had to remove Sanchez from the DH role and put him behind the dish to replace Romine, thusly forcing the Yanks to have the pitcher hit.
Insane Seventh
Following the sixth, they put together a rally in honor of their departed teammates and coach as they battled back to tie the game in the top of the seventh.
Torreyes and the pinch hitter for Chapman Jacoby Ellsbury worked back-to-back walks, forcing Tigers Manager Brad Ausmus to pull his starter Fulmer from the game. Daniel Stumpf came on in relief and proceeded to throw a wild pitch to Brett Gardner that moved both runners up a base. The birthday boy Brett then smacked a single to center that scored Torreyes from third to make it a 6-4 game.
Aaron Hicks followed with a sac fly that scored Ellsbury to make it 6-5, and then Gary Sanchez singled to center to score Gardner to tie the game up at six a side.
In the bottom half, Dellin Betances came on to begin the frame and unintentionally hit McCann with the first pitch of the inning. Regardless of intent, both Betances and acting Yankee manager Rob Thompson were immediately ejected. Seriously, one pitch into a newly tied game and Torres thought there was malicious intent.
Dellin Betances basically said, "my bad" after (accidentally) throwing a 100mph FB at McCann's head #Yankees #Tigers pic.twitter.com/x2vCx447SF

— Gary Phillips (@GaryHPhillips) August 24, 2017
Gary Sanchez might get suspended for throwing a few punches today. #Yankees pic.twitter.com/4fFe9Y9MU0

— Max Wildstein (@MaxWildstein) August 24, 2017
The latest ejection forced David Robertson to come in earlier then he or the Yanks would have liked, and also hit the first batter he faced, John Hicks. Although there was no ejection, Robertson walked Jones to load the bases with no outs. Detroit absolutely capitalized on the shaky Robertson, as Iglesias blasted a ball into center for a double that cleared the bases to give the Tigers a 9-6 lead.
Despite getting out of the inning without any further damage, Warren threw almost 40 pitches, Kahnle and Betances were tossed and David Robertson used almost 30 pitches to get out of his own way. It's most definitely not the way you want to head into such an important upcoming stretch with October on the line.
Tying the bow on an absolutely bizarre ball game, Alex Wilson drilled Todd Frazier in the eighth, leading to yet another episode of "let's clear the benches and run our mouths but throw no punches". Wilson was rightly ejected and these two teams broke Twitter.
The Tigers' tenth run came by way of an eighth inning solo home run by James McCann.
What's Next?
The boys from the Bronx head home for possibly the most important home stand of the year. The next ten games will absolutely determine the fate of the Yankees' season, playing three against Seattle and Cleveland, and then four with the first place Red Sox.In fact, the Yankees final 36 games are all against teams that are either leading their division or are securely in the Wild Card hunt.
As for tomorrow, New York and Seattle square off in game one of their three game weekend set with a good old battle of lefties. The Yanks trot out C.C. Sabathia (10-5, 3.99 ERA) to try and silence Robinson Cano and the rest of that stacked Mariners lineup. The Mariners counter with young lefty Ariel Miranda (8-6, 4.78 ERA), hoping to have full command of his electric breaking stuff in attempts of capturing that all important game one win. First pitch is scheduled for 7:05 p.m. ET and can be seen on the MLB Network/WPIX and heard on WFAN 660/101.9 FM.