It's undeniable that Aaron Judge has struggled since the All-Star break — and it may be due to his front hip.
Insanity is trying the same thing over and over again expecting a different result. That seems to be the problem with New York Yankees' rookie Aaron Judge, who is in the middle of a catastrophic second half. His issue lies before he even swings the bat.
Aaron Judge was the clear favorite for American League Most Valuable Player at the All-Star break. He was slashing .329/.448/.691 with an MLB-best 30 home runs. He seemed like he was destined to put up historic numbers. With the Home Run Derby and All-Star break in the rearview mirror, Judge has indeed made history. Unfortunately, it's for the most consecutive games with a strikeout.
His average dropped nearly 40 points since the break, and he's only slugged seven home runs since mid-July. There have been questions and speculations as to what has caused his slump, the most notable being the Home Run Derby slump. But the main reason lies in Judge's front hip, which many sluggers have issues with.
This is a screenshot of the contact point of Aaron Judge's majestic 495-foot home run. Notice his front hip. It's facing the pitcher, locked, and even with his leg. His leg is locked in the ground, knee locked out and weight evenly distributed, allowing Judge to drive his hips through the baseball and generate all of his power. Judge had arguably perfect form for the entire first half of the season.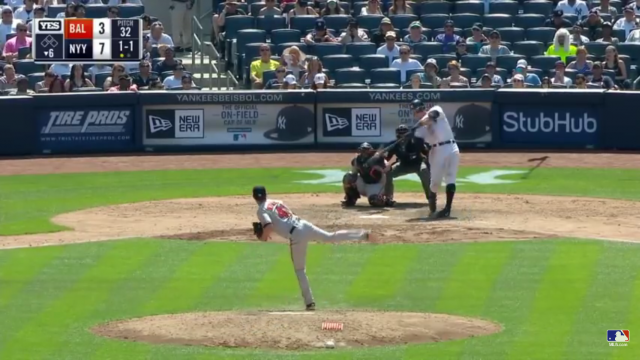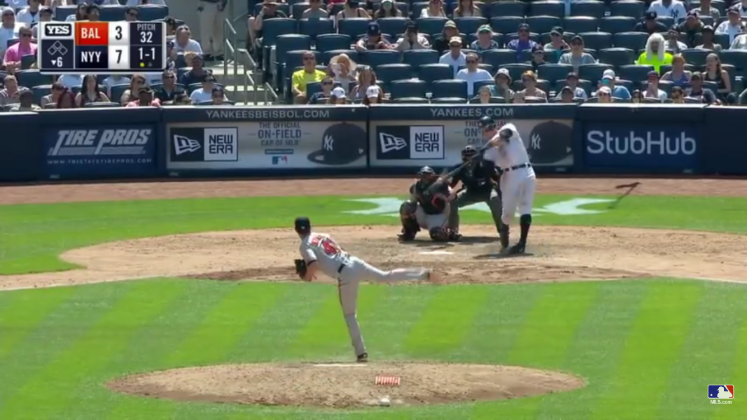 This is a screenshot of Judge striking out Sunday afternoon. Again, focus on his front hip. While he is lunging for this slider out of the zone, his hip is already open before his hands enter the hitting zone. His knee bent and flared, and all the weight is on his front foot.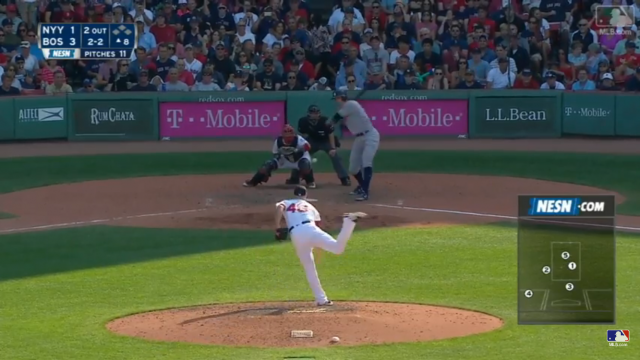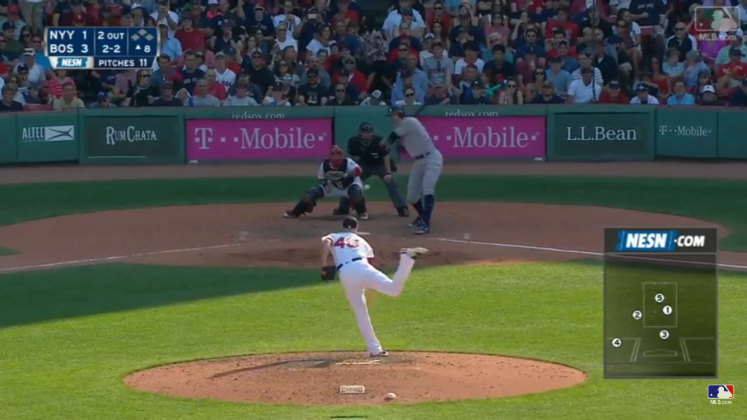 With that hip opening up so early and losing his lower half, Judge's only chance is to muscle the ball out, which he has struggled to do so far. His rhythm and timing have been off, causing him to lose that contact point, resulting in his entire body being out of sync. With his body not in rhythm and his legs not being under him, Judge is practically helpless at the plate.
Judge relies on his legs and hips in order to drive the ball, as do most power hitters. Another player, similar in both their hitting styles and physical demeanor, shared the same problem. Giancarlo Stanton has had issues with his front hip through his career and seems to have it figured out.
Stanton has changed his stance a lot over the eight years he has been in MLB. His stance on the far left was Stanton in his rookie year when he still went by Mike. In fact, Stanton's original stance looks a lot like Judge's current stance.


Stanton had issues with his front hip flying open, and throughout his career, has made adjustments to fix it. He first closed off his stance on June 19 and since has hit a cool .295/.411/.767 with 27 home runs and 49 RBI. In that same time, Judge has hit .222/.380/.470 with 14 home runs.
Closing off a stance has allowed Stanton to get the barrel to the ball quicker, keep his bat in the hitting zone longer and drive the ball to right field with more power. Stanton has been an unstoppable force this season, as he leads the majors in home runs with 45.
Baseball is a game of adjustments. Adjusting to the pitcher's velocity or movement is an in-game adjustment, but when issues and habits start to be prolonged, then a mechanical adjustment has to be made. Aaron Judge has yet to make that adjustment and it is hurting not only him but clearly the New York Yankees as well.
---
---
Closing off his stance could be the cure to solving Judge's problem. He needs to get that front hip and legs under control and regain some of his confidence. Judge has had the same swing all season. Pitchers had to adjust to him and his weaknesses, and have done a great job. Judge has yet to make that counter adjustment, and time is ticking before it's too late.