As New York Yankees right fielder Aaron Judge continues to slump throughout the second half, we break down the root of the problem.
When the first half of the 2017 season reached its conclusion, New York Yankees rookie sensation Aaron Judge had left his mark on the sport as a phenomenon.
The 6-foot-7 slugger led the major leagues with a 198 wRC+, led the league in WAR by 1.2 and joined Roger Maris, Babe Ruth and Alex Rodriguez as the only Yankee hitters to ever hit 30 or more home runs in the first half of a season. It was beyond remarkable.
---
---
With that said, his encore presentation has been a total dud. In 83 plate appearances, Judge owns a strikeout rate of 34.9 percent and is slashing .164/.313/.343. He has also struck out in 21-straight games dating back to July 8 — the longest streak with at least one strikeout by a Yankee hitter since 2000.
A regression was expected — by just looking at his BABIP of .426 in the first half — but the frontrunner for American League Rookie of the Year looks like the .179 hitter he was in 2016.
But what happened? It seemed like Judge turned a corner from the bright-eyed, inexperienced rookie he was a year ago. After taking the league by storm, why has he fallen back into the pit? Oddly enough, it's the same reason behind what buried him back then.
Pitch recognition was a major issue when he first took the stage and while it seems to affect him during his contemporary slump, it starts from his unaggressiveness, if you will.
During the second half, there are a ton of called strikes on Judge right down the pipe and in his wheelhouse. Pitches that should be heading toward the StatCast record book is instead forcing the monstrous slugger to take a seat in the dugout: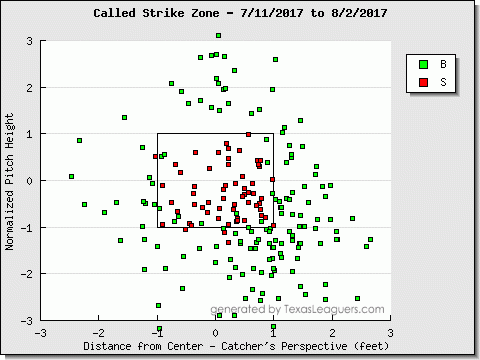 Being caught in-between like this and losing your aggressive approach could be caused from a ton of other aspects. One is how pitchers, according to the data provided by Texas Leaguers, are changing their approach.
In the first half of the 2017 season, 54.4 percent of first pitch pitches were either a two-seam or four-seam fastball. 18.6 percent of first-pitch pitches were sliders, 8.6 percent were changeups and 7.8 percent were curveballs. Judge's "stay-centered" approach works perfectly here, as more often than not, he knows he's getting the hard stuff to kick-off an at-bat.
This also goes hand-in-hand with his discipline. He knows what he's looking for before he gets up to the dish. Therefore, there's no sense chasing all the junk, especially when he successfully distinguishes pitches.
For example, the home run that tied Joe DiMaggio for the Yankees' rookie home run record was a prototypical Judge home run. First pitch was a 92 MPH fastball up in the zone from Marco Estrada. He stayed square and launched the ball right where it needed to go: right-center field and into the Yankees' bullpen.
As the calendar of the season switched to the second half, however, pitchers changed their approach. 29.3 percent of first pitches this half have been sliders and while this is a small sample size, it's evidently throwing Judge's approach off. It has him guessing.
Regardless of the first pitch being thrown, not being able to capitalize on pitches over the heart of the plate (as the graphic above shows) means he's missing allowed a ton strikes he should have squared up go by which does exactly what doomed him last season: put him in breaking ball friendly counts.
It's been firmly established now that strikeouts will always be high thanks to his uncertain pitch recognition. His chase rate (swings at pitches outside the zone) has jumped from 24.1 percent to 30.6 percent.
Judge's walk rate is in very good shape, but managing the strike zone and forcing pitchers to throw strikes has always been an issue up until his torrid start to 2017. It's reared it's ugly head again and it all starts with missing hittable pitches. He even touched on this via Randy Miller of NJ.com:
"I'm just missing my pitch. If you get your pitch, you can't miss it … especially in this league. That's the only difference I'm seeing. I'm not capitalizing on it. When that happens, you get down 0-1, 0-2 and you start swinging at their best pitch. So I've got to make an adjustment and get ready for my pitch and not miss it."
Judge knows the issue. The data backs it up. Not taking advantage of what's handed to him has made him more exposed to nasty breaking stuff later in counts, but there's one more point to be made here: his batting average on balls in play sits at .200 this half — unsustainably low.
Just like his insane BABIP of .400+ was unsustainable in the first half, it's hard to maintain one close to .200. Balls will eventually start falling for Judge, he'll eventually pounce on a few fastballs again to regain his confidence and eventually this slump will subside.
---
---
No matter what he accomplished over the first few months of the season, he's still human. Asking for the second Mike Trout or Babe Ruth reborn is asking too much of the 24-year-old and history tells us he may not reach that level again — or maintain that throughout 162 games. There is, however, a happy medium to be found.
It's somewhere between the Mendoza line and perennial MVP candidate and that's where Aaron Judge will eventually land if he can channel his earlier approach to a consistent level.