The New York Yankees parted with a hefty trade package for Sonny Gray, but it's one that was the right decision to make.
A
s soon as the New York Yankees were linked to Oakland Athletics starter Sonny Gray, many believed it was all but a guarantee that the hurler would be wearing pinstripes at 4 p.m. ET on July 31.
But the unknown lied in what General Manager Brian Cashman would surrender in return for Gray's services.
Jorge Mateo was expected to head out west. Once considered the cream of the farm system's crop, last deadline's trade for Gleyber Torres combined with an attitude problem hurt the infielder's standing within the organization.
Domingo Acevedo entered the season as one of the Yankees' highly-regarded pitching prospects. A combination of body size and repertoire likened the 23-year-old to Michael Pineda, with some believing he has the natural ability to be a front-line starter down the road.
Zack Littell was another name mentioned in trade rumors. The right-handed starter was acquired in a small deal with the Seattle Mariners last season but he burst on the scene in 2017 thanks to his 14-1 record with a 1.87 ERA in 20 starters between High-A Tampa and Double-A Trenton.
The speculation didn't stop there. Estevan Florial was seen as a sticking point in any Gray trade. Thairo Estrada, Jorge Guzman and Hoy Jun Park were in the mix, too.
While the prospect package wasn't certain, one thing was — the Yankees had to give up multiple prospects in exchange for arguably the best pitcher in the A's starting rotation.
After days of speculation, Cashman and Billy Beane were able to come to an agreement less than two hours before the deadline. With Gray officially Bronx-bound, all eyes were on what New York gave up.
And that's when rumored prospect haul was turned on its head.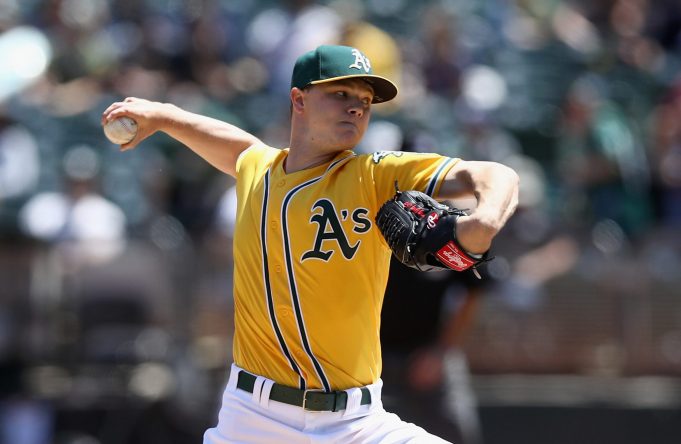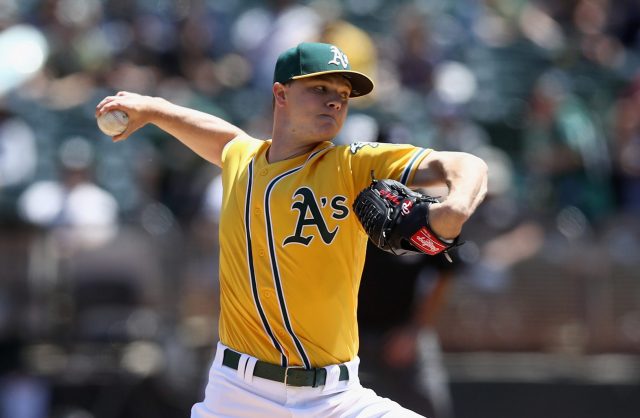 As expected, Mateo was indeed a part of the trade package. But instead of low-level prospects with tremendous upside, the A's opted for big-league ready youngsters with dealing with serious injuries, as outfielder Dustin Fowler and starting pitcher James Kaprielian completed the transaction.
Mateo is viewed as the headliner of the deal, and for good reason. Off-field questions aside, the youngster has been lauded for his speed — he stole an astonishing 82 bases in 2015 — and adding centerfield to his defensive game has made him even more appealing. Despite struggling in High-A ball, Mateo's first taste of Double-A upgraded his stock, as he was slashing .300/.381/.525 with 16 extra-base hits, 26 RBI and 11 steals in 30 games.
Regardless of his skill set, the Yankees have been "looking to move Mateo for two years," according to a Major League executive with knowledge of the trade talks. "Mateo is a flamboyant player. He has the chance to be special, but a combination of maturity concerns and the presence of [Didi] Gregorius and [Gleyber] Torres made him the ultimate trade chip.
24 hours ago, the A's were insistent on both Mateo and either Florial or starting left fielder Clint Frazier. When the Yankees front office put Fowler into the discussion, "the wheels were in motion," according to the executive.
It was only a couple of months ago that Fowler was viewed as one of the more complete players in the Yankees' entire prospect pool. His speed, left-handed bat and average-yet-accurate throwing arm drew comparisons to Brett Gardner. Not only was Fowler an extra-base hit machine (19 doubles, eight triples), he also found his power stroke this season, as evidenced by career-highs in home runs (13) and slugging percentage (.542) in just 70 games.
But Fowler's stock took a massive hit. After being promoted to the Yankees on June 30, he suffered an open rupture of his right patella tendon while trying to catch a foul ball, ending his career in pinstripes before it could begin.
"I love Fowler. His upside is through the roof," said the executive. "But his game is so reliant on speed. It's unknown if he'll get that back."
It seemed like Beane's objective was to acquire high-upside talent in the midst of an injury. Like Fowler, Kaprielian, too, is on the shelf for the foreseeable future.
Once drafted by the Yankees back in 2015, Kaprielian was mentioned as a player who was on the fast track to the Bronx, thanks in part to his mature approach on the mound and polished arsenal of pitches. In his two seasons in the organization, the righty's numbers were gaudy — he combined for a 1.55 ERA, 0.80 WHIP and struck out over 11 batters per nine innings. The downside of those numbers were that they came in just six starts and 29 innings pitched due to consistent issues in his pitching elbow.
Said issues persisted, which resulted in Kaprielian undergoing Tommy John surgery on Apr. 13.
"I believe Kaprielian can be very very good. I view him as a strong three or four starter with the potential to be a number two starter in a rotation." the executive continued. "But you can't ignore the elbow problems. They put him behind [Justus] Sheffield, [Frecier] Perez and others."
It appears as though the Yankees initially didn't want to part with their one-time pitching prospect, either. According to a source, Cashman offered Chance Adams — who has a 2.39 ERA and .165 batting average against in 14 Triple-A starts — but the A's front office turned him down.
---
---
The jury is still out on Gray — but his age, upside and contract make him a long-term commitment.
At one time, Mateo, Fowler and Kaprielian were also long-term commitments for the Yankees. But their individual question marks made the trio pawns in Cashman's World Series chess match.