Amid all the trades that went down yesterday, let's focus more on the entertainment the New York Yankees provided us with outside the trade talks.
The New York Yankees made some moves yesterday, making them official contenders for a potential World Series championship this season.
As much as the excitement was surrounding the arrival of Sonny Gray in pinstripes (the puns, people!), there were still some casualties of completing the trade.
One of those casualties was Dustin Fowler, the New York Yankees prospect who is perhaps most well-known for succumbing to a horrific injury prior to his first at-bat for the Yankees.
Despite being out for the season, the Yankees still managed to package him into the deal to get Gray to the Bronx. And Fowler explains how he found out.
Dustin Fowler on trade: "I'm completely shocked. I didn't have a clue (it was coming." Said he found out about 30 mins ago from Cashman

— Erik Boland (@eboland11) July 31, 2017
Well, Fowler, we didn't have a clue either. He wasn't even in initial talks and reports as to what the Oakland Athletics would potentially receive in a trade.
Regardless, we wish the best of luck to Fowler, James Kaprielian and Jorge Mateo in their future endeavors. Since the Yankees take a liking to bringing old players back, it could be a possibility in the future.
Matt Holliday also took some time out of slumping at the plate to talk to the hosts of MLB Network's Intentional Talk, Chris Rose and Kevin Millar.
In his interview, he covered everything from his perchance for playing with his fly down to all things Brett Gardner, including what he would look like with hair and his attitude in the dugout.
"He's like a chihuahua! He barks and barks…" – Matt Holliday on @Yankees' teammate Brett Gardner. #IT pic.twitter.com/c03ndhrGeK

— Intentional Talk (@IntentionalTalk) July 28, 2017
I love Brett Gardner but that hair image will stick with me forever. Plus, the added Matt Holliday image is the stuff of nightmares.
So maybe Holliday can turn it around sooner rather than later. Let's hope so, for the sake of the veteran DH.
That's all for today, Yankees family! Stay tuned for tomorrow's edition of the Bomber Buzz for more trending information on the Yankees.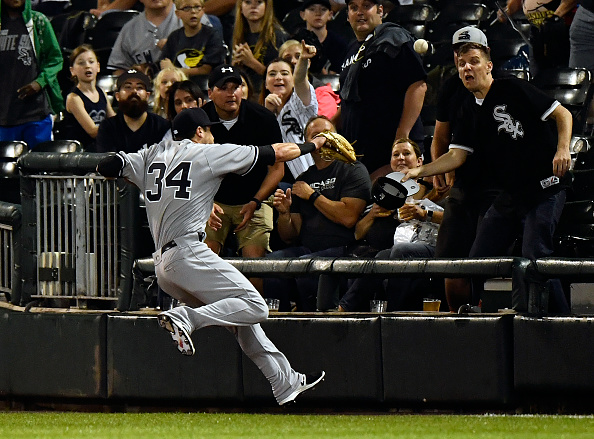 CHICAGO, IL – JUNE 29: New York Yankees right fielder Dustin Fowler (34) injures his leg after going after the foul ball the game after injuring his right leg during the game between the New York Yankees and the Chicago White Sox on June 29, 2017 at Guaranteed Rate Field in Chicago, Illinois. (Photo by Quinn Harris/Icon Sportswire via Getty Images)[/caption]
Rough Up Michael Fulmer, Take Down Detroit" ]