As Clint Frazier continues his rise, the New York Yankees could arrange the bench in order to avoid sending him down.
Clint Frazier, much like Gary Sanchez in 2016, has become must-see-TV while sparking the New York Yankees. 
Since the organization's second-best prospect by MLB Pipeline was called up on July 1, he is slashing .268/.282/.537 with four home runs in 21 games. Frazier also drove in 16 runs in his first 20 games, joining Mickey Mantle, George Selkirk, Joe DiMaggio and Hideki Matsui as the only Yankee hitters to register that many RBIs to kick off their careers.
---
---
Which brings up the question: will general manager Brian Cashman actually send him back to Triple-A Scranton/Wilkes-Barre when Aaron Hicks returns from the disabled list?
Sure, that's the plan and Frazier was only in the majors due to a string of unfortunate injuries, but the 22-year-old has been a spark plug that has seemingly ignited the Yankees. He owns a win probability of 2.63 (per FanGraphs), has already hit a clutch walk-off home run and seems unphased by the bright lights of New York. Why send such an asset down in the midst of a pennant race?
Luckily for Cashman, some positional shuffling could keep his highly regarded youngster in the Bronx. The first starts with addressing the outfield scenario.
As it stands right now, it seems as though Brett Gardner has taken over the reigns as the starting center fielder while Frazier takes over in left. The 33-year-old has played in 14 games in center this season including 11 times since Frazier was promoted. It's not a complex positional switch.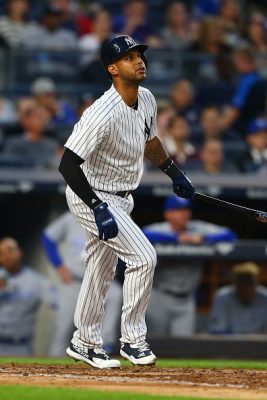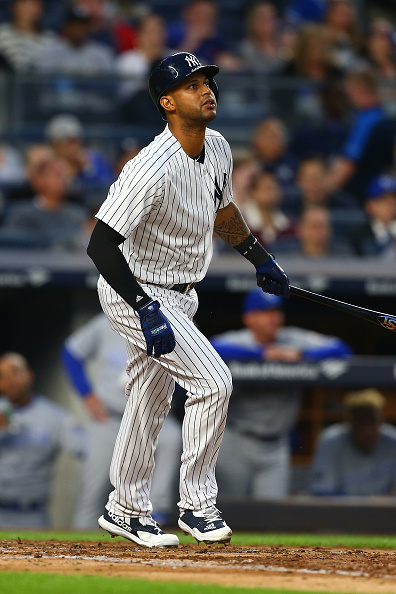 That puts Frazier in a starting role alongside the Gardner and Aaron Judge — a trio that should wreck havoc down the stretch for the Yankees. When Hicks is reinstated from the DL — could be by the end of next road trip in Cleveland — he would return to his pre-season role as the team's fourth outfielder.
Given that it's the dog days of the summer and starters will need their fair share of off-days, Hicks will still see plenty of time in the starting lineup as well as time as a defensive replacement for Frazier.
As for Ellsbury? He'll fall into what he has become: a $153-million pinch runner. It's unfortunate given the amount Cashman has invested in him, but someone has to be the odd-man out. His .246 batting average and .683 OPS certainly doesn't give manager Joe Girardi any value, but his speed late in games has been.
A 25-man roster move will then have to be made and that doesn't require much deep-thinking. Garrett Cooper (.208/.208/.417 in seven games with the Yankees) would take a ride on the Scranton Shutte, leaving Chase Headley as the everyday first baseman without a platoon.
Headley is slashing .220/.250/.310 from the right side, but going with Matt Holliday or even Austin Romine at first when the Yankees face southpaws would suffice. Especially considering it gives players like Frazier or Judge half-days when they need them to be fresh at all times.
---
---
RailRiders' manager Al Pedrique — and anyone who's followed the career of Clint Frazier — believes that there are a few kinks the kid needs to work out. That includes defense and being an overall better teammate, but what he's doing with the big boys is quite impressive. He's making it hard for Cashman to send him down and it's quite easy to make arrangements if the set-in-stone decision has been reversed by this stellar start.