Just one year into his mega deal with the New York Yankees, closer Aroldis Chapman has already commenced his decline.
When the New York Yankees inked Aroldis Chapman to a five-year, $86-million contract on December 15, 2016, they signed up for utter dominance for years to come.
What they are getting so far in 2017, however, is the opposite.
---
---
In 28 games this season, the flame-throwing lefty owns a 3.65 ERA with three blown saves. Chapman is currently experiencing his lowest strikeout-to-walk-ratio (3.08) since 2011 and career-highs in hits-per-nine (8.8) and WHIP (1.459). Since July 3, he has walked six compared to eight strikeouts while owning an opponent's slash line of .276/.400/.379.
Against the Seattle Mariners on Thursday during what was another attempt to right the ship, Chapman looked iffy again.
He issued a leadoff walk to Mike Zunino, threw a wild pitch which allowed him to advance to second and recorded two strikeouts before serving up a RBI double to Robinson Cano. Chapman would eventually slam the door shut, but not before worrying Yankee fans a little more.
Now we look to answer the question: should they worry? Is this a mere funk for Chapman and nothing more? Thankfully, we have the tools to decipher if the latter question is true. Here are three reasons, in no particular order, why there is some concern regarding a closer who will be locked in the Bronx for five seasons.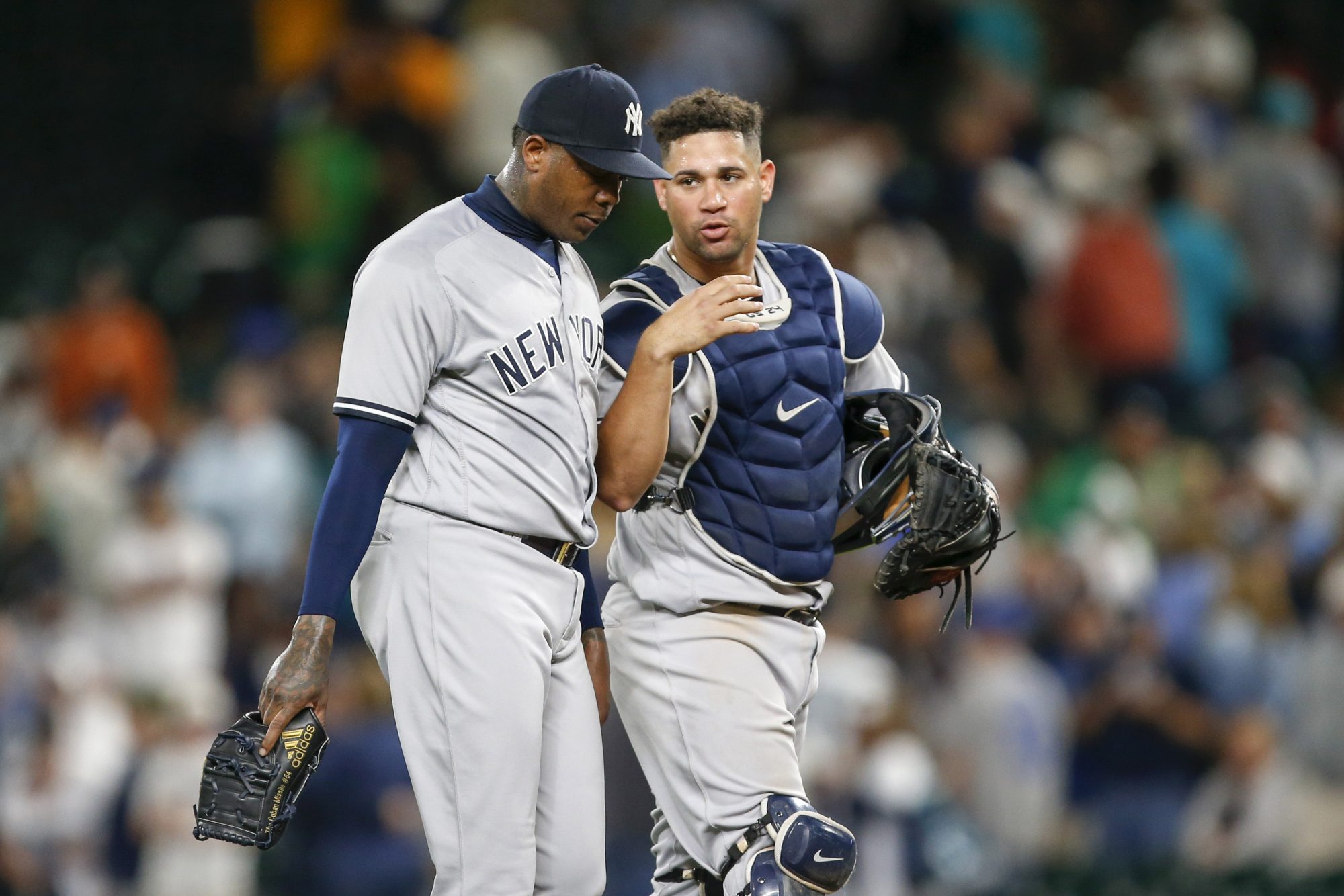 Health
Last October, Cubs' manager Joe Maddon used Chapman five times for 7.2 innings of the 2016 World Series. That utilization included four times in which he pitched more than one inning and once for 2.2 innings.
Fast forward to this season and he hasn't looked the same and even spent time on the disabled list with left shoulder inflammation. Perhaps being used like a rented mule has caught up to that left shoulder.
It's hard to imagine a 29-year-old pitcher who throws the ball at 100+ mph to see his health improve into his 30's. There's literally no precedent for a pitcher throwing as hard as Chapman throws for as long as he has. Considering his contract won't expire until his age 33 season, seeing fatigue and deterioration now are quite worrisome.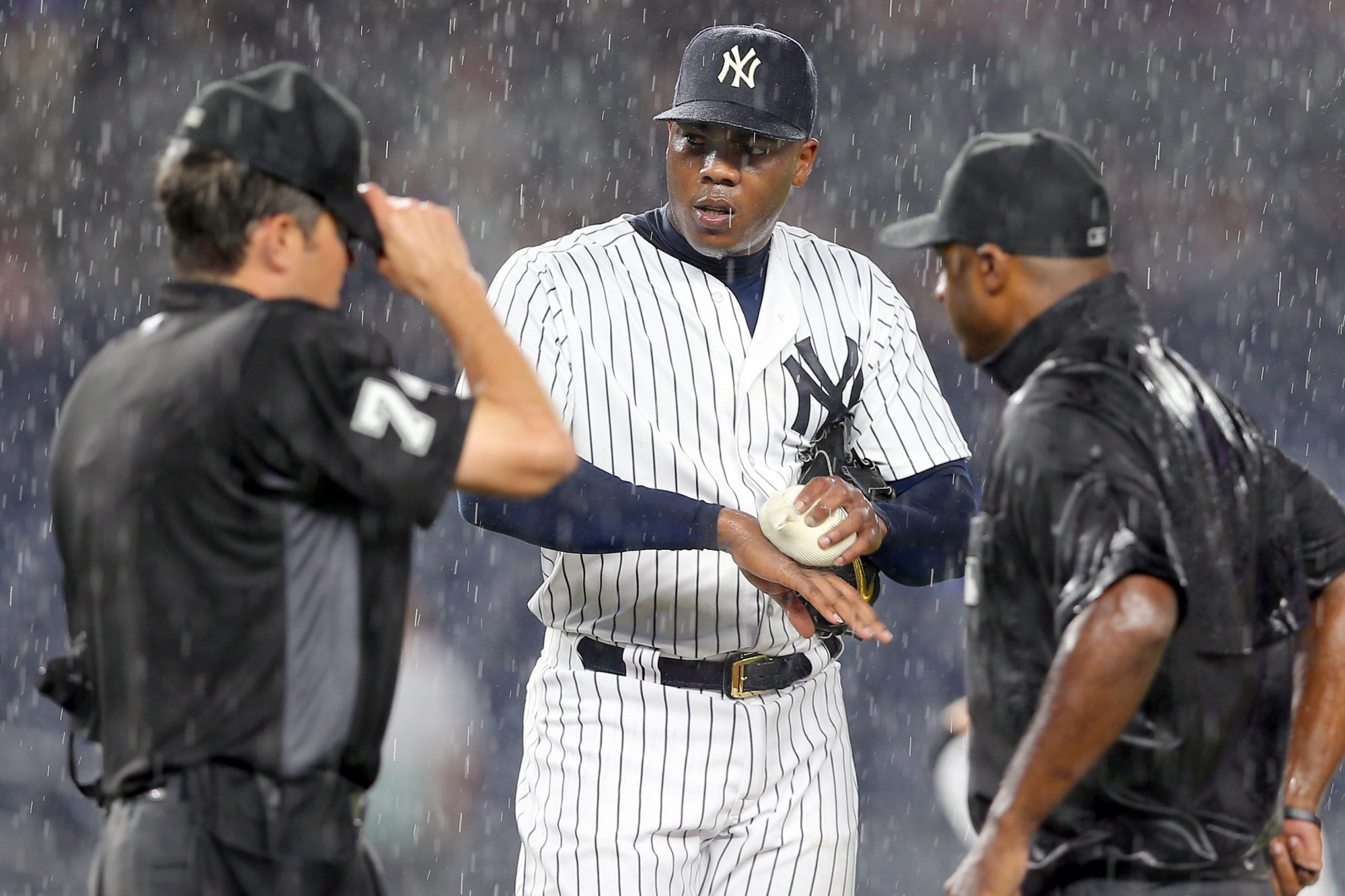 League Catching Up?
Aroldis Chapman's bread and butter is clearly his fastball. He's made a name for himself by his heat and is well-known for owning the fastest pitch thrown by a Major League pitcher.
Yet, the average fastball velocity across the sport has skyrocketed. According to FanGraphs, the average fastball in the MLB has jumped from 92.6 mph in 2016 to 93.2 mph in 2017 — the fastest jump over the last 10 years. In every year since 2009, the league average has increased.
---
---
It comes as no surprise that the league's average hard contact rate is also at an all-time high (32.1 percent). As pitchers continue the trend of dialing up the radar gun, hitters are naturally adjusting. Aroldis Chapman might be suffering from the adjustments.
Here are Chapman's fastball whiff rates (the rate at which batters swing and miss on a fastball) since 2015 per Brook's Baseball:
2015: 20.23%
2016: 17.96 %
2017: 13.30 %
Is it conceivable that after eight seasons of pumping fastballs, hitters are finally figuring out how to get to Chapman? Or heaters in general? If a major league hitter knows what pitch is coming, even at 100-plus, they'll be able to catch up to it. It's not rocket science.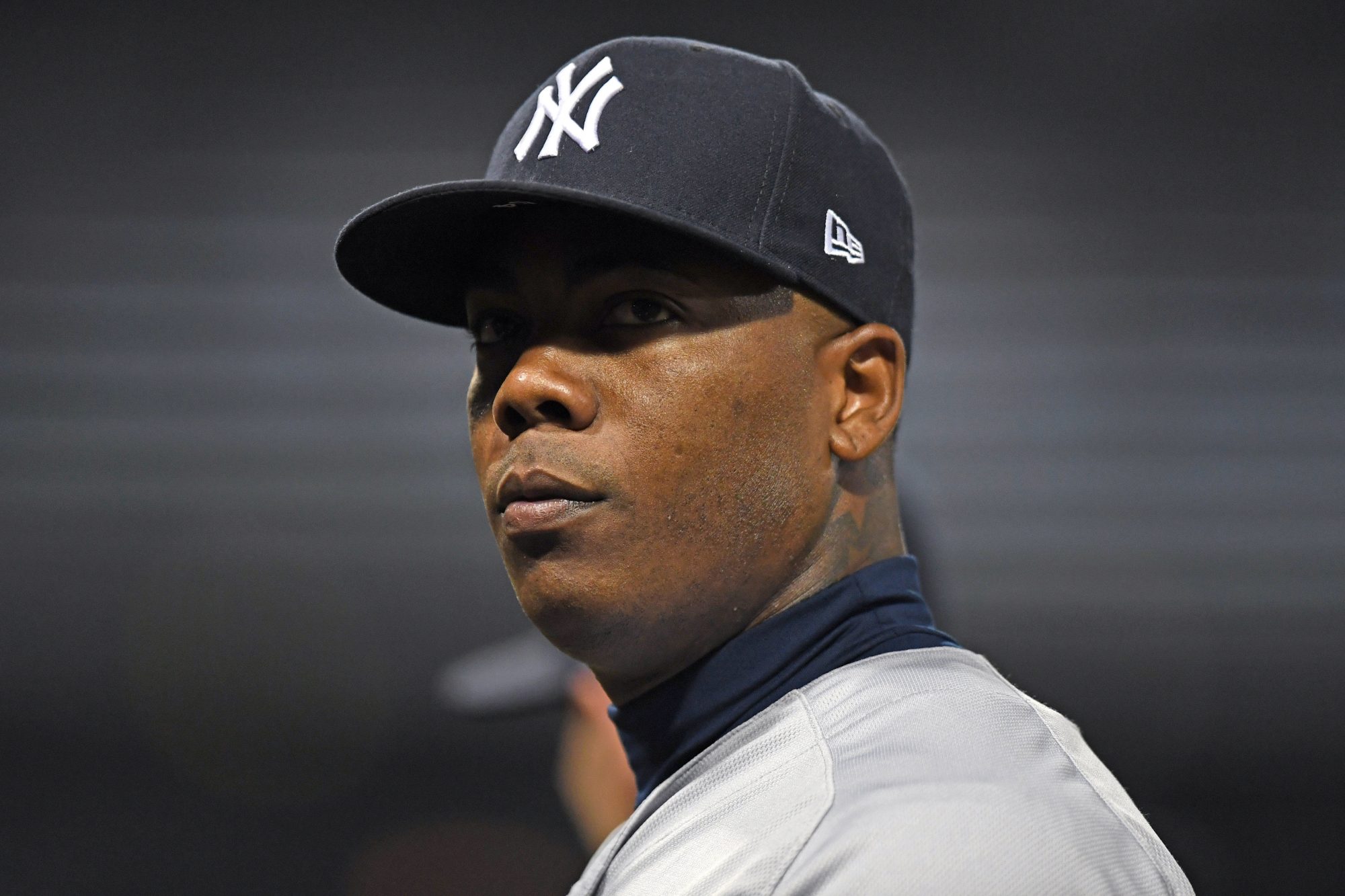 He's Here To Stay
To put it frankly, it's not good when an $86 million investment is having the worst season of his career and health concerns in the first of a five-year contract. In Joe Girardi terms, it's not what you want.
The Yankees have a loaded bullpen for the time being, but in no way, shape or form will they be competitive with 2017's version of Chapman until 2022, when he's slated to hit the free agent market.
---
---
But, to take the glass half full route, relievers do experience slumps just like any hitter or starting pitcher. Chapman's struggles this season may just be a World Series hangover, but one has to wonder if he'll regain the form that helped him post a 1.01 ERA with the Cubs last season.
If the Yankees hope to make a run as early as 2017, their closer will have to regain form.