Sorry, New York Yankees fans. When they send Clint Frazier back down to the minor leagues, it will be exactly what they need to do.
C
lint Frazier
has done a whole lot for the New York Yankees since he joined the ballclub during this tired stretch. He has provided a much-needed spark to a team that is slowly sinking to the bottom of the standings.
Frazier has done it all in the outfield for the Yankees so there is no way he would be demoted back to Triple-A Scranton. Right?
Brian Cashman rules this show and he came out to tell everyone that they're wrong. He declared yesterday that as soon as Aaron Hicks returns from the disabled list, the plan is to send Frazier right back down.
---
---
At first glance, it seems unfair. Frazier has done nothing but hustle and works his butt off to help the Yankees win some games. He's the future of that outfield who has proven he's more than ready to take on all the pressures that come along with The Show.
But the Yankees and Cashman are right. While Frazier has been nothing but fabulous, it's not about Frazier. It's about the other four veterans in the outfield.
They have the Jacoby Ellsbury and his massive contract sitting in center field. There is Brett Gardner, the heartbeat of that team, owning left field. Rookie phenom Aaron Judge has a hold over right field for years to come. And then there's Hicks, who has proven over and over again this season that he deserves the playing time that he's getting.
And that leaves Frazier as the odd man out.
Sure, Frazier is young and exciting but as long as Gardner and Ellsbury are on the team, they will be on the field. They are the proven veterans who, honestly, the Yankees are paying out a pretty penny to.
In fact, these guys are all veterans who have done their time, bouncing from the minors to the majors and back again. Unfortunately, the rookie will get the short end of the stick in this situation.
But the Yankees are right in sending Frazier down. With Hicks back, you've got your four outfielders who have proven that they can handle the big stage. If Frazier stays up, he would get limited to no playing time.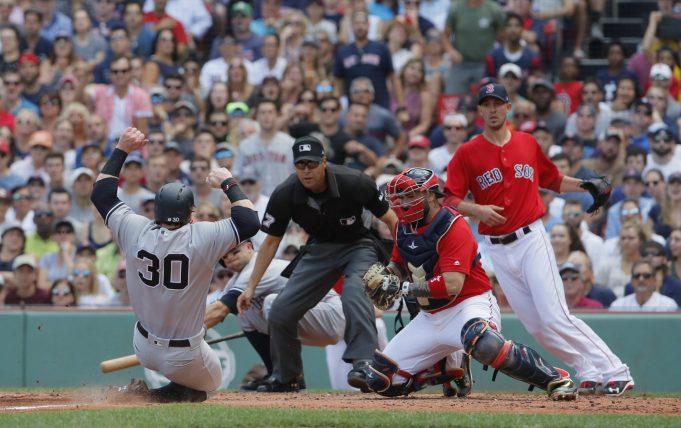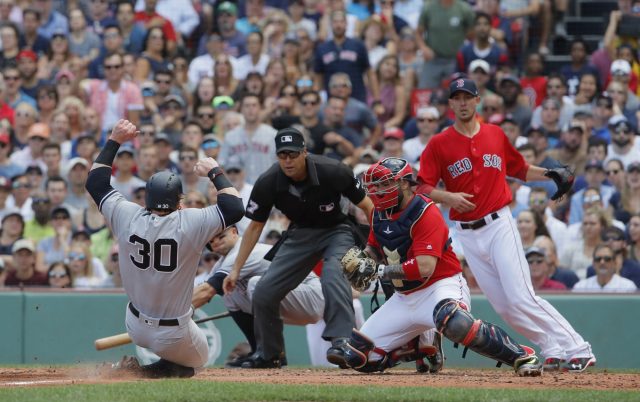 Sending him back to the minors gives Frazier the opportunity to play every single day and improve on little aspects of his game so that when he gets called back up, he'll perform even better.
Sure, Red Thunder has the bat speed and hustle to compete in the majors. But he definitely needs improvement on his defense and base running. He still has to work on several things before he can play a full season up in the Bronx.
Still not convinced? Still upset that so many veterans who are underperforming are still up while Frazier will get the boot? Well, the Yankees have no other options.
You can't send Judge down. Gardner, Hicks and Ellsbury are all being paid a good amount to play and as long as they're on the Yankees, that's exactly what they'll do.
If Frazier won't be playing every day, what is the point of keeping him up? He'll be sitting on the bench and not getting the reps in he needs to make himself a better player. Is that what you want? To watch Frazier sit and waste away when he could easily be learning and developing in the minor leagues?
If you think that's better, you're delusional. Frazier has done well but he needs to get more work in before he's fully ready to take over the outfield full-time. And he won't get the work on the field with the Yankees when Hicks returns from the DL.
You know Frazier will be back up. This demotion would only be temporary, as he'll likely emerge in the Yankees' lineup once again in September. If he isn't going to play much in the majors, why not give him the reps in the minors for a month? It makes way too much sense.
---
---
These veterans have done their time and they've gotten the New York Yankees to first place early on in the season. Clint Frazier still has room to grow and that's why the Yankees need to send him down upon Hicks' return.
Case Closed.