As the New York Yankees creep closer toward the trade deadline, general manager Brian Cashman needs to keep team control in mind.
The trade deadline is about three weeks away and the New York Yankees need to figure out their approach as they plan to "carefully buy" by the non-waiver trade deadline on July 31.
Last season, the plan was simple despite the fact that they waited until the last-minute. Sell sell sell. General manager Brian Cashman knew he had the utmost value in Aroldis Chapman, Carlos Beltran and Andrew Miller, so he shipped the trio for top-tier prospects like Gleyber Torres, Clint Frazier and more when the brass understood that contention was far-fetched.
---
---
Fast forward to now and the Yankees are in the mix for the postseason (3.5 games behind Boston in the American League) and ready to improve the squad. Yet, Cashman knows what the deal is.
The young Yankees stunned everyone in April and May en route to their 61-game start in the last 13 seasons (matching 38-23 in 2010). June and July, however, have been rough as they fell to four games over .500 after going 7-18 since they were a season-high 15 games over at the end of play on June 12. With that, the debate on what the team should do at the deadline comes into question. 
It's impossible to prognosticate how the Yankees will fare for the rest of the season. They are now crippled by injuries, so should they stand pat and hope a healthy Yankees team surges en route to a postseason appearance? Should they continue the narrative and sell to pack on more youth? Should they go all-in? Should they trade prospects for rentals?
Let's face it, the Yankees are still in that transitional era. They're still waiting for Alex Rodriguez and his $21 million to come off the books along with CC Sabathia's $25 million. 33-year-old Chase Headley has been shopped before and many other veterans may be on their way out very soon. If there has been any indication of all the major league debuts we're seeing in 2017, the youth movement is very much alive and even the most greedy of fans can recognize the organization is inclined to go all-in on 2018 and beyond, not 2017.
So, no matter how carefully Cashman buys, he needs to consider packing on team control and nothing less when making improvements to what appears to be a fringe playoff team.
---
---
Does that mean throw in the towel? Play the rest of the season with house money and hope for the best? While that's what this season was supposed to be all about, the Yankees don't necessarily have to stand pat. Cashman should, and will, improve the team, but he should keep team control in mind when pursuing improvements.
Why? Because then he and the Yankees have the best of both worlds. Additions with more than two years before they hit the open market will increase the chances of the Cinderella story of the baseball season to contend in 2017 while arming what could be the next dynasty with a few key pieces as well.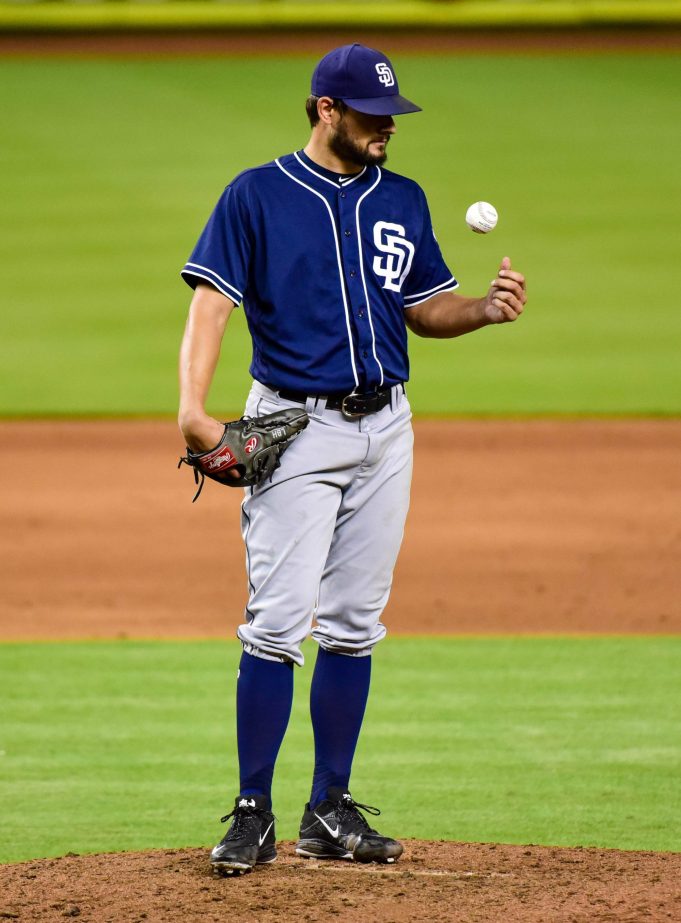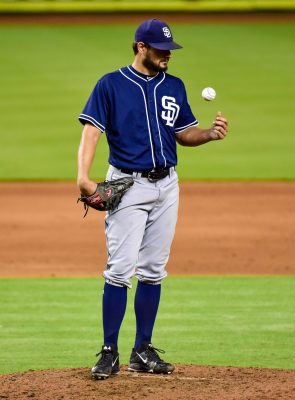 For example, shipping a duo of Top-30 prospects and a pair of mid-levels for a reliever like Padres' All-Star lefty Brad Hand, who's 27-year-old and not slated to be a free agent until 2020, would help fix New York's contemporary bullpen issues (seventh-highest relievers' ERA over the last 30 days) and give them a weapon to deploy when World Series odds are in the Yankees favor. There has already been interest in Hand, so the plan to only take a dip in the prospect pool if an asset with years of control is returned already seems to be in full effect.
However, it's not all that simple to pull off a move like acquiring Hand or others (remember, Hand was just an example). If an organization has a reliever who is under team control through at least the following year, that team could anticipate more interest and demand a greater return. Only the very best relievers get a sizeable return in their walk year, just look at the Yankees from 2016.
Chapman, who became a free agent after his World Series win with the Chicago Cubs, brought back the No. 2 prospect in all of baseball and two mid-levels. Miller, who will now help the Cleveland Indians contend for multiple titles until his contract expires in 2019, brought in the Yankees' No. 2 prospect (Clint Frazier), Justus Sheffield (currently their top pitching prospect) and two mid levels.
No available names are as attractive as Miller and Chapman, but control makes a difference. It won't be cheap.
---
---
Nonetheless, Cashman certainly has the farm system power to wheel in a deal involving players with multiple years of team control without decimating what he and his team worked so hard to build. No matter which route he decides to take, however, the mindset needs to be firm: it's not about a championship. It's about championships.