It's well-established that New York Yankees seventh-inning man Tyler Clippard is struggling. Today we look into why.
The New York Yankees may have snapped their longest losing streak since 2007 on Wednesday night, but their seventh inning man Tyler Clippard continued to struggle after being put in an ever-so-low-leveraged situation in the top of the ninth inning against the Los Angeles Angels.
New York led 8-2 and as manager Joe Girardi attempted to right the ship by throwing Clippard in that spot, he got the opposite.
---
---
Clippard quickly surrendered a leadoff double to Andrelton Simmons on the first pitch he threw then the very next batter, Martin Maldonado, slapped a 3-2 changeup over the wall in right for a two-run home run.

Girardi then pulled him after those seven pitches and brought in closer Aroldis Chapman, who sealed the deal in front of a Bronx crowd of 39,911.
"Trying to get him a clean inning," Girardi said in his postgame press conference. "And it didn't work."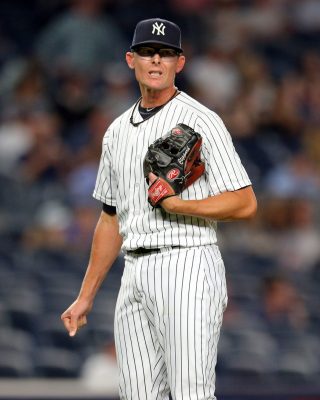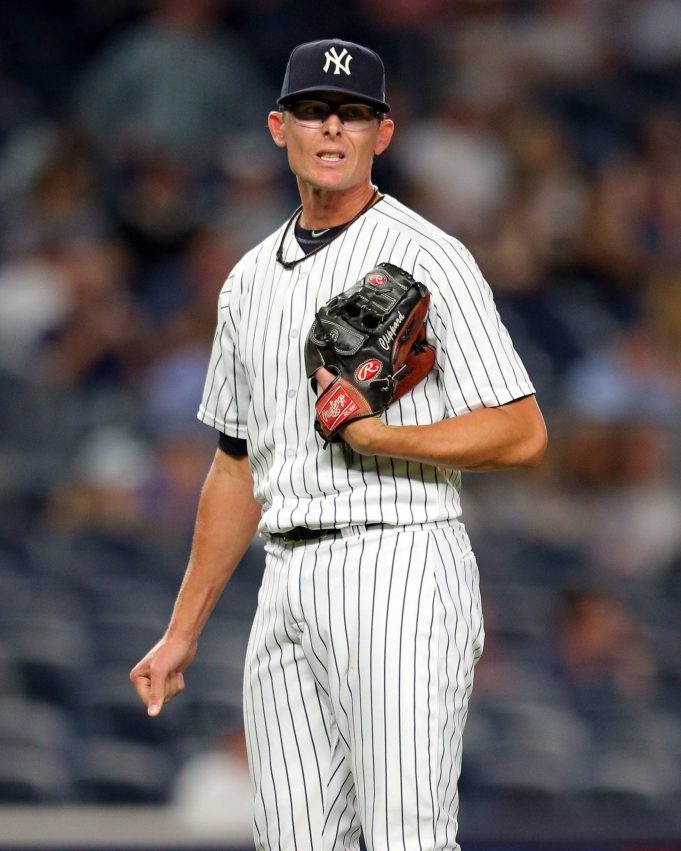 That marked the fifth time in six games the 32-year-old has allowed multiple base runners as his ERA is sky-high at 17.18 (3.2IP, 8H, 7ER, 3BB, 3K, 3HR) in that same span. Clippard has also allowed multiple earned runs in consecutive appearances after doing so just once in his first 60 appearances after returning to the Yankees from the Arizona Diamondbacks on August 1, 2016.
"It's a pretty bad stretch for me," Clippard told the NY Daily News. "I've been through stuff like this before in the past, in the minor leagues, in the big league. You never want to go through them. It's frustrating every time."
Did anything specific change? We're talking about a reliever who owned a 1.73 ERA entering play on June 13 suddenly spike it up to 3.77 in just 2.2 innings of work. The difference is visible and it's not pretty.
From April 4-June 12 (1.73 ERA, 3HR, .154 BAA), batters hit .222 off Clippard's changeup, .138 off his fastball and .191 off his splitter. Since June 12 (23.63 ERA, 3HR, .467 BAA), batters own a .400 batting average on the change, .750 off the fastball and .333 off his splitter.
Furthermore, his changeup's whiff rate, according to Texas Leaguer's Pitch FX database, has dropped from 14.8 percent to five percent. That's his go-to pitch and the difference since June 12 has been night and day with the vertical movement (deviation of the trajectory from a straight line, with the effect of gravity removed) of the changeup being the most prominent reason why it seems as though Clippard has lost a step.
Per Brook's Baseball, the vertical movement of Clippard's changeup dropped from an average of 8.78 inches (from April 4- June 12) to an average of 7.85 inches over his last five appearances — where two of the three home runs surrendered have come off changeups.
Cameron Maybin slugs a solo home run to left field to give the Angels a 4-3 lead in the top of the 7th inning!!! #TheHaloWay pic.twitter.com/wI2JJwc6YV

— TheRenderMLB (@TheRenderMLB) June 21, 2017
The difference of an inch may not seem like a big deal, but throw yourself in a hitter's shoes to imagine how much an inch can change the ability to square up a ball. If you want numbers on that, too: opponent's isolated power off Clippard's changeup has increased from zero to 1.200.
The difference is evident and if he doesn't right the ship soon, New York's seventh inning man could soon lose his job of handling a high-leveraged inning because as he crumbles, others have emerged as candidates to perhaps take over the responsibility of handing the ball over to Dellin Betances.
Chad Green has struck out 28 batters over 26.2 innings of work including two in 1.1 innings on Wednesday night, as the righty recorded the final out of the sixth inning when Girardi pulled rookie southpaw Jordan Montgomery from the game. He's a prime example of an arm that might get slotted there more often.
---
---
All in all, Girardi still sees Tyler Clippard as the seventh inning guy. Until Adam Warren returns, that may remain the case. So priority number one is getting Clippard back on track.
It's not like he wasn't before this rough stretch, but the Yankees can't possibly stay in the hunt with little-to-no production coming from relievers not named Dellin Betances or Chapman. That's what made "No-Runs DMC" a non-factor in 2016 and could very well cause problems as New York hunts for their first American League East title since 2012.