Indiana Pacers forward Paul George is an immensely talented player. However, despite being a multi-skilled player, George is by no means a superstar – an inaccurate notion built up over the years.
S
unday afternoon, the NBA world was thrown a massive curveball. According to
Adrian Wojnarowksi of The Vertical
, Indiana Pacers small forward Paul George has told the organization that he intends to head to the Los Angeles Lakers when he hits free agency a year from now. As a result of him showing his cards, the Pacers are now on the hunt to find a trade for George. Many teams believe though, that if they acquire him, that they'll be getting a one-year rental – only making trading George even harder for the Pacers. However, while acquiring him could be intriguing for many teams, the notion that George is a superstar player is inaccurate.
Throughout the duration of his seven-year career, George has without a doubt played at a high level, but how high exactly? While many consider him a superstar player, think about how he ranks versus the rest of the league at his position.
While he's one of the better small forwards in the league, George doesn't even crack the top four at his position. With Lebron James, Kawhi Leonard, Kevin Durant, and Giannis Antetokounmpo all present, George comes in at 5th (at best). A big part of his ranking is due to the evolution they've endured. James, Leonard, Durant, and Antetokounmpo all have an edge on George and continue to improve year in and year out. How has George improved?
While he can be a go-to scoring option and show up on the defensive end, George has made little to no changes over the course of his career. That contributes to his lack of playoff success, especially against James.
Back in his days with the Miami Heat, James and his unit matched up with George's Pacers for three straight seasons. The last two matchups though, were when George was the go-to man for Indiana. In both conference final series', James and the Heat had their number, coming out on top in both years. In addition to the years George was the leading man in Indiana though, James and the Heat defeated the Pacers in the second round of in 2012. That makes it three straight years that James' Heat put the hammer down on George and the Cavs.
After essentially losing three straight series to them though, many gave George a pass as he was still a rather young player. However, after his last two playoff appearances (the last one especially), George is running out of excuses.
Matching up with the two seeded Cleveland Cavaliers in the first round of the 2017 NBA Playoffs, many already assumed that the Pacers had little to no shot of knocking off James and the Cavs. However, such a matchup could've been avoided if the Pacers had gelled, so why did they fail to do so?
In the offseason, the Pacers brought in All-Star point guard Jeff Teague, as well as versatile forward Thaddeus Young and big man Al Jefferson. All three players are proven products and their presence in Indiana should've propelled them to the top of the East. Another thing that should've worked in the Pacers favor was the growth of center Myles Turner. The second-year center began to blossom into one of the beer two-way centers in the Association last season. Turner's growth as a player though, weren't enough to help George and the new-look Pacers. In fact, the Pacers won just 42 games but sneaked their way into the seventh seed.
When the Pacers entered the ring come postseason time, they were destroyed.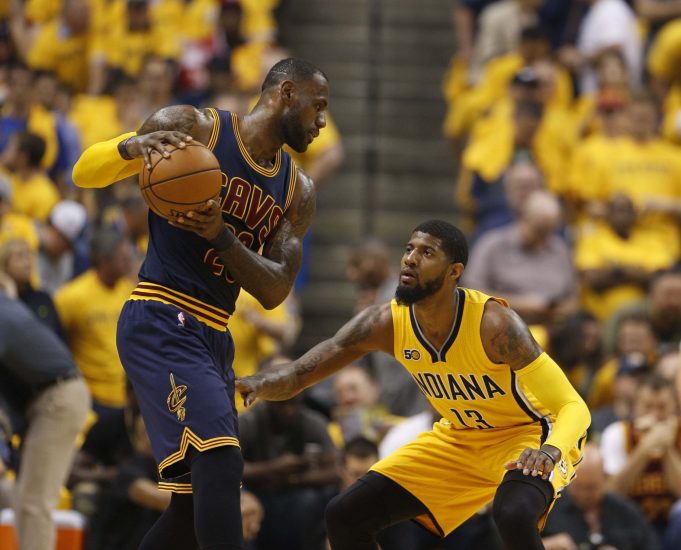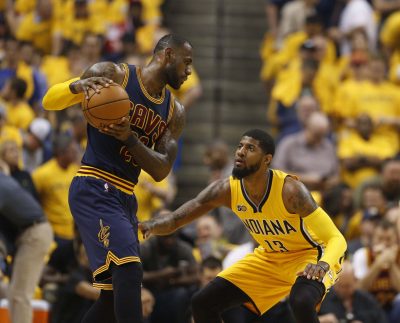 Despite playing tough in games one and two, the Pacers were ultimately swept in their first round series. The most disturbing part of the series for Indiana though, was them blowing a 26 point game three lead on their home court. By not protecting and holding onto that large lead, the Pacers allowed the Cavs to come back and execute the biggest single game comeback in NBA playoff history – a difficult feat to watch transpire if you're the Pacers. The biggest question in all of this is, of course, is how the Pacers could let this happen? If George was this superstar player everyone believes he is, then why and how did he let the Cavs pull off a 26 point comeback?
When it comes to being swept or maintaining a massive lead, very rarely do superstar players allow themselves to endure such an embarrassment. However, given that George has been bounced in the first round of the playoffs the last two seasons and allowed his team to be swept while surrendering a 26 point lead in the process – on their home court none the less – George has further proved that he's not a superstar.
If George were a superstar, he'd be getting ridiculed over being swept in the first round. Imagine if Chris Paul was swept? Imagine if Russell Westbrook was swept? Imagine if Stephen Curry was swept? Imagine if James allowed his Cavs to be swept in the NBA Finals? If those players allowed their teams to be swept, they'd be ripped apart all offseason long. When George gets swept though, he gets flowers at his front door and people coming to his defense. Why? 
For a player who views himself as someone who needs to have the ball in his hands in game ending situations, George was a big no-show with the season on the line for Pacers. Shooting 5-22 from the field in game four and bricking a crucial three-pointer in the closing moments, George came up small when it mattered most. However, again, he wasn't given that much criticism. Instead, everyone just praised James.
Now, with the NBA offseason in full swing, George has made his intentions clear – he's leaving Indiana if they don't do it for him. When it comes to potential suitors, the Lakers will go obviously but an option, but so will the Cavaliers and maybe even the Boston Celtics. Out of those teams, the most eye-popping one is the Cavs.
If the Cavs acquired George, to put alongside James and superstar guard Kyrie Irving, the obvious question becomes whether he makes them a legit threat to the Golden State Warriors? The answer is no; he's not a superstar player, meaning he's not going to make a Durant-like impact on a potential Finals reunion between the two teams. One must also wonder whether he'd get in Irving's way?. With Irving being a ball dominant point guard, the only player he's adept to referring to is James. How exactly would he respond to having George in the mix?
Could George help the Cavs reclaim the Eastern Conference next season? Absolutely, but he's not enough to top the Warriors, regardless of his two-way play.
The same goes for the Celtics.
While acquiring George would make them a much more formidable threat to the Cavs, he's not enough to knock them off; he cannot be relied upon to lead them past James and the Cavs as the leading man.
Then, there's the Lakers case.
If you're the Lakers, you could engage in trade discussions to try to lock up George before he hits free agency in 2018, but even if you do so, he's not going to make you a Western Conference contender. If George cannot get a team with a bunch of proven players out of the first round, how in the world will he be able to get the young Lakers to accomplish such a feat? Even if they put a trade to the side and waited until he hits the free agent market, putting talent around George will not do the trick.
At the end of the day, George is a top 25 player, but he's by no means a superstar; you cannot win with him as your go-to guy. He's a talented two-way force in the league but is by no means a superstar caliber player – a mistaken notion surrounding his game. He's shown in the past, that he's unable to lead a team to the Finals and most recently get out of the first round. George is an outstanding player, but if the Cavs, Celtics or even Lakers are looking to get a franchise player who's going to allow them to take the next step, George is not their guy.