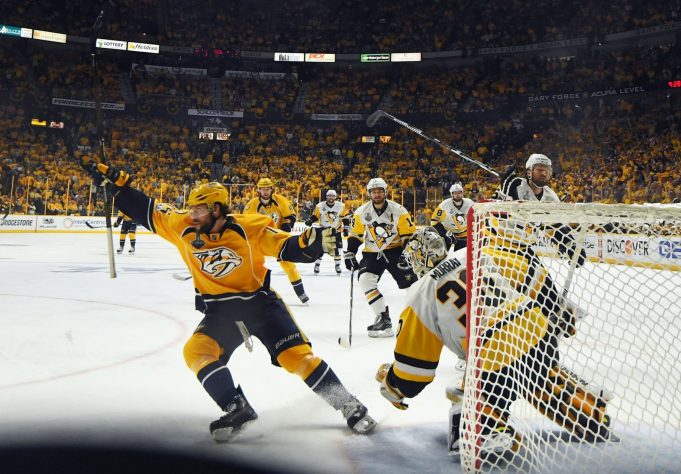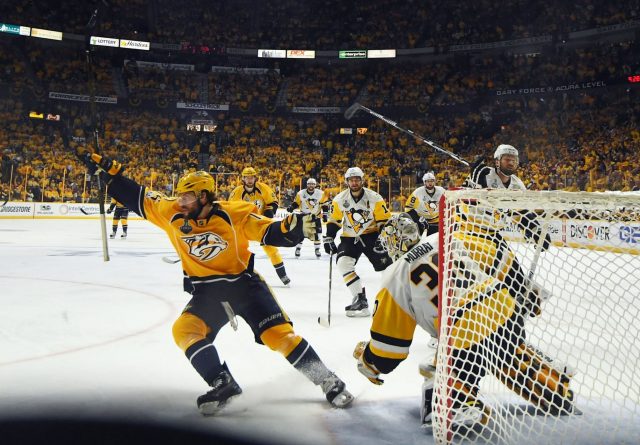 With the Predators down 2-0 in their best-of-seven Stanley Cup Final series against the Pittsburgh Penguins, a home win was needed at the Bridgestone Arena in Nashville. 
The fans in Nashville helped define the old term "Home Ice Advantage."
With the Predators up 2-1 with just under 11 minutes left in the second period, the Bridgestone Arena broke out in a sea of noise. The beginning is a little inaudible but goes as such:
HE SHOOTS!
HE SCORES!
YOU SUCK!

MURRAY!
MURRAY!
MURRAY!
YOU SUCK!

IT'S ALL YOUR FAULT!
IT'S ALL YOUR FAULT!
IT'S ALL YOUR FAULT!
What's even more striking is that the chant was seemingly in unison, with the pauses in between arguably louder than the chant itself. Nashville fans have caught the eye of NHL fans nationally, demonstrating passion that can rival crowds at the Centre Bell and Air Canada Centre.
The Predators went on to win 5-1, routing the Pittsburgh Penguins and silencing any suspicion of a four-game sweep in the Stanley Cup Final.