There's always ONE GUY each generation of New York Yankees fans hate because they always hit. Does your guy make the list?
P
eople love and hate the
New York Yankees
for their own personal reasons. They can be jealous that they reign victorious the majority of the time.
Yet, the Yankees have an incredible fan base that supports their team, regardless of the outcome of the game. And that fan base has some opponents who they simply despise.
Why? Because every time they play the Yankees, they get on base. They crush home runs. The Yankees just can't get these guys out.
We all know at least one from our childhood days, where we cringed each time a certain someone came up to the plate. We watched, fingers splayed across our faces, as these opponents ripped our hearts out and spat on them.
These are the guys we love to hate. These are the players who owned the Yankees from home plate throughout the franchise's remarkable history.
We remember "Manny being Manny." We remember it all, during his painstakingly lengthy career on the Boston Red Sox.
We also remember how we burned the Yankees so many times that we began to simply despise him for being so good. Manny hit .322 against them but also crushed 55 home runs, by far the largest total against any individual team for Manny.
We know David Ortiz was known for hitting home runs against the Yanks but Ramirez actually had two more than Ortiz did.
The more you know! So maybe we were focusing all our hatred on Ortiz when, in reality, the real threat happened to be Ramirez.
A Seattle Mariner, a seven-time All-Star, a two-time American League batting champion and, above all else, a Yankee-killer.
Martinez stuck around Seattle for the entirety of his 18-year career in the majors and never let the Yankees off easy.
He played 138 games against the Yankees and posted a .317/.423/.542 line in the process. He also stole six bases against the Bombers, tied with the Detroit Tigers for the most against any individual team in his career.
Of course, he was the one who stroked "The Double," an unforgettable moment of infamy in Yankees history. Let's just say, this is a guy that Yankees will never forget.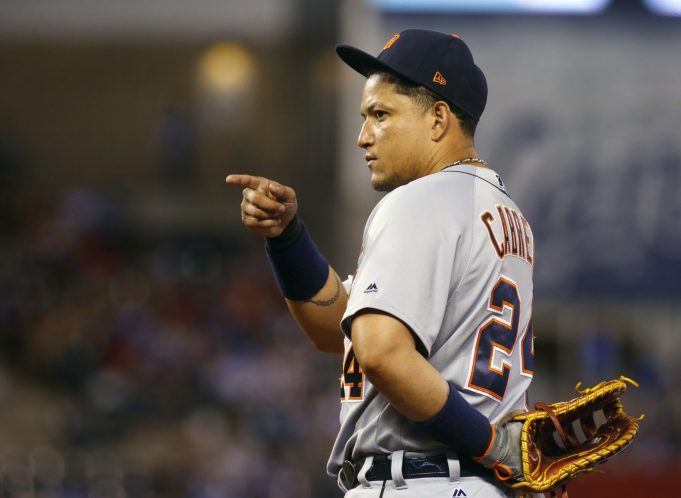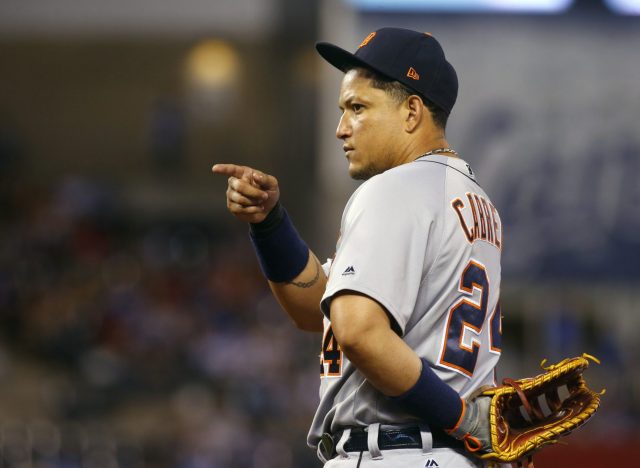 The Detroit Tigers first baseman has always been a Yankee-killer that has haunted pitchers each time he steps up to the plate.
Miggy, the two-time American League MVP award winner, has played 66 games against the Yankees. In that span, he has crushed 79 hits, including 19 home runs.
Cabrera bats a .333/408/.650 line against the Bombers and continues to rake season after season, no matter what pitcher the Yankees throw in his way.
I guess that's why he's won so many awards and been selected to so many All-Star teams. He's just that good. The Yankees know that all too well.
This guy is the definition of "scrappy," which is exactly why he was consistently a thorn in the side of the New York Yankees throughout his career.
For nine season the Los Angeles Angels of Anaheim, Kendrick haunted the Yankees at every turn. In 61 games against the Bombers, Kendrick posted a .346/.411/.481 slash line. His .411 slugging percentage was his highest against any individual team in his career.
A true testament to just how well he hit against the Yankees, they intentionally walked him seven times. He was only walked four times by the Seattle Mariners when he played in their division.
Wow. The Yankees really didn't want Kendrick on base. Possibly because he stole nine bases during the time the Yankees.
And he's still playing … just in the National League. So luckily, the Yankees don't have to deal with him anymore.
Oh, another Red Sox player? Of course. But he's no David Ortiz.
Ciriaco is not a famous name by any means. However, when he played against the Yankees in his short stint in Boston, he dominated the Yankees. He posted a .407/.429/.556 line in 54 at-bats while swiping five stolen bases.
Yikes. The relatively unknown Red Sox player absolutely scorched the Yankees in 2012 and for part of 2013. The Yankees simply couldn't find a solution to get him out.
He may have played fewer games against the Yankees than some of the others on this list (18) but Ciriaco's dominance should not go unnoticed. Good thing he wasn't a permanent problem.
Sadly, when it comes to the Yankees, there are plenty of players out there who have their number when it comes to hitting. They seem to come alive when the Yankees are in town.
Hey, who cares who dominates the Yankees? Especially when they have 27 reasons to help ease the pain these hitters have caused over the years.