The New York Yankees have a history of calling up minor leaguers too soon and they shouldn't make the same mistake with Gleyber Torres.
The hottest prospect in the New York Yankees farm system is making waves. Rumors have been swirling as of late that Gleyber Torres will get the call to the Bronx towards the end of the season.
Good for the fans? Absolutely. Good for the team? Maybe. Good for Torres? No way.
While Torres has shown off in the farm system after being acquired from the Chicago Cubs last season, he is still just a kid. He was just promoted to Triple-A Scranton after a short stint in Double-A Trenton.
Fans are begging for the 20-year-old phenom to be given a shot at the majors, especially with third baseman Chase Headley struggling. But a call-up this season would be a big mistake.
I have no doubt that Torres is a talented player in every aspect of the game. However, he has a lot of work ahead of him to prove that he's ready for the big leagues.
Currently, he's 6-for-29 (.207) in Scranton. This is his first taste of Triple-A ball in his career, mainly appearing in Single-A games for the past three years. To make that jump from essentially Double-A to the majors is one huge leap.
Sure, it's a small sample size to play by. However, the guy is only 20 years old. And the last thing the Yankees should do is call him up before he's ready just because they are excited to see him play. We're all excited to see what Torres has got. Heck, he's the top prospect in the system. But he just isn't ready yet.
Take Phil Hughes, for example. One of the Yankees stop prospects, he pitched five games in Triple-A before being called up to the Yankees. And guess what? Those five games were not enough.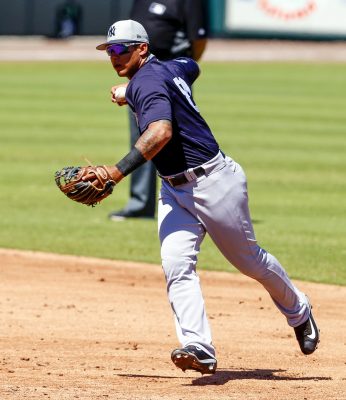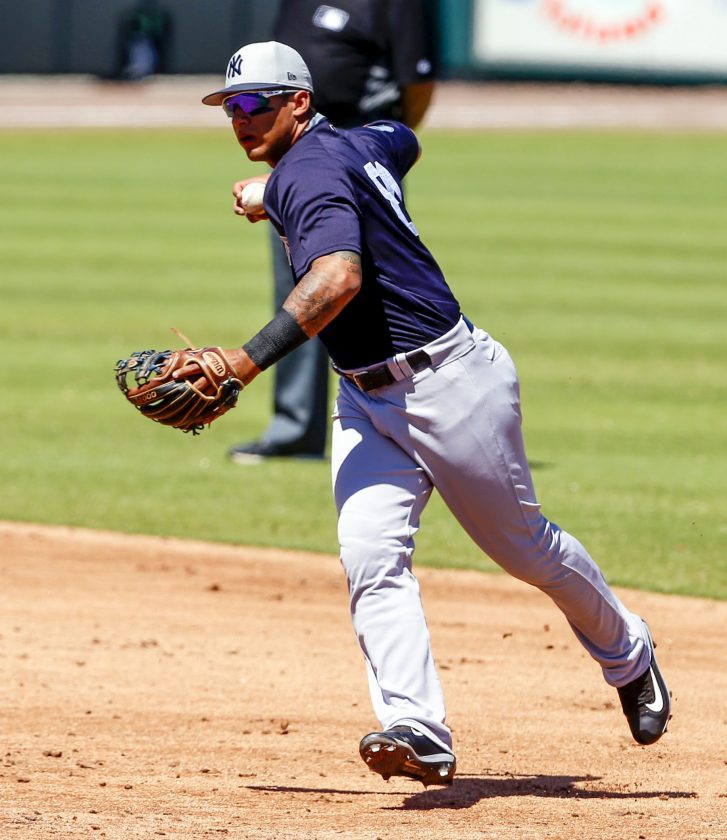 Their top prospect posted a 4.46 ERA in 13 games with the Yankees that season. For the rest of his career, he bounced back and forth between the minors and the majors.
On the flip side, the Yankees were incredibly patient with Aaron Judge and Gary Sanchez. Both were exciting players to watch but they stayed in the minor leagues for quite some time before getting the call. Even when Judge got called up last year, after his second season in Triple-A, he disappointed, batting .179 in 27 games.
Now, after an offseason of hard work, Judge is a potential MVP candidate, anchoring a solid Yankees offense.
They also let Sanchez develop in the minor leagues, keeping him in Triple-A for three seasons to work on all aspects of his game.
They let him work through some issues so when he got to the majors, he made an impact right away. He was able to develop instead of learning as he went in the majors.
Which is exactly what they would be asking Torres to do. He would likely be playing third base, a position that he's been practicing at since his arrival at Scranton but still has yet to master. He would also be facing some high-quality pitching within the American League East division.
He has yet to truly work on his craft in the minors. He will be an incredible player but only if the Yankees allow him to make use of the learning experience in Triple-A instead of rushing him along.
The Yankees are winning right now. They've got a pretty solid formula on how to emerge victoriously. There should be no rush to bring Torres up simply because one player is struggling.
Oh, and did we forget about Ronald Torreyes, who has been an incredibly reliable backup for Headley? He may not be as exciting but he's getting the job done in every position.
I can't wait to see Gleyber Torres in pinstripes. But I can wait if it means he'll actually be ready for it. The last thing New York Yankees fans want is to be disappointed by their top prospect because they rushed him into the majors due to their own curiosity.
Everyone is entitled to their own opinion, correct? So here's mine: Let Torres develop in the minors. Because when he's fully ready, he'll be the next great thing.