The moment has arrived. Who will win the NBA Finals this year, the Cleveland Cavaliers or the Golden State Warriors?
I
t's tantamount to Christmas morning as a kid. Waking up filled with anxiety as you impatiently wait to open your gifts. Tonight, that gift if the NBA Finals we've previewed for 11 months. The staff gives their predictions.
1. What are some key matchups that will go a long way in determining the outcome of this series?
Tyriq Butler:
Steph Curry versus Kyrie Irving. It's important to recognize that the Warriors' defensive scheme might involve Klay Thompson guarding Irving.
We all remember what happened last year in Game 7 when the Cavs forced a switch that put Curry on an island against Irving. Ball game. Blouses. But this is mainly about the statistical comparison even if they aren't guarding one another.
The narrative surrounding the two-time league MVP is that he's choked in consecutive NBA Finals. Warped in this flawed analysis is that he averaged 26/6/5 with nearly two steals per game when Golden State defeated Cleveland in six games back in 2015.
For the Warriors to win this year, Curry doesn't need to outplay Irving. He simply just needs to keep up with him to neutralize his offensive prowess. If that happens, the Warriors will be in optimal position considering their roster is more talented from top to bottom.
Nicholas Durst:
Who will guard Klay Thompson? Assuming that Kyrie Irving guards Steph Curry, this is going to leave Thompson wide open to shoot 3 pointers all series long.
There is no way Iman Shumpert, JR Smith or Kyle Korver will be able to guard Thompson. In the 2015 NBA playoffs, Thompson averaged 24.3 PPG which was a key factor in the Warriors winning the title.
Kevin Durant vs. LeBron James. The last time the two met in the NBA Finals, Durant averaged over 30 points per game, but it still wasn't enough.
Zach Cronin:
GS Bench vs. CLE Bench
Neither team is very deep. However, it's going to take someone like Deron Williams or Andre Iguodala having huge moments to propel the victor.
In these playoffs, Golden State's 7th in bench points per game (31.8) but first in shooting percentage (53.0). Cleveland trails in both categories and is 11th in scoring (26.7) with the third-best field goal mark (49.4).
The Cavs bench separates themselves with three-point shooting, and they lead all benches with a 46.2 percent clip. If LeBron James is logging huge minutes, that's going to be key.
Golden State is much different — their bench is last in three-point shooting, 26 percent. Instead, they're defense-first. The 3.0 steals a night are third among all teams, while they lead with 2.4 blocks.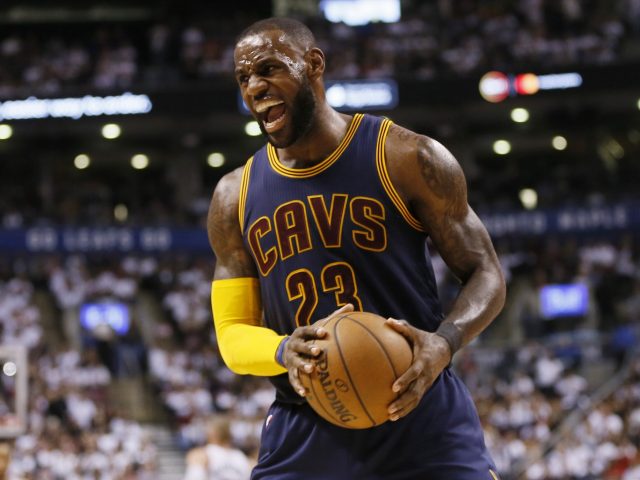 Nicholas Santuccio:
Kevin Durant vs. Lebron James is the single most important matchup of this series. Durant is one of the most versatile and efficient scorers in the NBA, and no other player on the Cavaliers can possibility hope to contain Durant on the wing. This matchup will test Lebron's ability to run the offense efficiently, while also playing his best defense on KD for over 40 minutes each contest.
Geoffrey Campbell:
Klay Thompson v.s. Kyrie Irving will be the most important matchup of the series. Golden State always has the ability throw out their "death lineup," and this may even include Kevin Durant at the 5.
Because of this, I don't think we will see much of Lebron James exclusively guarding Durant.
If Kyrie can improve and lock-down defensively, this gives the Cavs a decided advantage. Likewise, if Klay can slow down Kyrie, I believe the Warriors will have the upper hand.
James O'Connell:
Kevin Durant has had lots of failures when going up against LeBron James. While his statistics are strong averaging 29 points per game, his win-loss record is poor winning just 5 out of 22 games when going up against King James.
Ever since the 2012 NBA Finals Durant has sought revenge, and it will be interesting to see if KD gets what he so desperately covets.
Chipper Murphy:
Steph Curry vs. Kyrie Irving
Curry is the superior player, but after losing the head-to-head matchup with Irving during last season's finals, his reputation took a hit.
Irving scored 27.1 points per game on 46.8 percent shooting while Curry posted only 22.3 points per game while converting at just a 40.3 percent clip.
This was after a dominant regular season that led to his second straight MVP. The Warriors go as Steph Curry goes. The Warriors tied the '86-'87 Lakers for highest ORtg in NBA history, but without Curry, they're a shell of that greatness.
As great as LeBron James is, he's going to need his sidekick to be just as phenomenal as he was last season if they have a chance at pulling off the upset.
[graphiq id="igbQOHccCBn" title="Golden State Warriors Player Comparision" width="600″ height="1000″ url="https://sw.graphiq.com/w/igbQOHccCBn" frozen="true"]
Samuel Randall:
The primary matchup I will be looking at, will be the Kevin Durant vs. Lebron James showdown. Although Kevin Durant has shown, he can score at will vs. Lebron in the past, he always comes out on the losing end when it counts. Now is the perfect moment for Durant to show up and show out against the King. Two of the top five players in the world going at each other on the big stage will be must see tv!
The second matchup I can't wait to see is the Draymond Green vs. Kevin Love bout at the four spot. If Kevin Love can get going and produce timely buckets vs. Draymond, then the Cavaliers will have a great opportunity to be potent, offensively. Moreover, Green only averaged 7.8 rebounds, and 1.8 steals last series vs. the San Antonio Spurs. If he can lock down Kevin Love in this matchup, then this could be a major factor in games down the stretch.
2. Who are the X-factors for each team?
Tyriq Butler:
Klay Thompson's postseason struggles have been well documented. He's scoring 10 points less than he did last year (14.4) while shooting just 38 percent from the floor and 36 percent from downtown. Thompson has that uncanny ability to get scorching hot, and when that happens, this team is virtually unbeatable. He'll be tasked with keeping Irving under control, which is already an arduous responsibility. If Klay can improve from being laughably bad to merely mediocre, the advantage goes to the Warriors.
For the Cavs, it's Jr Smith. He's putting up just 6.6 points per game, which is the lowest output since his rookie season. Just like Klay, Jr can get it going from downtown and change the whole tenor of games. When you're overly dependent upon his production, seldom does Jr rise to the challenge. But when he's able just to be the piece that no one is paying attention to, he can be formidable.
Nicholas Durst:
Cavs: Kevin Love. He won the Cavs the title in 2016 with his incredible defense on Steph Curry at the end of the 4th quarter in game 7. If the Cavs get him the ball, he should have no problem scoring in this series. In the 2016 NBA playoffs, Thompson averaged 17.2 PPG which was a key factor in the Warriors winning the title.
Warriors: Klay Thompson. He has been the forgotten man this playoffs with so much attention on Durant and Curry. The Cavs do not have anyone who is going to be able to guard him as their focus on defense will be on Curry and Durant.
Zach Cronin: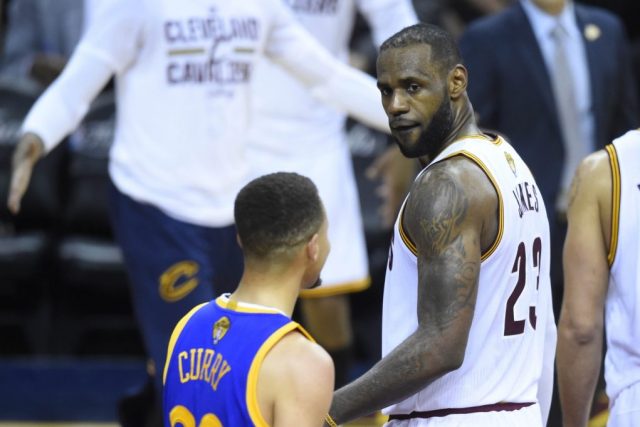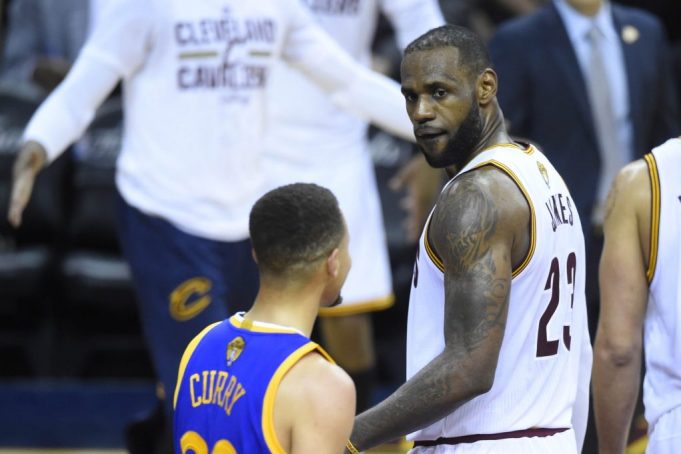 CLE – Tristan Thompson: Tristan Thompson is the most blue-collar guy in the NBA. He does all the things that a coach loves, and his motor is always going. Golden State is going to have their hands full keeping Thompson off the glass, but his impact goes far beyond the backboards. He's a great target above the rim out of the pick-and-roll, and LeBron James and Kyrie Irving trust him to go up and oop the alley. Above all else, his ability to switch on defense is what's needed most.
GSW – Klay Thompson: Once upon a time, Klay Thompson was the league's second-best shooter. That's still true, but the postseason numbers don't say it. Through 12 games, Thompson's shooting 38.3 percent from the field and 36.4 percent from three. If this team were without Durant, Thompson's no-shows would be way more detrimental.
If he finds his stroke, it's bad things for Cleveland. Their defense already has their hands full, and planning for Steph, Durant, and Green is enough to cause headaches.
Nicholas Santuccio:
Cavaliers: Tristan Thompson: The Warriors biggest weakness is rebounding, which is why Thompson is set up to produce some gaudy double-doubles in this series. If he can provide the relentless rebounding prowess he has so far this year, 9.2 RPG, the Cavaliers can dominate the glass.
Warriors: Klay Thompson: Thompson seems to be the forgotten man in the Warriors' offense as he has only averaged 14 PPG this postseason, ten less than in 2016. Yes, the team added superstar Kevin Durant, but Klay will undoubtedly have one of the best matchups on the floor whether it is Smith, Shumpert, or Korver manning him up on defense. If he can regain his form and take advantage of his matchup, the Warriors will win this series.
Geoffrey Campbell:
For the Cavaliers, J.R. Smith's health. J.R. Smith was a major contributor last year in the NBA finals, pouring in 14 pts and was a +20 on the floor during the deciding game seven win over the Warriors. During this year's playoffs, he has struggled with his hamstring and surgically repaired thumb. If he can't get back to last year's level of production, it may shoulder even more of the burden on Lebron, Kyrie and Kevin Love. For the Warriors, I believe Klay Thompson will be the biggest X-factor. Guarding Kyrie Irving will take almost all of his effort and focus. But keeping him out of the paint and limiting his scoring may be the ultimate key to a championship.
James O'Connell:
Cleveland: Kevin Love: For Cleveland to take down arguably the most talented team of all time, Kevin Love has to step up in big fashion. The Golden State Warriors can score 130+ points on any given night, and for the Cavs to keep pace, KLove can't be a no-show. Last year's NBA Finals a dismal 8.6 points per game and Cleveland still managed to come out of the series with a W. However, this Golden State team is a different kind of monster, and if Kevin Love puts together another round like that, we could be looking at a four-game series.
Golden State: Klay Thompson: If Thompson get's it going, this series is over. Klay Thompson has been a forgotten man in this highly powered offense, and Cleveland better not make the mistake of leaving him alone. It's almost a proven fact that when Klay Thompson gets hot, he could score an incredible amount of points in a very short period. If Thompson goes on one of those runs, you might as well stick a fork in the Cavs.
[graphiq id="e8GFLOJVc3P" title="Cleveland Cavaliers Team Stat Breakdown (2016-17)" width="600″ height="566″ url="https://sw.graphiq.com/w/e8GFLOJVc3P" frozen="true"]
Chipper Murphy:
Tristan Thompson has been Cleveland's best defender during the playoffs next to LeBron. He was crucial to the Cavs winning it all last season. The big man averaged a double-double and shot 63.6 percent from the field in that epic seven game series. He needs to be that guy again for Cleveland to repeat as champs.
For Golden State, it's Klay Thompson. The Warriors steamrolled through the Western Conference despite Klay Thompson's poor shooting performance (.383/.364/.808). They'll need the other splash brother to step it up if they're going to take down the Cavs. They'll also need his defense against Kyrie Irving.
Samuel Randall: The Cavalier's x-factor is Kyrie Irving because he can score in every way possible. Sometimes I think I'm watching Kobe Bryant when Kyrie is scoring at will. If the game is on the line, I want the ball in his hands because he's proven he can make big shots when it counts, even with Lebron on the court. In game 7 of the NBA Finals last year, Kyrie knocked down a clutch three-pointer, just before Lebron chase down block vs. Andre Iguodala. So for that, Kyrie is my x-factor.
The Warriors X-factor has to be Draymond Green. He needs to continue to play hard, but do it the right way. The Warriors can't afford for him to get into foul trouble or get suspended in this series. If Draymond is available for every game, then they will have a chance to win and win big. The referees will surely keep a close eye on Green's behavior and style of play throughout this series.
3. Which team has more pressure?
Tyriq Butler:
While many have argued LeBron is devoid of any pressure in this series, his desire to be the greatest of all time leads me to believe otherwise. Falling to 3-5 in the Finals wouldn't be great for his resume, especially since he's chasing the ghost of a player who went 6-for-6. But the Warriors do have more pressure to win. They blew a 3-1 lead in the Finals last year. No team in NBA history had ever done that, and this came after setting the record for wins in a season with 73. They added Kevin Durant, who desperately needs to win a ring this year for his legacy.
Nicholas Durst:
The pressure is on the Golden State Warriors after last year's collapse. Draymond Green will be looking to make up for his suspension which cost the Warriors the championship in 2016. Kevin Durant has immense pressure on him as he left the Oklahoma City Thunder for the sole purpose of winning an NBA title.
Zach Cronin:
It's Golden State. And I don't believe it's close. After their egregious meltdown last Finals, they brought on Kevin Durant and now have the most talented team in NBA history — like the 1971 Lakers but on steroids.
Not only to the Warriors have tremendous talent, but the disparity between them and Cleveland is concerning.
Nicholas Santuccio:
The Warriors have more pressure by far. Not only did they blow a 3-1 lead in last year's finals, but they also added a top 5 player in the world and with it gained even more expectations. They would also most likely be attempting a three-peat this season if Draymond Green had not gotten himself suspended for a game in the 2016 series. The Cavaliers also broke the Cleveland drought last year, therefore eliminating any added pressure that may have provided if it was still intact.
Geoffrey Campbell:
The Warriors most definitely have more pressure on them. Adding former MVP Kevin Durant has increased expectations and rightfully so. The Warriors may be the best team to ever lose in the finals two years in a row. That is not a title that they want.
James O'Connell:
If Golden State somehow manages to lose this series, it would deliver a huge hit to every one of their player's legacies, especially Kevin Durant. The Warriors can't afford to lose this series as they are seen by many as the most talented team of all time. The reputation's of all four all-stars, all coaches, and everyone in their front office is on the line this series, because if they can't win with this team, what team would they be able to win with?
Chipper Murphy:
The Warriors have more pressure. They choked away a 3-1 lead last year as a 73-win team and then added the second-best player in the NBA. They're the heavy favorites and have been all season long.
Samuel Randall:
I believe the Warriors have the most pressure because they have too much talent not to win. Losing in the NBA Finals for two consecutive seasons would be the ultimate let down, especially with Stephen Curry leading the way.
The Warriors will have to show up big when it counts, and that's now in the 2017 NBA Finals. Also, I think there is some added pressure from Golden State's head coach Steve Kerr to be available on the sidelines, while still recovering from his recurring back injury.
4. Who wins the trilogy, Cavs or Warriors?
Tyriq Butler:
Warriors in 5. Golden State has too much firepower. Last year's series should've ended in 5 and probably would have if not for Draymond Green getting suspended. Rest assured, he's motivated to seek retribution. Steph and KD are playing at their peaks in terms of duo chemistry. Klay will have a few great games in this series and ultimately the Cavs won't have enough defensively to stop the Warriors' onslaught. And Kevin Durant will be the Finals MVP. The combination of him capturing that elusive championship ring and being the reason his team defeated the Cavs will justify his departure from OKC.
Nicholas Durst:
Golden State Warriors in 5 games. Would not be surprised if it is a sweep but LeBron James will win one game all on his own. Don't expect these games to be too close either as the Warriors have blown out everyone in the playoffs this year. On January 16th when the two teams last played, the Warriors won 126-91.
Klay Thompson wins the MVP. Again, just looking at the defensive matchups, it will be a major obstacle for the Cavaliers to figure out who will defense Thompson with Irving guarding Curry and LeBron guarding Durant. Expect Thompson to knock down a ton of open 3 pointers.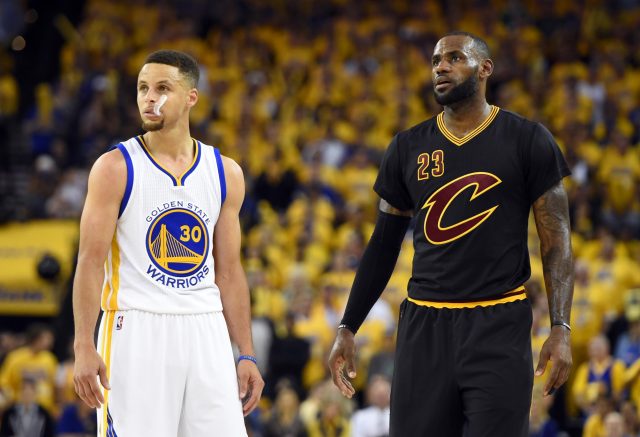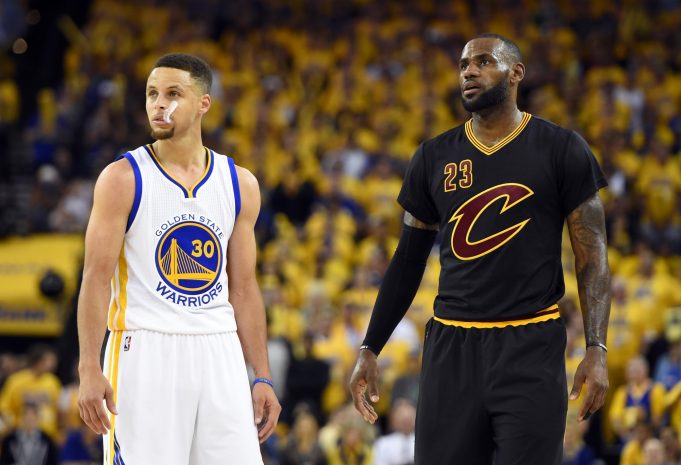 Zach Cronin:
Cavaliers in 7
HOT TAKE ALERT!
James is going to go out and do what he did last year, and then some if Cleveland's going to win. Everything is going to fall on his back, with Kyrie, Love and everyone else elevating themselves to help out.
It'll come down to the Cavaliers' creating turnovers and getting to the line. That's the formula that led them to a Christmas Day victory when they shot just 38.9 percent from the floor.
And the MVP?
LeBron James. LeBron James. LeBron James.
When I said he's going to have to be close to a triple-double, it'll have to look something like this: 32 points, 12 rebounds, nine assists on 49 percent shooting.
If he does that, and Cleveland beats Goliath, he's more than deserving of a Finals MVP.
Nicholas Santuccio: Cavaliers in 7
Cavaliers in 7
I expect Kevin Love to produce much more in this finals than last year when he was being talked about as an outcast. If he and Thompson can own the glass the Cavaliers chances will be much improved. Oh by the way, they also still have the best player on the planet by far, and Kyrie Irving may be the best driving guard in the NBA. Add Kyle Korver's three point stroke and veteran depth and I believe the Cavaliers can surprise in this series.
LeBron James will be the MVP. He led the series in all five major statical categories last year, and although I do not expect a repeat of that historic performance, I do expect LeBron to play like a man possessed. If the Cavaliers pull out the series win, LeBron will win the finals MVP
Geoffrey Campbell:
Warriors in 6. Momentum is always a determining factor in a 7 games series. Kevin Durant will be more than hungry to get his first NBA title. This is not to say, that the Cavs won't be motivated, they will. Yet, Curry, Thompson and Green don't want a repeat of last year's debacle, and Kevin Durant will be out to validate his decision to leave the Thunder. Its a perfect storm for a Warriors win. However, don't underestimate the loss of Steve Kerr. This will be most felt during out of timeout plays. Steph Curry will be the MVP. The man is possessed right now. There is no defense for him, except to make him work on the other end of the court. Right now, Curry is averaging over 25 pts per game on 50% shooting, while logging close to 35 minutes per game. To prove that sharing is caring, Curry is also averaging close to 6 assists. He still has that image of Kyrie hitting the game winning shot over him and won't let that happen this year.
James O'Connell:
I would try and play it safe and say the Warriors in six, but I'm going very bold. The talent on this Warriors team is not even reasonable, and I don't think Cleveland will be able to keep up. The High-powered offense combined with the great defense will be too much for even King James to handle, too many scorers, not enough defenders, Warriors in Five. It's time for Steph to step up and take over in the finals. He has played phenomenal in this year's playoffs, and with all the rest he's had, there's no reason to think that won't carry over. Too many weapons and may lead to less pressure on Curry, and he will be your finals MVP.
Chipper Murphy:
Warriors in 5. LeBron James is on another level from every player in the league, but the Warriors are on another level from every team.
They had the fourth-highest margin of victory in NBA history this season behind only the 72-win Bulls (Michael Jordan), '70-'71 Bucks (Oscar and Kareem), and '71-'72 Lakers (Wilt and Jerry West).
They're an offensive juggernaut. And Steph Curry, who's having the best postseason of his career will win MVP. He's scoring 28.6 points per game and making shots at a 50.2 percent clip. He'll keep that pace up against Cleveland. They won't be able to slow him down two years in a row.
Samuel Randall:
I have the Cleveland Cavaliers winning this series in seven games. These two teams may trade wins throughout the series, but it will come down to who wants it more. I believe Lebron James will dig deep and find a way to win his hardest NBA Championship thus far in his legendary career.
The Cleveland Cavaliers will indeed "Defend The Land" and go Back-To-Back as NBA Champions. LeBron James will be the 2017 NBA Finals MVP because he will dominate on both ends of the floor. He can easily average a triple-double and make it look elementary. This would be a Lebron James fourth championship and he would be another step closer to that elusive 6th Larry O'Brien Trophy.