There's nothing better in boxing than when two evenly skilled fighters form a rivalry. That is what is developing between WBA, IBF and WBO light heavyweight champion Andre "SOG" Ward (31-0, 15 KOs) and former champion Sergey "Krusher" Kovalev (30-1-1, 26 KOs).
These two will meet once again in a highly anticipated rematch on Saturday June 17th at the Mandalay Bay Event Center in Las Vegas. The fight will be broadcast live HBO Pay Per View beginning at 9:00 PM ET/6:00 PM PT.
When these two fought in November it was a highly contested fight in which Ward eked out a unanimous decision victory, winning on all three judges scorecard 114-113 to take Kovalev's light heavyweight titles.
Many felt Kovalev deserved the victory since he landed the harder punches, and scored the only knock down of the fight when he dropped Ward with a right cross in the second round. Others thought Ward won because he was able to make adjustments in the mid and late rounds and began working inside and landing shots to Kovalev's body.
The outcome of the first fight is still being debated today by experts and fans. Well it just over two weeks the rematch will be here and the debate can be put to rest.
It's rare that you see two elite fighters have a close contested fight, and then agree to have an immediate rematch. So both men and their management teams deserve credit for making it happen.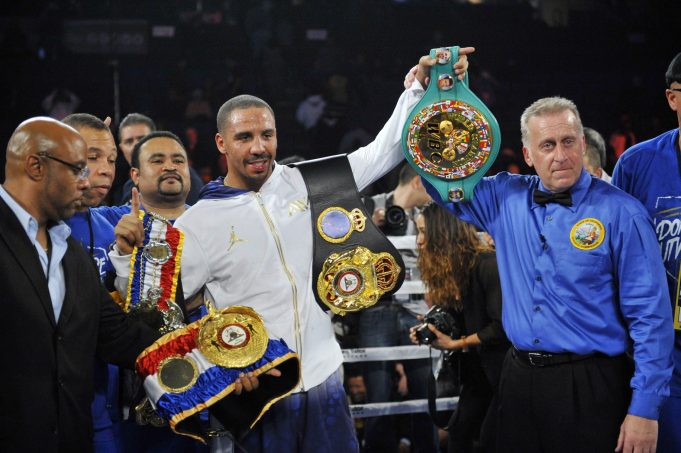 Ward and Kovalev are in everybody's top five on the pound for pound list, and some experts may have them one and two. The winner of this fight will have the rightful claimed to be called boxing's best fighter pound for pound.
S.O.G. pic.twitter.com/qiYZ8IOQrm

— Andre S.O.G. Ward (@andreward) May 29, 2017

Ward is perhaps the most skilled fighter in the sport and hasn't lost a fight since he was 12 years old. He's looking to remain undefeated and silence any doubters who felt he didn't win the last time.
Kovalev, who is one of the hardest of the hardest punchers in boxing, is looking for revenge and to reclaim his titles.
Styles make fights and with these two contrasting styles and game plans, we're in for another close and competitive fight. With the bad blood that has been building between these two, we're bound to see more action in the rematch than in the first fight.
Although there's no rematch clause depending on the outcome we may see them in the ring for a third time.
Is this the next great rivalry in boxing like Leonard vs. Duran, Bowe vs. Holyfield, or Pacquiao vs. Marquez? Time will tell, but their rematch on June 17th has the potential to be the fight of the year and is a must see fight.
Tickets are priced at $1,255, $755, $505, $355, $255 and $105 not including applicable service charges will be available on axs.com and at the Mandalay Bay Events Center box office.