The New York Yankees are loaded with young talent in their farm system. But where will they all play?
The New York Yankees have either rated the best or second best farm system in the MLB, depends on which website your reading. What's consistent all around is that they have a three-game lead and are in first place in the American League East.
A first place team while going through a "rebuild"? You don't see that very often. The talent the Yankees are equipped with in the minors cannot be ignored. Also, the problem of where some of these kids will play is highly questionable.
So with that being sad, Which of these Baby Bombers have a guaranteed spot on the Yankees?
Gleyber Torres: 
Starting with the Yankees best prospect, and the second-best in all of baseball. Torres is perhaps the biggest guarantee of all as Chase Headley's struggles continue. With every bad game Headley has, Torres inches closer and closer to the big leagues. Gleyber has played three of four Triple-A games have been at third base while going 4-for-14 (.286) with an extra-base hit in his young Scranton/Wilkes-Barre career.
Torres has himself a guaranteed spot on the Yankees in the future and perhaps maybe even the 2017 Yankees. The Yankees continue to grow impatient with Chase Headley, and Torres continues to gain experience at third base, and it shouldn't be long before Torres is wearing pinstripes.
Verdict: Safe ETA Late 2017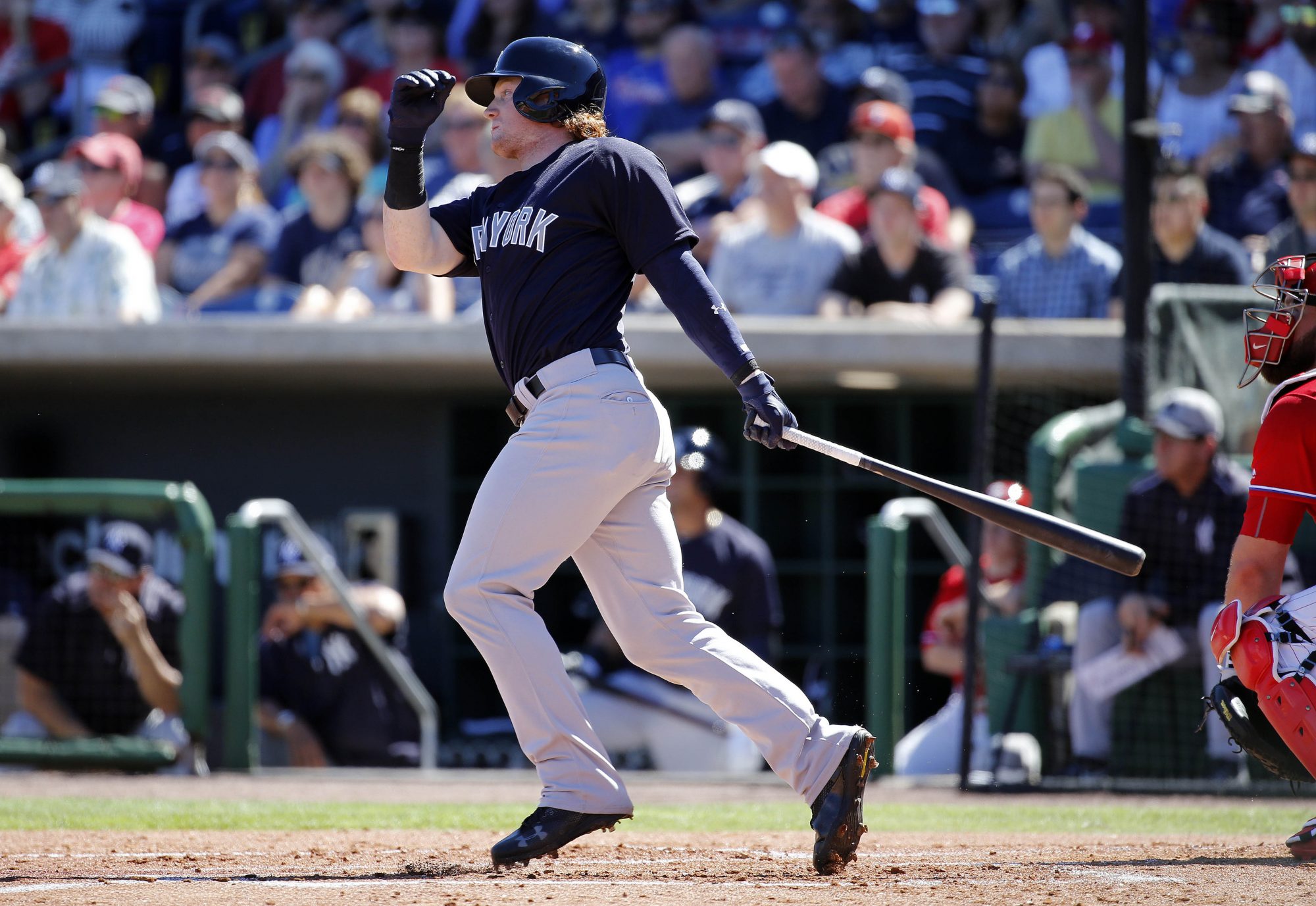 Clint Frazier 
The Yankees acquired Frazier in the Andrew Miller trade and he immediately became their 2nd best prospect. Frazier's situation is a bit different than Torres as the Yankees outfield is set. Aaron Judge is not going anywhere, Brett Gardner and Jacoby Ellsbury are both having fine seasons and will be around for at least two more years, even Aaron Hicks is having an outstanding year.
Frazier is highly regarded as one of the best outfield prospects in all of baseball. He seems to be ready to contribute in the near future and maybe even this season. But where will he play?
With Yankees outfield being set for at least the next two seasons, Frazier's spot is on the Yankees is no guarantee. The outfielder put together a strong spring and is currently playing well in Scranton/Wilkes-Barre. However, with a rumored run at Bryce Harper in the future, and the fact that the Yankees are set in the outfield, leaves Frazier's future up for debate and makes him an interesting trade candidate.
Verdict: Questionable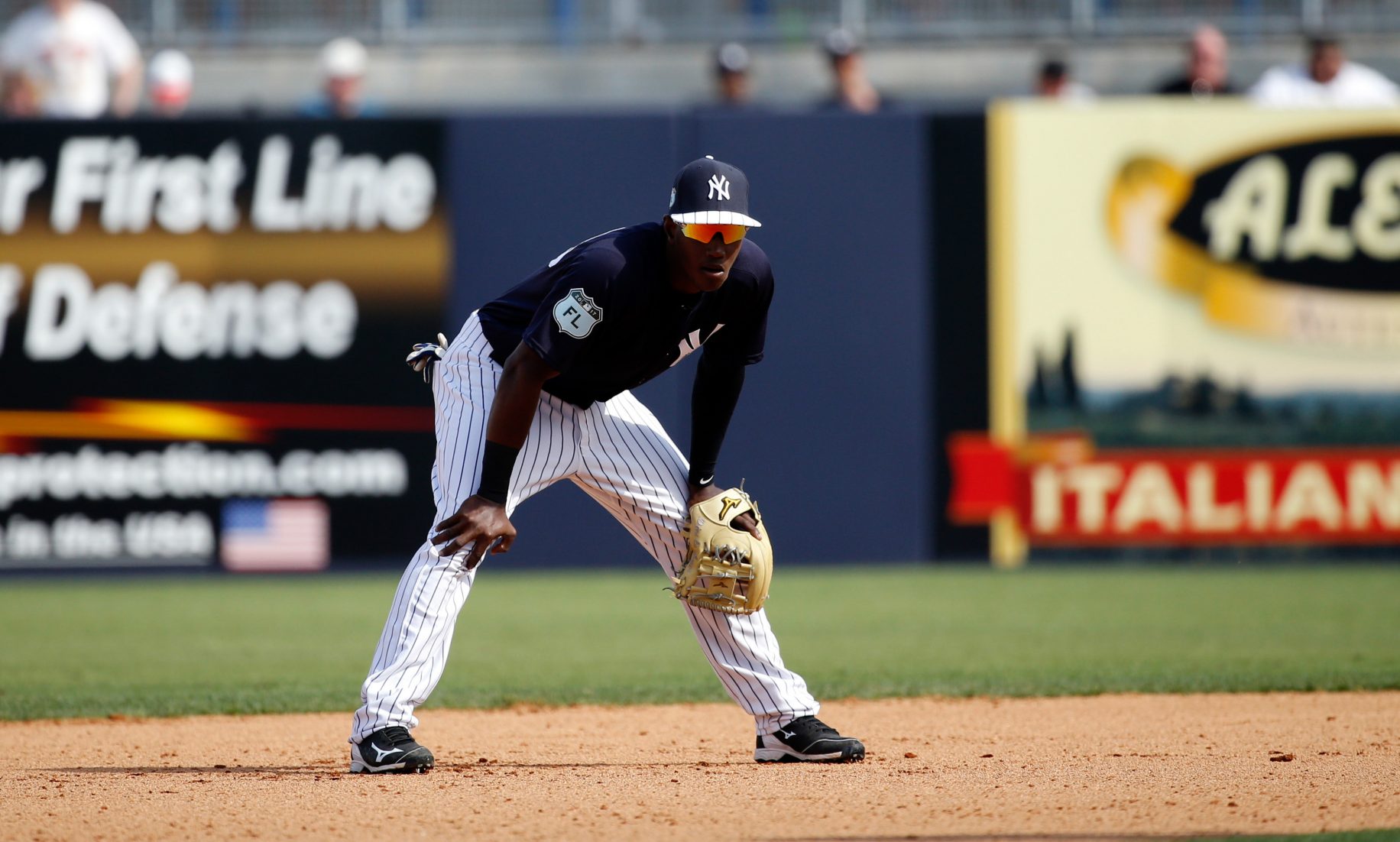 Jorge Mateo  
Similar to Frazier's situation, the Yankees are completely stacked in the infield. Didi Gregorius is coming into his own, Starlin Castro is playing incredible, and Gleyber Torres is not far behind them. Mateo is most known for his speed stealing two-hundred bases in his minor league career. He also is not a half-bad hitter with a career average of .270 in the minor leagues. With all the good things that come with being equipped with someone like Mateo, when you're the Yankees you actually don't need him.
Mateo seems to be the perfect trading piece for the Yankees to ship off for a position of need. The shortstop ranks in the Top 50 prospects in all of baseball. There is a team that could use a player of Mateo's caliber, however, the Yankees aren't that team.
Verdict: Doubtful
---
---
It's never a bad thing to have too much talent. The Yankees have so many young players that will have an impact at the major league level. Most of these players will be very productive, but they may not be wearing pinstripes in their major league careers.
One thing is for sure, the Yankees certainly have a bright future.