Derek Jeter became 22nd Bomber to have his number retired a few weeks ago against the Astros. Who will be next for the New York Yankees?
T
hough the New York Yankees-Kansas City Royals game was postponed on Thursday night, there's no raining on this pinstripe parade that has seen the Bombers, playing to a 27-17 record to begin the season. They lead the AL East by 2.5 games. Not to get ahead of ourselves, but with this team having played in just one postseason game in the last four years, it's tough not to get excited.
A large portion of said excitement originates from the surplus of talented young pieces on the roster. Derek Jeter became the 22nd Yankee to have his number retired.
So with this new wave of youth on the team, the question now becomes who will be next? Is that player on the currently on the team? Some of the ESNY writers engaged in a roundtable.
Tyriq Butler:
There is someone who deserves to have his number retired by the Yankees. In a weird twist, he's not currently on the roster, but he is still collecting checks with Steinbrenner's signatures on them. This isn't to in any way suggest that Aaron Judge and Gary Sanchez will fall short of the Yankees glory. These guys have transcendent talent and will become phenomenal players. But the one I'm referring to played his final game as a Yankee last season on Aug. 12 against the Rays.
His name is Alex Rodriguez.
Christian Kouroupakis:
It's always tough to predict something like that. Obviously, the easy answer is Aaron Judge, Gary Sanchez or one of the Baby Bombers who has grabbed the attention of Yankee-world. The truth of the matter is, though, that's never part of the journey.
Jeter said it himself that being enshrined in Monument Park and getting your number retired is never a goal. It's about being a good teammate on and off the field. Who becomes the next to have their number retired? That's a conversation to be saved for a later date.
Samuel Randall:
I believe Aaron Judge and Gary Sanchez are showing the star potential that should lead them to many MLB All-Star appearances. Lastly, Aaron Judge is not Derek Jeter, but have one heck of a career, thus having his No. 99 jersey getting raised into the rafters some day.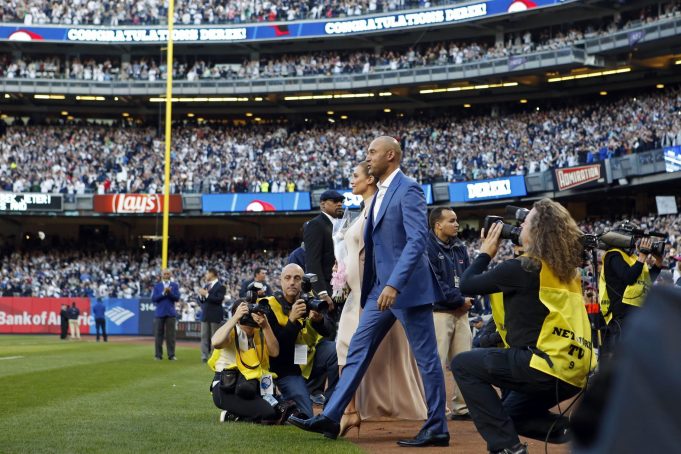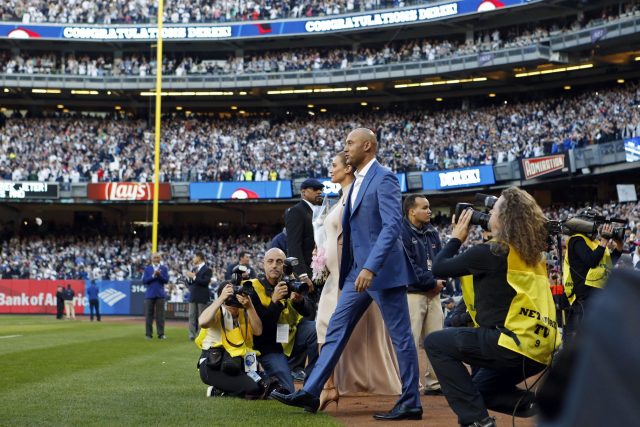 Benny Tomko:
With how good everyone on the team has been playing, it would seem almost "easy" to predict that next retired number. If you were looking at last season, Aaron Judge struck out in almost half of his at bats, and this year, looks like he could be thein the homerun champion & a no doubt All-Star. Similarly, you look at a guy like Gary Sanchez and the start he got off to last season in comparison to the start that he's off to this season and it's almost the same thing as Judge, only the inverse.
And while I believe they are both going to be exceptional players and hope they forever wear the pinstripes, I'm not sure whether or not that next retired Yankee jersey is currently on the team.
He is, however, playing in the MLB. That guys name is Manny Machado. After the F-bomb laced rant over the slide into Dustin Pedroia that escalated into the Red Sox headhunting Machado, The fact that he referred to that organization and their fans as having no class and now has zero respect for the city of Boston, in conjunction with the admiration he has for Derek Jeter that he so articulated in his players Tribune peace, he's coming to the Bronx.
Take it to the bank. Not only is he coming to the Bronx, he is going to be everything that Alex Rodriguez was, only the clean/non–lying Version. And he is going to take that once in a generation talent, including grabbing that number 13, and take it all the way to Monument Park.
Alex Rodriguez played his final game as a Yankee last season Aug. 12 at the stadium against the Rays after being honored in a ceremony by the team. Should he have his number retired?
Tyriq Butler: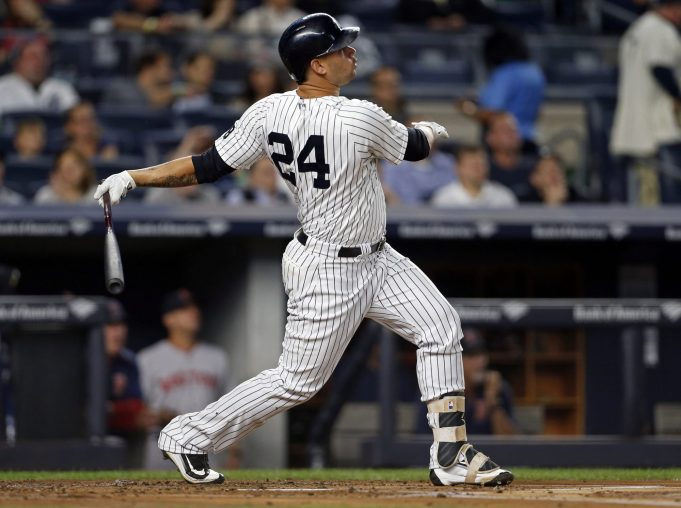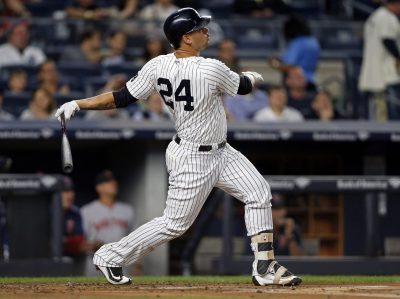 He absolutely should. Think about it, if not for A-Rod, we'd be approaching two decades since the Yankees last one a title. For all the stress and chaos he caused with his wrath of lying and cheating, the franchise benefited greatly from it. He produced one of the best seasons in Yankees history in 2007 when he won the MVP and helped them get to the playoffs.
He wasn't a class act. Parents aren't using him as model to positively influence their kids. But from a talent perspective, he's one of the best players the Yankees have ever heard.
Christian Kouroupakis:
Tough question. If you look at the numbers with nothing attached, yes. We're talking about the most home runs (351), highest OPS+ (136), slugging percentage (.523) and runs scored (1012) among Yankee hitters from 2004-16. He's one of 13 Yankee hitters to record over 1,000 RBIs, and all — with the exception of Tony Lazzeri and Bob Meusel — have their numbers retired by the organization. However, Monument Park is more than the numbers.
For example, Reggie Jackson got his jersey number retired for his three home runs in the World Series and Roger Maris is in there for the memorable 61 home run season when he passed Babe Ruth for the single-season home run record. Then you look at guys like Rodriguez and although his numbers certainly back it, lackluster postseason performances, suing team doctors, lying about performance enhancing drugs and his role with Biogenesis doesn't scream Monument Park.
Sure, he had the incredible 2009 postseason and the nice redemption tour in 2015, but many fans would agree that Rodriguez has been a headache to the organization for the majority of the 2010's. It's hard to place that in the same category as Derek Jeter, Lou Gehrig and many others.
Samuel Randall:
Yes, Alex Rodriguez should definitely get his jersey retired. Years ago, he had the stigma of not coming up big in the playoffs, but he later showed up when it counted, and won. Absolutely, A-Rod should get his jersey retired.
Benny Tomko:
At one point, he was far and away my favorite non-Yankee, and then they traded one of my favorite Yankees at the time Alfonso Soriano to get him. I defended the move, I defended the logic of his move to third base and I defended him. I even defended the abortion of a situation that was the firing of his agent and announcing that he wanted a new deal during the Rockies/Red Sox World Series of 2007.
And then it all came out.
All of the cheating, all of the lies, the threatening lawsuit, the discord with fellow teammates and management. The arrogance. And that all lead to baseball's longest suspension and a lifetime of doubters as to the legitimacy of what they were really seeing when they saw number 13 play baseball. Yes, he came back. Yes, he had a solid 2015 campaign.
Yes, he could've been one of the greatest players to ever put on a uniform. But instead of us celebrating the passing of the legend and my favorite player of all time Willie Mays in Fenway Park, we doubted. We mourned. Some of us even cried, the same way that Alex was seen in tears gazing into the Boston night following the contest, as if to say, "I could've done this the right way. I could've gotten here cleanly." But it wasn't the right way. It wasn't the clean way, or even the hard-working all-inspiring way: it was the cowardly way.
I am sure that the Hall of Fame voters and baseball will eventually allow guys like Rodriguez, Clemens and Bonds into the Hall of Fame. But just as Bob Costas proposed, there should be an "*" section or a "steroid era" section to Cooperstown. But as far as retiring Rodriguez's number 13, don't you dare. Don't you freaking dare.
Can you foresee a scenario where someone wears number 0?
Tyriq Butler:
Yes, because at some point they're going to run out of numbers. This sounds like hyperbole, but this is a first class organization that attracts great players. This number will be worn by a very special player some day.
Christian Kouroupakis:
Why not? With only 87 numbers left, it may happen eventually but it should belong to a five-tool player with some charisma to their personality. When I think of what number Clint Frazier should receive when his promotion to the Bronx is here, I think he, out of all people, will rock the number zero in pinstripes.
Samuel Randall:
Yes, but that player would have to be a great five tool player or unless Aaron Judge switches his number to zero.
Benny Tomko:
I have always looked at the number "0" in a bit of an odd light. It is, by all practical standards, a number. And, it has even been represented by All-Stars of other sports (Gilbert Arenas), but has yet to ever be issued by the team equipment manager. During Derek Jeter week, Brian Cashman was asked if he would allow the number, to which he responded, "I don't have a problem with anyone wearing the number 0, but it's not my job to hand out the numbers. It's up to the equipment manager."
Now, I believe that, at the risk of having to use three digit numbers or decimal points due to the awesomely crazy number of retired jersey numbers in Yankee history, the number should be issued. I think that the Yankees should use it as a sort of a "captains barometer." By that I mean, with the vacancy of the Captain position and how long the Yankees went without naming a new one("96 -'02 ), they should give the number to the next guy they hope or envision will be the next Captain.
If they don't choose to go that route, then I think it should still be issued and should be given to either the shortest player on the team (Torreyes) or the absolute biggest (Betances).
[graphiq id="3pldsgLzBxX" title="Gary Sánchez" width="600″ height="663″ url="https://sw.graphiq.com/w/3pldsgLzBxX" frozen="true"]