The head-scratching troubles of New York Yankees ace Masahiro Tanaka may be puzzling, but the origin is considerably simple to figure out.
E
ntering this season, the
New York Yankees
starting rotation contained much more questions than answers.
Some questions were: CC Sabathia was coming off his best season since 2012, but can he continue to the resurgence and stay healthy? Can Luis Severino channel the 2015 version of himself? Will Michael Pineda look like the filthy right-hander we all know he can be? And who the heck will round out the back end of the rotation?
---
---
One of the few sure-things, however, was ace Masahiro Tanaka, who was coming off a year in which he registered 199.2 innings and posted the third-best ERA (3.07) in the American League. Frankly, the 28-year-old has been the opposite of a sure-thing and perhaps the best way to describe his 2017 performance thus far is to call it a head-scratcher.
The righty owns a 5.80 ERA through eight starts, the ninth-worst ERA among the 93 qualified starting pitchers in the Major Leagues. Opponents are also slashing .291/.343/.533 of New York's No. 1 starter with 10 home runs — tied for the third most.
Last time out against the Houston Astros on May 14, Tanaka allowed a career-high eight runs and tied a career high with four home runs surrendered in just 1.2 innings — tying the shortest start of his career. It snapped a five-start winning streak and buried the Yankees en route to a 10-7 loss on Jeter Night. No matter which way you put it, Tanaka's fourth year in the United States has been unfortunate, but what's wrong?
It's hard to believe it's a health issue. Yes, he has that ticking time bomb of a partially torn ulnar collateral ligament but he'd be sidelined in a heartbeat if anything was out of the ordinary health-wise. Nevertheless, the issue with Tanaka is nothing new. It has just become more consistent.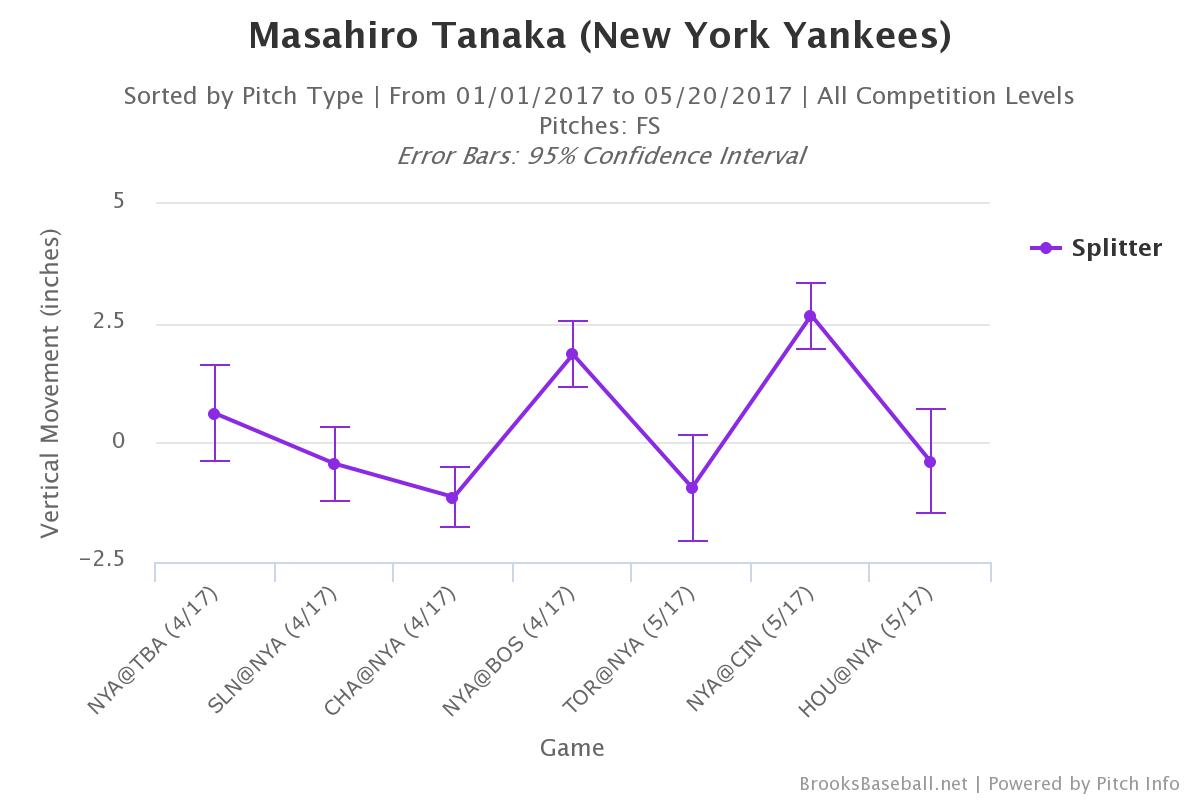 In his 2017 starts, his splitter has averaged an inch and a half inches of vertical movement or more in just two starts — against the Boston Red Sox and the Cincinnati Reds. In those starts, he has combined for three earned runs over 16 innings of work (that's a 1.69 ERA). In starts when his splitter averages less than 1.5 inches of movement, his ERA spikes to 8.07.
This is certainly a far cry from what we saw in 2016, when his splitter averaged 2.67 inches of movement per start and batters hit just .166 off the pitch — both career-bests for Tanaka. The pitch is simply the reason why Masahiro Tanaka forced himself into the Cy Young award conversation and exactly why he is floundering here in 2017 — where the splitter is averaging 0.76 inches of movement.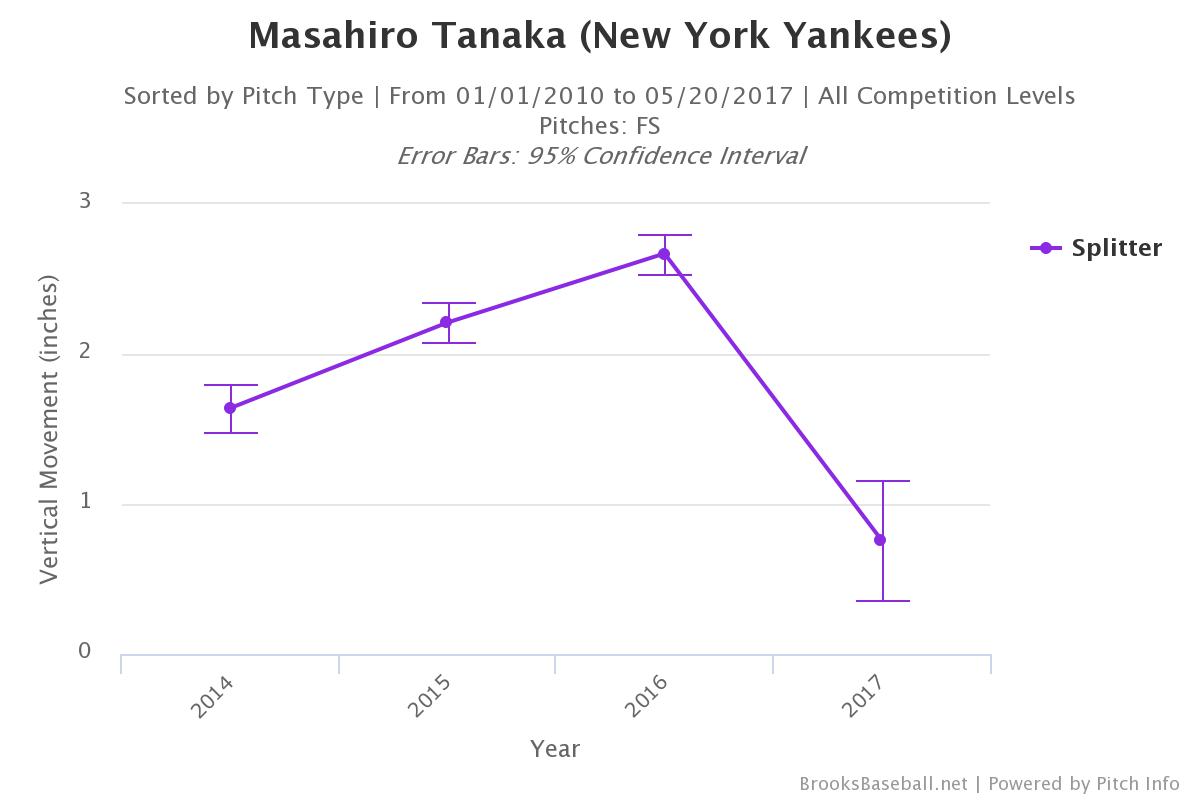 Tanaka's vertical release point on the pitch has reached an all-time low (5.36 feet), but it's hard to pinpoint exactly what the problem for the Yankees' ace is. We know the narrative of his ineffective splitter and what happens when it's on. So how do we change this?
"Larry talked to him today about some mechanical things. Hopefully, they get it ironed out,'' manager Joe Girardi told the NY Post following his horrid effort against Houston. "I think his front shoulder was flying [open] a bit [Sunday]. Sometimes they're mechanical and we have to iron them out. He hasn't had a good splitter and slider for most of the year.''
It's hard to dismiss how pressing it is for the Yankees to fix this issue. Tanaka is easily one of the most valuable players on the Yankees' roster and needs to anchor the staff if New York wants to continue to reign atop the American League East and eventually win it for the first time since 2012.
---
---
Tanaka's next start will be on Saturday in St. Petersburg against a Rays team that walloped the ace for seven runs and eight hits (two homers) on Opening Day. Watch closely for that splitter's movement, because it's easily the key to success as the Yankees' key to success strives to carry the rotation.