The New York Yankees ended Wednesday's game with the Royals with a 11-7 win, putting them 1.5 games up in the AL East.
New York Yankees- 11 (24-13)
Kansas City Royals- 7 (16-23)
American League, FINAL, Box Score
Kauffman Stadium, Kansas City, MO
A new winning streak is alive and well for the New York Yankees, as they took their second game in a row on the road against the struggling Kansas City Royals.
Starlin Castro started the game off hitting a double to deep right, allowing Brett Gardner to score from first in the top of the first inning.
The Yankees wouldn't score again until the fourth inning when Didi Gregorius singled to right field, allowing Castro to score, as well as advancing Aaron Judge to third base.
The Yankees have one more game against Kansas City before they head to Tampa to play the Rays. Michael Pineda started for the Yankees and quickly got the job done when he was able to get the defensive side of the Yankees up to 6-0 before allowing a two-run homer by Salvador Perez, making it 6-2 in the 4th inning.
The Yankees would allow five more runs throughout the game making the final score of the game 11-7. This would improve the Yankees 1.5 game above in first place in the American League East, padding their lead over the struggling Baltimore Orioles.
Pineda only allowed 6 earned runs for the entire game and was credited with the win for Wednesday night's game against the Royals.
The Yankees head to Tampa Bay to face the Rays for a four game set, then they head back to New York to play Kansas City for another four games at home.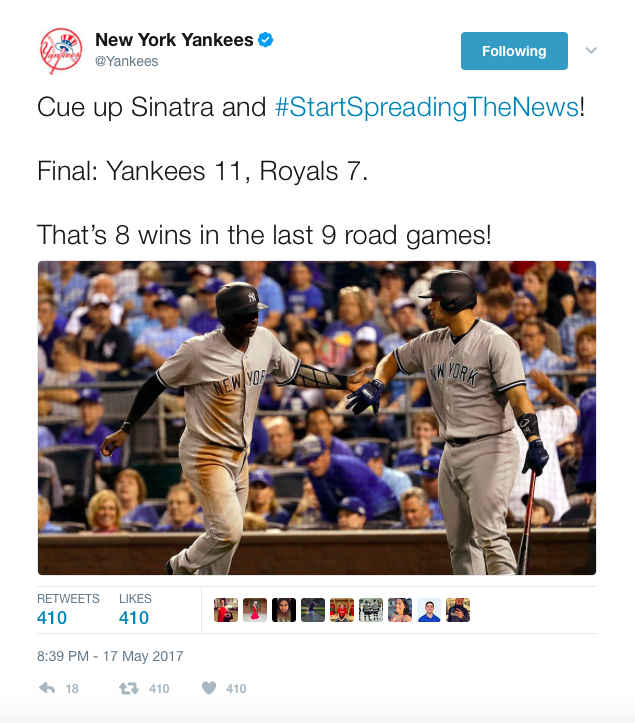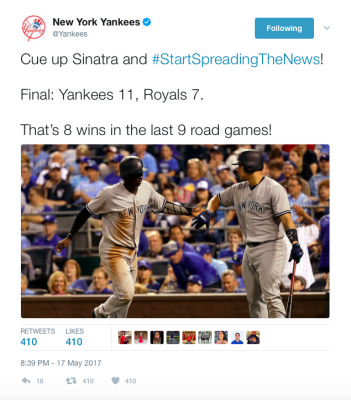 This Day In History:
May 17, 1998: David Wells pitched the 14th regular season perfect game in Major League history (and first by a Yankee), defeating the Minnesota Twins 4-0 at Yankees Stadium.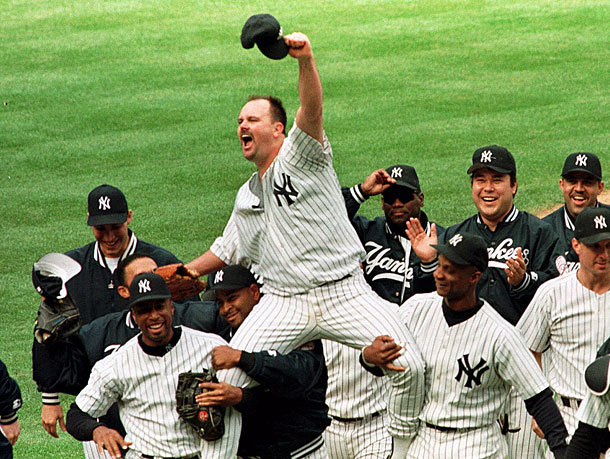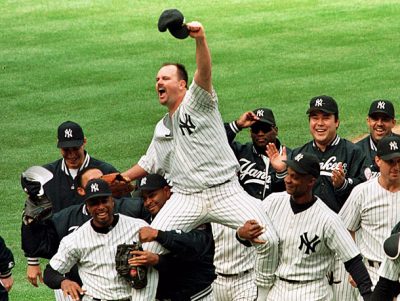 What's Next:
The Yankees turn to the rookie Jordan Montgomery tomorrow in their hunt to break out the brooms. The 24-year-old Southpaw is 2-2 on the season with a 4.14 ERA.
His last time out, he pitched six strong innings while surrendering four runs to the red-hot Houston Astros in a loss. During that outing, he also struck out seven while walking only one.
He'll be up against fellow left-hander Danny Duffy, who is 2-3 with a 3.38 ERA in eight starts this year. The battle of the Southpaws will take place in Kauffman Stadium once again.
The game will be shown on Fox Sports 1, featuring the play-by-play debut of former Yankee Alex Rodriguez. It can also be heard on WFAN 660/101.9 FM and WADO 1280.