With many eyes on the New York Yankees farm system, which one of the prospects are the closest to reaching the major leagues.
The New York Yankees are enjoying their time atop the American League East standings with a record of 23-13, but they're also enjoying stud prospects in one of baseball's best farm systems grow in front of their very own eyes.
---
---
Six Yankee farmhands — Gleyber Torres, Clint Frazier, Justus Sheffield, Jordan Montgomery and Chance Adams — were included in Baseball America's most recent Top-100 Ranking.
While a few of those prospects aren't quite ready to make a major league impact, some prospects who are currently taking reps in Triple-A Scranton/Wilkes-Barre are making extreme cases to be worthy of a call to the show.
Whether they actually get that call is quite complicated, but these are just a handful of names that should have already opened up some eyes with their early 2017 performance:
It's old news that the Yankees are trying to turn Wade into a Ben Zobrist-like utility man and his current performance at the place further enhances his status as a "manager's dream."
In 34 games with the RailRiders, the 22-year-old owns a .319/.394/.447 slash line with 12 out of his total 45 hits going for extra bases. Wade is also 12-for-15 on steal attempts while getting reps in at shortstop, second base, third base and all three outfield positions.
In the month of May, before last night's game against the Pawtucket Red Sox, New York's fourth-round pick of the 2013 draft has gone 22-for-59 (.373) with an OPS of 1.067 and two homers in 13 games.
With Didi Gregorius settling down as perhaps the future at shortstop for the Yankees, the acquisition of young stud Gleyber Torres and Jorge Mateo still in the picture, Wade had to deal with a few road blocks over the last year or so.
Has that stopped him? Clearly not, but while his bat screams "major league ready," getting used to life as a utility man is his current obstacle and once he has hurdled it, Tyler Wade's name could be called in the Bronx very soon.
Fowler has gone from under-the-radar to highly touted thanks to his red-hot start to the 2017 season.
The 22-year-old is slashing .299/.348/.551 this season with an OPS of .899 and 81 total bases in 34 games. He's also leading the International League in triples (7) and is slashing .373/.408/.687 since hitting for the cycle on April 30.
---
---
He's simply become too hot to ignore and while the Yankees are relatively set with outfielders and possess a glut in the minors, his performance could easily force the Yankee brass to make some room for him on the 40-man roster if an injury arises.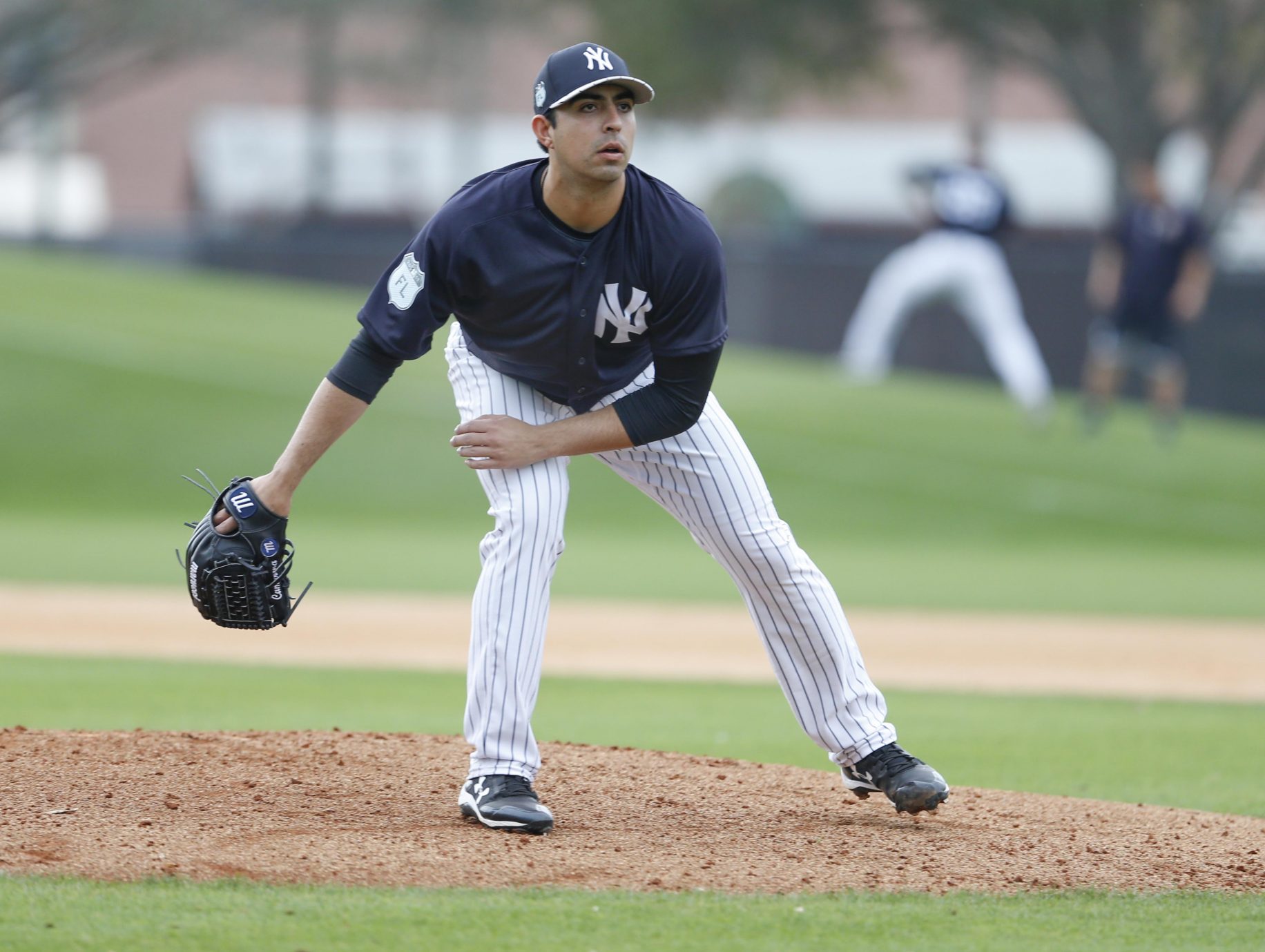 Daniel Camarena
One would expect Chance Adams to crack this list before seeing Camarena's name, but to see the latter in the Bronx very shortly isn't far-fetched by any degree.
In seven games this season between Double-A Trenton and Triple-A, the lefty owns a 4-1 record accompanied by a stellar 2.52 ERA. Since joining the RailRiders, the 24-year-old has posted a 2.15 ERA — fourth-best in the International League — in five starts while holding batters to a mere .236 batting average.
Camarena did hit the disabled list with a left shoulder injury but isn't expected to miss much time which is good news as the Yankees may find a use for the lefty down the stretch.
The Yankees only have Tommy Layne (.375 BAA vs LHB) and Chasen Shreve (career .245 BAA vs LHB) in the bullpen as lefty specialists so if Camarena, who has yielded a mere .608 OPS versus left-handed hitters in 2017, can provide the big boys with that kind of arm and some length, that could be his path to the bigs.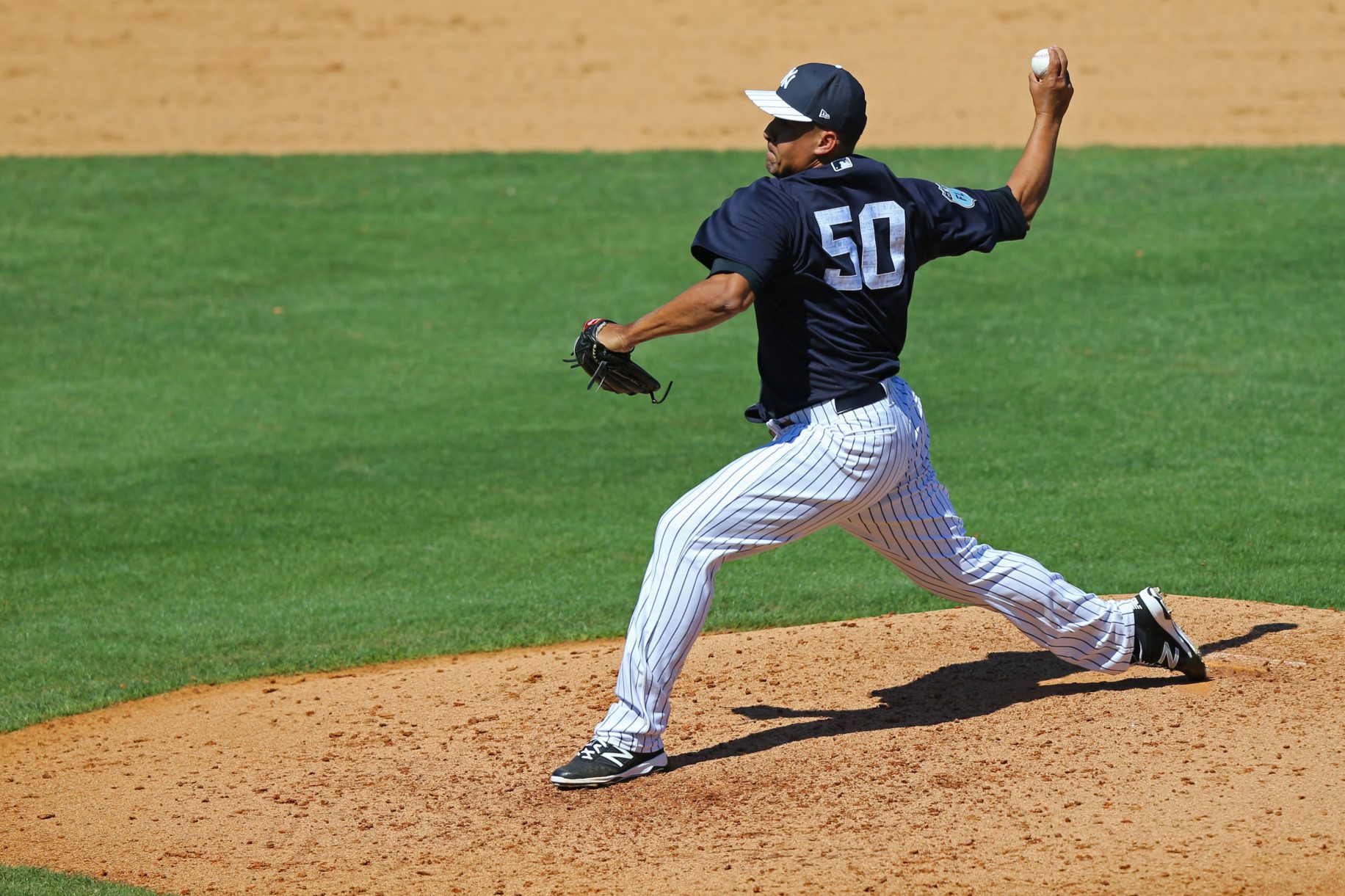 Signed in the middle of spring training, Frieri was supposed to be nothing more than organizational depth with an outside chance to crack the opening day roster. Now, through 12 appearances in Triple-A, Frieri's performance arguably warrants a ride on the Scranton Shuttle.
The 31-year-old owns a 2.40 ERA in 15 innings of work this season featuring an opponent's slash line of .151/.250/.226. Since April 19, the righty has surrendered just one earned run in 12 innings (0.75 ERA) while striking out 16 batters compared to five walks over his last nine appearances.
One of the major reasons why Frieri has caught my eye is his resume. He spent seven seasons from 2009-15 with the San Diego Padres, Los Angeles Angels, Pittsburgh Pirates and Rays. The righty owns 73 career saves and in 2013, he recorded 37 which was good enough for seventh-most in the American League.
The 40-man roster situation is tricky and I doubt Brian Cashman would make room for a bullpen arm, but perhaps Frieri has something left in the tank despite a massive fall off in recent years. And yes, I know he's not a prospect.