While all eyes were on the field during Derek Jeter Day, the New York Yankees fans showed off their creativity with their entertaining signs.
Derek Jeter's career was due to amazing teammates on the New York Yankees. He also succeeded for as long as he did because of the fans.
And while Derek Jeter was the main spectacle on the field tonight, his fans brought attention to themselves with their creative and hilarious signs.
Looking back at all the emotion that took place, it's good to have a laugh or two. That's exactly what these signs did.
Here are the best signs we witnessed from Derek Jeter Day in the Bronx tonight.
Priorities. pic.twitter.com/ryUvh8g1Pk

— ESPN (@espn) May 15, 2017
ESPN is so right. This kid definitely had their priorities straight. Walk the stage and sit through a four hour ceremony or go to the Bronx and watch your favorite athlete have his number retired?
Is that a serious question? You may only graduate college once (or twice, you never know) but you can only see Derek Jeter get his number retired once as well.
Not a tough decision. Good job, kid. I'm proud of you for choosing the right speech to listen to.
"I like my mom. I LOVE Derek Jeter" …is a sign here at Yankee Stadium.

Oh. My.

— Laura Albanese (@AlbaneseLaura) May 14, 2017
I wish we got to see this one in person. Because I guarantee you, this would be my sign.
And my mother wouldn't be offended because she's as big a fan of the Jeet as I am. But this, this is good.
Here is the sign in all of it's creative, savage glory.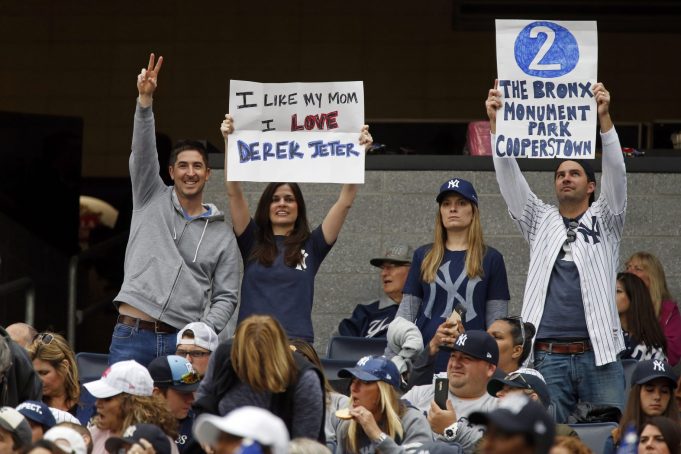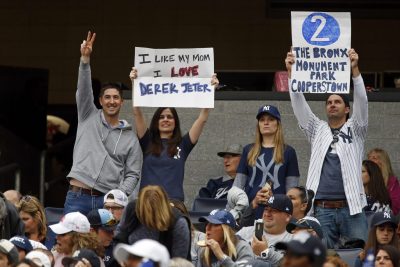 Of course Jeter requested the ceremony to be on Mother's Day as a gift to his mother but I really think Mother's Day just happens to be on Derek Jeter Day.
Thoughts? Thanks to all the moms out there for teaching us to love baseball!
But wait…there was a sign that said "I want to thank the good Lord for making Derek Jeter a Yankee." That was followed up by another, perhaps more creative, sign.
lol that sign in the crowd.

"i want to thank the astros for making jeter a yankee"

— World Series Champs! (@A_Matthews713) May 14, 2017
Now THAT is a slap in the face, especially with the visiting dugout being occupied by the Houston Astros. The Astros passed on Jeter, allowing him to ultimately become a Yankee.
My, the irony is just too much. We're glad Jeter is a Yankee because if he was an Astro, he'd probably have no World Series championships.
There were signs galore at the game but these stood out above the rest. Mostly because they had some thought put into them.
Derek Jeter, we love you. We love our moms too. Most importantly, we love the fans for all they do to keep us entertained.