With his power and strength, Aaron Judge is an no-brainer for the cleanup spot for the New York Yankees but the stats say otherwise.
The New York Yankees' season is in session and may all rise to welcome Aaron Judge to the plate. Baseballs, you may approach the bench at your own risk.
Judge has showcased his improved stance and monster moonshots so far this season. He is living proof that one's career cannot be defined by two months of lackluster play.
A shoe-in for the inconsistent cleanup spot, Judge has found himself in various slots in the lineup, testing out his limits.
While everyone wants Judge to be in the power spot, he actually is more consistent and stronger down in the sixth or seventh hole instead of in the heart of the lineup.
Of his 13 home runs this season, Judge has clubbed 11 of them from either the six or seven spot in the lineup. He also has a stellar batting average in both spots, batting .333 when sixth and .500 when seventh.
Many fans disagree simply because Judge has the power. The power hitter belongs in the four spot to help drive in runs. However, Judge has shown that he might be more suited lower in the lineup, especially with this hot Yankees squad.
He is driving in run from these lower lineup positions. With 28 RBIs on the season, Judge has driven 23 runs from the six or seven hole.
By batting lower in the order, Judge is getting a good look at the pitcher before he reaches the plate for the first time. He is ultimately getting more quality at-bats which results in him picking better pitches to swing at.
Aaron Judge AL Ranks
HR 13 (1st)
SLG .772 (1st)
OPS 1.183 (1st)
Runs 28 (1st)
RBI 28 (T-1st, N.Cruz & M.Sano)
WAR 2.5 (1st)

— James Smyth (@JamesSmyth621) May 9, 2017
Fans complain that keeping him lower in the order eliminates the opportunity for him to drive in runs. Well, just think. 11 of his home runs came from lower in the order. Of those 11, only five were solo shots.
He is finding ways to drive runs in and helping to strengthen the lineup all the way through. The Yankees would do good to spread out Judge to sprinkle power all through the lineup, not just up near the top.
The bulk of his at-bats this season have come in the fifth spot in the lineup and while he is still performing well. However, his recent moves up the lineup card have resulted in a bit of a cold streak.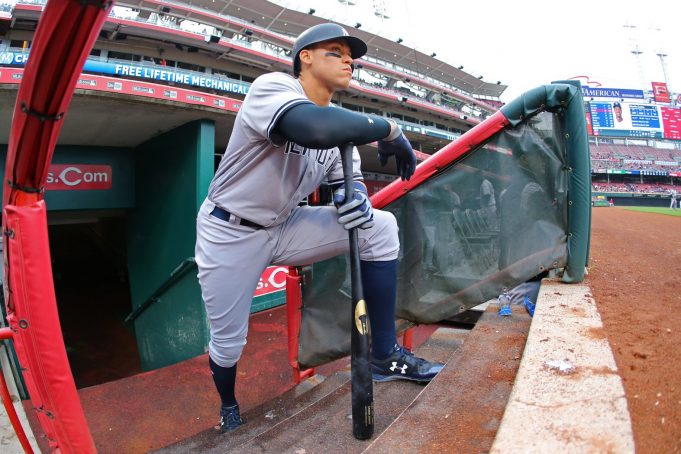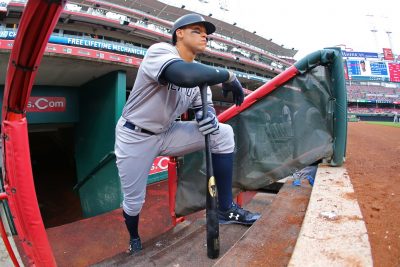 Judge's recent struggles can be attributed to overwork, potential injury or a million other things. However, from my point of view, he simply does not look comfortable further up in the lineup.
He has been flailing at pitches, opening his hips early and striking out more often as of late. He was destined to have a slump with his big swing but this seems to also come from something more.
When Judge is expected to get that home run and big hit in the cleanup spot, he is only thinking about the power. In the sixth or seventh spot, that pressure is off. He is getting hard hits and not simply swinging for the fences at every opportunity.
It could be the mindset for Judge or it could simply just be comfort. Or maybe it doesn't mean anything at all to him, where he bats in the lineup.
However, the numbers show that a certain lineup spot might mean something to Judge. He is significantly more successful when he's lower in the lineup.
Baseball is a game of luck, isn't it? Aaron Judge isn't lucky, though. He's incredibly talented. That means we've got to listen to the numbers until they tell us differently.
Aaron Judge has the power to be a cleanup hitter. However, he's showing us that he's perfectly suited to be lower in the lineup.