The New York Yankees have had their ups and downs with Chasen Shreve over the years but after Sunday's performance, is it time to believe?
The New York Yankees did some chores this weekend, sweeping the defending World Series champion Chicago Cubs in an improbable 18-inning spectacle.
After a strong outing on Sunday from young stud Luis Severino, the Yankees entered the ninth with a lead, which would be blown by renowned closer (and former Cub) Aroldis Chapman.
But the real hero of the game ended up being the supporting cast of the bulllpen. Adam Warren logged two scoreless innings, while both Jonathan Holder and Chasen Shreve fired three scoreless innings apiece en route to victory.
We knew Holder showed potential for this type of performance early this season and in spring training. Shreve, on the other hand, has always been a complicated pitcher within the organization.
Constantly participating in the Scranton Shuttle, his first two seasons with the Yankees were unpredictable. He would go through phases where he was dominating hitters one day then blowing leads the next.
However, this time, the three-year veteran might have just figured it all out for the Yankees.
What we saw from Shreve on Sunday was just a small sample of what we've seen so far from him this season. In his short stint in the Bronx after an extended stay in Scranton, Shreve still has yet to allow a run.
Shreve has made five appearances this season, resulting in seven innings pitched. Small sample size, for sure. However, the stuff we've seen from Shreve so far this season has been an improvement over last year.
Shreve has always been reliant on his four-seam fastball but in the past few games, he has sought to utilize his splitter more. In 44 pitches last night, Shreve chose to use his splitter for more than half of his pitches (23).
That splitter has been generating a 22.5 percent whiff rate this season, the highest of his three total pitches according to Brooks Baseball. While half of these pitches have been out of the zone, Shreve's movement is so good he's making opponents chase the naturally sinking pitch.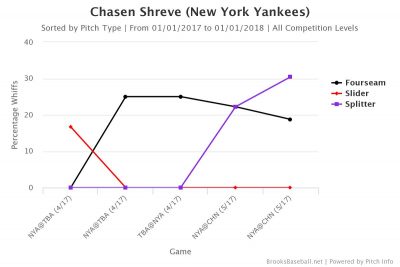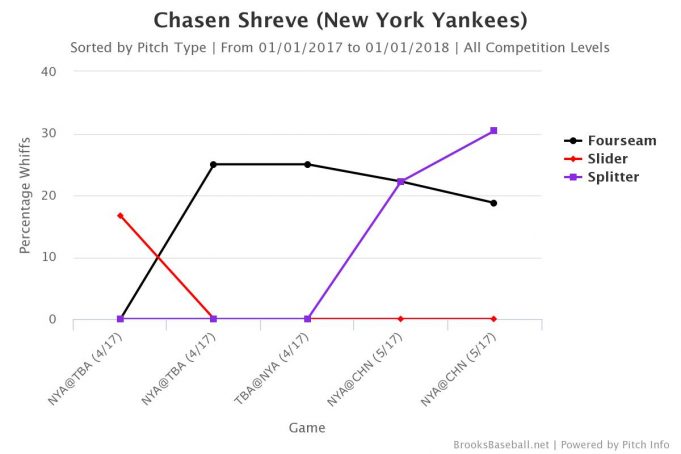 While Shreve has been mostly in the game for individual innings, he just showed that he's got the stuff to serve as a long middle reliever for a Yankees team that has relied heavily on Adam Warren in the past.
He was conservative in his pitches, throwing 16 or fewer pitches in his three innings of work. He got the Cubs off-balance and worked out of jams. He did everything to keep the Yankees in that game.
And after eighteen innings, it wasn't Aaron Hicks who stole the spotlight by scoring the winning run. It was Shreve, who shut down the power-heavy Cubs lineup when it mattered most.
Nope, he's not going to even remotely be close to the best reliever in the bullpen for the New York Yankees. However, seeing what we did on Sunday and in a few other appearances this season, we might finally be seeing the Shreve we were expecting from the beginning.
How can the Yankees be Chasen 28 titles without the Shreve in their 'pen? Right now, he's given us every reason to believe that this might be the year for Shreve.