Michael Rochman, ESNY's resident draft expert, brings us his final 7-round NFL Mock Draft with the Cleveland Browns shaking it up.
As the prospects now are finished with meetings and private workouts, team's draft boards and official needs have become more transparent. While a perfect mock draft is near impossible, the day comes closer and we are getting a generally good feeling about what to expect come Apr. 27 when Roger Goodell takes the stage to announce that the 2017 draft has begun.
For some, the draft is a stepping stone, using it as hope to build for the future. For some, it's their breakthrough, as teams have been gearing up to make playoffs and with the additional assets they attain in Philadelphia hope to be one of the 12 teams playing in January. While for others, it's reloading, hoping to get back to the playoffs and this time with eyes set on the silver Lombardi.
One thing is certain, no matter your expectations for the regular season, everyone has hopes of walking away the winner at the 2017 NFL Draft.
1. Cleveland Browns:
The Cleveland Browns have been on the clock since Jan. 1 after an overtime loss to the Pittsburgh Steelers second unit. While losing to backups and sporting a 1-15 record can be quite demoralizing, the Browns have young promising pieces that can keep hopes high for the future of the franchise. Adding Myles Garrett is the best pick as Garrett is this year's far and away best player. Standing at 6-foot-4 weighing 272 pounds, Garrett will come in and immediately apply pressure off the edge. An instant high impact player and potential franchise centerpiece will only raise hopes for the Browns as their focus on the future becomes much more enticing to the Dawg Pound.
2. San Francisco 49ers:
With the release of Tramaine Brock and the already dire need at CB, Lattimore becomes the second pick of the night. Lattimore is an all around CB with excellent deception skills to force turnovers and lock down his matchup. The 49ers will have a long way to go before they are competing and will need more CBs before the draft is over but expect this to be the start to fixing their secondary.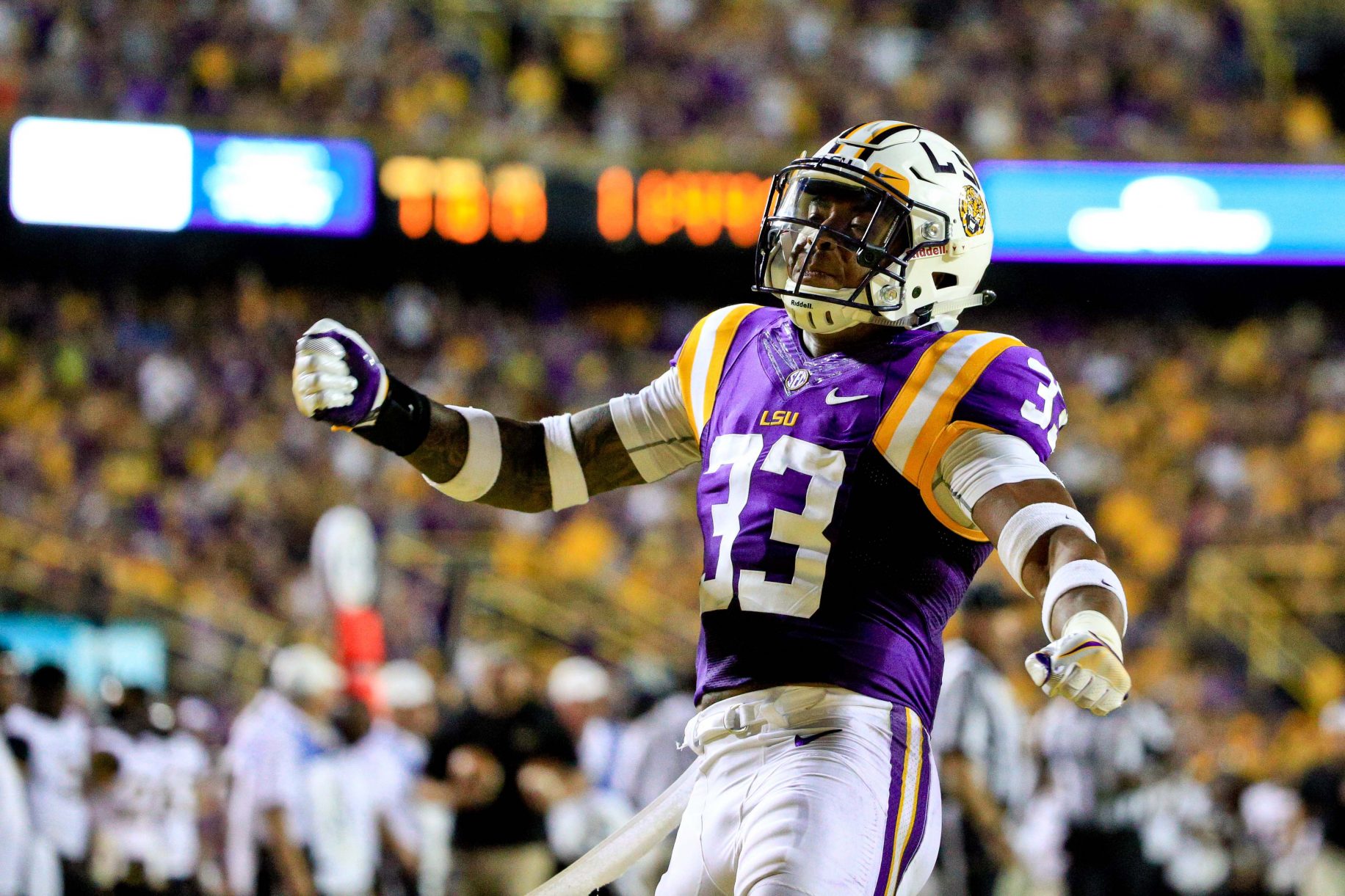 3. Chicago Bears:
The Bears and Ryan Pace are trying to climb out of the dark pit that Pace first entered in at. He's done a good job and will now bring in a highly touted secondary piece to help this team rise to even higher play. Adrian Amos can hold the FS spot and paired with Jamal Adams allows the Bears to finally have a comfortable safety duo with good promise. The Bears still have a long way to go to be where they want, but after this draft they should be on the right path.
4. Jacksonville Jaguars:
The Jaguars are attempting to salvage Blake Bortles and call me foolish but I think they can. But in order to help, they must provide him with a running game so he has help to produce. With Marrone taking over the expectations have again been raised high in Jacksonville and "the second coming of AP will only add to that hype." Fournette is a great power back with deceptive speed. He will make big plays and if he is the pick should help Jacksonville make the next step.
5. Cleveland Browns*:
[1(12),2(52),'18 2nd (HOU)] for [1(5) and 6(214)]

:
Mitchell Trubisky, QB, UNC
In the first trade of the draft, the Titans are eager to move back after missing out on both Lattimore and Adams. But due to their QB still being on the board, the Browns are still willing to pay a good price in order to move up. Trubisky is an Ohio-raised kid who has loved the Browns since he was young. While the Browns likely won't pass on Garrett with the first pick. They could still get Trubisky if he happens to fall past San Francisco. Hue has been looking for the franchise QB to accelerate the team's rebuilding process and after the dominoes fall their way, they may have finally found him.
6. New York Jets:
Bowles knows what a good FS can do by his time in Arizona. Hooker can cover sideline-to-sideline and can give hope to this defense for building a good enough secondary to cover for the front 7. Hooker is a turnover machine who can cause a QB to think twice before throwing and that will go a long way immediately and in the future. The Jets may not be looking to contend next year but with a great young free safety and leader of the defense there is certainly a reason to be optimistic for the future.
7. Los Angeles Chargers: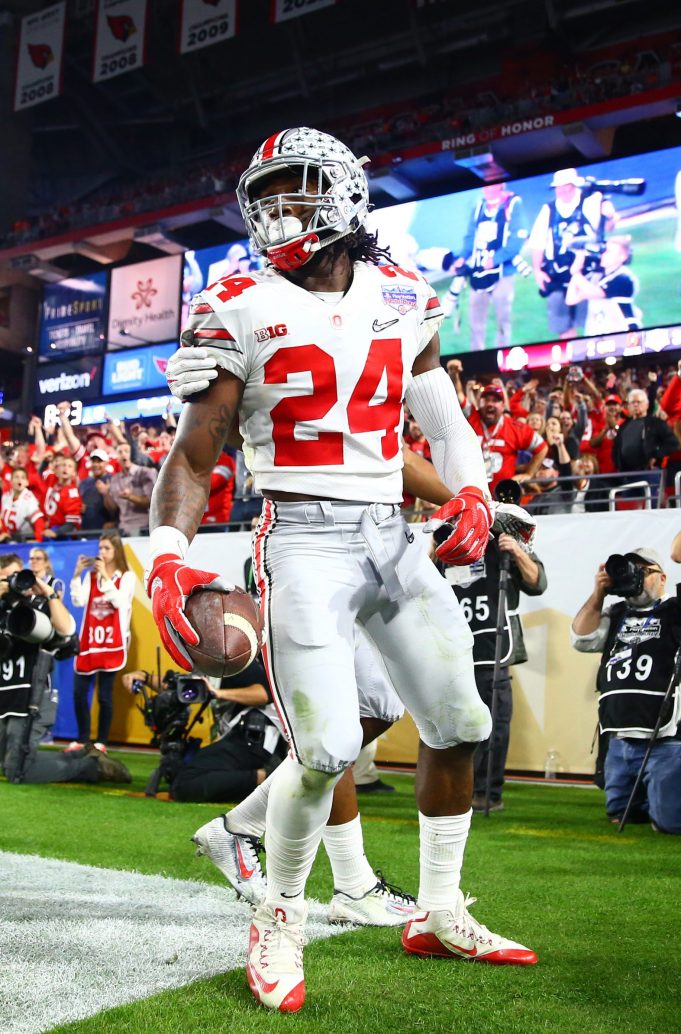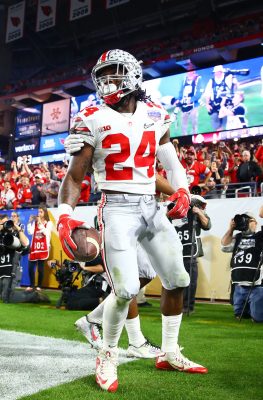 The Los Angeles Chargers are in a weird situation of having a good team, but they can never stay healthy. While this does bring in high quality draft picks, it's something Charger fans are ready to put an end to. The Chargers went into last year's draft and came away with the Defensive Player of the Year in Edge rusher Joey Bosa. So looking to add to the pressure already provided by Bosa the Chargers go again to give help on the opposite side by bringing in Solomon Thomas an absolute beast to transform this Charger pass rush that was a weakness just two years ago into a strength.
8. Carolina Panthers
:
I'm not sure how I personally feel about this pick, but the writing's on the wall. The fit for McCaffrey in Carolina in undeniable it's the value that I question. But, let's dig in: this offseason the Carolina Panthers hired Lance Turner as their WRs coach, previously Turner was a running backs coach at Stanford University. With a reliable power back in Jonathan Stewart and Cam Newton taking a large portion of carries, McCaffrey isn't asked to be a bell cow but can be used as a versatile option for efficient use. Value wise, I'm not sure this is the right pick. But based on facts and fit, it seems McCaffrey will be wearing black and blue next season.
9. Cincinnati Bengals:
While this may come as a bit of a surprise to me it's fairly obvious. Eifert, although a talented tight end, hasn't played in all 16 games once in his four-year career and only started in two this past season. With his contract expiring next offseason the Bengals will have a choice to make on if they want to pay him big money, or let him walk. While the selection of O.J. Howard may seem to be pushing him out the door, it actually is just providing the Bengals with options. The two tight end set has proved efficient for many offenses and a duo of Eifert and Howard could address the lack of weapons Dalton has.
10. Buffalo Bills:
The Buffalo Bills almost sent themselves to the bottom of my power rankings when they considered cutting Tyrod in order to get out of his contract. The issue isn't Tyrod in my opinion, and I hope the same idea is in the head of those in Buffalo. By bringing in Mike Williams, Tyrod finally has a reliable receiver weapon. Watkins is injured far too often and Woods left in free agency, so the pick fills a definite need. Williams is a good physical receiver who will help Tyrod find more efficiency and help the Bills find a durable top WR.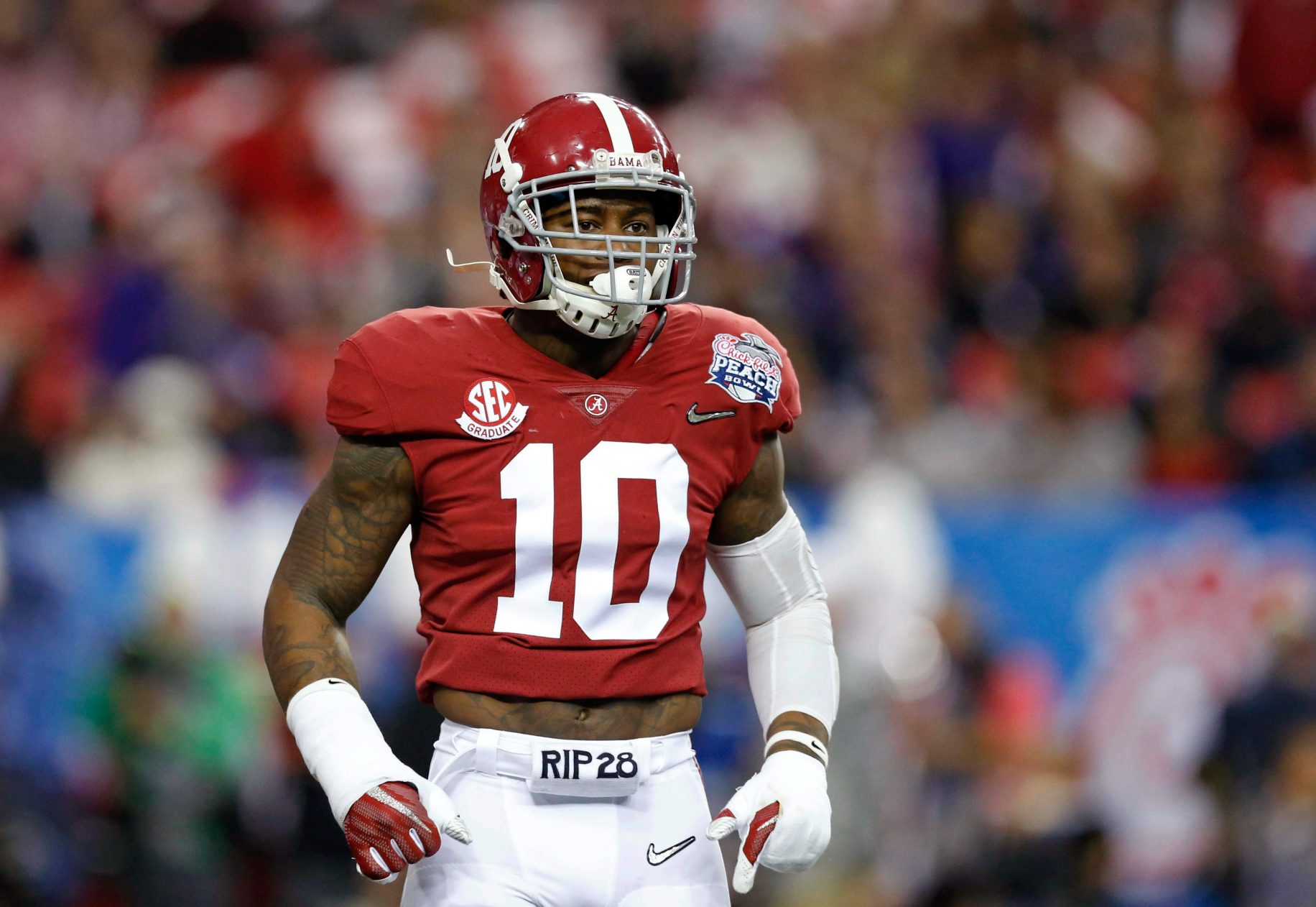 11. New Orleans Saints:
A failed drug test with other red flags may hurt him a little but a talent like Foster won't fall far and for a team like New Orleans, this is a guy you can't let by. Foster provides the Saints will a linebacker and potential young leader for this defense. The Saints must address talent early in this draft and the need at linebacker also exists, this is a great first grab for New Orleans.
12. Tennessee Titans*:
[1(5) and 6(214)] for [1(12),2(52),'18 2nd (HOU)]

:
After missing out on Lattimore the Titans still end up with a talented corner in Conley. A nice lengthy quick-footed corner who allows a low completion percentage and can fit in any corner scheme asked of him. The Titans are building something special and have an obvious need in the secondary if they want to continue building on that, by bringing in Logan Ryan in free agency and drafting Gareon Conley they fill up their CB position and are ready to take the next step.
13. Arizona Cardinals
:
QB No. 2 is off the board and the Cardinals should be ecstatic. In terms of ceiling there may not be a higher prospect than Mahomes and with time to develop under Palmer for a year along with the help of QB Whisperer, Bruce Arians, Mahomes would be set up to have a very successful career. Although Mahomes comes from a gimmick offense, he is known to be an extremely hard worker with some of the best natural tools in the draft. The Cardinals when healthy are a playoff team but also they must find out ways to keep the talent level high when some of their higher caliber player inevitably retire. Mahomes is a perfect option for the Cardinals to get a great player for their future.
14. Washington Redskins*
: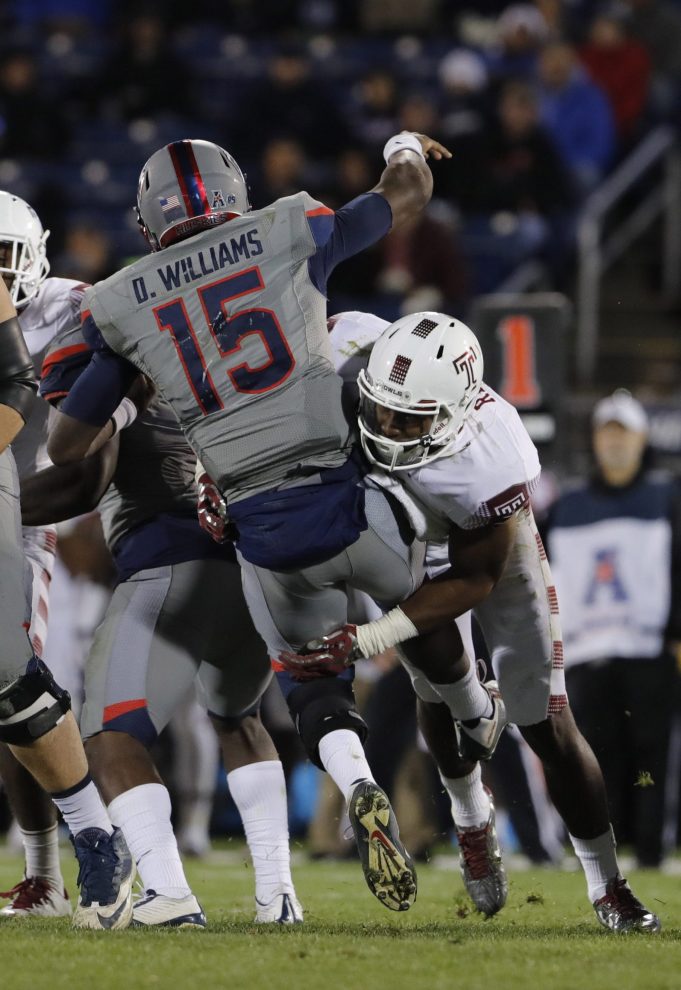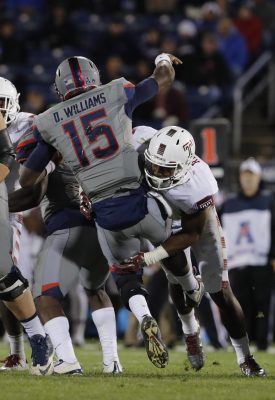 [1(17) and 4(113)] for [1(14)]
When the offseason first started, many people were unfamiliar with Haason Reddick, and if they were familiar with him, he was viewed as an EDGE rusher. Now Reddick after a strong senior bowl, combine, and many great workouts, will find himself going in the first round. According to sources, the Redskins are infatuated with Reddick and want to bring him in to help build the defense into a strong force to help give them a chance to reach playoffs. When draft day rolls around, if Reddick is on the board when Washington is up, expect the pick to be made.
15. Indianapolis Colts
:
In his first draft as GM, Chris Ballard is practically gifted a top-five player due to concerns regarding health. Ballard won't pass on the opportunity though, being quoted saying he loves to get the big guys for the trenches Ballard will practically waste no time making the call to inform Goodell the Colts will select Allen. The Colts need to find an identity on defense as they've started the process of protecting Andrew Luck and have weapons around him. The next part to returning to playoffs is to form a defense. Allen is a day one starter who will immediately create a new level of impact for the team. The Colts may have more holes to fill but with grabbing Allen they're off to a good start.
16. Baltimore Ravens
:
If there's one thing we know about Ozzie Newsome, it's that he loves to draft the best player available. So when that player also fills a need, it's a great draft day for Baltimore. Barnett was a production machine at Tennessee and is one of the most technically sound prospects in this draft. While there are questions over certain measurables such as his arm length and some game aspects like his overthinking, Barnett is worth the pick and will help Baltimore continue their tradition of a strong defense.
17. Philadelphia Eagles*
:
[1(14)] for [1(17) and 4(113)]
It's quite obvious when it comes to the Eagles that corner is the biggest need. While some would flirt with the idea of taking Dalvin Cook or another running back here, the obvious need is corner. While you may not be familiar with King, his upside and talent are undeniable. Standing 6-foot-3 at 200 pounds, size will never be an issue for King. Philadelphia is trying to find an identity at defensive back and is still young so going with a high upside potential CB1 is a great pick in what is hoped to be the rebuilding process to being Philadelphia it's first Lombardi.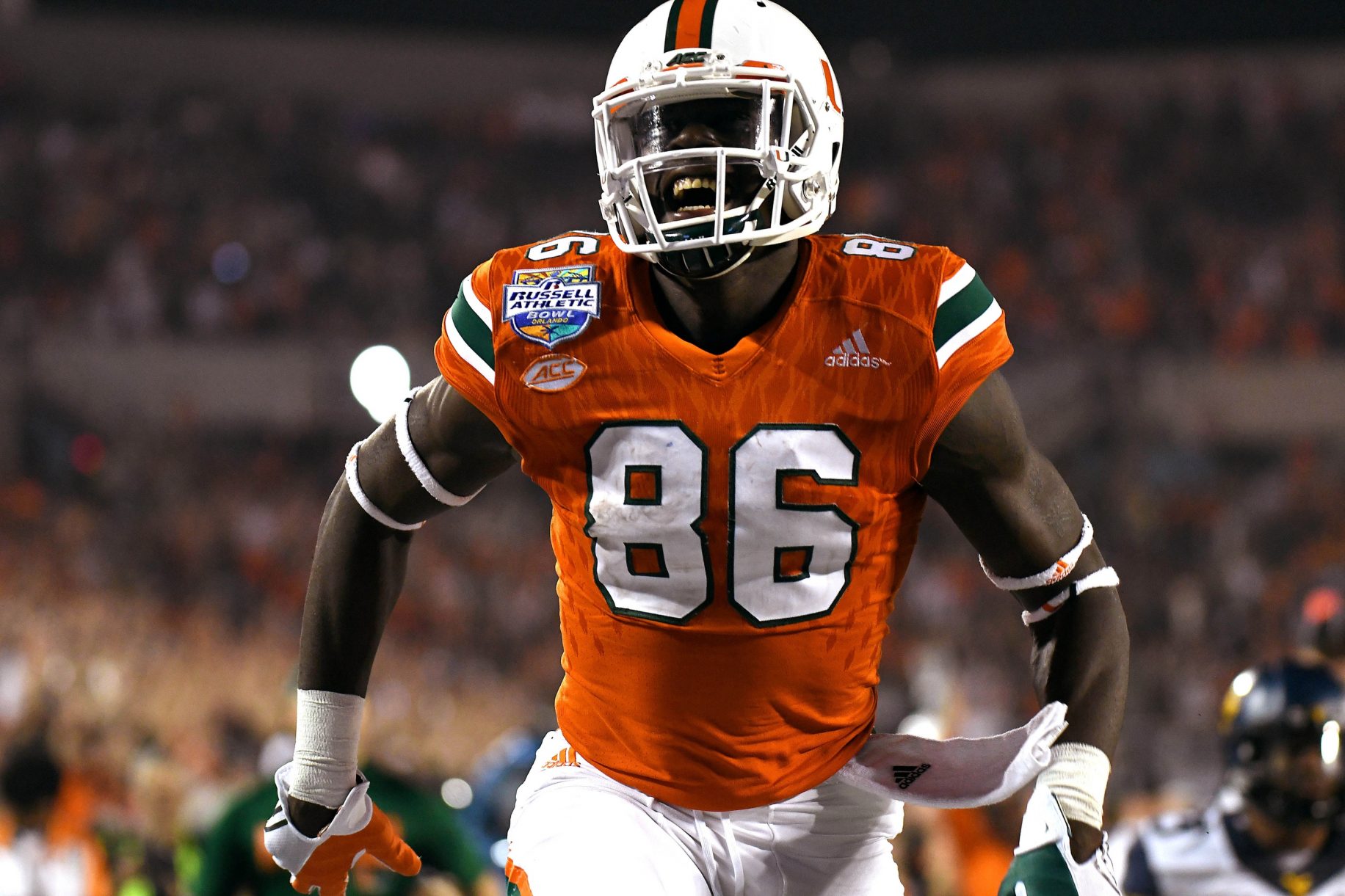 18. Tennessee Titans:
While I'm a fan of Corey Davis here based on NFL insight, it appears teams aren't as high on him as us outsiders are. Njoku isn't a bad pickup for the Titans, though. After losing Fasano and Walker aging quickly the Titans need to address this spot before it's too late. While trying to plug Njoku into Fasano's role may not work as well as Njoku isn't fully developed blocking wise, the potential provided and the capability of the offensive when having both Walker and Njoku on the field could lead to big things for the Titan offense that is already efficient. With addressing the starting news, the Titans continue their process of building one of the scariest young teams in the NFL.
19. Tampa Bay Buccaneers
:
The Buccaneers almost broke through to make the playoffs last year and this year their goal is clear, make the jump. Ramczyk being brought in provides Tampa with a day one starter who could be there for a very long time to help protect Winston in order to bring this offense to the next level. While some feel the Bucs need to fix their defense to get to the next level, I believe at this pick the defensive talent isn't worth the grab. A talent like Ramczyk along with the depth of this class will go a long way for the Buccaneers and their hopes of playing in January.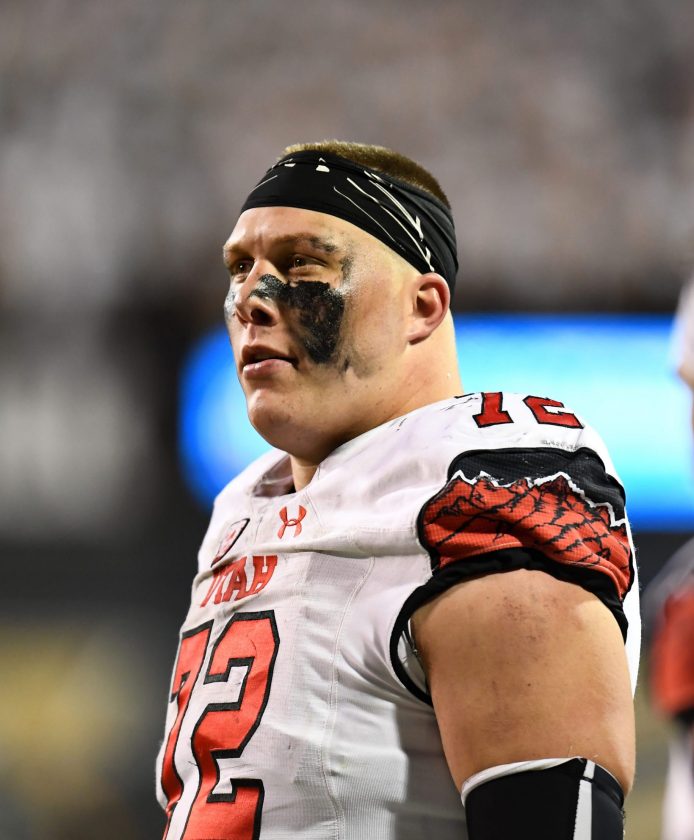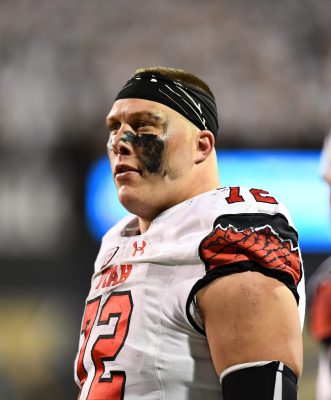 20. Denver Broncos
:
Broncos fans know just how much a bad offensive line can do to ruin your team. While bringing in Ronald Leary and Menelik Watson will help, their line still needs more. Cam Robinson is arguably the top offensive tackle in this draft and if not for character concerns, he may have gone a lot higher. The Broncos are willing to overlook that in order to get protection for either Siemian or Lynch for the upcoming season.
21. Detroit Lions
:
The Lions had an impressive season going on until Matt Stafford dislocated his finger. However, with the defense they had, it was hard to be optimistic. Their biggest hole was at linebacker and that's where Davis comes in. An athletic, tackling machine who will come in and start day one for the Lions. As Detroit has seemed to put together a very effective offense, helping the defense in the next step will to a long way.
22. Miami Dolphins
:
With the trade of Albert to Jacksonville, the Dolphins will put Tunsil at his true position of left tackle, and that creates two holes at offensive guard. By plugging in Forrest Lamp, they've filled in one of them. Lamp is arguably the best lineman in this draft and falling to 22 is a gift for Miami. Gase had said at the end of the regular season that this draft would focus on defense but a talent like Lamp, when the need exists for protection is too good to pass up.
23. New York Giants
:
Garett Bolles, OT, Utah
There are many ways the Giants could go here, but they seem to be buying into their offense and in order to do that they need protection. Bolles is an athletically gifted tackle with very quick feet. Concerns over him already being 25 are there, but the Giants must find an option to protect Manning and let the offense be as efficient as possible.
24. Chicago Bears*:
[2(36), 3(67), and 2018 3rd] for [1(24) and 7(242)]
Despite the signing of Mike Glennon, the Bears are still in search of their quarterback for next season. Before the Texans could get the on the clock the Bears went and got the guy they like most. Watson has the résumé to impress teams, but in terms of analytics, the odds are against him. The Bears, however, will take the risk and give the young QB a chance as their future quarterback for the franchise. The Windy City has gone quite some time without a franchise QB and the selection of Deshaun Watson might just be that guy for the Bears.
25. Houston Texans
:
Despite the obvious need at QB, after missing out on their top three they decide to wait and draft another position of need. At strong safety, the athletic freak Obi Melifonwu fills the hole for the Texans as they somehow continue to strengthen the defense. With more coverage added the Texans go into the next round looking to find a new QB.
26. Seattle Seahawks
:
Based on pure talent, McDowell is likely a top five pick. However, with his unique body style and reports of poor work ethic and attitude, he's likely to be available later in the round. In a strong locker room with a strong defensive line, McDowell could shine. At Michigan State, he had a down year but that could be blamed on the lack of talent around him. When a member of a talented Michigan State defense, he entered the year as a projected top-five pick. With a hole on the defensive line, McDowell can plug and play immediately and become the next great member of the Seattle defense.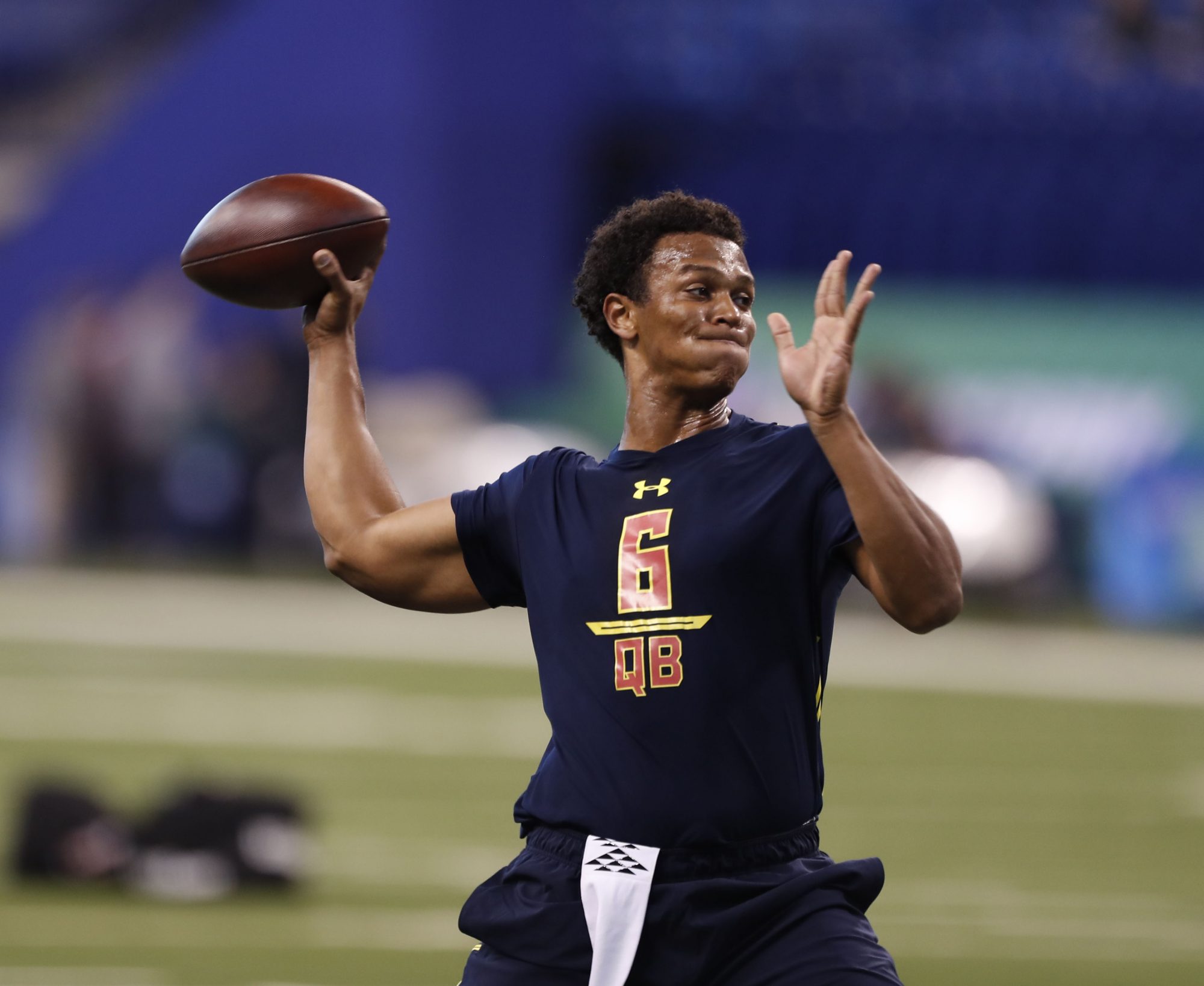 27. Kansas City Chiefs
:
Whether it's media hype or not, I'm convinced the Chiefs are ready to select their next QB. With the last two draft classes getting high volume snap totals, and lack of immediate needs in the lineup, the Chiefs go with their next QB. Kizer is a big QB who has great potential to be a star in this league. A similar skill set to Donovan McNabb, Andy Reid will have a head start in his development. Kizer had a sluggish end to the year to hurt his stock and has some consistency issues, but in the right system and given time to develop, Kizer could be a huge get here at 27.
28. Dallas Cowboys
:
After the losses of Morris Claiborne and Brandon Carr, the Cowboys face an uphill climb to reform their defense. With the talent on the board, I chose Wilson. A 6-foot-2 corner with a fiery attitude to compete. Won't miss many tackles and his coverage ability is good enough to where you'll never view him as someone to give up big plays. The Cowboys are filled with young talent and have hopes of adding to the success of last season. With the talent Wilson immediately brings, that hope shines a little brighter.
29. Los Angeles Rams*
:
[2(37), 4(112), and 5(149)] for [1(29) and 6(212)]
Corey Davis, WR, Western Michigan
Say what you will about Jared Goff, but the Rams must do what they can to build around him. They've fixed up their O-line, and have a great back in Todd Gurley, now they need weapons. Corey Davis is a perfect fit. Standing at 6-foot-3, the Rams can finally bring in a top receiver that they've lacked since Holt. Davis has questions just like every other prospect but was able to do well even against higher competition. The Rams, after addressing their major needs in free agency, can afford to make the move and get the best receiver available on the board.
30. Pittsburgh Steelers
: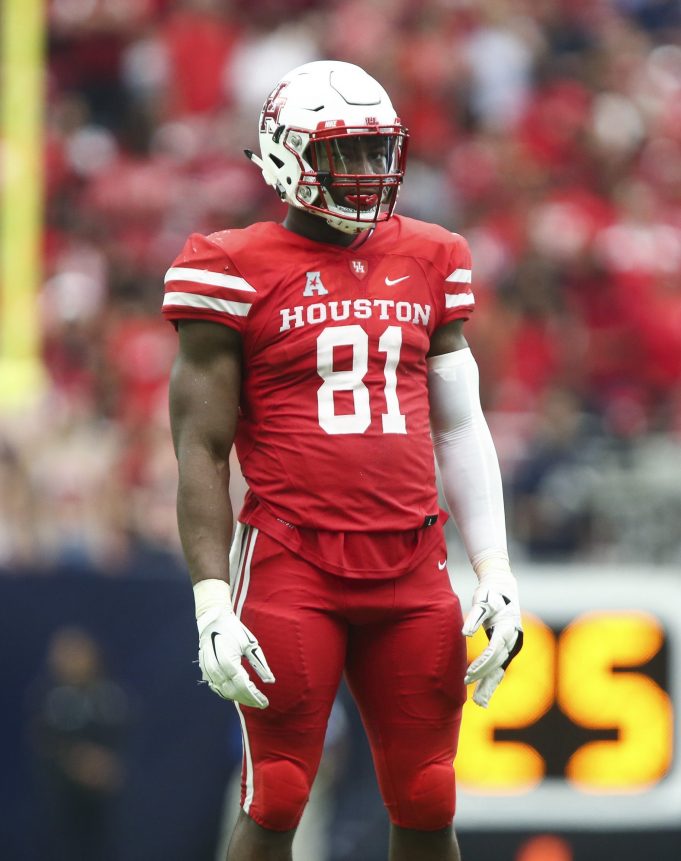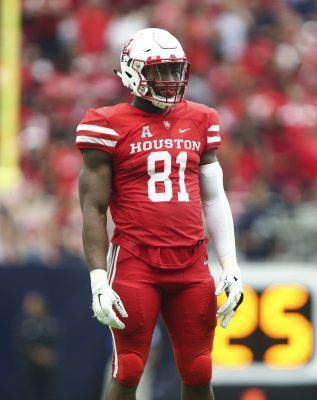 Two players I'm extremely high on in this draft are Jordan Willis and Tyus Bowser. So I hate that I am making the choice to let them fall this far, Bowser is an incredible hybrid edge who will take the leave by storm. He has production ability when healthy and athletically compares to Von Miller. The Steelers are looking to upgrade their team in order to surpass the Patriots and a pick like Bowser will only help that possibility.
31. Atlanta Falcons
:
The edge talent in this class is remarkable and thus is the reason players like Charlton might fall. The Falcons need an edge opposite of Beasley and Charlton has great size and ability to be that guy. The Falcons were two quarters away or even maybe even one sack away from being super bowl champions and their need at edge can push them to become even better. The Falcons have a great roster set to contend and need to be efficient without Shanahan but another presence in the front seven will go a long way for them.
32. New Orleans Saints*
:
After going linebacker in round one, the Saints need to get a pass rusher to go opposite of Cameron Jordan. The Saints are in an attempt to rebuild as fast as possible while Brees is still playing, and are willing to spend their early picks on needs if necessary. Harris is a great edge rusher from the long line of Missouri edge rushers in recent years. An explosive, loose rusher with a great spin move off the line and with an already impressive defensive line Harris will be able to capitalize on the opportunities given to him. The Saints will head into the second day feeling much better about their defense.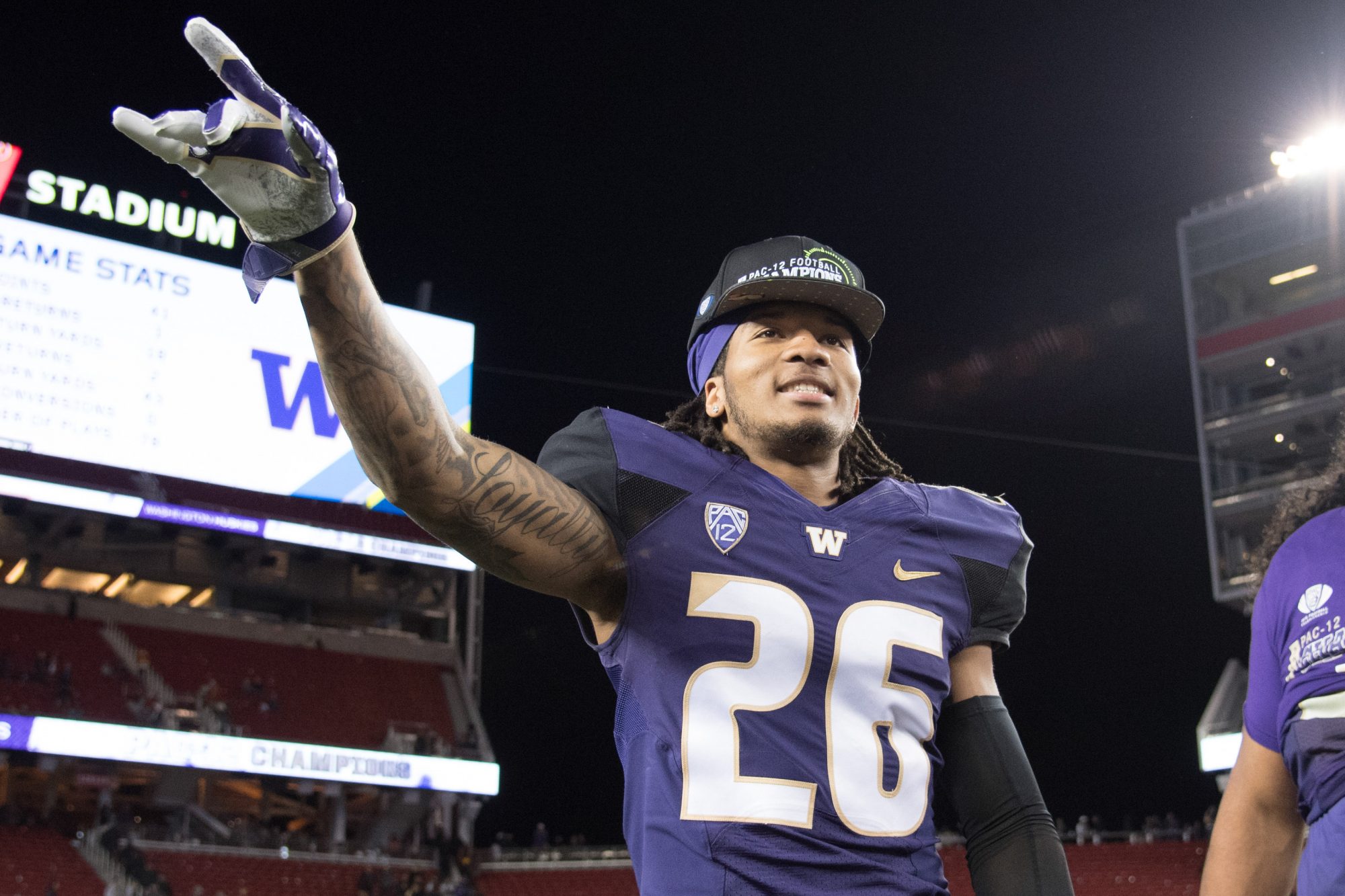 Round 2:
| | | | | |
| --- | --- | --- | --- | --- |
| # | Team | Selection | Position | College |
| 33 | Cleveland Browns | Jabrill Peppers | Nickel | Michigan |
| 34 | San Francisco 49ers | Jordan Willis | EDGE | Kansas State |
| 35 | Jacksonville Jaguars | Dan Feeney | OG | Indiana |
| 36 | *Oakland Raiders* | Budda Baker | FS | Washington |
| 37 | *Green Bay Packers* | TJ Watt | EDGE | Wisconsin |
| 38 | Los Angeles Chargers | Roderick Johnson | OT | Florida State |
| 39 | New York Jets | Sidney Jones | CB | Washington |
| 40 | Carolina Panthers | Takkarist McKinley | EDGE | UCLA |
| 41 | Cincinnati Bengals | John Ross | WR | Washington |
| 42 | New Orleans Saints | Tre'Davious White | CB | LSU |
| 43 | Philadelphia Eagles | Joe Mixon | HB | Oklahoma |
| 44 | Buffalo Bills | Marlon Humphrey | CB | Alabama |
| 45 | Arizona Cardinals | Zach Cunningham | LB | Vanderbilt |
| 46 | Indianapolis Colts | Dalvin Cook | HB | Florida State |
| 47 | Minnesota Vikings | Pat Elflein | OG | Ohio State |
| 48 | Baltimore Ravens | Chris Godwin | WR | Penn State |
| 49 | Washington Redskins | Marcus Williams | FS | Utah |
| 50 | Tampa Bay Buccaneers | Desmond King | FS | Iowa |
| 51 | Denver Broncos | Evan Engram | TE | Ole Miss |
| 52 | *Tennessee Titans* | Marcus Maye | SS | Florida |
| 53 | Detroit Lions | Montravius Adams | DL | Auburn |
| 54 | Miami Dolphins | Carl Lawson | EDGE | Auburn |
| 55 | New York Giants | Alvin Kamara | HB | Tennessee |
| 56 | Oakland Raiders | Raekwon McMillan | LB | Ohio State |
| 57 | Houston Texans | Davis Webb | QB | California |
| 58 | Seattle Seahawks | Ahkello Witherspoon | CB | Colorado |
| 59 | Kansas City Chiefs | Chidobe Awuzie | CB | Colorado |
| 60 | Dallas Cowboys | Derek Rivers | EDGE | Youngstown State |
| 61 | Green Bay Packers | Cordrea Tankersley | CB | Clemson |
| 62 | Pittsburgh Steelers | Anthony Walker Jr | LB | N'Western |
| 63 | Atlanta Falcons | Justin Evans | FS | Texas A&M |
| 64 | *Carolina Panthers* | Taylor Moton | OT | Western Michigan |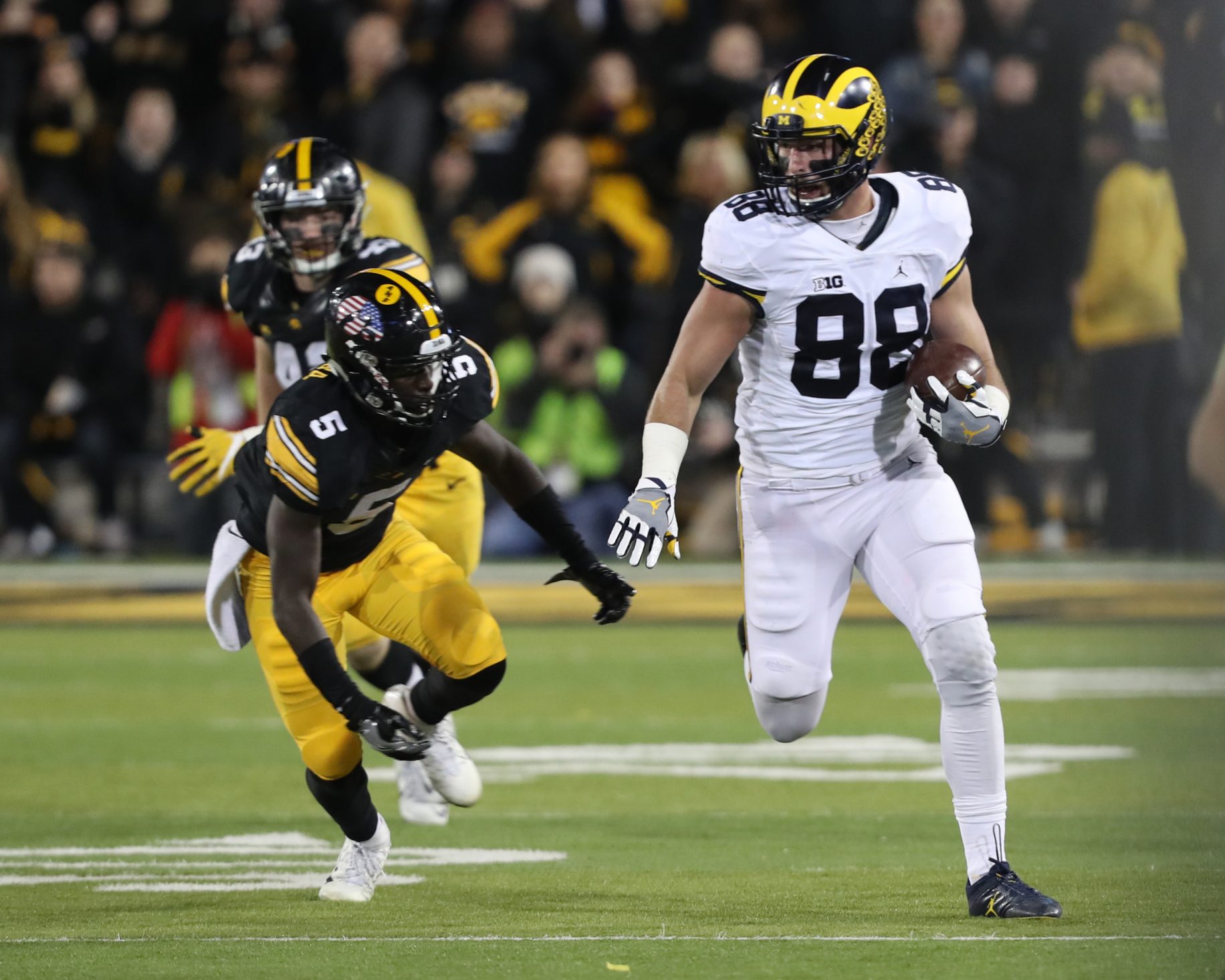 Round 3:
| | | | | |
| --- | --- | --- | --- | --- |
| # | Team | Selection | Position | College |
| 65 | Cleveland Browns | Fabian Moreau | CB | UCLA |
| 66 | San Francisco 49ers | Zay Jones | WR | East Carolina |
| 67 | *Oakland Raiders* | Antonio Garcia | OT | Troy |
| 68 | Jacksonville Jaguars | Bucky Hodges | TE | Virginia Tech |
| 69 | Los Angeles Rams | Ethan Pocic | C | LSU |
| 70 | New York Jets | Rasul Douglas | CB | West Virginia |
| 71 | Los Angeles Chargers | Josh Jones | S | North Carolina State |
| 72 | *New England Patriots* | Daeshon Hall | EDGE | Texas A&M |
| 73 | Cincinnati Bengals | D'Onta Foreman | HB | Texas |
| 74 | Philadelphia Eagles | Cameron Sutton | CB | Tennessee |
| 75 | Buffalo Bills | Dion Dawkins | OT | Temple |
| 76 | New Orleans Saints | Nathan Peterman | QB | Pittsburgh |
| 77 | Arizona Cardinals | John Johnson | SS | Boston College |
| 78 | Minnesota Vikings | Chris Wormley | DL | Michigan |
| 79 | Indianapolis Colts | Tedric Thompson | FS | Colorado |
| 80 | Baltimore Ravens | Cooper Kupp | WR | Eastern Washington |
| 81 | Washington Redskins | Caleb Brantley | DL | Florida |
| 82 | Denver Broncos | Curtis Samuel | WR/RB | Ohio State |
| 83 | Tennessee Titans | Duke Riley | LB | LSU |
| 84 | Tampa Bay Buccaneers | Jake Butt | TE | Michigan |
| 85 | Detroit Lions | Tim Williams | EDGE | Alabama |
| 86 | *Minnesota Vikings* | Alex Anzalone | LB | Florida |
| 87 | New York Giants | Adam Shaheen | TE | Ashland |
| 88 | Oakland Raiders | Larry Ogunjobi | DL | NC Charlotte |
| 89 | Houston Texans | Julie'n Davenport | OT | Bucknell |
| 90 | Seattle Seahawks | Dorian Johnson | OG | Pittsburgh |
| 91 | Kansas City Chiefs | Jalen Reeves-Maybin | LB | Tennessee |
| 92 | Dallas Cowboys | Teez Tabor | CB | Florida |
| 93 | Green Bay Packers | Kareem Hunt | HB | Toledo |
| 94 | Pittsburgh Steelers | Montae Nicholson | S | Michigan State |
| 95 | Atlanta Falcons | Danny Isadora | OG | Miami (FL) |
| 96 | New England Patriots | Shaquill Griffin | CB | UCF |
| 97 | Miami Dolphins | Vince Biegel | LB | Wisconsin |
| 98 | Carolina Panthers | Carlos Henderson | WR | Louisiana Tech |
| 99 | Baltimore Ravens | Howard Wilson | CB | Houston |
| 100 | Tennessee Titans | Josh Malone | WR | Tennessee |
| 101 | Denver Broncos | Jaleel Johnson | DL | Iowa |
| 102 | Seattle Seahawks | Gerald Everett | TE | Southern Alabama |
| 103 | *New Orleans Saints | Jordan Leggett | TE | Clemson |
| 104 | *Kansas City Chiefs | Tarell Basham | EDGE | Ohio |
| 105 | Pittsburgh Steelers | Jerod Evans | QB | Virginia Tech |
| 106 | Seattle Seahawks | Adoree' Jackson | DB | USC |
| 107 | New York Jets | Ryan Anderson | EDGE | Alabama |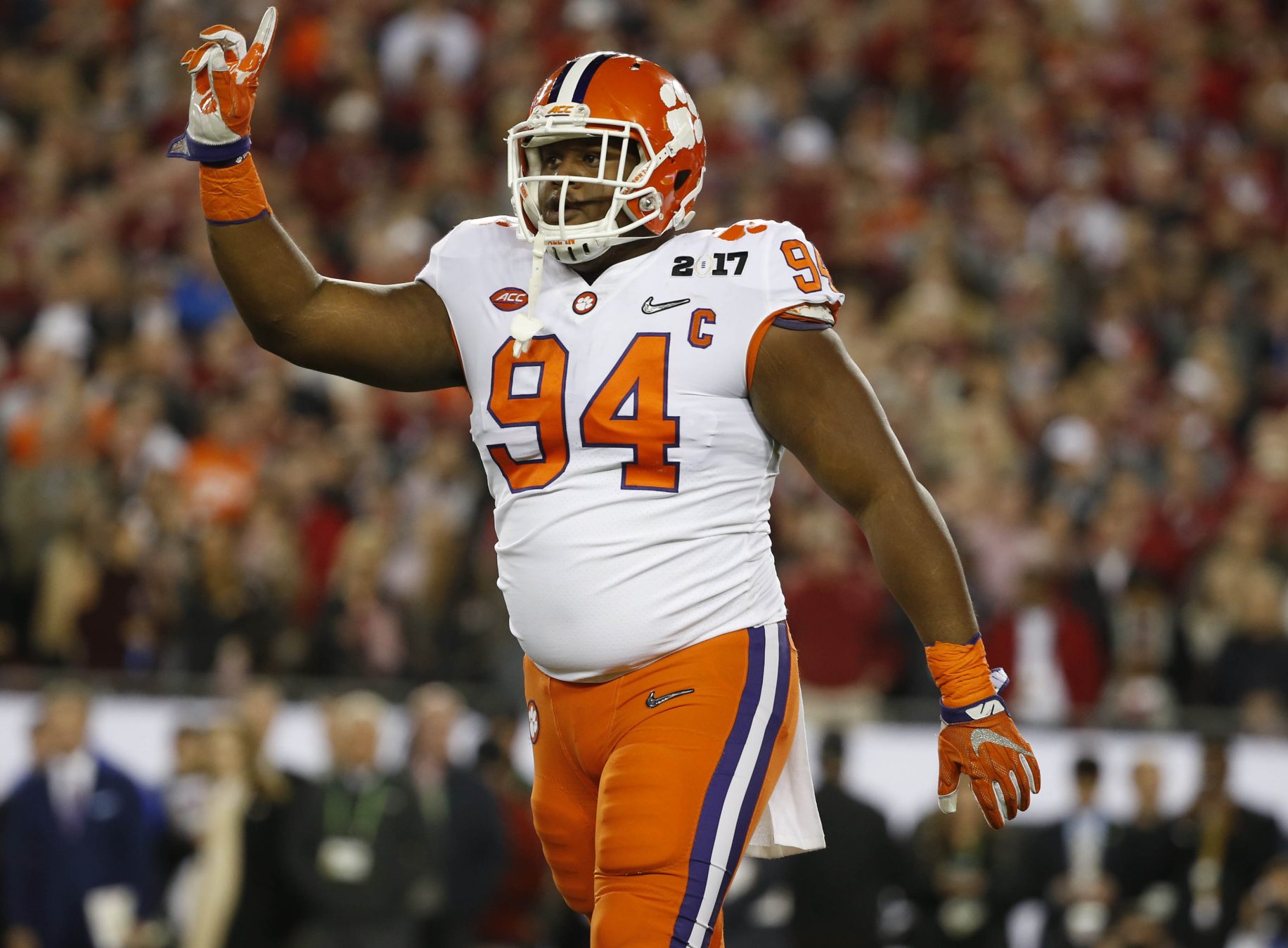 Round 4:
| | | | | |
| --- | --- | --- | --- | --- |
| # | Team | Selection | Position | College |
| 108 | Cleveland Browns | Dalvin Tomlinson | DL | Alabama |
| 109 | San Francisco 49ers | Brad Kaaya | QB | Miami (FL) |
| 110 | Chicago Bears | ArDarius Stewart | WR | Alabama |
| 111 | Jacksonville Jaguars | David Sharpe | OT | Florida |
| 112 | *Green Bay Packers* | Jourdan Lewis | CB | Michigan |
| 113 | *Philadelphia Eagles* | JuJu Smith-Shuster | WR | USC |
| 114 | Los Angeles Chargers | Jeremy McNichols | HB | Boise State |
| 115 | Carolina Panthers | Delano Hill | FS | Michigan |
| 116 | Cincinnati Bengals | DeMarcus Walker | EDGE | Florida State |
| 117 | *Chicago Bears* | Corn Elder | CB | Miami (FL) |
| 118 | Philadelphia Eagles | Chase Roullier | OL | Wyoming |
| — | New England Patriots | | | |
| 119 | Arizona Cardinals | Michael Roberts | TE | Toledo |
| 120 | Indianapolis Colts | Channing Stribling | CB | Michigan |
| 121 | *Philadelphia Eagles* | Will Holden | OT | Vanderbilt |
| 122 | Baltimore Ravens | Blair Brown | LB | Ohio |
| 123 | Washington Redskins | Brian Hill | HB | Wyoming |
| 124 | Tennessee Titans | Tanoh Kpassagnon | DL | Villanova |
| 125 | Tampa Bay Buccaneers | Kendell Beckwith | LB | LSU |
| 126 | Denver Broncos | Joe Mathis | EDGE | Washington |
| 127 | Detroit Lions | Taywan Taylor | WR | Western Kentucky |
| 128 | *Minnesota Vikings* | Adam Bisnowaty | OT | Pittsburgh |
| 129 | Oakland Raiders | Ryan Switzer | WR | UNC |
| 130 | Houston Texans | Elijah Qualls | NT | Washington |
| 131 | *New England Patriots* | Jarron Jones | DL | Notre Dame |
| 132 | Kansas City Chiefs | Wayne Gallman | HB | Clemson |
| 133 | Dallas Cowboys | Zach Banner | OL | USC |
| 134 | Green Bay Packers | Jayon Brown | LB | UCLA |
| 135 | Pittsburgh Steelers | Semaje Perine | HB | Oklahoma |
| 136 | Atlanta Falcons | Jeremy Sprinkle | TE | Arkansas |
| 137 | *Indianapolis Colts* | Nico Siragusa | OG | San Diego State |
| 138 | Cincinnati Bengals | Rayshawn Jenkins | S | Miami (FL) |
| 139 | Philadelphia Eagles | George Kittle | TE | Iowa |
| 140 | New York Giants | Carlos Watkins | DL | Clemson |
| 141 | Los Angeles Rams | Isaac Asiata | OG | Utah |
| 142 | Cleveland Browns | Josh Reynolds | WR | Texas A&M |
| 143 | San Francisco 49ers | Marlon Mack | HB | South Florida |
| 144 | Indianapolis Colts | Eddie Jackson | S | Alabama |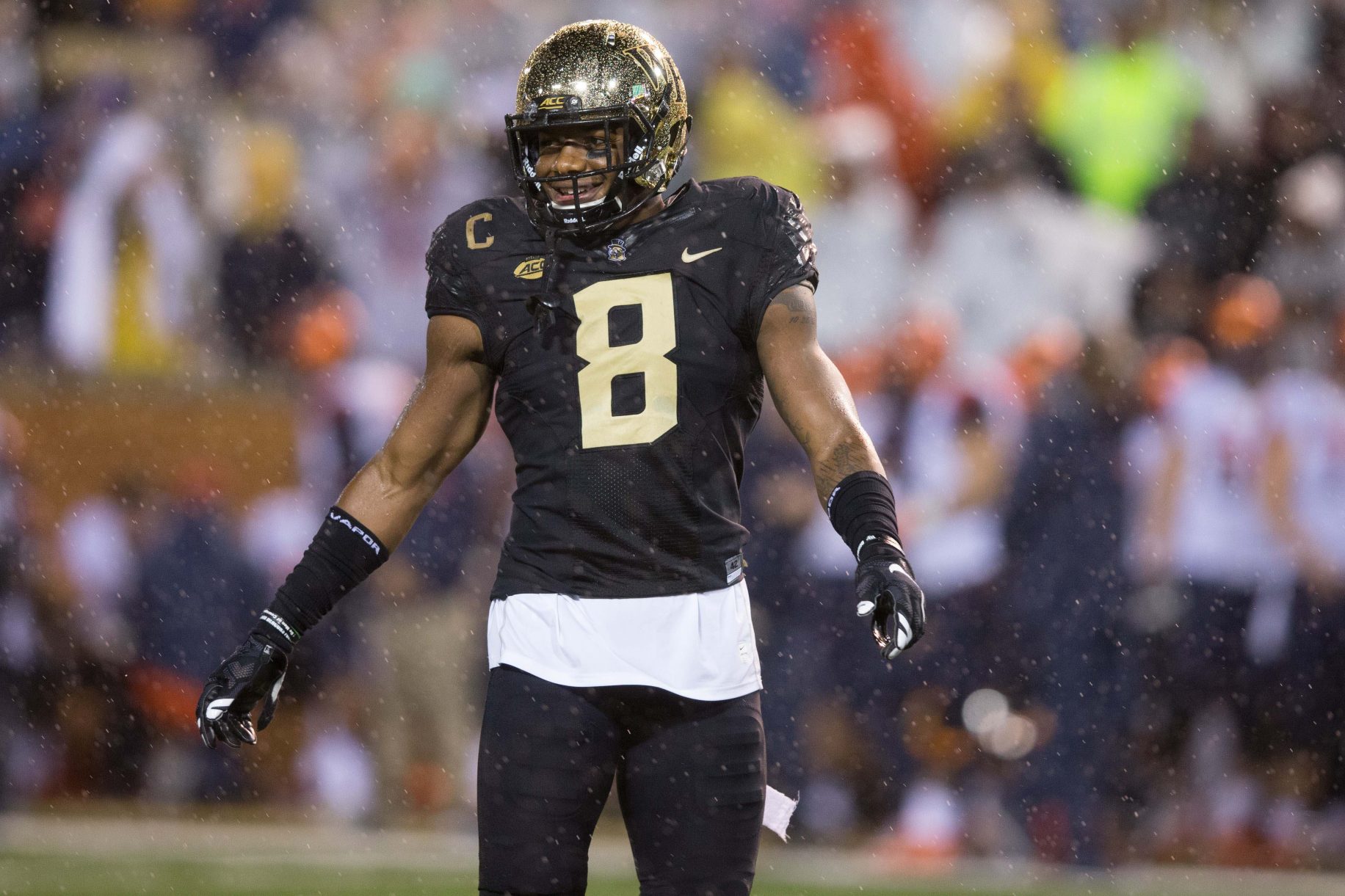 Round 5:
| | | | | |
| --- | --- | --- | --- | --- |
| | Team | Selection | Position | College |
| 145 | Cleveland Browns | Xavier Woods | S | Louisiana Tech |
| 146 | San Francisco 49ers | Marquez White | CB | Florida State |
| 147 | Chicago Bears | Davon Godchaux | DL | LSU |
| 148 | Jacksonville Jaguars | Trey Hendrickson | EDGE | Florida Atlantic |
| 149 | *Green Bay Packers* | Dawuane Smoot | EDGE | Illinois |
| 150 | New York Jets | Marquel Lee | LB | Wake Forest |
| 151 | Los Angeles Chargers | Josh Dobbs | QB | Tennessee |
| 152 | Carolina Panthers | Jonnu Smith | TE | Florida Atlantic |
| 153 | Cincinnati Bengals | Elijah Lee | LB | Kansas State |
| 154 | *Washington Redskins* | Brendan Langley | CB | Lamar |
| 155 | Philadelphia Eagles | Eddie Vanderdoes | DL | UCLA |
| 156 | Buffalo Bills | Lorenzo Jerome | FS | St. Francis (PA) |
| 157 | Arizona Cardinals | Tyler Orlosky | C | West Virginia |
| 158 | Minnesota Vikings | Erik Magnuson | OL | Michigan |
| 159 | Indianapolis Colts | Dylan Cole | LB | Missouri State |
| 160 | Baltimore Ravens | Avery Gennesy | OT | Texas A&M |
| 161 | *San Francisco 49ers* | Chad Hansen | WR | California |
| 162 | Tennessee Titans | Carroll Phillips | EDGE | Illinois |
| 163 | Tampa Bay Buccaneers | Amara Darboh | WR | Michigan |
| 164 | *New England Patriots* | Damarius Travis | SS | Minnesota |
| 165 | Detroit Lions | Matthew Dayes | HB | North Carolina State |
| 166 | Miami Dolphins | Eric Saubert | TE | Drake |
| 167 | New York Giants | Paul Magloire | LB | Arizona |
| 168 | Oakland Raiders | Jamaal Williams | HB | BYU |
| 169 | Houston Texans | Nazair Jones | DL | UNC |
| — | Seattle Seahawks | | | |
| 170 | Kansas City Chiefs | Jehu Chesson | WR | Michigan |
| 171 | *Buffalo Bills* | James Connor | HB | Pittsburgh |
| 172 | Green Bay Packers | Cole Hikutini | TE | Louisville |
| 173 | Pittsburgh Steelers | Ricky Seals Jones | WR | Texas A&M |
| 174 | Atlanta Falcons | Jadar Johnson | S | Clemson |
| 175 | *Cleveland Browns* | Jylan Ware | OT | Alabama State |
| 176 | Cincinnati Bengals | Travin Dural | WR | LSU |
| 177 | Denver Broncos | Shelton Gibson | WR | West Virginia |
| 178 | Miami Dolphins | Tanzel Smart | DL | Tulane |
| 179 | Arizona Cardinals | Elijah Hood | HB | UNC |
| 180 | Kansas City Chiefs | DJ Jones | DL | Ole Miss |
| 181 | Cleveland Browns | Aaron Jones | HB | UTEP |
| 182 | Green Bay Packers | Noah Brown | WR | Ohio State |
| 183 | New England Patriots | Fadol Brown | EDGE | Ole Miss |
| 184 | Miami Dolphins | TJ Logan | HB | UNC |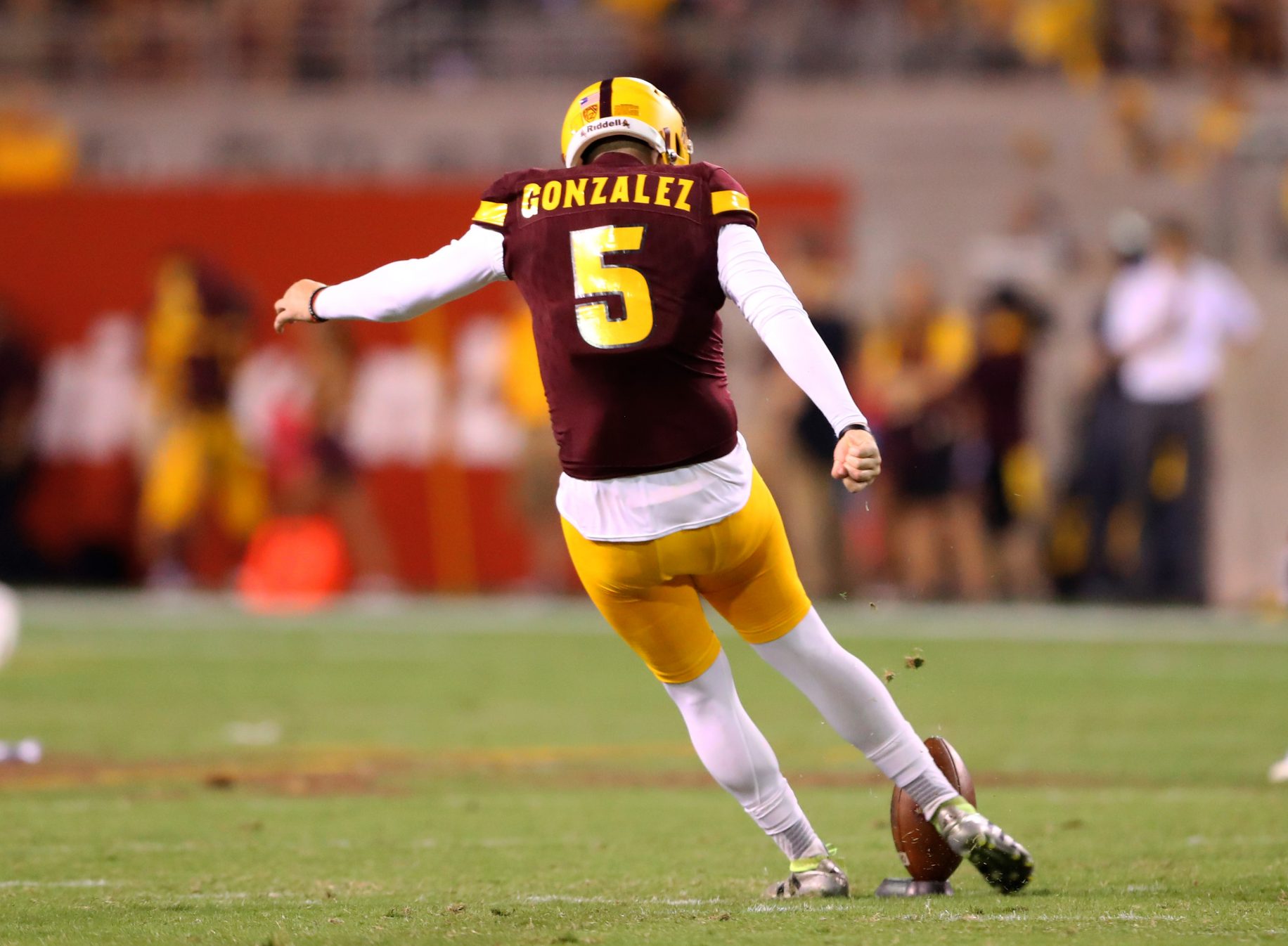 Round 6:
| | | | | |
| --- | --- | --- | --- | --- |
| # | Team | Selection | Position | College |
| 185 | Cleveland Browns | Jordan Morgan | OG | Kutztown |
| 186 | San Francisco 49ers | Ben Gedeon | LB | Michigan |
| 187 | *Houston Texans* | Steven Taylor | LB | Houston |
| 188 | Jacksonville Jaguars | CJ Beathard | QB | Iowa |
| 189 | Los Angeles Rams | Connor McDermott | OT | UCLA |
| 190 | Los Angeles Chargers | KD Cannon | WR | Baylor |
| 191 | New York Jets | Mack Hollins | WR | UNC |
| 192 | Carolina Panthers | Jalen Myrick | CB | Minnesota |
| 193 | Cincinnati Bengals | Zane Gonzalez | K | Arizona State |
| 194 | Philadelphia Eagles | Ejuan Price | EDGE | Pittsburgh |
| 195 | Buffalo Bills | Chad Kelly | QB | Ole Miss |
| 196 | New Orleans Saints | De'Veon Smith | HB | Michigan |
| 197 | Arizona Cardinals | Malachi Dupre | WR | LSU |
| 198 | New England Patriots | Brian Allen | DB | Utah |
| 199 | Minnesota Vikings | Darrell Daniels | TE | Washington |
| 200 | Baltimore Ravens | Sam Rogers | FB | Virginia Tech |
| 201 | Washington Redskins | Aviante Collins | OL | TCU |
| 202 | *San Francisco 49ers* | Deatrich Wise Jr | EDGE | Arkansas |
| 203 | *Denver Broncos* | Avery Moss | EDGE | Youngstown State |
| 204 | Tampa Bay Buccaneers | Cooper Rush | QB | Central Michigan |
| 205 | Detroit Lions | Noble Nwachukwu | EDGE | West Virginia |
| 206 | Miami Dolphins | Chuck Clark | CB | Virginia Tech |
| 207 | New York Giants | Ashton Lampkin | CB | Oklahoma State |
| 208 | Oakland Raiders | Bryan Cox Jr. | EDGE | Florida |
| 209 | *Washington Redskins* | Keion Adams | EDGE | Western Michigan |
| 210 | Seattle Seahawks | Jeremy Clark | CB | Michigan |
| — | Kansas City Chiefs | | | |
| 211 | Dallas Cowboys | Travis Rudolph | WR | Florida State |
| 212 | *Los Angeles Rams* | DeAngelo Henderson | HB | Coastal Carolina |
| 213 | Pittsburgh Steelers | Josh Harvey-Clemons | S | Louisville |
| 214 | *Cleveland Browns* | Austin Caitro | LB | Villanova |
| 215 | *Detroit Lions* | Anthony Auclair | TE | Laval |
| 216 | Kansas City Chiefs | Storm Norton | OT | Toledo |
| 217 | Cincinnati Bengals | Ishmael Zamora | WR | Baylor |
| 218 | Kansas City Chiefs | Ryan Glasgow | DL | Michigan |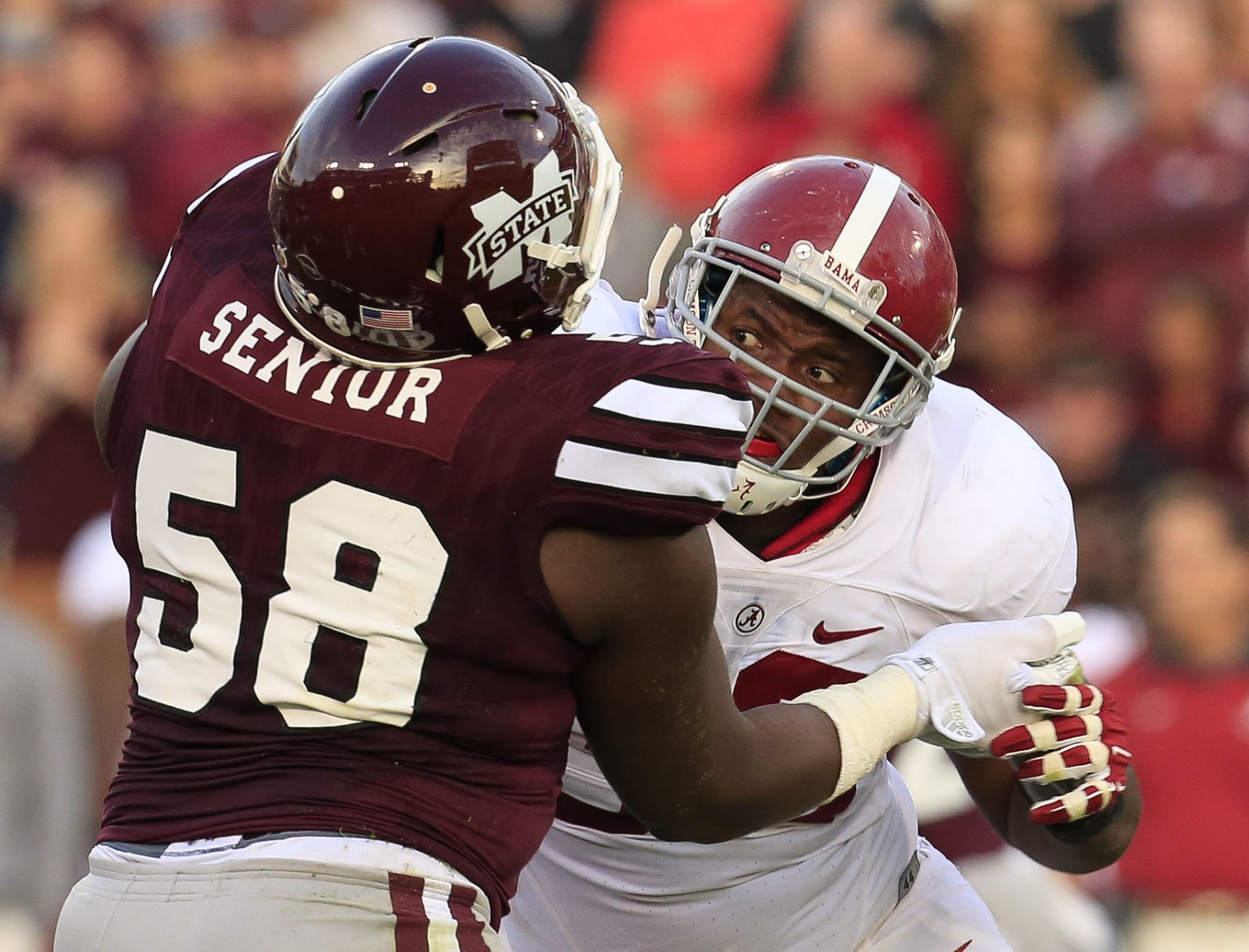 Round 7:
| | | | | |
| --- | --- | --- | --- | --- |
| # | Team | Selection | Position | College |
| 219 | *San Francisco 49ers* | Damontae Kazee | CB | San Diego State |
| 220 | *Washington Redskins* | Charles Walker | DL | Oklahoma |
| 221 | Chicago Bears | Robert Davis | WR | Georgia State |
| 222 | Jacksonville Jaguars | Jeremiah Ledbetter | DL | Arkansas |
| 223 | Los Angeles Rams | Tashawn Bower | EDGE | LSU |
| 224 | New York Jets | Justin Senior | OT | Mississippi State |
| 225 | Los Angeles Chargers | Harvey Langi | LB | BYU |
| 226 | *Seattle Seahawks* | Trenton DeCoud | CB | Oregon State |
| 227 | Cincinnati Bengals | Jon Toth | C | Kentucky |
| 228 | *Dallas Cowboys* | William Likely III | CB | Maryland |
| 229 | New Orleans Saints | Levon Myers | OT | Northern Illinois |
| 230 | Philadelphia Eagles | Vincent Taylor | DL | Oklahoma State |
| 231 | Arizona Cardinals | Jessamen Dunker | OG | Tennessee State |
| 232 | Minnesota Vikings | Nathan Gerry | S | Nebraska |
| 233 | *Carolina Panthers* | Damien Mama | OG | USC |
| 234 | *Los Angeles Rams* | Victor Bolden | WR | Oregon State |
| 235 | Washington Redskins | Cole Luke | CB | Notre Dame |
| 236 | Tennessee Titans | DeVonte Fields | EDGE | Louisville |
| 237 | Tampa Bay Buccaneers | Jack Tocho | CB | NC State |
| 238 | Denver Broncos | David Jones | S | Richmond |
| 239 | *New England Patriots* | Max Rich | OT | Harvard |
| 240 | Miami Dolphins | Chad Wheeler | OL | USC |
| 241 | New York Giants | Jake Elliott | K | Memphis |
| 242 | *Chicago Bears* | Isaac Rochell | DL | Notre Dame |
| 243 | Houston Texans | Sean Harlow | OG | Oregon State |
| 244 | *Oakland Raiders* | Tanner Vallejo | LB | Boise State |
| 245 | Kansas City Chiefs | Grover Stewart | NT | Albany State |
| 246 | Dallas Cowboys | Josh Carraway | EDGE | TCU |
| 247 | Green Bay Packers | Samson Ebukam | EDGE | Eastern Washington |
| 248 | Pittsburgh Steelers | Ben Boulware | LB | Clemson |
| 249 | Atlanta Falcons | Freddie Stevenson | FB | Florida State |
| 250 | *Detroit Lions* | Keionta Davis | EDGE | Chattanooga |
| 251 | Cincinnati Bengals | Ezra Robinson | CB | Tennessee State |
| 252 | Denver Broncos | Sefo Liufau | QB | Colorado |
| 252 | Denver Broncos | Donnel Pumphrey | HB | San Diego State |