Off to a tremendous start to 2017, ESNY digs into why New York Yankees young starter Luis Severino is experiencing progress.
New York Yankees 23-year-old right-hander Luis Severino entered the season faced with all the questions in the world and over his last three starts of the 2017 season, he is answering them with authority.
Following a poor start against the Baltimore Orioles on April 7, the right-hander has turned in three consecutive quality starts which include 22 innings, 27 strikeouts, three walks and an ERA of 2.05 against the Tampa Bay Rays, Chicago White Sox and Boston Red Sox.
---
---
Additionally, he has surrendered just 11 hits out of the last 79 batters he has faced (.145 BAA) and after holding the Red Sox to zero runs on Wednesday, posted his third straight start in which he has allowed three runs or less — the first time since Sep. 16 to Oct. 3, 2015.
But what happened? We're talking about a young starter coming off a season in which he went 0-8 with an 8.50 ERA in 11 starts and seemed as though he was destined for a late-inning bullpen role rather than becoming the "future ace" fans presumed him to be after a stellar rookie season.
There were a ton of glaring issues we all saw heading into the offseason and the main issue was the command of his fastball.
In 2016, opposing hitters maintained a batting average of .302 off Severino's fastball and among starting pitchers with at least 40 innings pitched last season, Severino's BABIP against of .378 was the third-highest in the sport. Not only was he throwing it a predictable 56.20 percent of the time (per Brooks Baseball), but he left it up and over the middle of the plate: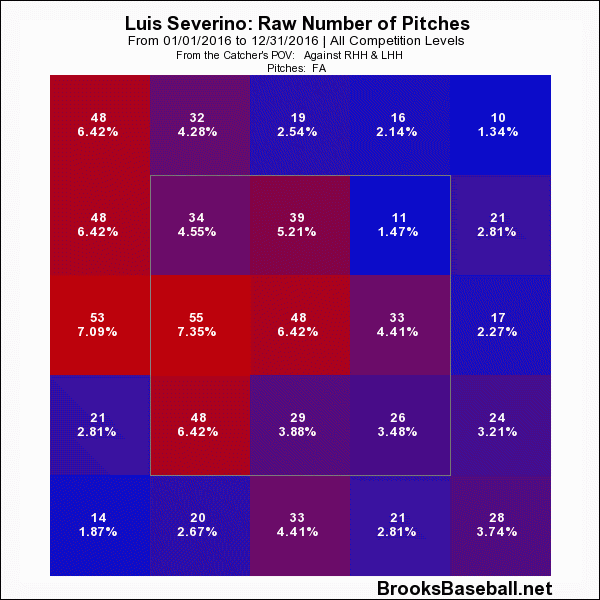 With the fastball consistently painted over the middle of the plate and up in the zone more than half of the time a pitch came out of his right hand, there's truly no surprise that batters posted a .528 slugging percentage against off the pitch. Severino had success with the changeup (.394 SLG) and slider (.364 SLG), but the flaming fastball just wasn't getting the job done.
Here in 2017, that's a completely different story.
Through four starts, batters are hitting just .267 off of the pitch, which averages 96.7 mph (second-fastest average behind Noah Syndergaard), and are posting a line drives per BIP rate of 19.44. In comparison, the line drive rate was 32.23 last year and 30.67 the year before. Severino's fastball has never been this dominant.
Furthermore, the location has been impeccable. Take another quick look at the graphic above from last season and then take a peek at his fastball's zone profile here in 2017: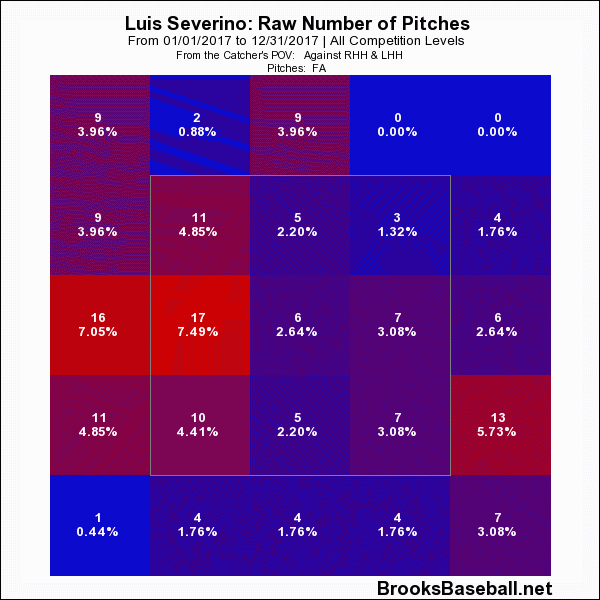 It's not night and day, but Severino is using his cannon to paint corners and locate it much better than in his abysmal campaign a year ago.
As a result, his whiff rate on the pitch has jumped from 21.81 percent to 26.37 and most importantly, he is giving the Yankees quality starts with the second-best strikeout-to-walk-ratio in the major leagues (8.25).
.@LuisSeverino94: 7 EL, 3 H, 0 CA, 2 BB y 6 ponches.
Esta temporada(por el momento): 4 BB y 33 ponches. #MLB pic.twitter.com/blpt58p5dZ

— Canal de Noticias (@AireNoticias) April 27, 2017
There is one aspect of his game that needs improvement, however, and that's an increased use of his new and improved changeup thanks to Hall Of Famer Pedro Martinez.
Against the changeup this season, opposing hitters own a batting average of .000 with a line drive rate (16.67) nearly 10 percent lower than his rate from 2016 (25), per Brooks Baseball. Despite this, he has thrown the pitch just 36 times so far (9.02 percent of the time).
Now, it's very early in the season. As one of my followers on Twitter pointed out, that whole nine percent thing can change in a quick start. However, if he trusted the pitch more and mingles it into his arsenal more — something he failed to do in 2016 — Severino can take his game to a new level. Not saying that usage will continue and that he'll never pull it out more, but it's something to keep an eye out for as the season progresses.
In the end, you have to love what you're seeing from the 23-year-old. Coming off a dismal year with a lot of concern, it's nice to resort to nit-picking rather than scratching our heads looking for a solution to the problem.
Fastball command is back and dirtier than ever, his slider is working, as usual, the changeup is in his back pocket ready to be employed more consistently and the kid is building a ton of confidence. If Luis Severino continues to mature and improve, the sky is the limit.