As one of baseball's biggest early surprises, the New York Yankees will face their most meaningful test to date when they kick off a three-game set at Fenway Park.
Despite dropping two out of three in a weekend series at PNC Park, the New York Yankees stroll into Boston as one of major league baseball's most pleasant surprises.
Sitting at 11-7, winners of 10 of their last 13, the Bronx Bombers are back.
Backed by starting pitching which has largely over-performed in the early going, the Yankees are taking full advantage of their opportunities. The lineup, top to bottom, ranks among the best in baseball.
---
---
New York ranks fourth in the league in runs scored and home runs, fifth in batting average and on-base percentage, third in slugging percentage, and second in offensive WAR.
Whether it be the early season outbursts of veterans such as Chase Headley and Jacoby Ellsbury, hot streaks from the likes of Starlin Castro, Ronald Torreyes and Austin Romine, or the intoxicating power — and newfound results — from rookie Aaron Judge, the Yankees are finding ways to win ballgames — with new contributors taking forefront every single night.
While the success has been a great story, the team has yet to face a true test in either the American or National League. Thus far, New York's early campaign has featured two matchups with the pedestrian Tampa Bay Rays, one series with the flawed Baltimore Orioles, three-game sets with the reeling St. Louis Cardinals and Chicago White Sox, and a weekend series with a below average Pittsburgh Pirates team.
When it comes to the strength of schedule, the most important fact is that the starting staff, which ranks fifth in the league in K/9 (9.06), has not faced a semi-formidable lineup — perhaps with the exception of Baltimore.
That ends this week.
---
---
These 2017 Yankees will either excel or get torn apart; prove shatterproof or provide transparency as to their mediocrity.
An 11-8 Boston team, which features arguably the most stacked lineup in baseball, will test the strength of a team that has reigned supreme without Gary Sanchez, Didi Gregorius, and productive versions of Greg Bird and Brett Gardner.
Here is everything you need to know as a rivalry is potentially renewed on one of baseball's hallowed grounds:
Game times:
Tuesday, April 25 – 7:10 pm EST – YES, NESN, MLB Network
Wednesday, April 26 – 7:10 pm EST – YES, NESN, ESPN
Thursday, April 27 – 7:10 pm EST – YES, NESN, MLB Network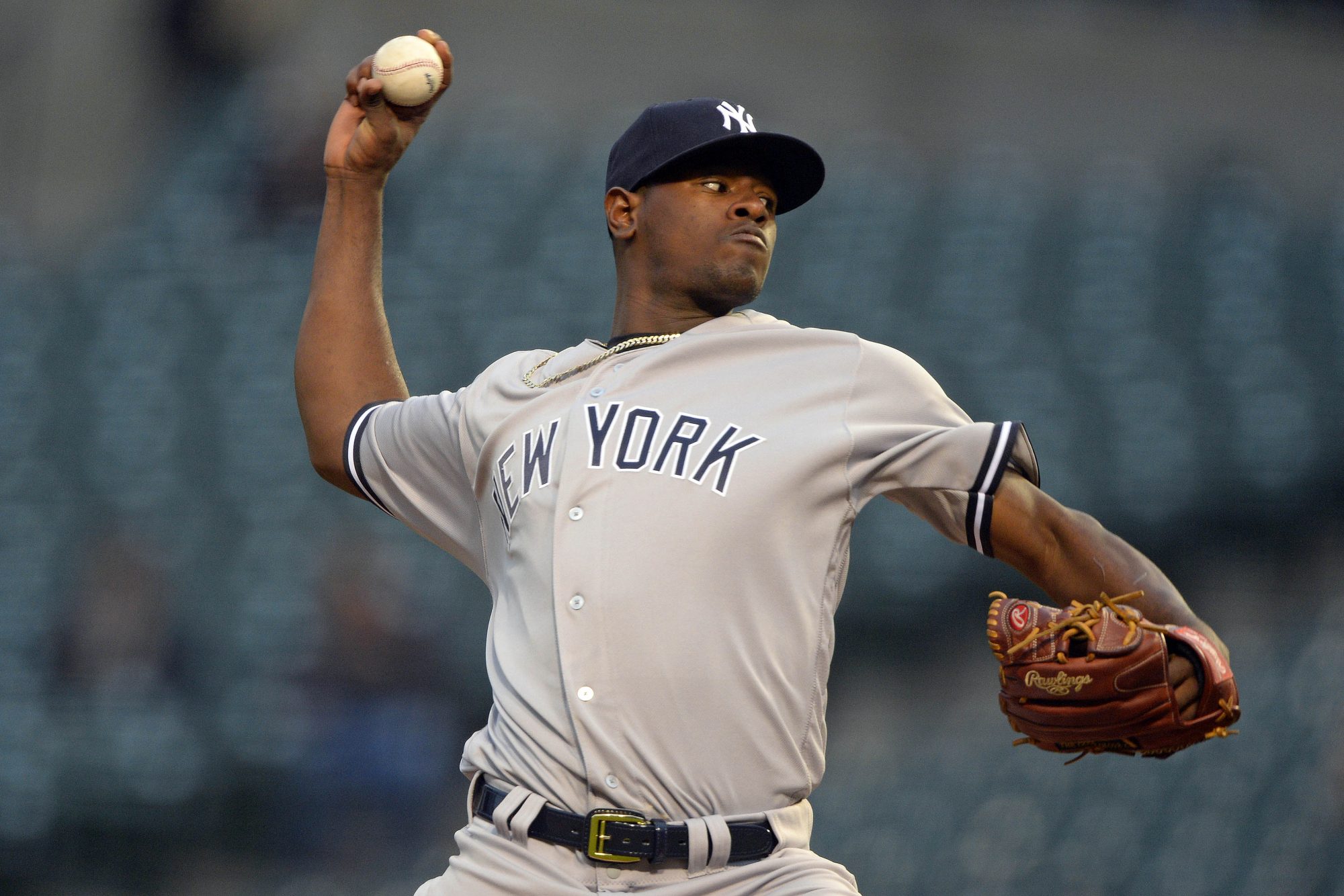 Pitching Matchups:
Series Opener: Luis Severino (1-1, 4.05 ERA) vs. Rick Porcello (1-2, 5.32 ERA)
For the Yankees, the word "test" goes beyond the overall unit. Every fan has been awaiting this start for Luis Severino, the team's 23-year-old flamethrower who is desperately trying to prove his status as a mainstay in the starting rotation.
---
---
Coming off two consecutive 10-plus strikeout performances against the Rays and White Sox, both which featured a dominant slider and stifling fastball, now is his time to take it to a real big league lineup.
As for the Red Sox, they will counter with reigning AL Cy Young Rick Porcello, who has not gotten off to the start he, or the team, anticipated.
A clunker against Tampa Bay on April 14 severely hurt his overall line, but he is coming off his most promising start in Toronto, although he came away with a tough-luck loss.
Middle Game:
Masahiro Tanaka (2-1, 6.00 ERA) vs Chris Sale (1-1, 0.91 ERA)
Talk about a battle of aces.
After a rough start to his season, Tanaka is trying to follow up his best start with his first masterpiece of 2017. 
With that said, nothing is a guarantee for the 28-year-old, who has seen mixed results in 10 career starts against the Red Sox. Despite sporting a 5-2 record with one complete game, his 4.05 ERA demonstrates a tendency to get knocked around just a bit by the arch rivals. His career ERA at Fenway Park is a less satisfying 4.34.
On the other hand, Sale, who was acquired by the Red Sox in the most significant move of the offseason, leaves little to no doubt.
So far this season, the lefty slinger has been absolute dynamite and is coming off his best start at Toronto where he whiffed 13 Blue Jays in eight, four-hit, shutout frames.
His career numbers against the Yankees are shockingly comparable to the breathtaking numbers in the early 2017 campaign.
In 10 career appearances against New York, the southpaw is 4-1 with a 1.17 ERA and a 0.82 WHIP.
Series Finale:
CC Sabathia (2-1, 2.70 ERA) vs. Drew Pomeranz (1-1, 4.60 ERA)
The final game of the three-game set will feature a battle of veteran lefties, with one having nine more years of service time.
Nevertheless, they both have a sense of how to hone their respective crafts, paint corners and induce the soft contact which keeps them out of trouble.
Sabathia, after three magnificent starts to begin his campaign, did not have his 'A' stuff on Friday night in Pittsburgh. Even under those dire circumstances, he kept the Yanks in the game and gave them a chance to win.
The 36-year-old is an even 13-13 in his career against the Red Sox and will look to eclipse the .500 threshold on Thursday night. He has had his struggles at Fenway Park, pitching to a 5.25 ERA and 1.60 WHIP in 16 career starts at a notoriously hitter-friendly ballpark.
---
---
Pomeranz, the 2016 midseason acquisition from the San Diego Padres, is still looking to find his form in the American League and make a name for himself in Beantown.
He took a step forward last time out, surrendering only two earned runs in 5.1 solid innings at Baltimore.
When he faced New York in San Diego last year, he dominated them, firing seven innings of masterful one-run ball. In late September, however, he faced them at Fenway Park as a member of the Red Sox and permitted seven hits and four earned runs over 3.2 subpar frames.
One thing is for sure: one version of Pomeranz will show up.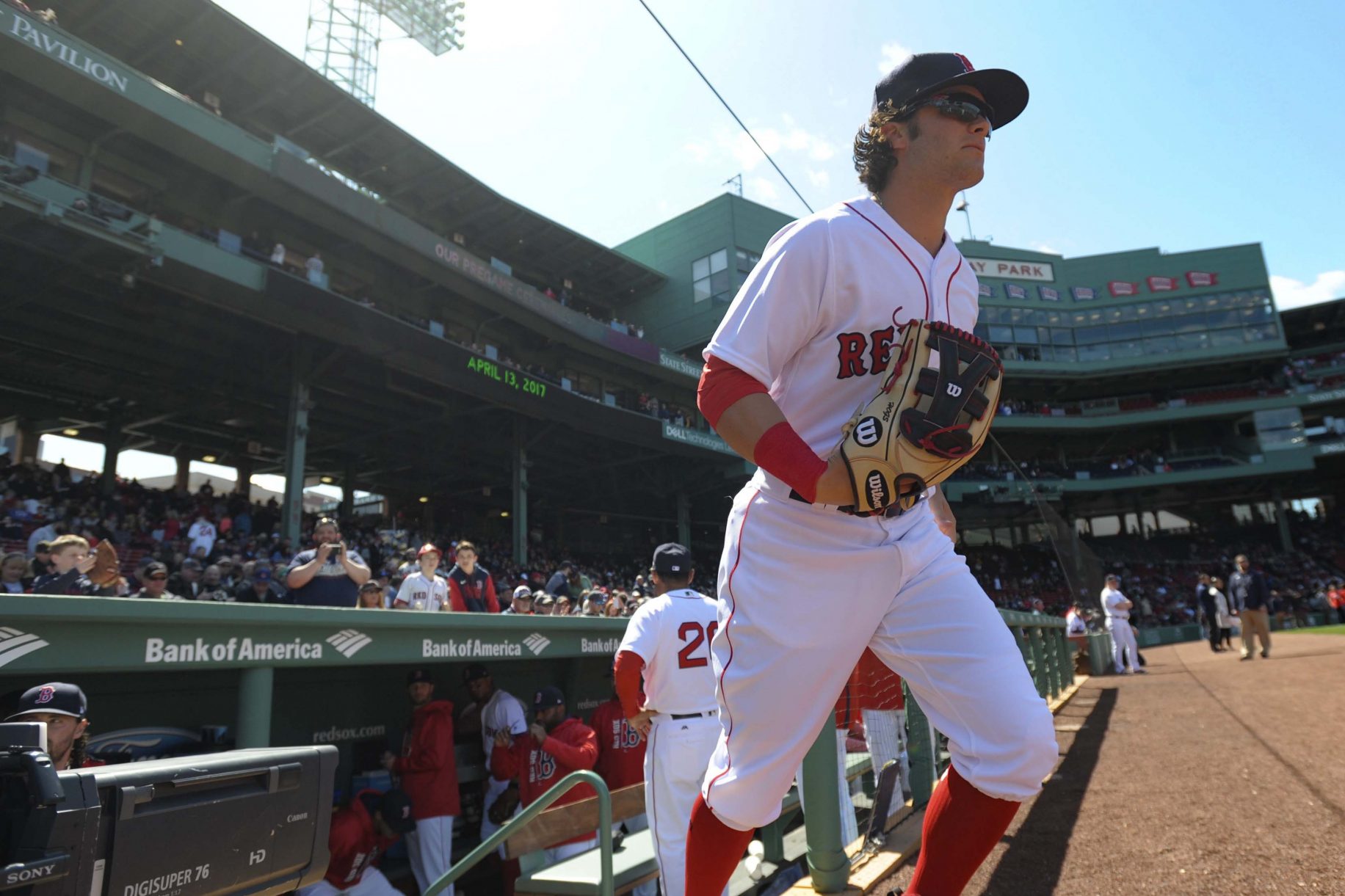 Players To Watch:
Aaron Judge – NYY
Aaron Judge has taken the league and fanbase by storm with his unbelievable power, which has now translated into true results.
The 24-year-old monster is currently batting .279 with six homers and 13 runs batted in.
---
---
At this rate, he would blast 54 long balls and drive in 117 runs in his rookie season. Not too shabby.
All kidding aside, it will be quite interesting to see what the youngster does in his first ever trip to Fenway Park.
With that Green Monster standing only 310 feet away in left field, the 6-foot-7, 282-pound freak of nature could be having all sorts of fun this week.
Andrew Benintendi – BOS
If Judge continues at this clip, only one man will stand in his way for the AL Rookie of the Year: Andrew Benintendi.
The 22-year-old has proven he is the real deal, batting .347 with 11 RBIs while receiving everyday reps in left field. Showing poise and plate discipline, he has only struck out 10 times in 18 games.
He only saw the Yankees eight times last year, collecting eight hits in 28 at-bats with two runs batted in.
This rivalry certainly has an exciting future, so it would be fitting for two young centerpieces to play a tremendous role in the opening series of the new — post-Alex Rodriguez and David Ortiz — chapter.
---
Stay tuned to ESNY for in-game updates as well as extensive postgame coverage after each and every game this series.