ESNY's 2017 Stanley Cup Playoffs first round Preview breaks it down. Is this finally the year for Alex Ovechkin?
The 2017 Stanley Cup Playoffs kick off Wednesday night and it shouldn't disappoint. With tons of incredible storylines, let's take a look at all of the first round matchups the NHL has to offer:
Eastern Conference:
Washington Capitals Vs. Toronto Maple Leafs: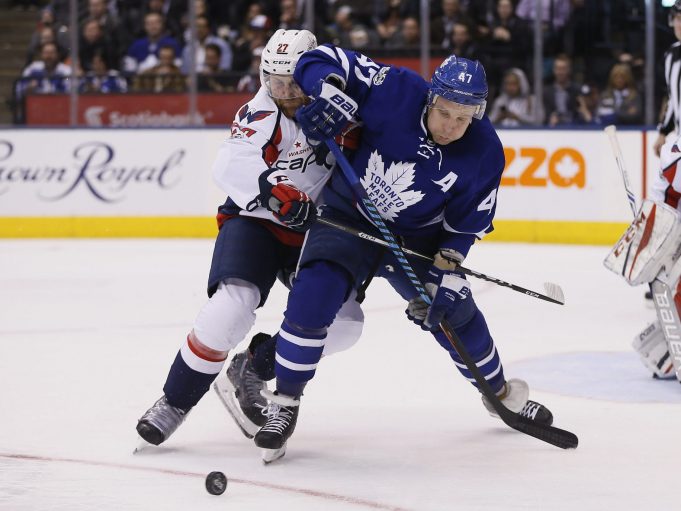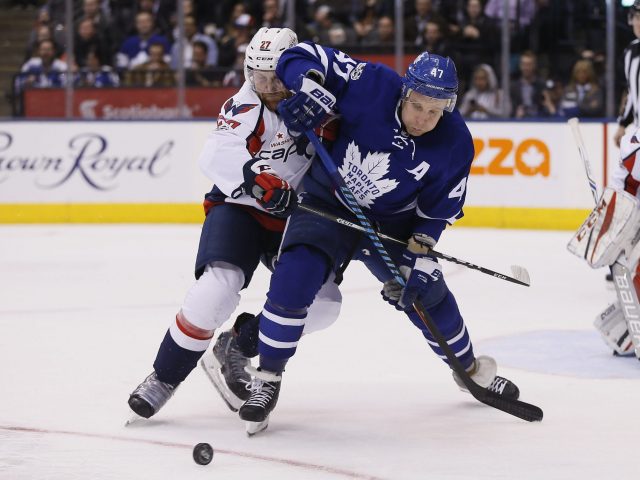 After an unprecedented turnaround, Mike Babcock's squad is in the playoffs and are looking to shock the NHL. This squad has absolutely no pressure on them and is looking to beat Washington through hustle and stamina as Toronto's roster is the youngest in the playoffs.
For Toronto, the future is the present. After finishing with a league-low 69 points last season, Toronto finished the 2016-17 season with 95. Toronto's success has come from their rookies this season, especially Mitch Marner, William Nylander and first-round pick Auston Matthews, who finished the regular season with 40 goals and 69 points. The incredible thing about this team is that their offense has been as consistent as any, averaging 3.06 goals per game in the regular season.
Although Toronto is one of the more exciting teams to watch in hockey, the Washington Capitals are loaded. GM Brian MacLellan was able to pick up Kevin Shattenkirk at the deadline and this team hasn't looked back since.
Washington finished their 2016-17 campaign with a ridiculous 55-19-8 record, the leagues best record. The Caps and are looking to put their playoff woes behind them, and finally claim lord Stanley with their prized Captain, Alexander Ovechkin.
If it isn't obvious enough already, Alexander Ovechkin is clearly dying for a Stanley Cup, and will put his heart and soul into Washington's 2017 playoff run.
This should be an exciting series, and it all begins on Thursday night.
Columbus Blue Jackets Vs. Pittsburgh Penguins: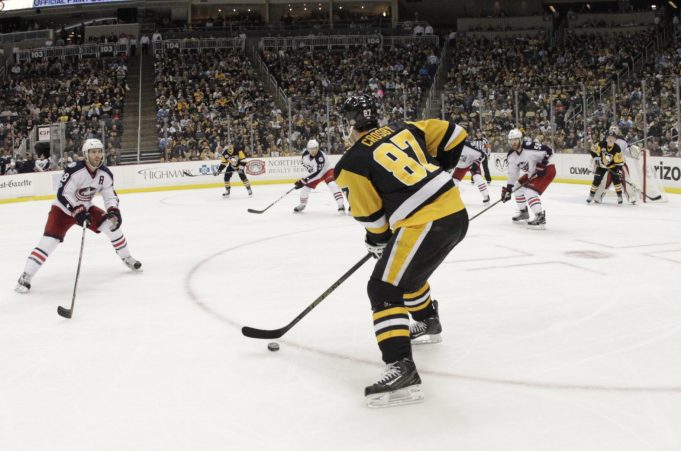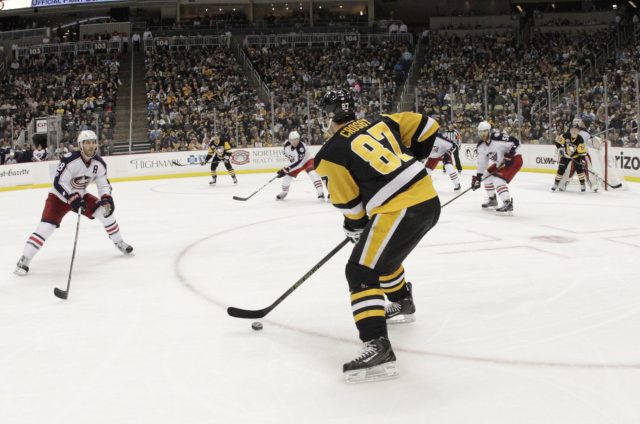 Two words, John Tortorella. The Columbus Blue Jackets find themselves in the postseason for the third time in their existence. Unfortunately, late season woes have resulted in a first round tilt with the defending Stanley Cup Champions, Pittsburgh Penguins.
Columbus played Pittsburgh in the 2014 postseason and lost 4-2 in the first round. This season, the Blue Jackets finished with a record of 50-24-8, and absolutely no one saw that coming. Columbus, who tallied just 76 points in their 2015-16 campaign, were able to finish with 108 this season, and are hoping that they can continue shocking the league come playoff time.
If you would have asked Columbus how they felt about playing Pittsburgh a couple weeks ago, they probably wouldn't have been too excited about that idea. Fortunately for the Jackets, Pittsburgh's bonafide No. 1 defenseman Kris Letang injured his neck, and will miss the entirety of the playoffs.
Letang was a major reason why the Pens were able to win it all last season, and was an important piece of Pittsburgh's success this season, as they tallied the second most points in the NHL with 111.
Who knows what kind of impact this injury will have on this series. We will just have to wait and see how things play out in game one on Wednesday night.
New York Rangers Vs. Montreal Canadiens: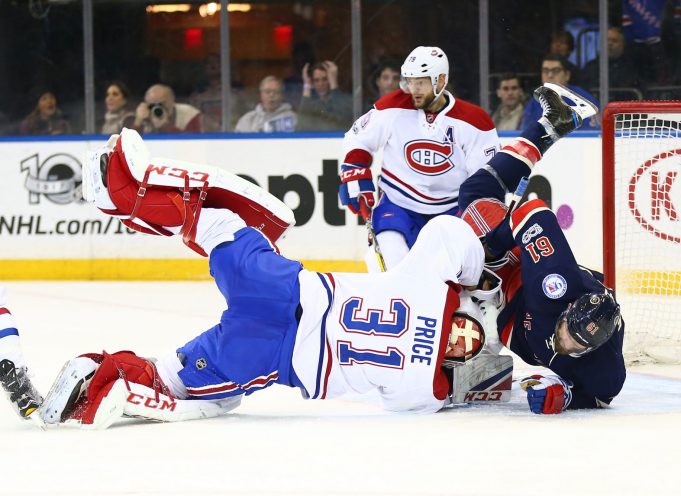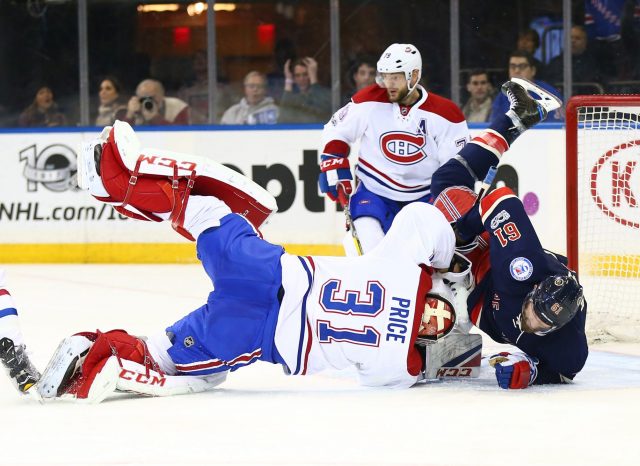 A picture perfect matchup between two squads that absolutely despise each other. After the Canadians captured the Atlantic Division, and New York secured the first wild card spot not too long ago, the two Original Six enemies will square off.
After Montreal fired Michel Therrien in the Middle of February, they hired Claude Julien, who has done an adequate job behind the bench.
Both squads had solid 2016-17 campaigns, winning at least 47 games, and having winning records on both home-ice and on the road.
If you were wondering, the last time two Original Six teams met in the postseason was in 2014 and that is when the New York Rangers took down the Montreal Canadians in the Eastern Conference Finals.
Both of these teams have outstanding goalies. Montreal, who boasts Carey Price, and New York, who boasts King Hendrik Lundqvist.
These two squads have met three times this season, and Montreal has won all three of their tilts.
Chris Kreider ended Carey Price's season in game 1 of that 2014 series. Expect the Canadians to seek revenge, and be as hungry as anyone starting Wednesday night.
Ottawa Senators Vs. Boston Bruins:
When you look at this series on paper, you would probably favor Boston considering how banged up Ottawa is. But let me tell you something: Ottawa has won 4-4 times against the Bruins this season, and have overcome so much adversity this season to get where they currently are.
Aside from their recent injuries, Guy Boucher took an Ottawa team that saw Clarke MacArthur miss virtually the entire season with injuries and Craig Anderson miss time during his wife's treatment to the 2017 playoffs.
This squad plays with heart night in and night out, and Mike Hoffman has taken a leadership role that has filled the gap that many of their injured stars left.
Ottawa and Boston will play each other in the postseason for the first time ever. Neither team made the playoffs last season and are as motivated to win as ever.
The Bruins fired Claude Julien earlier in the year, and their new coach, Bruce Cassidy, has kept this team's head above water.
Brad Marchand, who is having an outstanding year, will look to carry the load with long-time teammates Patrice Bergeron, David Krejci, and Zdeno Chara.
Both of these teams finished with 44 wins, and one spot away from each other in the standings. This should be a fun series, and luckily for NHL fans, it starts tomorrow night.
Western Conference:
Chicago Blackhawks Vs. Nashville Predators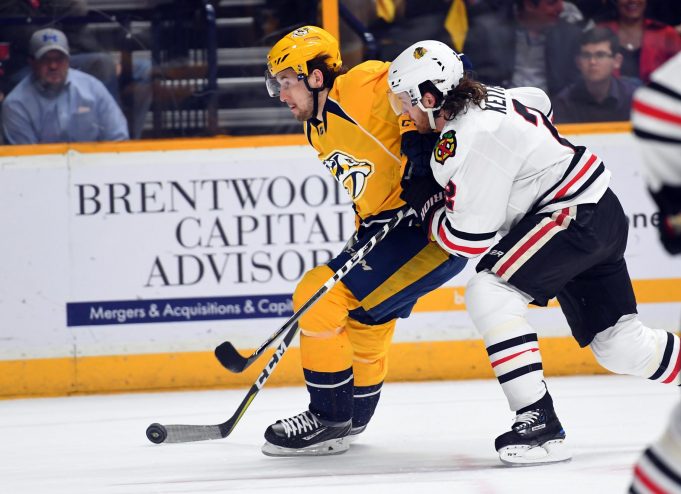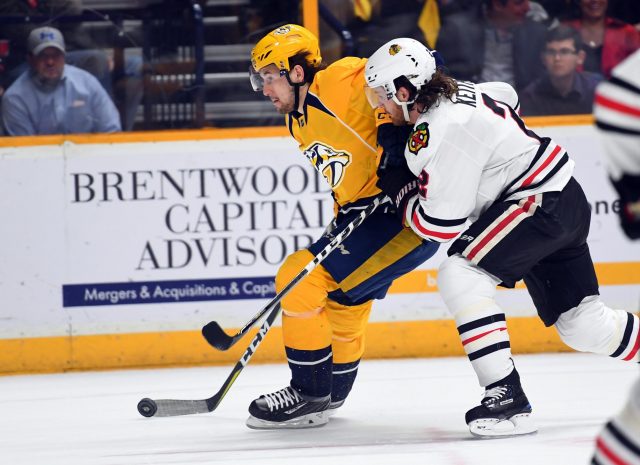 For the third time in the last seven years, the Nashville Predators and the Chicago Blackhawks will square off in the playoffs.
Over these past seven years, the Blackhawks have become the face of the NHL, winning several times with Jonathan Toews and Patrick Kane.
After another magnificent season, Chicago will carry 109 points in to the playoffs, and their fans are expecting them to make yet another cup run. After losing to the Blues in round one last season, Joel Quenneville's squad is as hungry as ever, and that should show right out of the gates.
Chicago hasn't lost to Nashville in a playoff series ever, and are looking to do everything in their power to prevent this matchup from becoming the streak-ender.
While Nashville was far less productive than most expected this season, their home record was magnificent. Nashville went 24-9-8 at home this year, but posted the worst road record of any team in the playoffs.
P.K. Subban is as electrifying as any player in the league, and should help motivate Nashville to pick it up on the road, as they will need it.
Minnesota Wild vs. St. Louis Blues: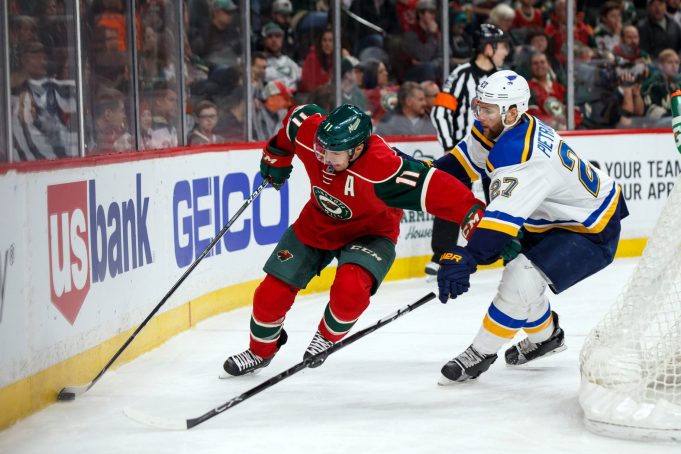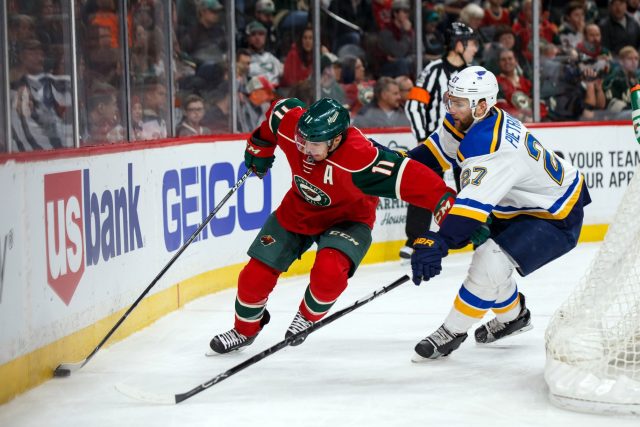 Mike Yeo, who had coached the Minnesota Wild for five consecutive seasons was let go last February. Fortunately, he was soon hired by the St. Louis Blues, and after a year waiting, became the head bench-boss after Ken Hitchcock was fired early on in February.
St. Louis was one of the least productive squads during Hitchcock's last days as the coach, but quickly turned things around upon Yeo's arrival. Thanks to strong play from Jake Allen, and consistency up front, the Blues turned what was shaping out to be a lost season, into a 46-win one, and St. Louis finished just one point shy of 100 on the season.
Capturing third place in the Central Division is quite the accomplishment, when you realize that the two teams ahead of you are Chicago, and first-round opponent Minnesota, arguably the two best teams in hockey.
Under first-year bench boss Bruce Boudreau, the Minnesota Wild were able to win 49 games, tally 106 points, and finish with the second highest record in the Western Conference.
After a miraculous first half, the Wild were slipping a bit. Losing some games that they should have been winning, it was appearing as if this team was peaking.
However, the Wild were able to finish their 2016-17 regular season on a four-game winning streak, and will enter the playoffs as one of the hotter teams in hockey.
Anaheim Ducks Vs. Calgary Flames: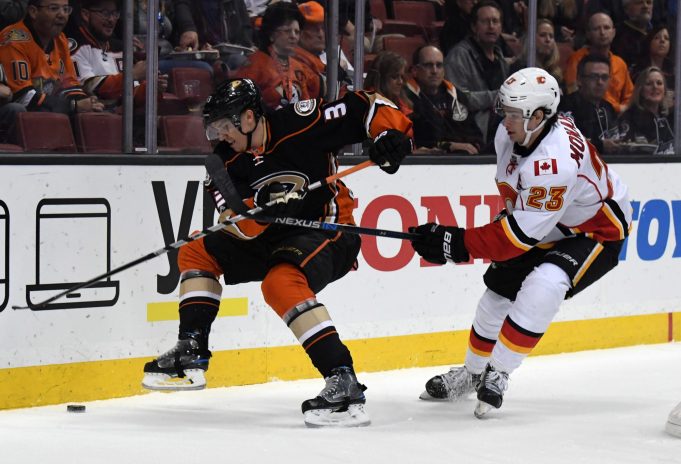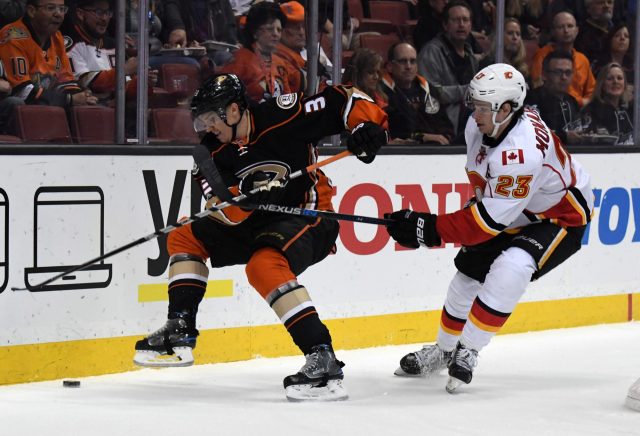 There is nothing like two Western Pacific Rivals going at it. After capturing the top seed in the Pacific Division, the Ducks will play Calgary in round one.
The two teams have played five times this year, and Anaheim has won four of those tilts. These two squads have seen each other in the playoffs. The Ducks took down Calgary 4-1 in the second round of the 2015 playoffs.
After losing to Nashville in round one last season, the Ducks fired Bruce Boudreau, and hired the ever so familiar Randy Carlyle, the guy who led Anaheim to their Stanley Cup Win in 2007.
The Ducks had an incredible run in the second half of the season, and Ryan Kesler was a major reason why,  Scoring 22 goals, and tallying 36 assists.
The Ducks are one of the most experienced teams in the league, and are looking to repeat what they did ten years ago, win it all.
On the other hand, the Flames have shocked the league once again this year, making the playoffs with a ton of youngsters, an incredible veteran leader in Mark Giordano, and phenomenal goaltending from Brian Elliot.
New head coach Glen Gulutzan has been a huge reason why this team has won 45 games this season, and has been the motivation behind this squad's second half turnaround.
The Flames, who were able to capture a game in Anaheim for the first time in 11 year this season, will need to do that again if this series is going to be interesting.
Edmonton Oilers Vs. San Jose Sharks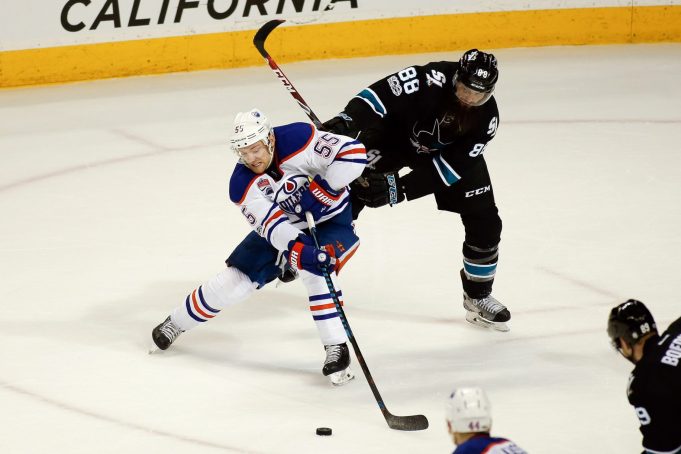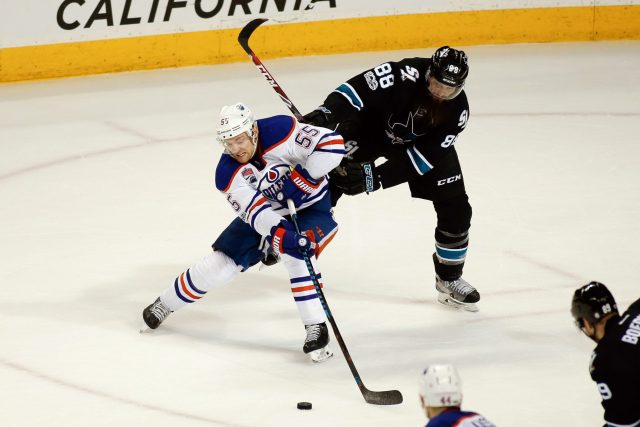 This is going to be fun. For the first time since 2006, Edmonton will participate in the playoffs, and their captain Connor McDavid is the reason why.
Edmonton's first year bench-boss Todd McLellan had been the coach of San Jose for seven consecutive seasons, and knows their squad inside out.
McDavid's leadership, along with Talbot's consistency in the crease has resulted in a 103 point campaign.
Talbot posted an absurd 42-22-8 record this season, and had a 2.39 Goals Against Average, pretty tremendous if you ask me.
The Oilers are entering the playoffs with an 8-2 record in their last ten games, and are looking to help their coach beat his former team.
However, things aren't as easy as they look. The Oilers are playing the defending Stanley Cup Finalist San Jose Sharks, who boast one of the most stacked lineups the NHL has to offer.
Superstar defenseman Brett Burns has done wonders this season for the Sharks, posting 29 goals, tallying 49 assists, and having a +/- of 19.
This San Jose squad finished with 99 points, but are as hungry as any team to make a deep run in the postseason.
Joe Thornton and Logan Couture both dealt with injuries towards the end of the regular season, and hopefully are able to play at 100% come playoff time.
This series should be as exciting as any, and I will be glued to the television throughout.