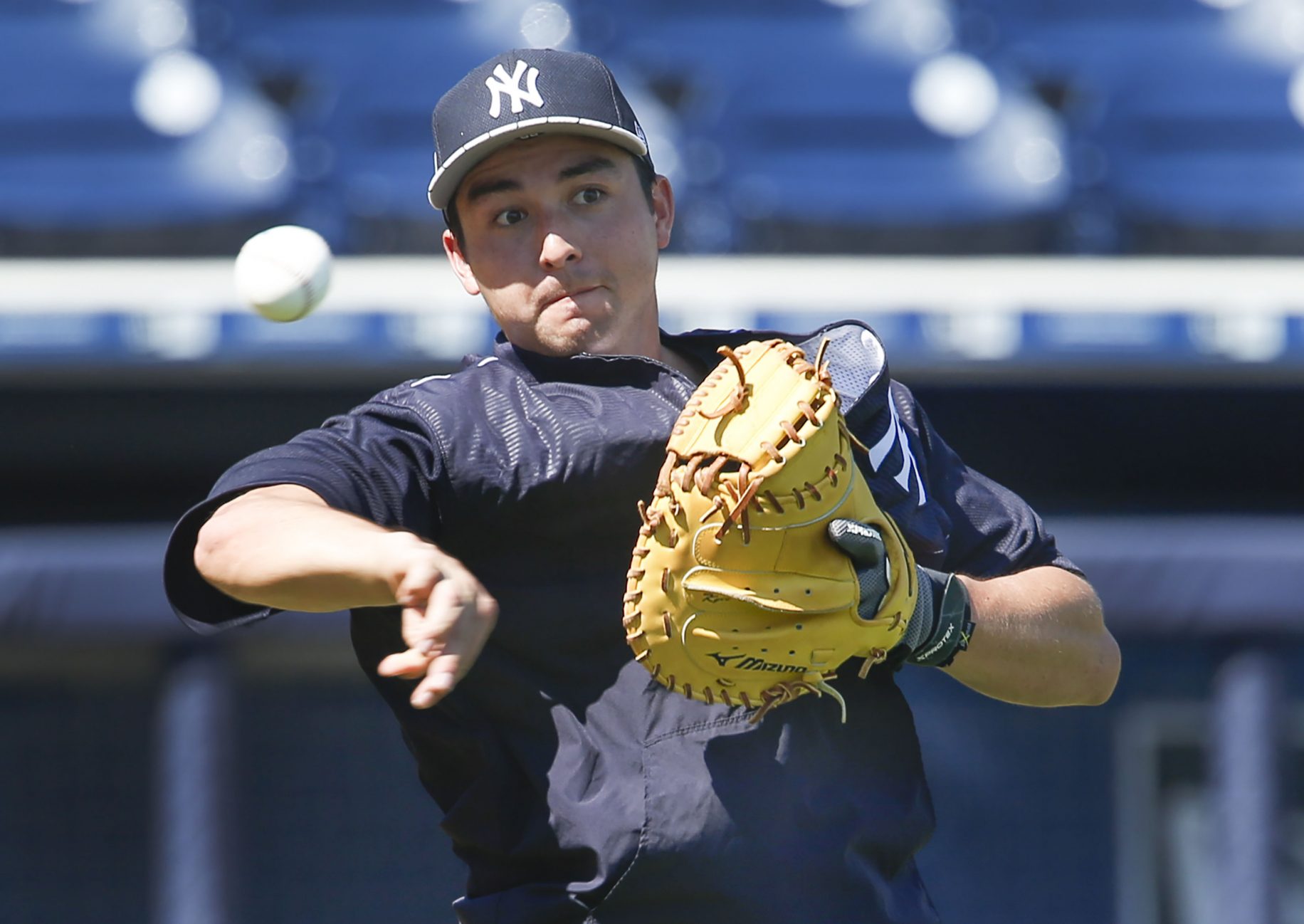 With Gary Sanchez set to miss considerable time, the New York Yankees should consider starting Kyle Higashioka over Austin Romine. 
O
n Monday, the
New York Yankees
got some bad news with their young phenom Gary Sanchez after an MRI revealed that he has a Grade 1 strain of the right brachialis muscle behind the biceps.
Manager Joe Girardi said he expects him to be back in the lineup in four weeks and, in the meantime, Austin Romine and rookie catcher Kyle Higashioka will split reps behind the dish until his return. Romine will presumably get the majority of the time there but, should he?
---
---
Romine, who was taken by New York in the 2nd round of the 2007 MLB June Amateur Draft, has gone from once top prospect to the ceiling of nothing more than an average backup catcher.
In 2016, he slashed .242/.269/.382 with four home runs and made just one error in 355.1 innings as catcher while mostly backing up Sanchez and Brian McCann. At face value, those numbers seem pretty solid for a backup catcher but among the 60 catchers who had 200 plate appearances or fewer last year, Romine finished 40th in offensive WAR (-0.1), 24th in defensive WAR (0.2) and 24th in OPS+ (71).
Plus, it's well known what the Yankees have with Romine. He's a mediocre backstop with a decent glove and a bat that's nothing to write home about. Nothing more than an average-to-mediocre backup catcher. With that said, seeing Girardi give everyday reps to a player who isn't in the future plans and won't be beneficial as a starter, let alone reserve player, would hurt the Yankees even more than they are without Sanchez's pop from both at the plate and behind it.
---
---
Why not give the starting nod to the player with the greater upside?
Higashioka has been in with the organization since 2008 and just last season promoted his performance to the point that his ability to succeed in the majors seems realistic.
He earned his spot on the 40-man roster prior to the Rule-5 Draft in 2016 following a regular season in which he slashed .276/.337/.511 with 21 home runs in 102 games between Double-A Trenton and Triple-A Scranton/Wilkes-Barre. In the Electric City, he hit 10 homers in 160 plate appearances — a 31 homer pace when proportioned to 500 PA.
---
---
Behind the plate, he's no liability and is even praised as a catcher with a stellar throwing arm. In his minor league career, Higashioka has caught 30.2 percent of the baserunners that have attempted to steal off him. In comparison, Sanchez's minor league rate was 34.9 percent and Romine's current major league rate sits at 21.7 percent.
https://www.youtube.com/watch?v=uBlHrv8oVsQ
The biggest reasoning, however, is perhaps how detrimental a bench role would be for Higgy's development.
As already mentioned, he has already missed a chunk of precious development time in 2013 when Tommy John surgery paid him a visit and a broken thumb three years ago didn't help either, as Higashioka was in the prime of his development stage.
Since both injuries, he's performed quite well (45 home runs over his last 195 minor league games, but having him ride the pine with occasional at-bats or starts until Sanchez returns isn't the prototypical situation for Higashioka.
---
---
Neither Romine nor Higashioka will replace Gary Sanchez, but in a year where assessing talent and finding out what you have in these young guys is crucial. Having a player with higher upside who has spent nearly a decade in the farm system sitting on the bench and absorbing the major league life frankly isn't enough.