The NFL and their teams need to get their priorities straight and Colin Kaepernick's case is the latest one to support that.
I
magine being branded with a scarlet "A" simply for standing up (or not standing, in this case) for what you believe in. Need an example? How about the last year for San Francisco 49ers quarterback
Colin Kaepernick
.
The 29-year-old had an unconventional rise to fame in the Bay Area, but his downfall came fast.
Kapernick kept his name in the headlines for his protests last season. By choosing to sit or kneel during the performance of the national anthem before games last season, Kaepernick apparently signed his own death certificate in the NFL.
"I am not going to stand up to show pride in a flag for a country that oppresses black people and people of color. To me, this is bigger than football and it would be selfish on my part to look the other way," Kaepernick told the media about his decision, as reported by NFL Media reporter Steve Wyche.
Kaepernick chose to opt out of his contract after the 2016 season and enter free agency. Right now, no one is biting. Nobody wants Colin Kaepernick as a starter or even a backup — not even the quarterback carousel Cleveland Browns.
How is that fair?
Maybe interest in Kaepernick isn't there because his stats have tanked in the past few years. Maybe it's because he is a player who is a little rough around the edges.
Or maybe it has nothing to do with football at all. Maybe it has everything to do with the fact that Kaepernick exercised his right to utilize his freedom of speech and shed light on an ongoing issue and people do not agree with his opinion.
Ding ding ding! We have a winner!
Were his actions right? Were they wrong? It's not our job to determine that. Our job, as fans and members of society, is to understand that people are entitled to opinions and beliefs, whether we agree or not.
You can't say it's about stats when the New Orleans Saints are looking at potentially bringing on Johnny Manziel as a backup. In 14 games in the NFL, Manziel boasts a 74.4 passer rating with seven touchdowns and seven interceptions. But he certainly deserves a second … no, a third chance at NFL greatness. Why? Because he has potential to be great.
I mean, let's just forget about the off-field stuff that define his character. The excessive partying, flipping the bird against the Washington Redskins — that sure beats a player who decided to speak out in regards to his political beliefs.
Do you see the ridiculous irony of the situation? Kaepernick keeps a good-guy persona off the field and still gets the shaft from the NFL. For a guy who has proven he can successfully manage a team in the past, teams would be lucky to have a quarterback like him at the helm.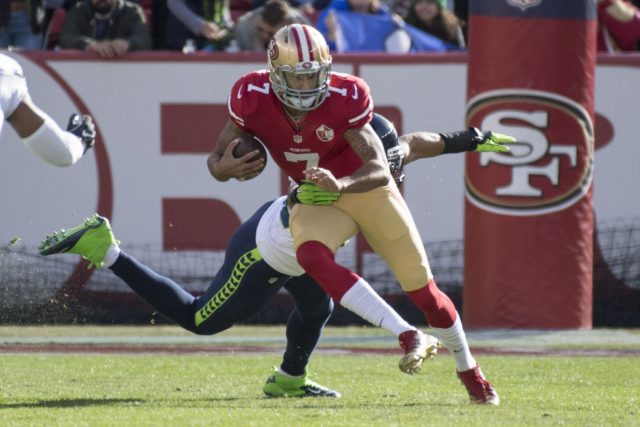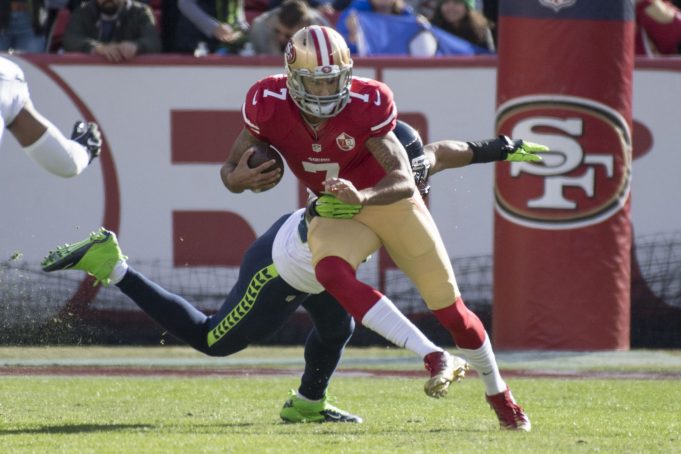 But this isn't the first time the NFL and teams have made questionable decisions regarding giving players second chances. Greg Hardy was accused of assault. 10 games later, he was back on the field, no questions asked. Ray Lewis was accused of murder. The next season, he won NFL Defensive Player of the Year.
So these guys get signed right away because they are good. The NFL prides its talent more than they do the character of these players. That has never been more true than right now, with Kaepernick still searching for a team to pick him up.
Kaep, who has donated money to Meals on Wheels, #LoveArmyForSomalia and worked with Camp Taylor for children, is out of a job. But all of these other athletes seem to deserve a second chance more than Kaepernick does.
Is it right? No. It's just the NFL.
Colin Kaepernick is only the first example, but there is sure to be many more players who might get stiffed despite exercising talent and good character on the field. Right now, the NFL and its teams need to get their priorities straight because this situation is a bad look for them in every way.