The NFL Draft: where kids 20 and older have their dreams come to fruition. After years of hard work and practice, hearing their name announced at the podium with a call coming from the team that drafted them shortly before is an unforgettable moment.
<dropcap>A</dropcap>nyone who knows the experience will tell you: getting drafted doesn't mean a thing. The number one pick and the last man brought into rookie camp as an undrafted free agent are all faced with their major uphill climb.
Even with all the scouting and evaluation put into the draft process, there are still those drafted late who become stars. Whether it's those who created their legacy already such as Tom Brady (Round 6, Pick 199), or those just getting started on building their brand like Jordan Howard (Round 5, Pick 150). The pick doesn't define you. What you do with the opportunity, does.
So who will be the steals of this year's draft? Who may be overlooked by scouts and teams alike that many teams will regret? Well, I'll start by saying there's no guarantees I'm right, but if I were to choose a group of guys, it would be this group here.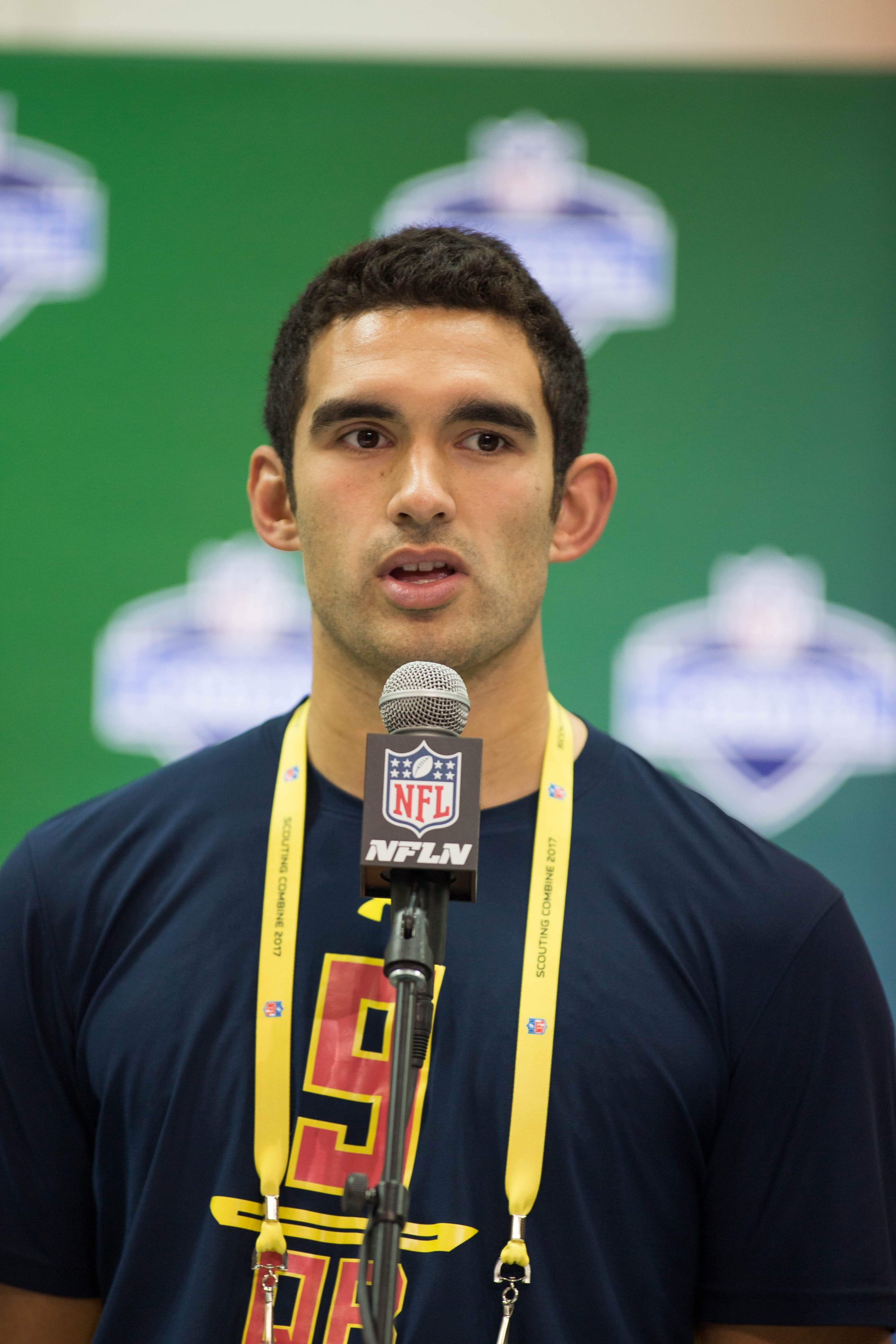 QB: Sefo Liufau, Colorado
Sefo had a pretty bad combine, but I'm not letting that deter my value on him. While he may not be great, I personally don't like many of the late round fliers at QB. Sefo is a tough QB (but gets injured a lot) who is willing to sit in the pocket and take the hit if it means giving his receivers enough time to get open. One thing that especially opened my eyes was his dominance in the Michigan film that no other QB had against Michigan that season. Liufau can push the ball downfield and has everything leadership wise you want in a QB. Consistency is key and if he can grab onto that he could be a gem for whoever gets him.
Comparison: Joe Flacco
Value: 5th-7th
HB: Brian Hill, Wyoming
Holy cow, after watching tapes, defenders just seem to bounce off of Hill's thighs. He ran a 4.54 which is nice, but has some concerns about his pass blocking after only 15 reps on bench press. At 6-foot-1 and 220 pounds, he has a power size but keeps low to get all he can out of runs. He's quick to make his decision and will truck forward to get you the most yardage possible on each carry. Whatever team grabs him has selected my pick for the rookie sleeper RB star and will love to have him.
Comparison: DeMarco Murray
Value: 3rd-5th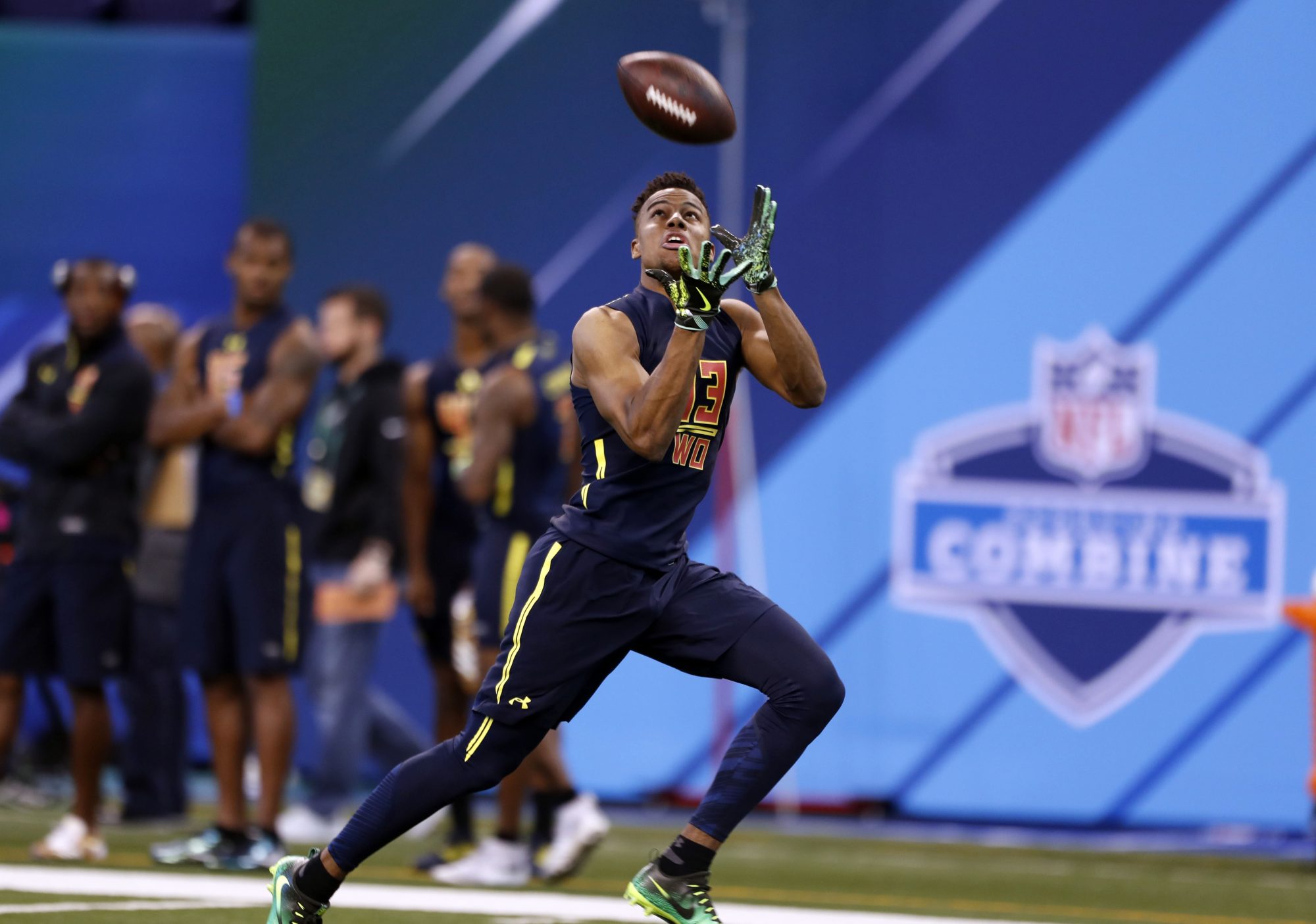 WR: Malachi Dupre, LSU
Give me the guy with 1st round hype that had no QB to let him show himself. Dupre is a very talented deep ball receiver with nice speed. At LSU he wasn't given the opportunity for much production due to a majority of plays going to Guice or Fournette, and also the fact that Etling/Harris weren't good QBs. He always seemed reliable when the ball was there for him and was willing to fight to make the grab. He got extra yardage and has a nice frame at 6-foot-2, 195 pounds. A small sample size may be worrisome, but it's not on him. If he goes somewhere where an opportunity is present, expect him to have a great rookie season.
Comparison: DeVante Parker
Value: 3rd-6th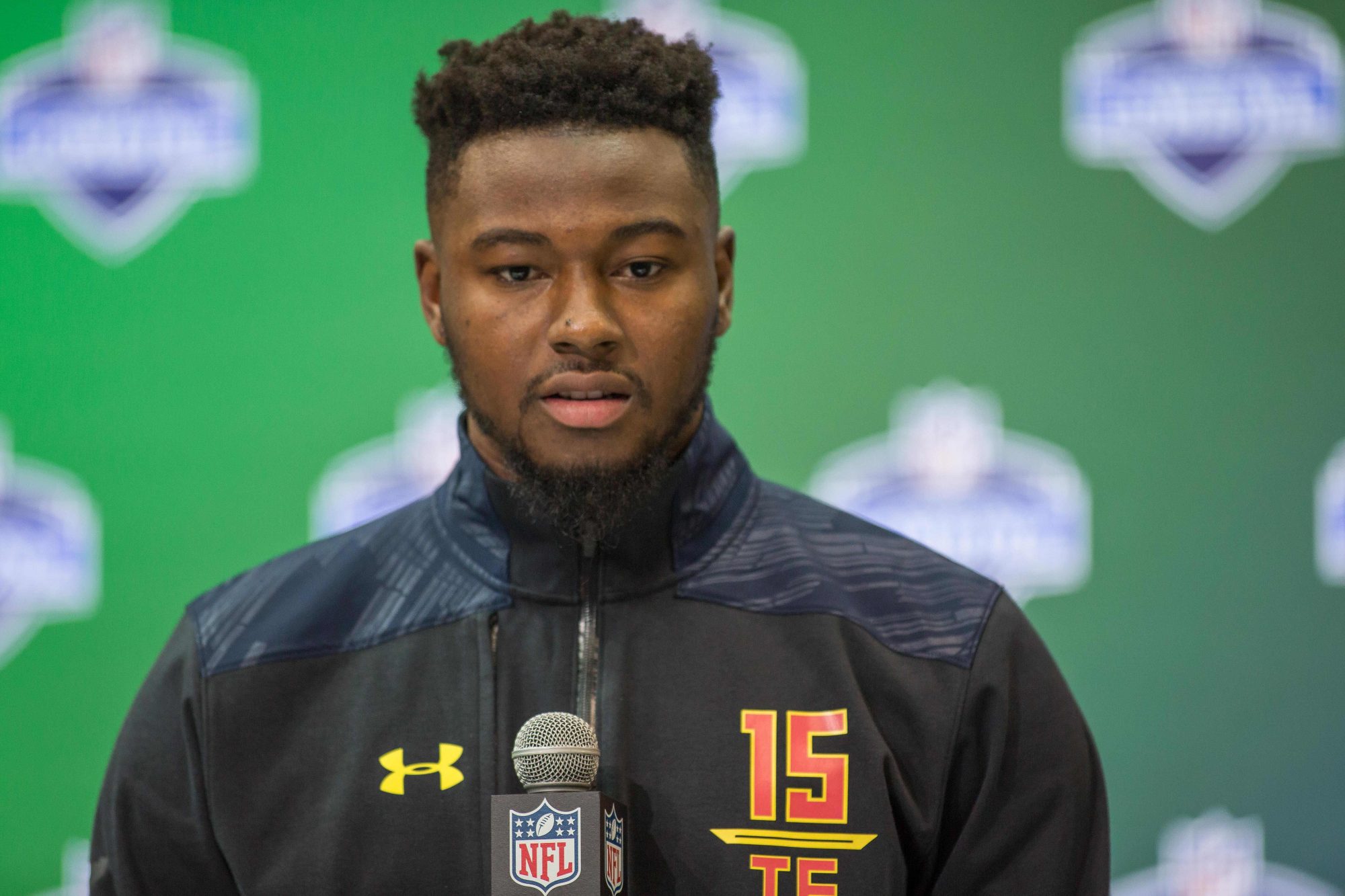 TE: Michael Roberts, Toledo
Michael Roberts is a great TE in my opinion. He can catch and has huge hands that make it easy for him (11 1/2 inches) and he shows good signs for his future as a blocker.
He just needs to focus in on it more.
His strength is going to go a long way for him in the NFL and he will be able to be a full time contributor for an NFL team. At Toledo he was 1st team all conference and had 45 receptions for 533 yards. When he comes into the NFL he is someone I will definitely be keeping an eye on and hope the best for.
Comparison: Martellus Bennett
Value: 4th-5th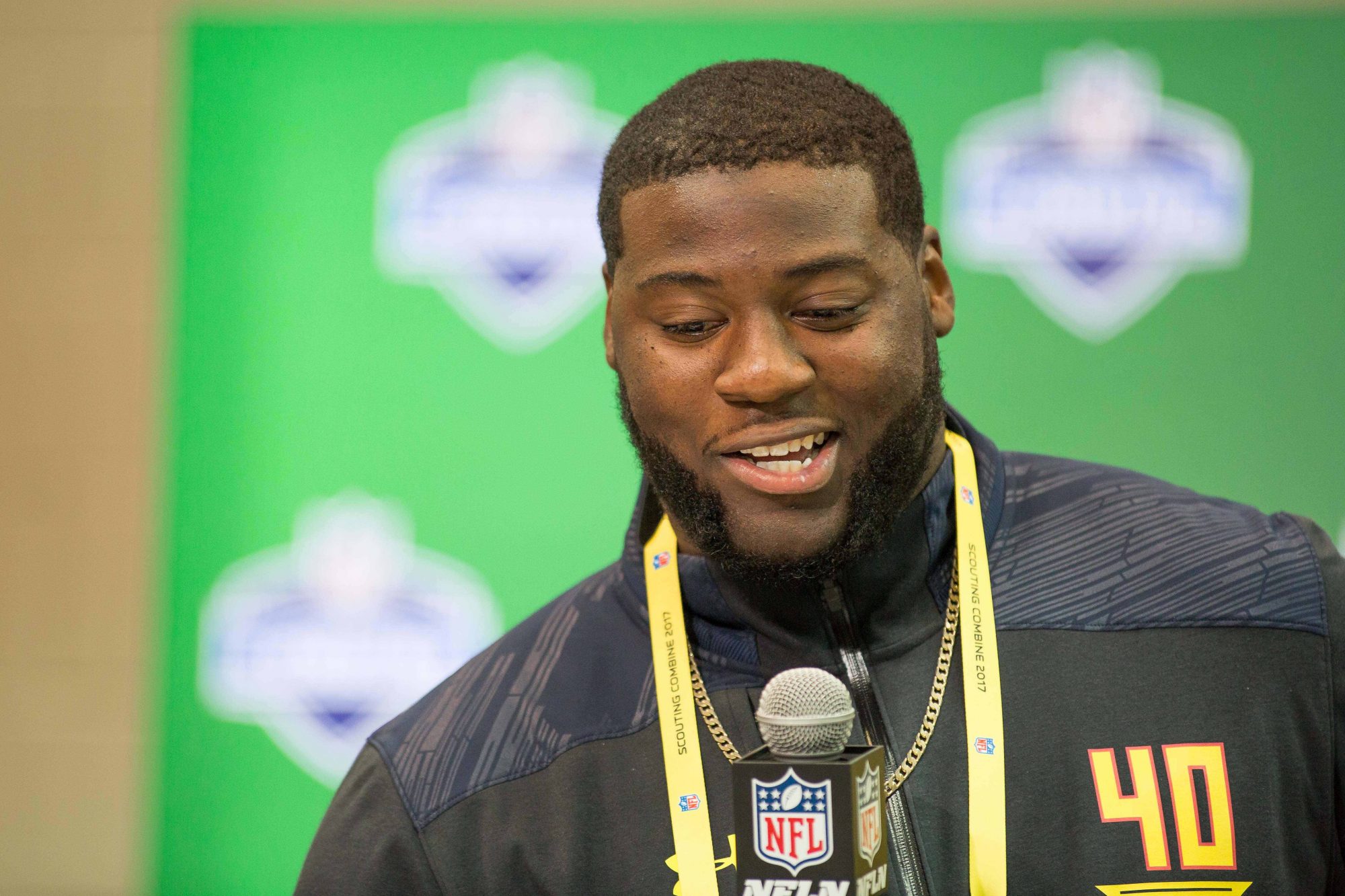 OT: David Sharpe, Florida
Sharpe is a good OT that impressed me with his ability to get first contact on a majority of blocks. Sharpe must work on his ability to keep the blocks going longer than first push, but that quickness has to be very enticing to many teams. In a weak OL class people will likely be looking deep at OT and Sharpe has massive potential to be a very reliable lineman. At 6-foot-6, 343 pounds, you won't have to worry about him being overmatched size wise like another OT I like (Erik Magnuson) but he does have issues with being stiff in terms of lower body. Despite the concerns, Sharpe has potential to be an extremely valuable piece for the future while also being able to provide some production early.
Comparison: Geoff Schwartz
Value: 3rd-4th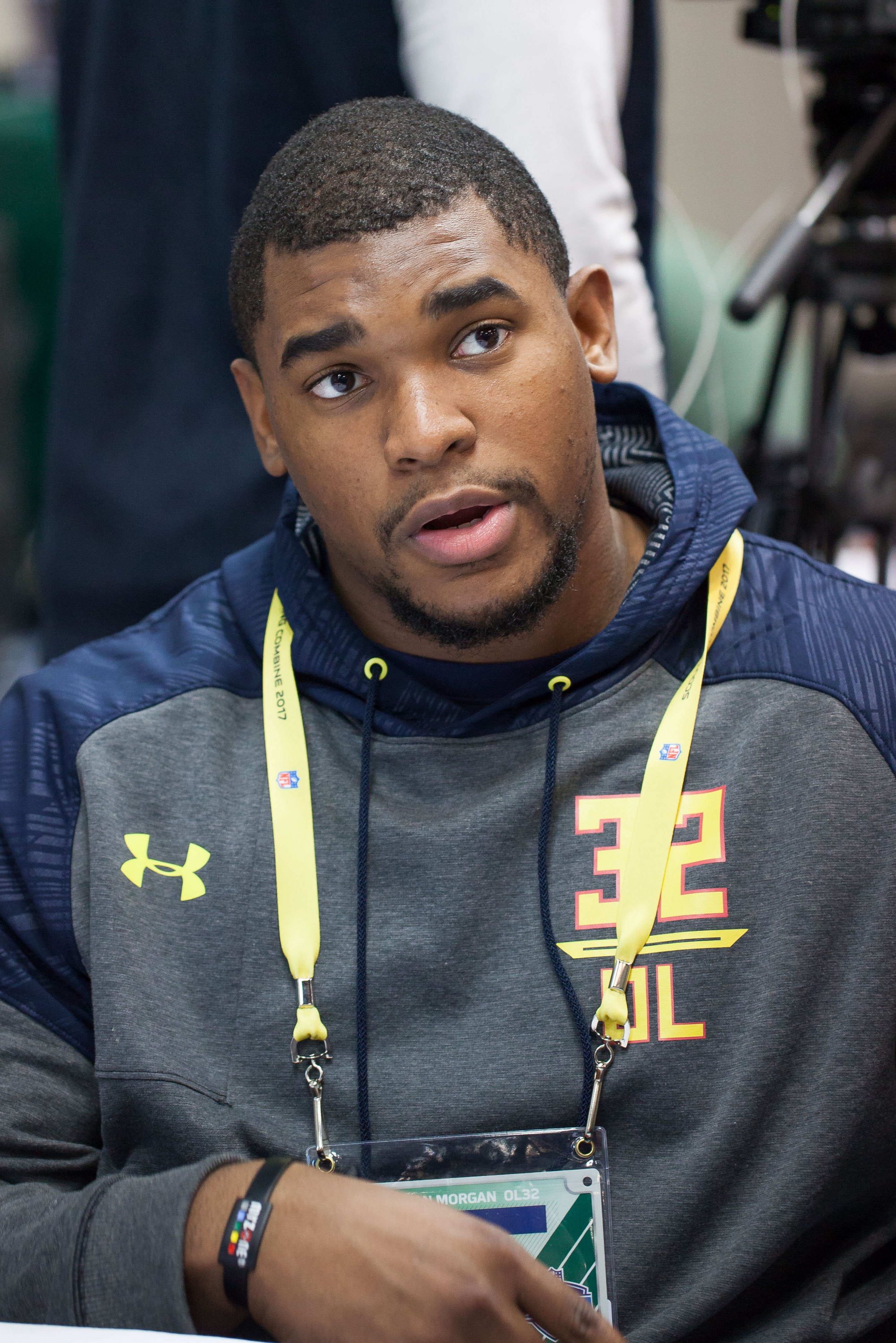 OG: Jordan Morgan, Kutztown
Great size with no major concerns and in this year's lineman class it seems like that's something you can't take for granted. Morgan is a Division II athlete which is a concern all in its own but there are some things film shows that won't change no matter what Division you play. He has very nice feet for a lineman and puts in high effort on every block. He delivers a nice punch to his matchup and if he can make the talent jump, Morgan could be a very valuable lineman for many years to whatever franchise grabs him.
Comparison: Joel Bitonio
Value: 4th-6th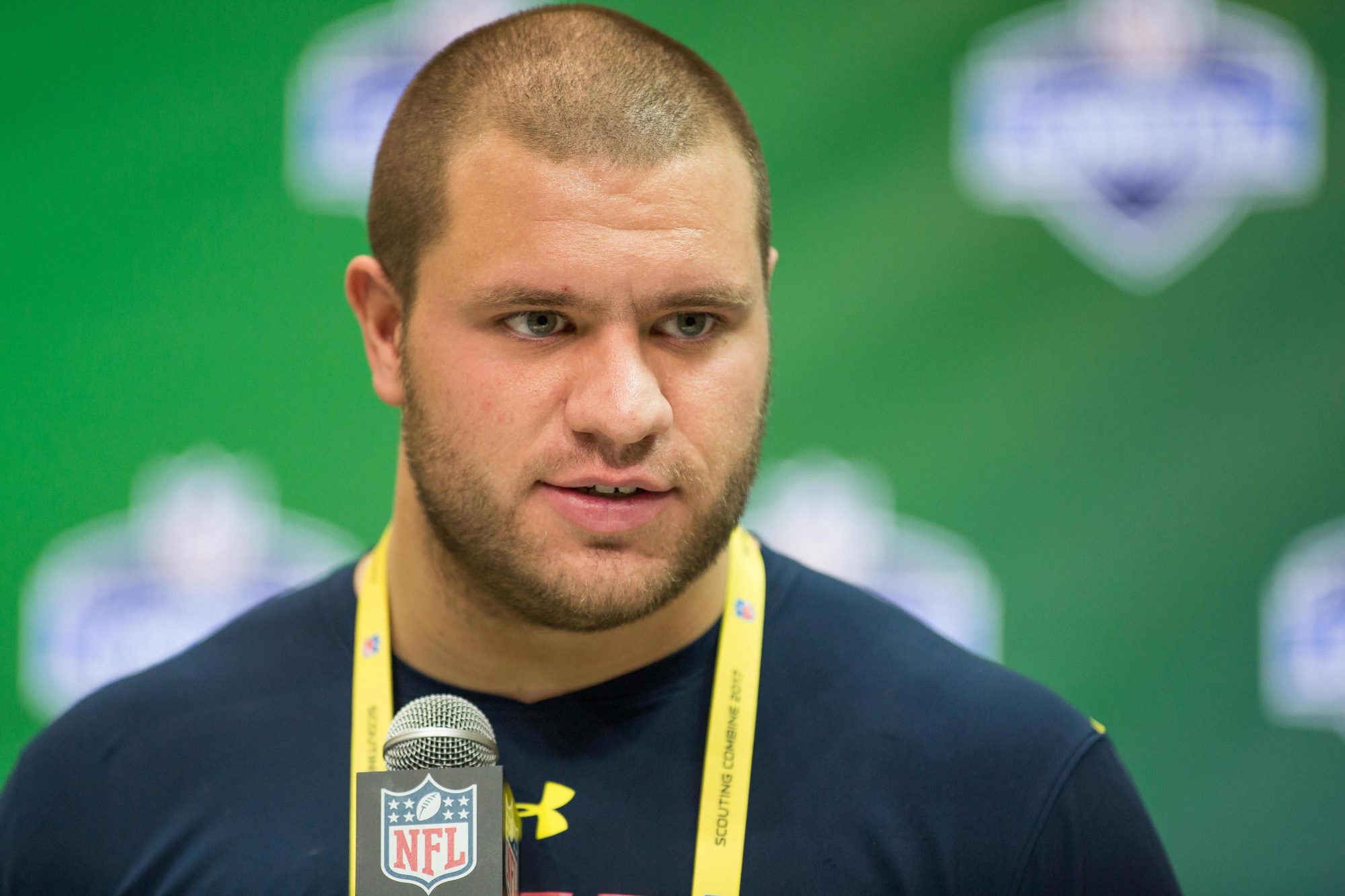 C: Tyler Orlosky, West Virginia
Orlosky is a versatile lineman which is enticing for most teams drafting interior lineman. He's never going to be overpowered by NFL lineman and if he does, it'll be rare. Great leader in addition to a three year captain at West Virginia with great punch and instant impact. With so little centers in the draft it's hard to pick a sleeper but Orvolsky should be a very high quality starter for quite some time.
Value: 4th-6th
Comparison: Corey Linsley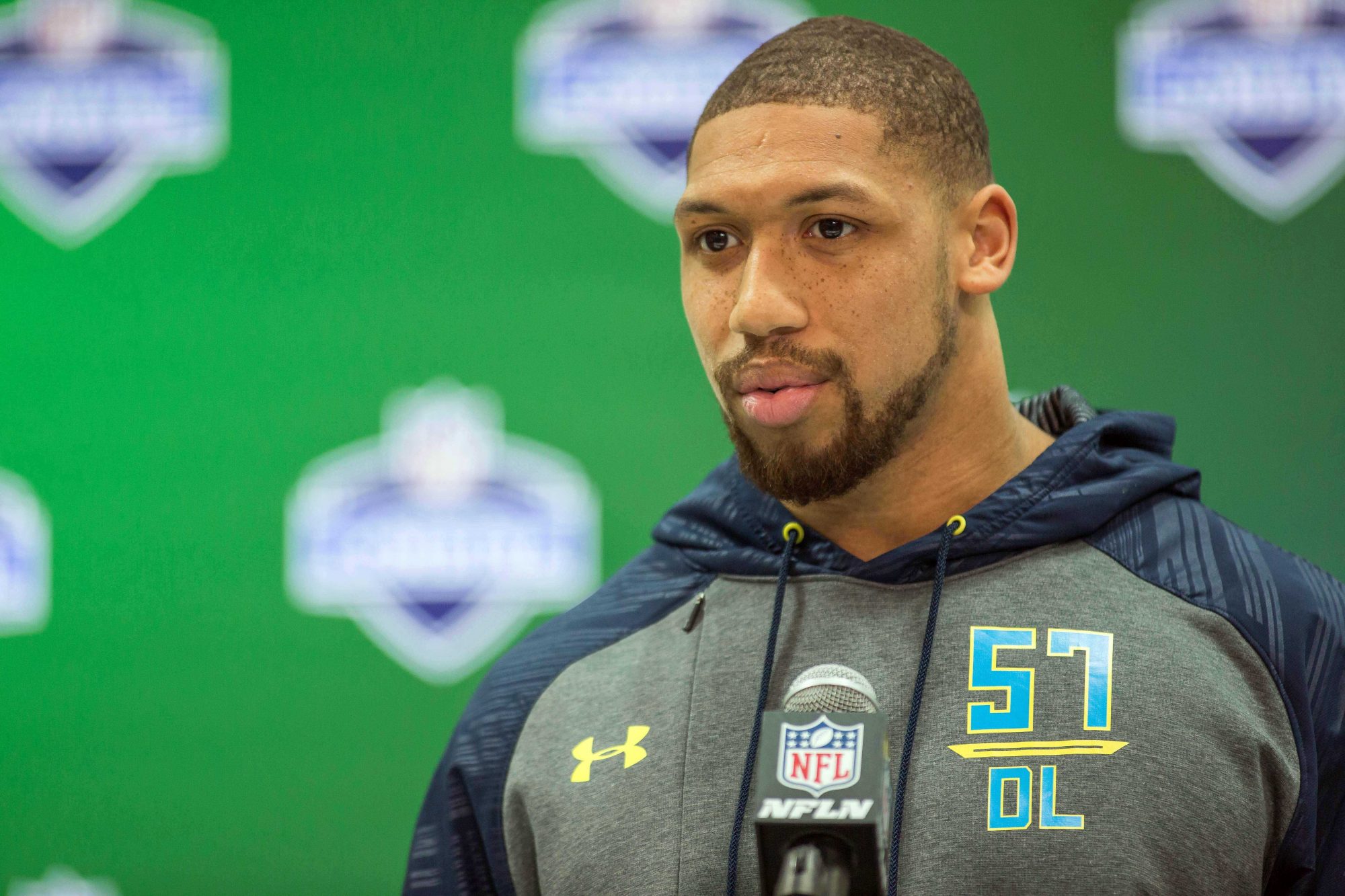 EDGE: Jordan Willis, Kansas State
This is probably my most questionable in terms of "sleeper". as recently he's come onto the surface and in my prediction, may be a 1st round pick. Willis is an excellent run stopper with high production at Kansas State. Snyder is a well respected coach and had nothing but praise for Willis and that goes a long way for me. With a nice frame of 6-foot-4, 255 pounds, Willis has great EDGE size and has taken advantage of showcases like the Senior Bowl and the NFL Combine to boost his stock. He needs to work on his ability to bend but he's got great build, effort, and hands to where he can make it work to be a very productive lineman.
Comparison: Tamba Hali
Value: 1st-3rd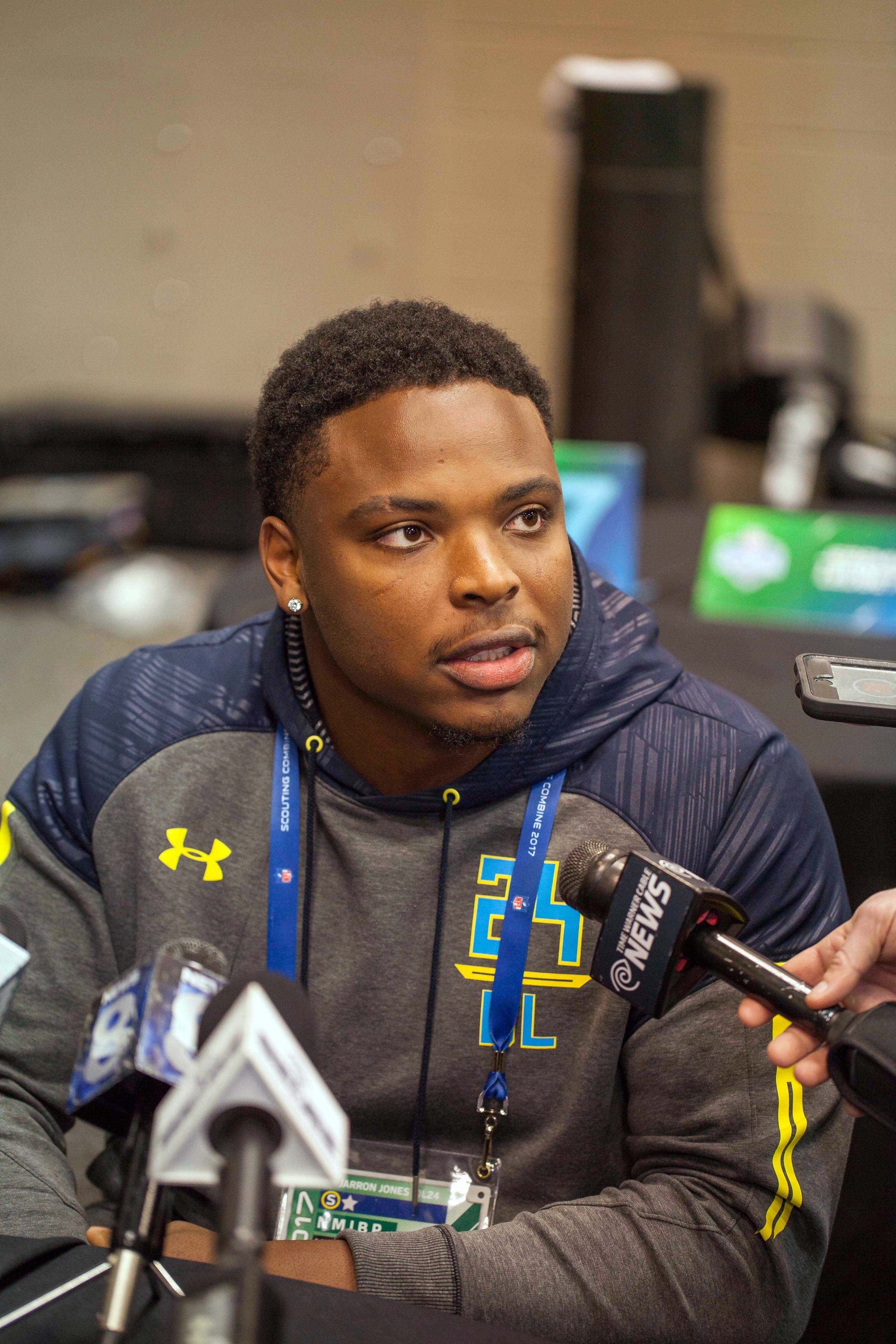 DL: Jarron Jones, Notre Dame
I just want to start out by saying there are a lot of defensive lineman that I love so this sleeper choice was hard. Kpassagnon out of Villanova was a close second, and Larry Ogunjobi is not far behind. Jones will have to stay healthy if he proves me right. He has to build some mass in his lower body, but Jones has great athleticism and a very nice frame. He never got much time due to injuries but watching his Miami game Jones has huge upside to be a dominant defensive lineman for the future.
Comparison: Gerald McCoy
Value: 3rd-4th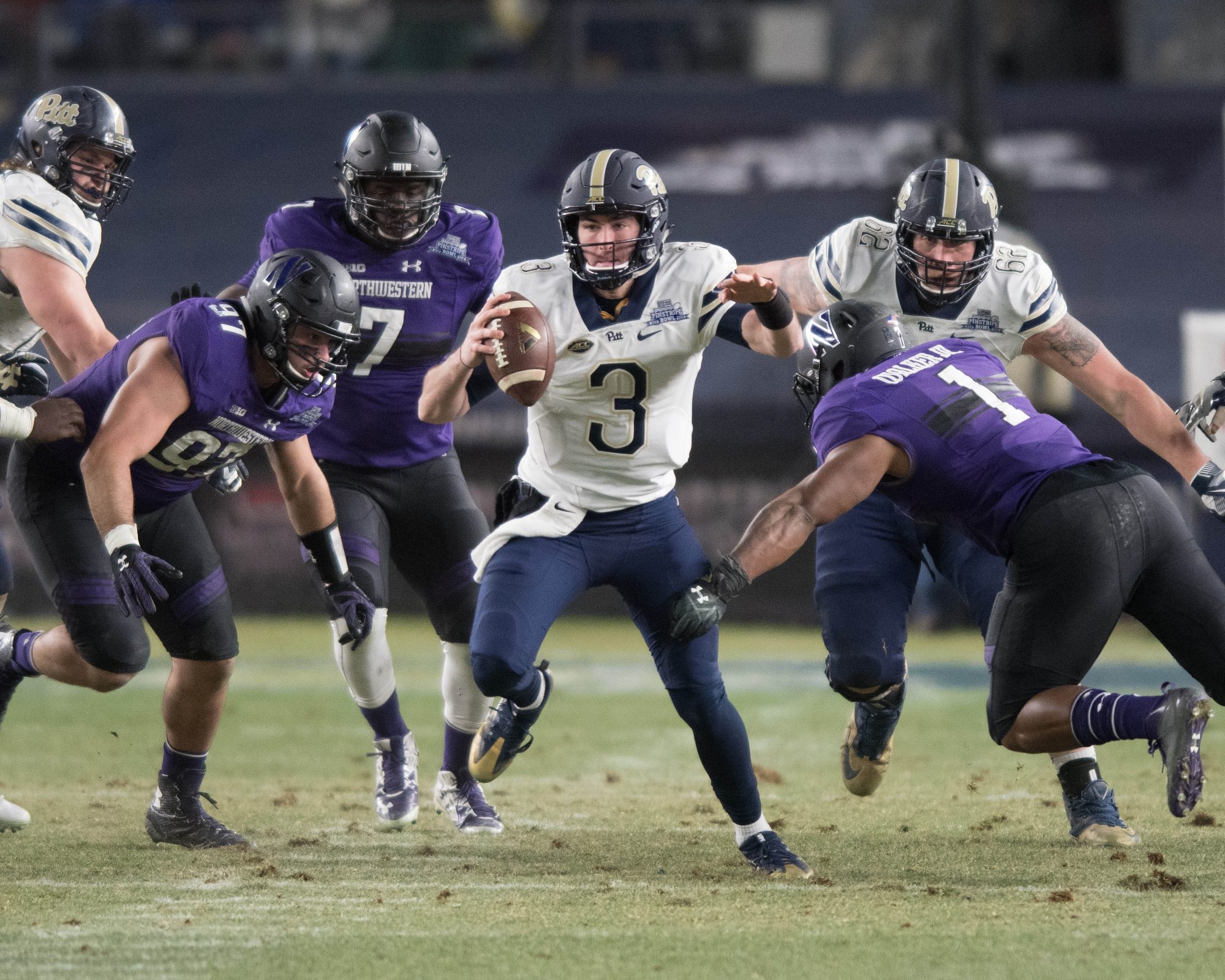 LB: Anthony Walker Jr., Northwestern
One of the best vocal leaders in the draft, one thing many people look at in MLBs for the NFL is if they are calling out plays and reads for their defense and Walker does just that. He has some stiffness and may be playing too heavy, but wherever he lands will manage his weight and Walker will still be a productive player. Both efficient in coverage and tackling with high intelligence and speed, the writing is on the wall for Anthony Walker Jr to be a stud. He must improve his tackling efficiency but in my mind he's right in line if not better than 1st round linebacker Zachary Cunningham out of Vanderbilt.
Comparison: KJ Wright
Value: 2nd-4th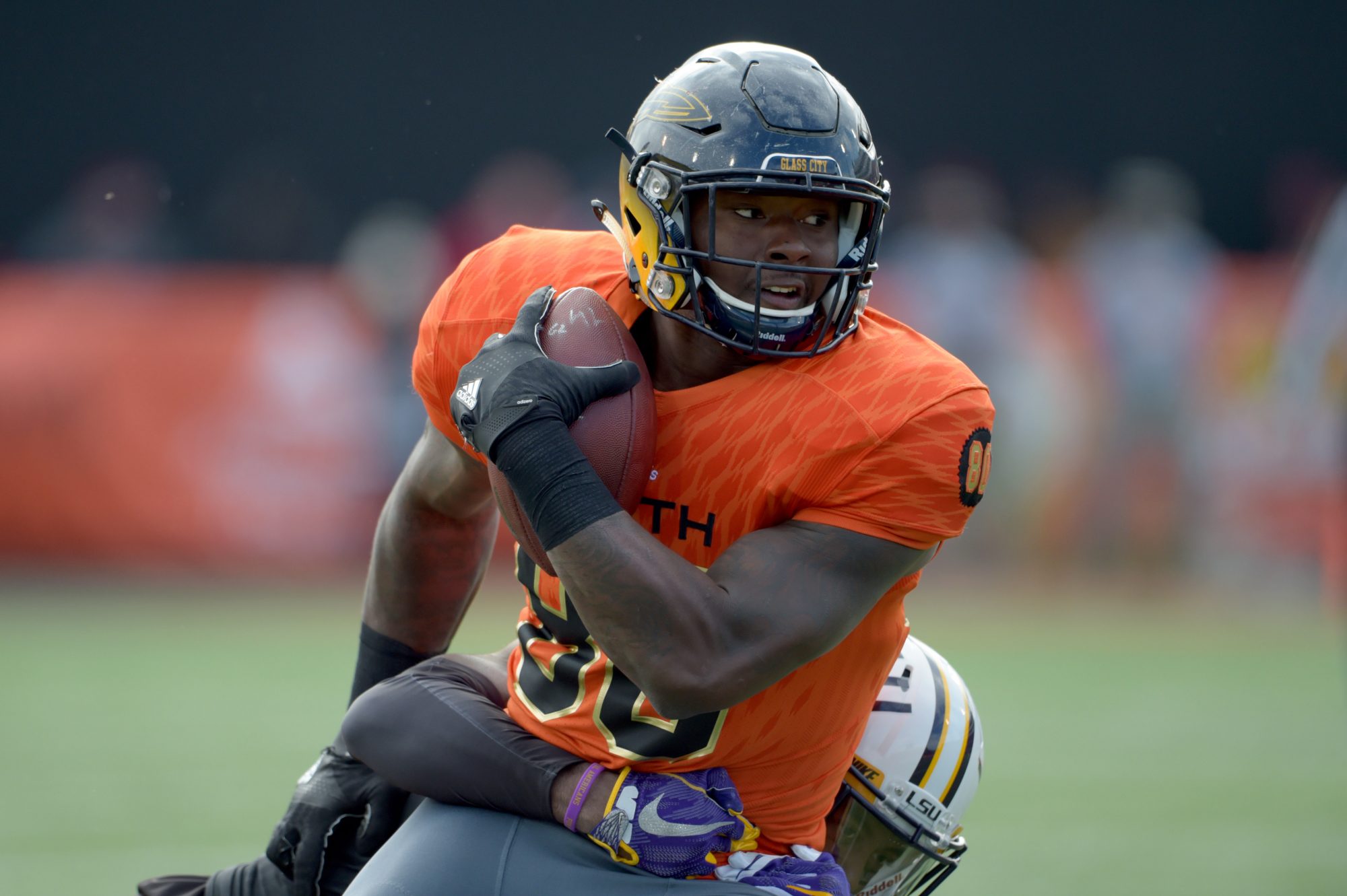 CB: Dwayne Thomas, LSU
If you've listened or read any draft articles discussing an LSU cornerback it is most likely about first round talent Tre'Davious White. Thomas isn't far behind in his ability and talent as a prospect. When watching tape on Thomas he has the ability to really cover guys. He will completely mask them and be able to take them out of the play. One of the many benefits of Dwayne Thomas is he's not afraid to be aggressive. He will hit and attack no matter who is charging at him. His ability to also cover makes him a very enticing prospect. He plays the ball well in both zone and man coverage and has no issue switching based on reads. He got burned a few times at the senior bowl which can cause concern but if you have reliable safety play to back him up Thomas could be a quick contributor on many teams. Thomas will also have to answer to many teams on his arrest back in 2015, however, if given the opportunity, Thomas could be a very special late round steal.
Comparison: Bashaud Breeland
Value: 5th-7th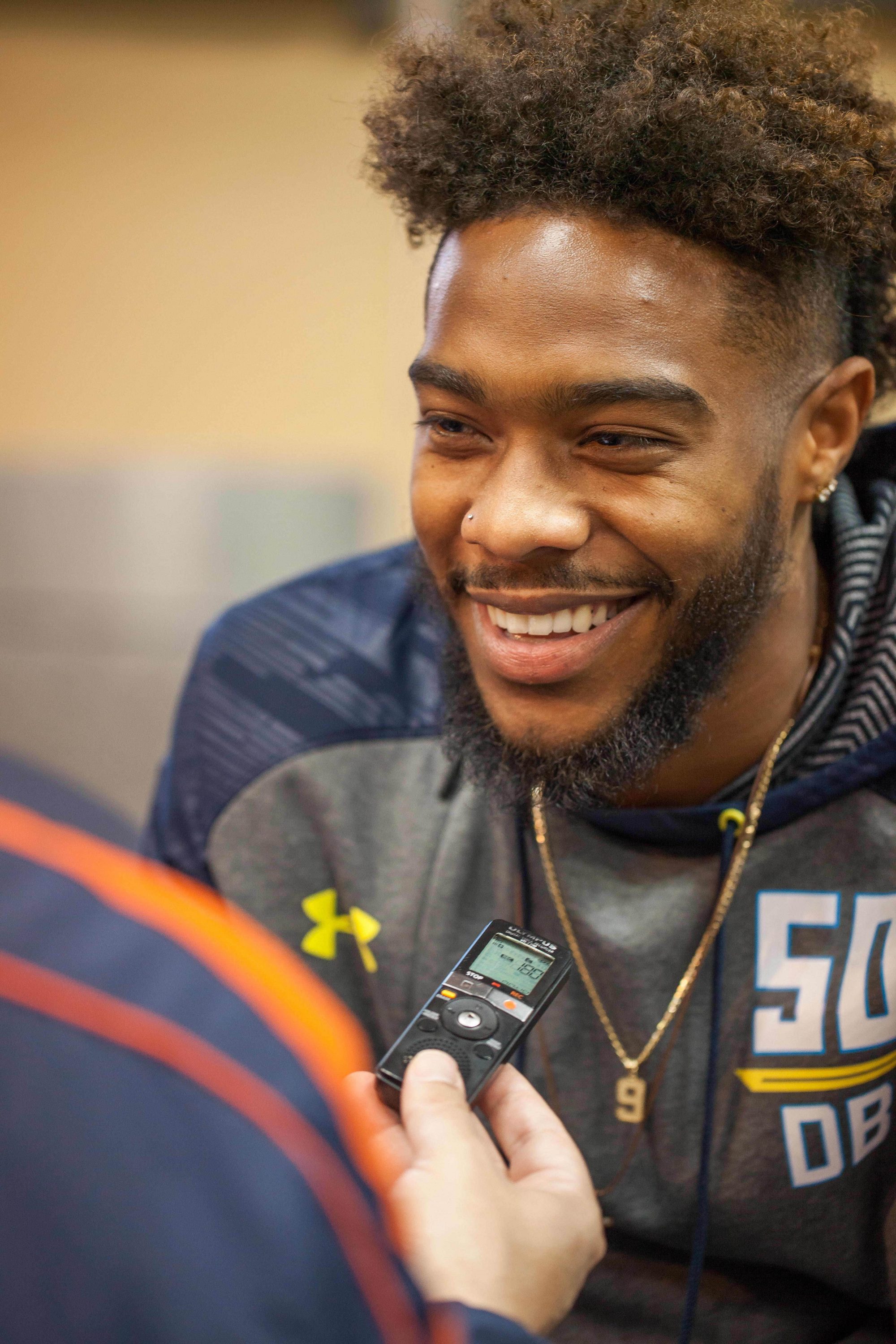 S: Tedric Thompson, Colorado
My second Colorado player makes this list and it's no bias.
Thompson is a great coverage Safety who has the intelligence and athleticism to make plays. As a former WR, he can go and get the ball, but as you might expect he needs to improve on his physicality and tackling ability in order to succeed in the NFL. Thompson had 7 interceptions in his final year at Colorado and was a key piece of an impressive secondary that resided in Boulder. His ability to make plays will definitely entice teams and if Thompson is willing to put in the work to step up his game physically then expect Thompson to be a well known name throughout the NFL very soon.
Comparison: Tashaun Gipson
Value: 4th-5th