With Didi Gregorius out with a shoulder injury, who will fill in for the New York Yankees if he were to miss significant time?
New York Yankees shortstop Didi Gregorius headed back to Tampa on Monday for tests on a feeble throwing shoulder that knocked him out of the World Baseball Classic. The initial diagnosis is reportedly hematoma of the subscapularis muscle. Sounds lovely, doesn't it?
While there is no timetable on Didi's return yet and manager Joe Girardi is encouraged by the strength that is already in the shoulder, the Yankees are preparing for a worst-case scenario which means: potential replacements are being assessed.
---
---
"We don't know exactly what it means," Girardi said. "He's going to have more tests [Tuesday]. It's obviously not what you want to hear, but hopefully, it's something short."
The Yankees better hope it's something short, as the absence of the man who became just the third shortstop in franchise history to hit 20 or more home runs and bat over .275 will unquestionably be felt. However, this is baseball and the show must go on. If the return date isn't ideal for New York, who will attempt to fill the void?
ESNY breaks down which shortstops in camp should be next in line on the depth chart, and who will take over for Didi Gregorius if the return date is further down the road.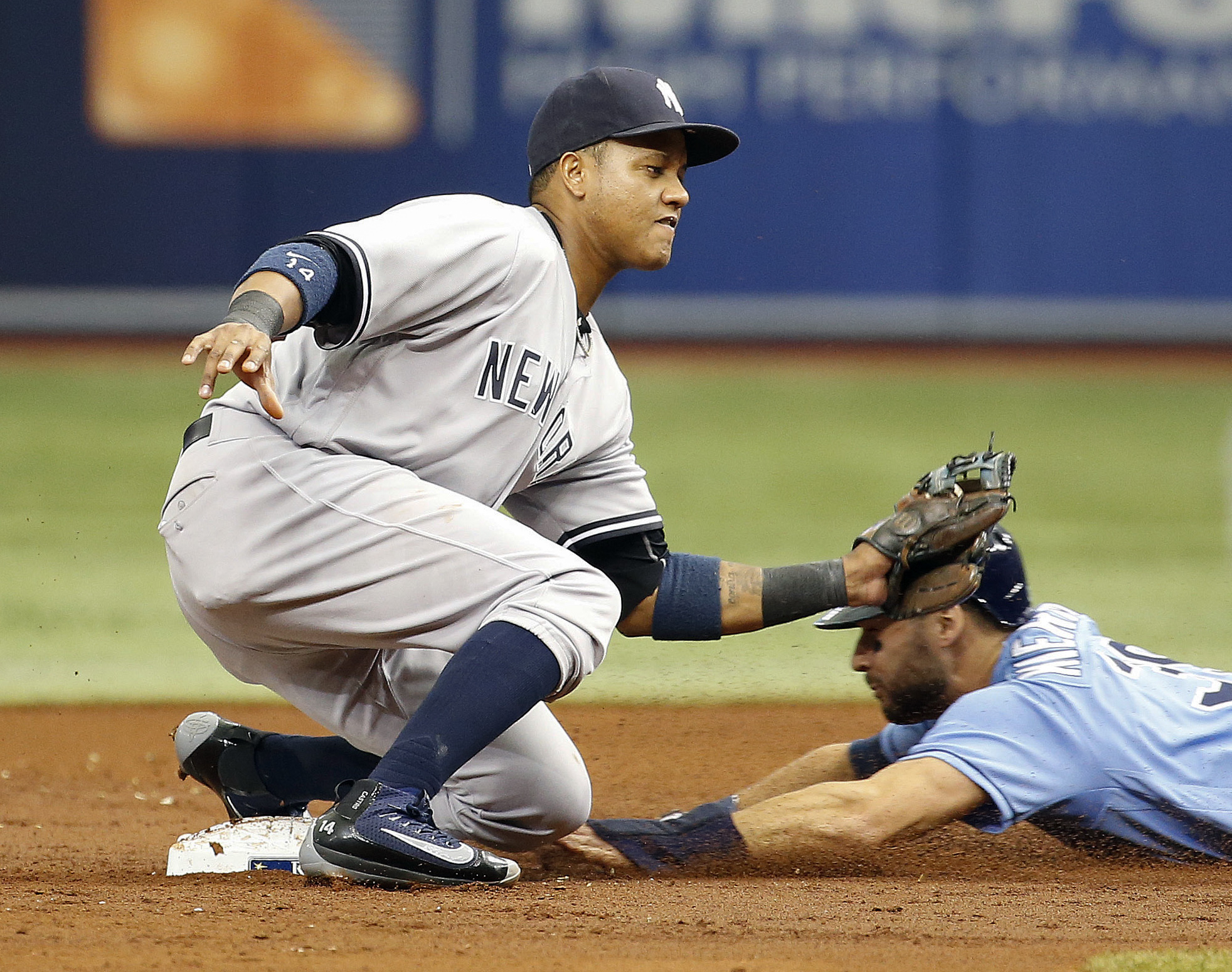 Starlin Castro
Castro has played in 847 career games at shortstop during his time with the Chicago Cubs from 2010-15. Putting it nicely, he wasn't exactly gold glove caliber.
---
---
In 7,444 total innings at the position, he has made 138 errors in 2,376 attempts which is good enough for a .963 fielding percentage — tied with Ian Desmond for the lowest percentage among shortstops with at least 7,000 innings played since 2010. He also ranks last on that same list in FanGraphs' arm accuracy measure and his Fan Scouting Report rating categorizes him as an "awful" shortstop with a -36 rating.
That just goes to show you that there's a reason why the Cubs moved him to second base in the middle of 2015 for prospect Addison Russell. He made three All-Star appearances at the position, but it'll benefit the Yankees a lot more if he sticks to second base.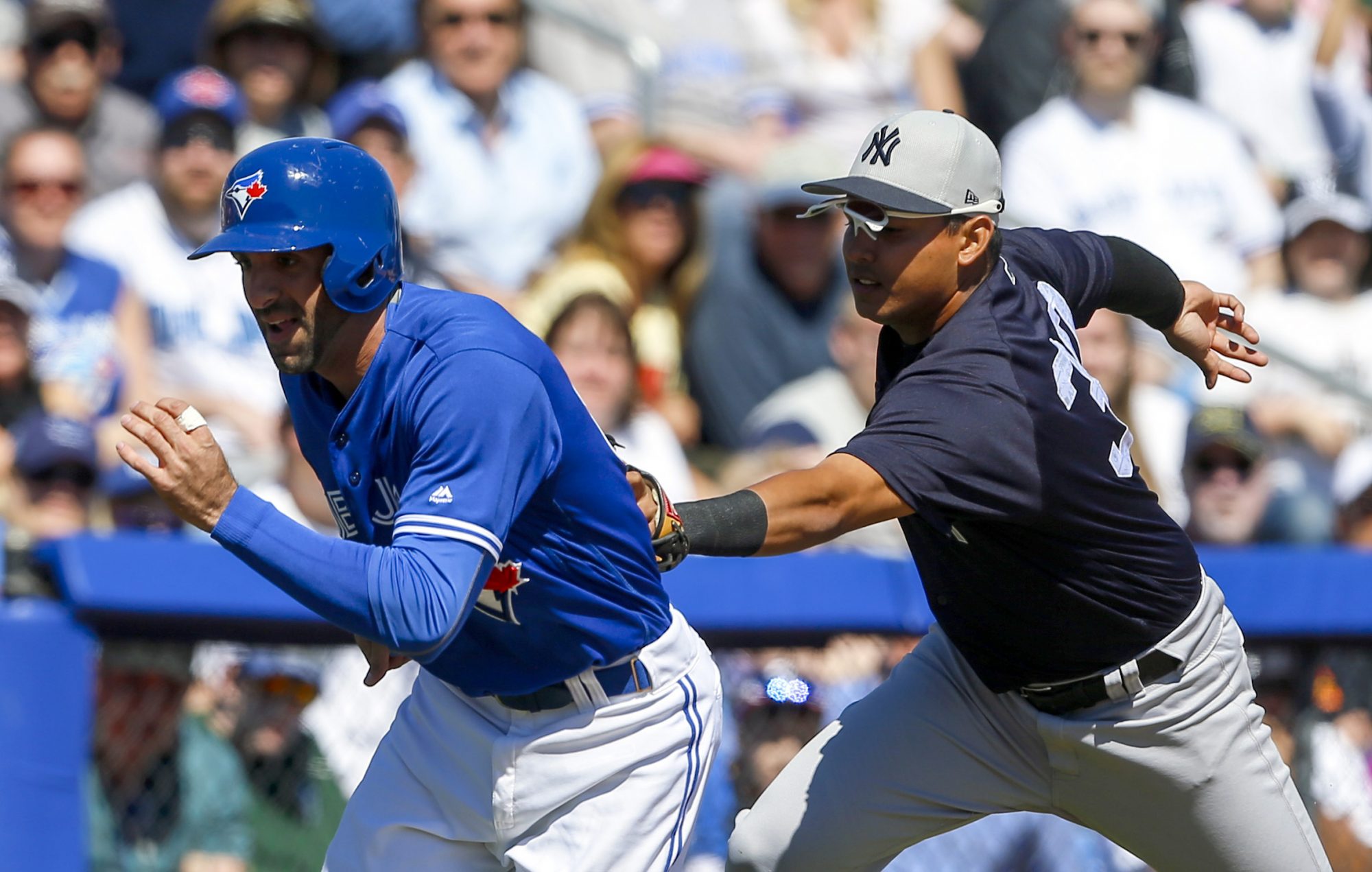 Ruben Tejada
Who knew that a former New York Mets castoff, who was only presented with an opportunity to compete with a few backup infielders for the 25th spot on the roster, would have a legitimate opportunity to crack the Opening Day roster? 
In 36 total games in the Cardinals and Giants in 2016, the 27-year-old slashed .167/.247/.242 with no home runs and made two errors in 37.1 innings at short. In the Pacific Coast League, he slashed .303/.338/.413 in 155 plate appearances for the Sacramento River Cats (Triple-A affiliate of the Giants).
He has yet to be the same since the infamous Chase Utley slide but did have a taste of major league success as a starting shortstop.
In 2012, he maintained a .333 on-base percentage in 114 games for the Mets and even finished with the second-highest batting average (.289) among National League shortstops with at least 500 plate appearances.
He packs an average glove, has only had one true solid season at the dish and cold choose free agency over a minor league assignment. The comeback story from castoff to Yankees' starting shortstop would be fun, but he hasn't hit much this spring to warrant a starting role (7-for-27 in 18 games).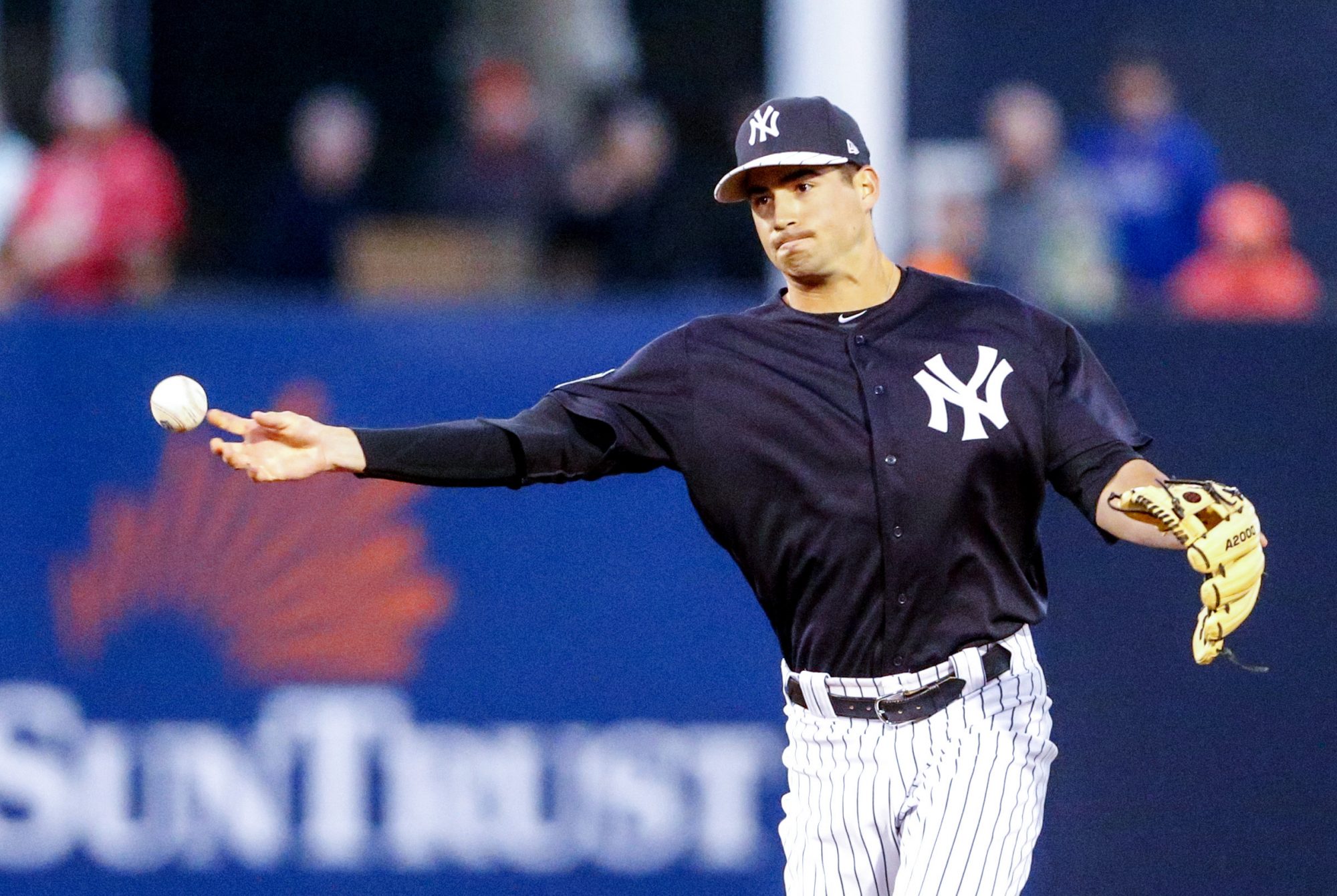 Tyler Wade
The Yankees want to make 22-year-old prospect Tyler Wade a Ben Zobrist-like utility player (capable of playing various infield and outfield spots) and are impressed by his showcase down in Tampa.
In 33 at-bats, Wade is slashing .394/.429/.485 with 16 total bases while striking out just five times. Last season in Double-A Trenton, he hit .259 and stole 27 bases in 133 games.
---
---
While it's fun to think of the next Baby Bomber to come up and make an impact, Wade is not quite there yet. He made a whopping 20 errors in 352 total chances at shortstop with the Thunder last season (.943 FLD%) and his lone error in his spring training career was while manning the position.
There is a ton of promise here, but a little more seasoning in the minors in 2017 — likely at Scranton/Wilkes-Barre — would be ideal for Wade.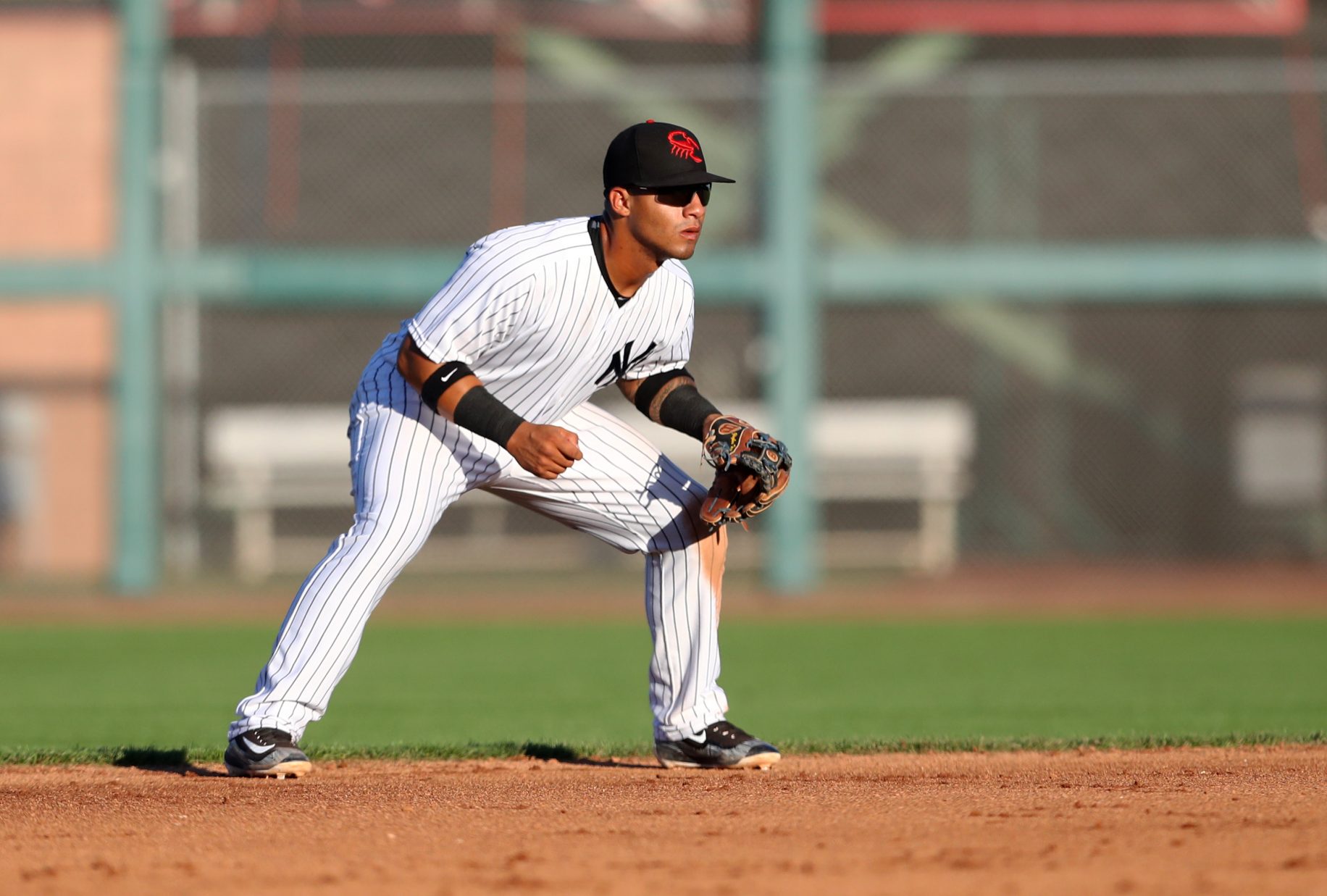 Gleyber Torres
When Yankees' fans heard about Gregorius' injury, the attention of many focussed on the possibility that 20-year-old prospect Gleyber Torres could make his major league debut on April 2 when the Yankees open up the season against the Tampa Bay Rays.
---
---
Yes, he is tearing the cover off the ball (.464/.484/.964 in 18 spring training games), became the youngest player to win the Arizona Fall League MVP and approaches the game like a veteran but hasn't taken a pitch in Double-A yet.
As just mapped out in my column on Tuesday morning, having a kid you're so high on jump over Double-A and Triple-A will do nothing but damage the prospect's development as a ballplayer — despite how hot his play has been through 28 Grapefruit League at-bats.
General manager Brian Cashman said Torres isn't going to start the season in the majors anyway so these words aren't meant to convince you that he won't break camp as a major leaguer, but more to tell those prospect huggers that not every prospect is ready to take over the majors like Gary Sanchez did. Especially one who hasn't seen time past High-A ball.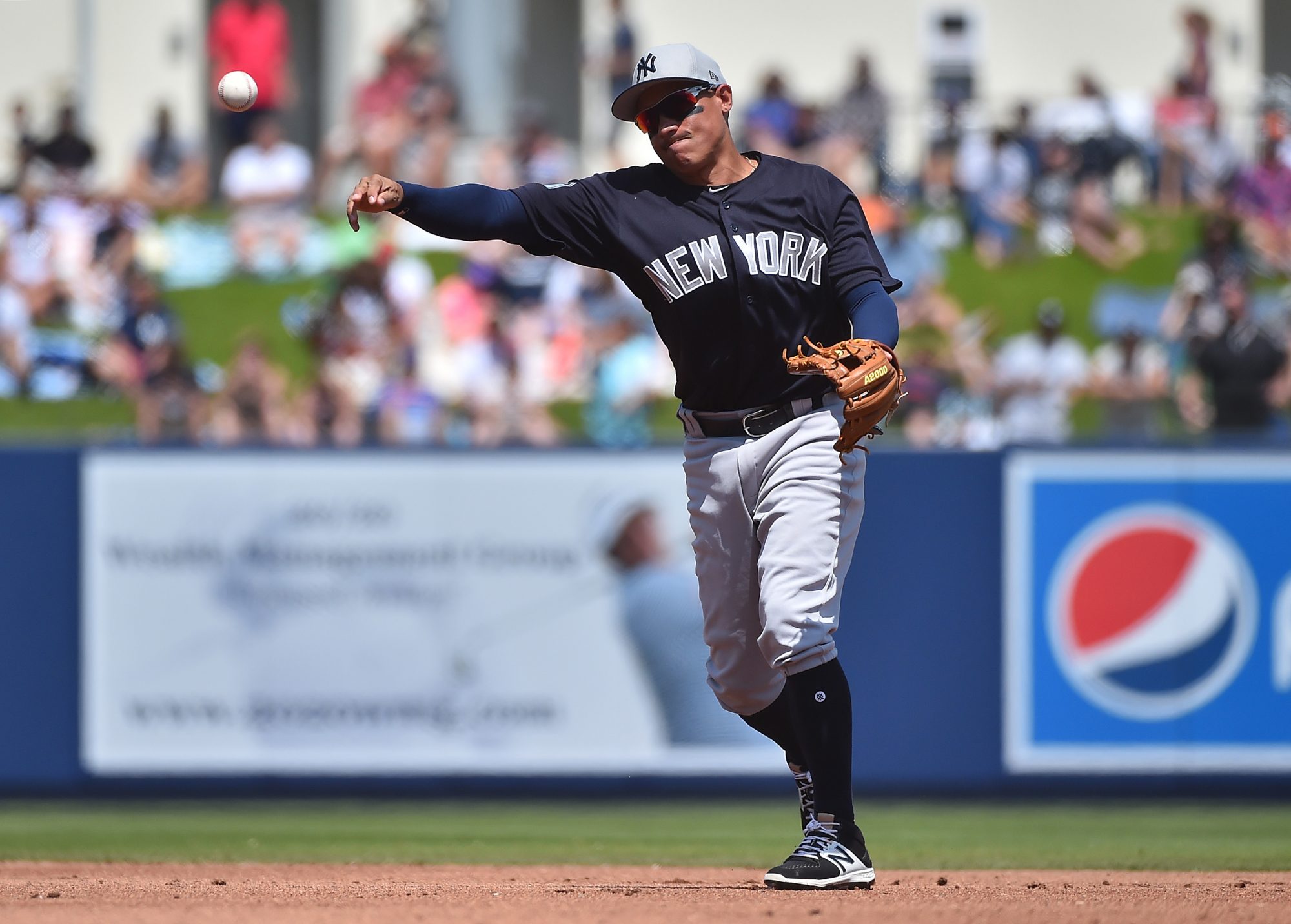 Ronald Torreyes
The 24-year-old Torreyes is no Didi, but out of all the possible replacements, he's the ideal candidate.
Torreyes spend the entire 2016 season with the Yankees and went 40-for-155 (.258) with a .680 OPS in 79 games. From Aug. 19 to Sep. 20, he slashed .367/.415/.551 and gave third baseman Chase Headley a run for his money.
The steady 5-foot-10 role player also made just one error in 99 innings at shortstop and if the injury to Gregorius isn't major (signs are pointing to 2-3 weeks), Girardi will simply let a player he knows will be consistent at the position fill the void until his starter returns.
---
---
What do you think, fans? Which one of the options listed should be considered? Are there any we didn't mention that perhaps should have been? Let your voices be heard in the comments below.