In his 16-year career, New York Yankees pitcher CC Sabathia's weight has been a topic of discussion but it benefits him more than we realize.
U
pon his entrance into the American League in 2001,
CC Sabathia
was a unique pitcher. Not just with his blazing speed and take-charge attitude, but mainly because of his heavier stature.
When it comes to discussing weight, the only reactions you get are when someone is considered "too big" or "too small." Stay in the middle ground and you're safe from any criticism over how your weight is affecting your play.
When it comes to New York Yankees southpaw Sabathia, however, when he's at his heaviest, he ultimately is at his best.
---
---
A portly pitcher in all phases of his career, he also had some instances where he lost weight in an attempt to avoid further injuries. However, that never worked out for him.
In his early years with the Cleveland Indians, Sabathia weighed in at a solid 300 pounds. His time in Cleveland earned him three American League All-Star appearances and a CY Young Award, all while boasting more weight than every other pitcher in the league.
As his weight started to fluctuate in Cleveland, so did his record. When he reached 290 pounds in 2005 and 2006, it was reflected in his 15-10 and 12-11 records.
Then 2007 rolled around and the weight became a factor once again. In his CY Young Award-winning season, Sabathia weighed over 300 pounds and dominated on the mound. With his 19-7 record and 3.21 ERA, Sabathia proved that that extra weight worked to his advantage.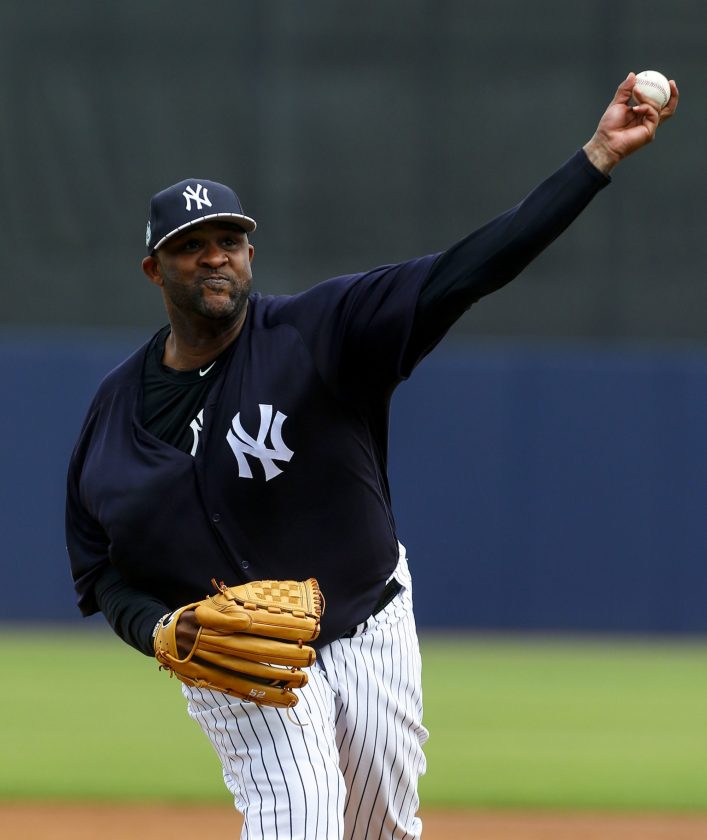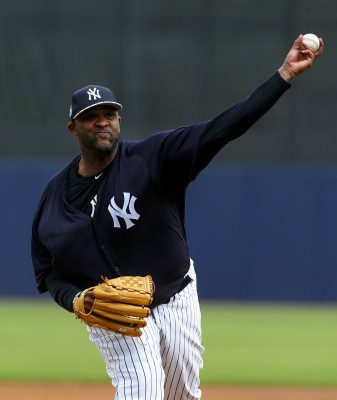 Even better, in the past 17 years, Sabathia is the only pitcher over 300 pounds to win the CY Young Award. The rest weighed less than 250 pounds, with the exception of one Bartolo Colon.
His arrival in New York was marked with success right away. In his first three seasons with the Yankees, Sabathia won at least 19 games in each. All while weighing over 300 pounds, once again.
The weight loss started in 2012 and Sabathia withered down to 275 pounds come 2014. That marked Sabathia's worst season yet, compiling a 5.28 ERA during the injury-shortened campaign. Working his way back up to the 300 mark, Sabathia didn't find his groove the next two seasons.
According to FanGraphs, during this time frame, Sabathia threw significantly fewer fastballs, what was typically his bread and butter. Also during this time, Sabathia's win percentage dipped below .500 for the first time in his career. And it happened for four seasons straight.
Now here he is, approaching his 17th season in the game, back in his comfort zone of 300 pounds. He's also in the zone where he tends to do his best.
He has already shown that this body is favoring him well in spring training. He tossed two scoreless innings, giving up two hits and no runs. While he gave up his two hits in the first inning, Sabathia worked out of trouble, partially because of his sweeping breaking ball.
We missed that breaking ball.

CC's #NYYSpring debut: 2 IP, 2 H, 0 R, 2 Ks. pic.twitter.com/NZISYdOJtD

— New York Yankees (@Yankees) March 7, 2017
Overall, he's looked good from what we've seen of him, but if history means anything, the added weight will only benefit Sabathia this season.
Is it because he has more weight behind his fastball, increasing his velocity? Is it because he has more weight to push off the mound with? Is it all just a coincidence?
When Sabathia lost his weight from 2014 until 2016, the velocity on his fastball diminished incredibly. According to FanGraphs, 2014 saw Sabathia's lowest fastball velocity at 89.6, far below his 92.9 average he has sported his entire career.
---
---
The weight may have nothing to do with CC Sabathia's performance, but the facts speak for themselves.
When there's more of Sabathia, there is more success. Who are we to argue with his personal choices? If that weight makes him feel more comfortable on the mound, so be it.
His success is dependent on his own confidence on the mound. However, being a comfortable weight helps him do that.