Coming off his best year since 2012, CC Sabathia owes it all to the New York Yankees legend that taught him to adapt. 
B
ack in March of 2014, coming off a season in which
CC Sabathia
's fastball velocity dropped to 92.26 mph from 95.17 mph from when he first joined the
New York Yankees
, he turned to
Andy Pettitte
for assistance.
Pettitte, who survived as a pitcher dealing diminishing velocity with flying colors, hoped to do the same for his former teammate. Sabathia has steadily developed a cutter to help his continuing shift from power pitcher to finesse pitcher. As of 2016, the impact it has had on the 36-year-old is undoubtedly positive.
---
---
Last season, Sabathia virtually replaced his four-seam fastball with a cut fastball, as his use of the four-seamer dropped from 28.30 percent in 2015 to 1.96 percent, while his use of the cutter spiked from 0.60 percent to 31.60 percent, according to Brooks Baseball.
The effectiveness after increased use should not be in doubt, as his batting average against dropped from .300 off the fastball in 2015 to a mere .224 off the cutter last year.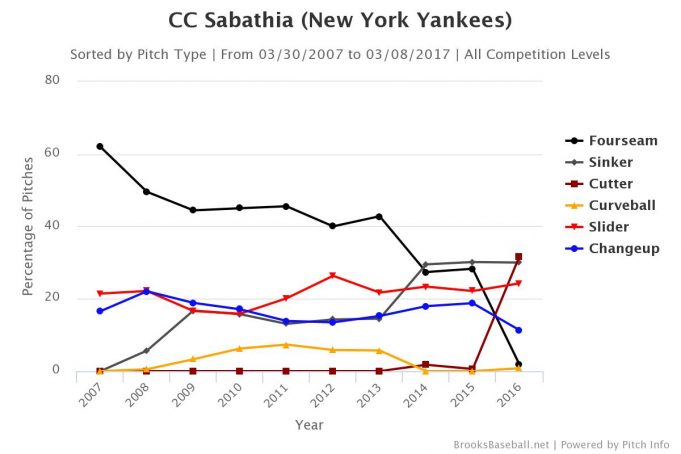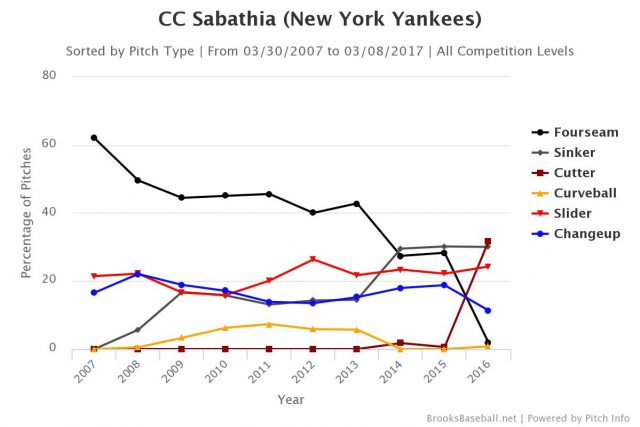 "When you had the stuff he had, a power pitcher like he was throwing in the mid-to-upper 90s, it is a big adjustment, almost learn how to pitch again," Pettitte told the New York Post. "'C' has a better feel for the cutter. The results weren't there maybe a couple of years ago, but all his pitches are better than mine. I hope he has a great year.''
From 2013-15, Sabathia posted a 23-27 record with a 4.81 ERA while surrendering 66 home runs in 69 starts (1.4 per nine innings). In 2016, the former American League Cy Young award winner brought us back to the old days as he went 9-12 with a 3.91 ERA, his lowest since 2012. He also finished second in the majors with a soft contact rate of 24 percent, according to FanGraphs.
"Obviously, my style of pitching now is close to what his was at the end of his career, so we have a lot to talk about," Sabathia also told the New York Post. "It's a lot of fun to bounce stuff off a Hall of Famer. To have a really close relationship where I can call him any time of the night and he'll answer and talk me through my problems."
Like his fellow southpaw, Pettitte carried a mid-to-high 80's fastball throughout the latter part of his career but managed to pitch efficiently through the end. At 41, he went 11-11 with a 3.74 ERA in 2013 (89.80 Avg. fastball velocity), coming off a year in which he registered a 2.87 ERA across 12 starts at age 40 (88.48 Avg. fastball velocity).
---
---
Sabathia, who pitched two scoreless innings in his spring debut against the Tampa Bay Rays on Tuesday, did undergo an arthroscopic right knee surgery for a routine cleanup back in October, but is back to full health and ready to compete for the second or third spot in the Yankees' rotation.
The 36-year-old said that he definitely plans to return to the mound in 2018 if he stays healthy throughout 2017. Whether or not that will be in the Bronx is not yet known, but a remake of his latest season, which is all thanks to the work of Andy Pettitte, could make his wish happen.