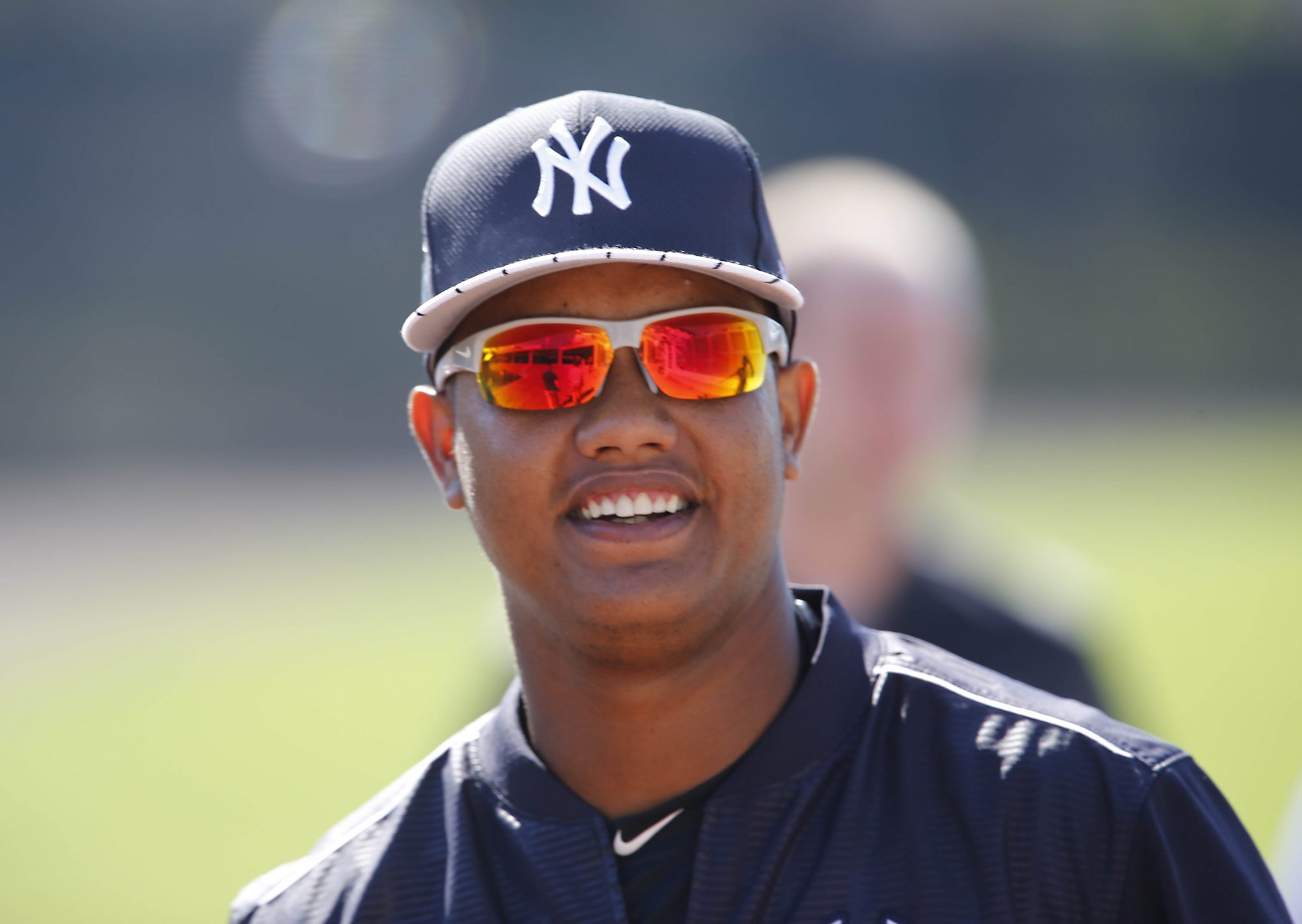 Following an impressive showing from New York Yankees catcher Gary Sanchez, Starlin Castro sent out a message to baserunners attempting to test Sanchez's cannon.
In Sunday's spring training matchup against the Toronto Blue Jays, New York Yankees catcher Gary Sanchez showed off his cannon behind the plate nailing two runners who were attempting to steal.
After witnessing this show, second baseman Starlin Castro sent out a message to all runners who might be thinking about Sanchez's arm in the near future.
"I don't know why they run," Castro said. "It's unbelievable because both of them got a good jump and they were both out by two feet. It's pretty amazing. Not even close."
---
---
Now, you might be asking why the second baseman made these comments. Well, in case you didn't know, Gary Sanchez has an absolute cannon and put it on display in Sunday's matchup.
In the top of the third inning, Sanchez displayed his gun behind the plate, throwing an absolute laser to shortstop Didi Gregorius to throw out Jon Berti on a steal attempt.
Later in that same inning, outfielder Ezequiel Carrera attempted to steal second as well but suffered the same fate as his teammate. "El Kraken" nailed Carrera by what seemed like 30 feet to throw out his second runner of the inning. 
Following this impressive showing in spring training, it's safe to say that Castro was right in warning opposing baserunners from potentially being another victim on Gary Sanchez's hit list.
This is a tool of Sanchez that was put on display along with his superhuman power when he made his historic debut last summer.
In 2016, the Dominican-native sported a 41 percent caught stealing percentage, seventh-best among major league catchers with at least 300 innings behind the plate.
With Sanchez set to spend the entirety of the 2017 season at the position, we should see many more of these impressive throws despite the warning opposing players have received from Starlin Castro.