Boyd Melson donated 100 percent of his last fight purse to help others battle addiction. Now retired from boxing, he's still fighting the good fight.
B
oyd "Rainmaker" Melson was stopped in seven rounds by Courtney Pennington last November, his final professional fight. He may since have retired from boxing, but his biggest fight won't end anytime soon. He donated his earnings from that boutt to an organization which helps people combat drug and alcohol addiction.
Melson (15-2-1, 4 KOs) has teamed up with Nicky DeMarco, owner of DeMarco's Boxing and Fitness in Staten Island, to run free monthly boxing clinics. They're open to anyone battling addiction as well as members of their support system. The two-hour long clinics got underway last weekend at Rustam's Boxing Gym and continue March 11.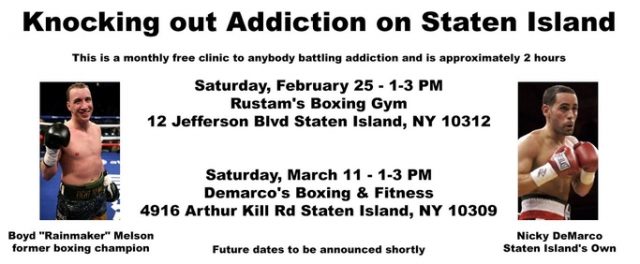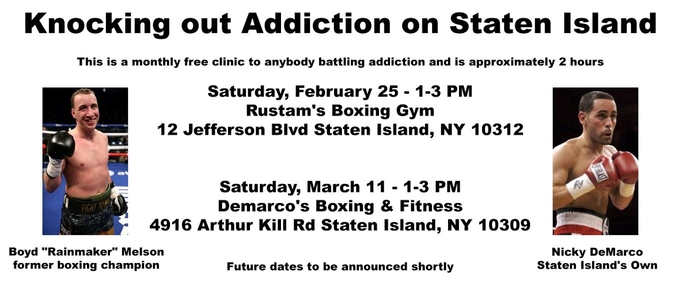 Melson is also known in some circles for his work with Team Fight to Walk, an organization which raises funds for spinal cord injury research, hoping to see the paralyzed walk again. He appeared on the Breakfast Club morning show last year to talk about his efforts.
Fighters train hard, fight hard, win and self-promote hoping to build their own brands. It's the name of the game across all of sports and entertainment. In that way, Melson's story is all the more impressive. He isn't on anyone's top pound-for-pound list but he's done as much outside of the ring with much less.
What Melson has done is use the platform boxing gave him, however significant, to influence change. He hasn't received the big-name push and monetary backing virtually required to mobilize a movement. He's used his situation to push humanitarian causes which are important to him. Hopefully he can continue to make an impact in the war on drugs.