With all the question marks surrounding the New York Yankees' rotation, Luis Cessa has the potential to bring balance into the picture. 
T
he
New York Yankees
' unsettled rotation has and will continue to rack up attention this spring.
As you may know, after apparent locks in Masahiro Tanaka, CC Sabathia and Michael Pineda, manager Joe Girardi and his staff must decide among five other candidates in order to fill the final two vacated spots.
---
---
While other youngsters may find their way into the picture, Luis Severino, Chad Green, Luis Cessa, Bryan Mitchell and Adam Warren are considered the "favorites" to earn their way onto the opening day roster as a starter.
There will be plenty of shots for each of them to go around, but Cessa, who struck out two over two perfect innings in New York's spring opener win, profiles as one of the better arms Girardi can count on out of the five candidates.
Following his major league debut on April 8, 2016, and settling in a rotation spot by August 20, Cessa showed encouragement but didn't overpower the opposition down the stretch.
In nine starts, the 24-year old right-hander pitched to a 4.01 ERA and only struck out 35 batters in 51.2 innings. He also gave up 11 home runs, but there were a few splits from his brief cameo that bodes well for the youngster.
---
---
As a part of the rotation, batters slashed just .242/.278/.443 off of Cessa while he maintained a strikeout-to-walk ratio of 4.38 — second best on the Yankees' rotation last season behind Tanaka.
The home runs were a problem, but with a slider that usually induces a terrific number of groundballs (rate of 64.15 groundballs per BIP in '16), he may be able to clean that number up in the future.
Another area that Cessa has that impresses in is his ability to touch 95 mph with his fastball on a regular basis and compliment it with a changeup, curveball and slider.
With that mix, batters hit .256 off his fastball, .217 off his change, .217 off his slider and .364 off his curveball — a pitch Cessa used merely 11.13 percent of the time — in his nine starts. Overall, the shortstop-turned-pitcher has a strong arm, a good sinking fastball with excellent control. Notice how I said control and not command.
During his stint as a rookie starter, his fastball found its way up in the zone considerably often and got himself into trouble. In fact, he allowed a .570 slugging percentage against his fastball including a 1.000 SLG% on fastballs up in the zone.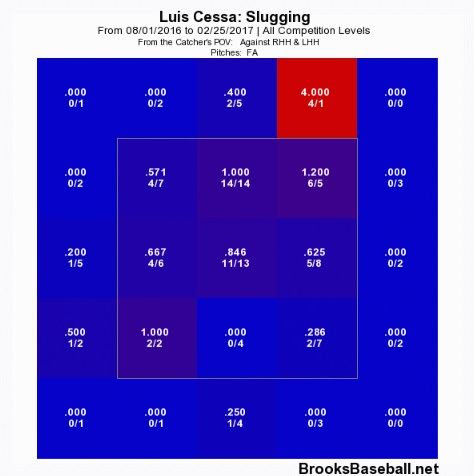 Cessa's secondary pitches aren't at the level of his fastball yet as, when he misses, he misses big, up and over the plate. As evident of his K/BB ratio, he has control but it's the command that needs become consistent in order for the kid to truly develop into a starter in the majors.
If he can right the ship here in 2017, he could become a saving grace to a rotation that has little probability of dominance behind Tanaka.